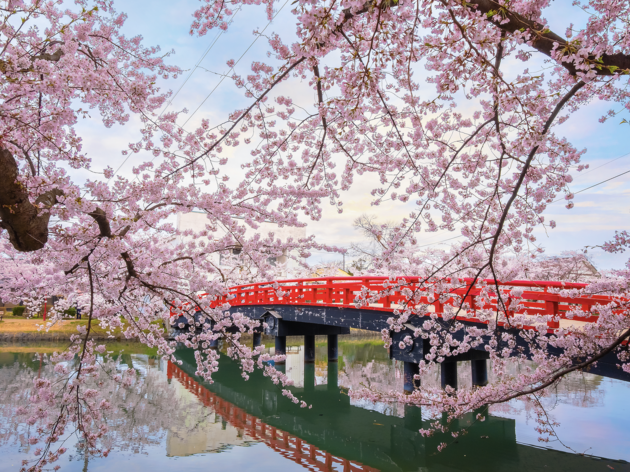 The best places to see cherry blossoms in Japan – outside of Tokyo
Can't get enough cherry blossoms in Tokyo? Where and when to catch sakura across Japan, from Fukuoka to Sapporo
Out of all the amazing things to do in Tokyo, cherry blossom viewing ranks at the top of the list, even though it's famously unpredictable from year to year. While cherry blossoms usually bloom as early as mid-March in the southwestern parts of Japan, places north of Tokyo can celebrate their floral spectacle until April or even May.
So if you'd like to see some cherry blossoms outside the Tokyo, or if you're just eager for more pink skylines to fill your Instagram feed, there are plenty of opportunities to view the blooming beauties even after they've come and gone in Tokyo.
Note: these forecast dates may change depending on weather conditions
RECOMMENDED: The ultimate guide to enjoying cherry blossoms in Tokyo
Sakura in Japan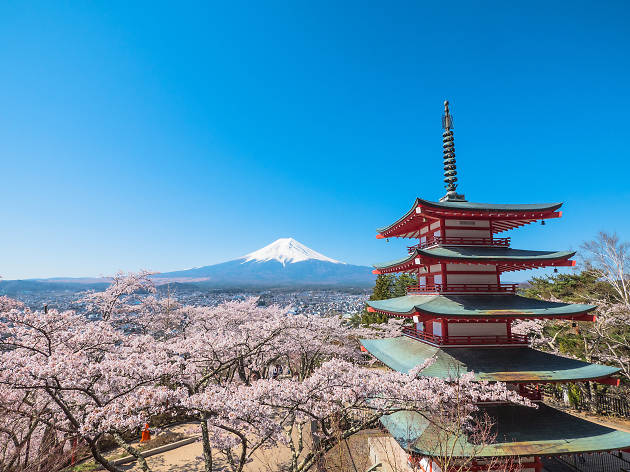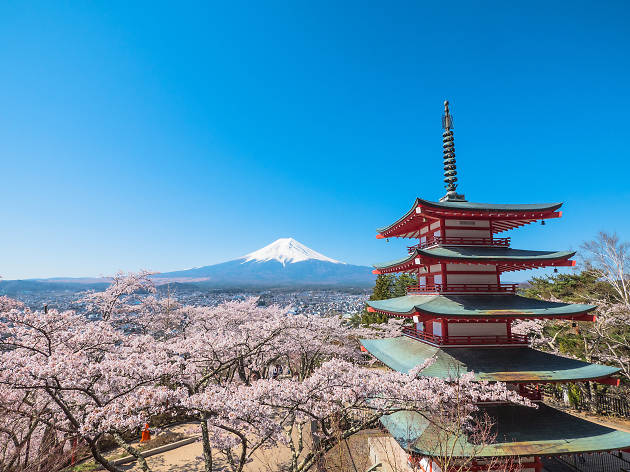 Photo: Fujiyoshida Tourism Association
The Arakurayama Sengen Park, close to Mt Fuji, is one of the top destinations for cherry blossom viewing. The park's Chureito Pagoda looks especially beautiful in spring, when pastel pink blossoms of 650 cherry trees surround the red-coloured structure, with the majestic mountain towering in the background.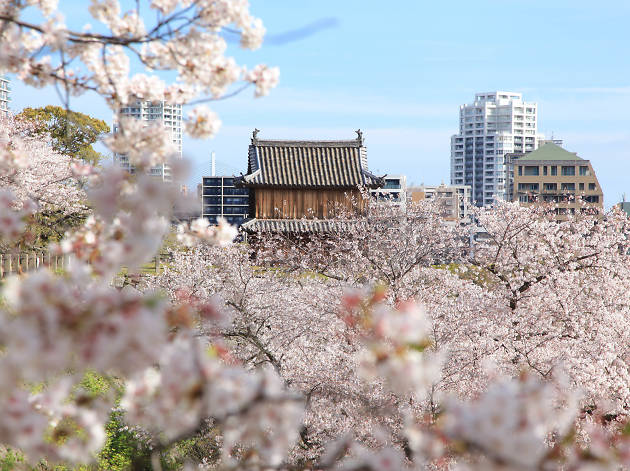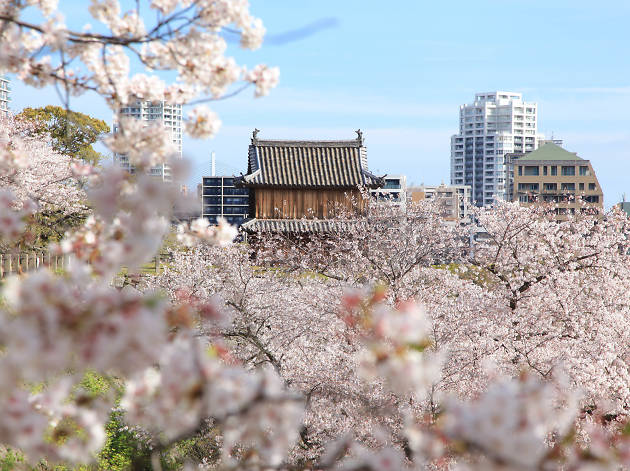 Photo: Muchujin/Pixta
Fukuoka's most popular spot for hanami (cherry blossom viewing) is Maizuru Park, home to the old ruins of Fukuoka Castle. Walk under 1,000 blooming cherry trees while admiring the historic gates, yagura (turrets) and ancient stone walls.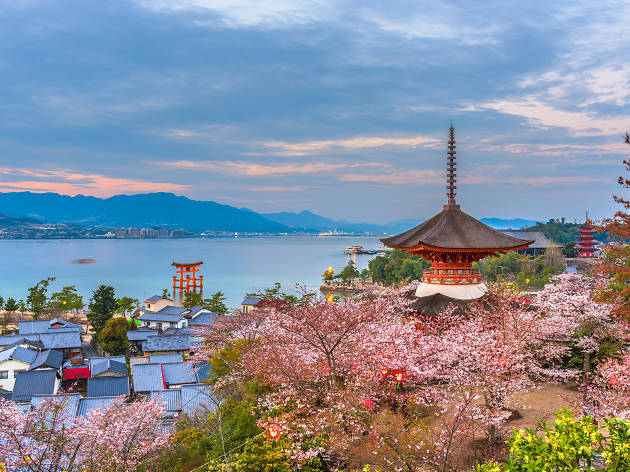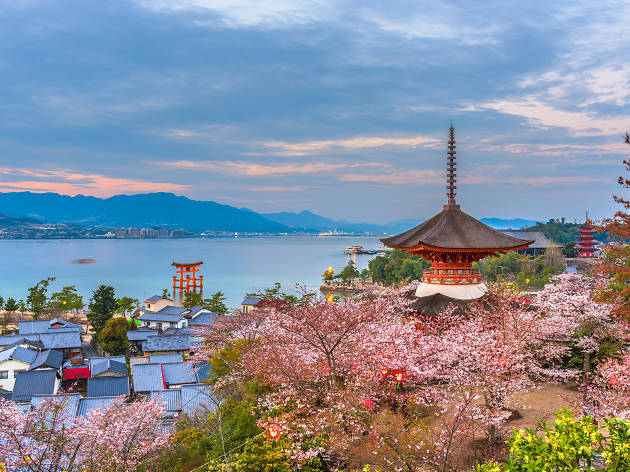 Photo: Sean Pavone/Dreamstime
Itsukushima, better known as Miyajima, is a small island close to Hiroshima city and a popular sightseeing destination thanks to its many historic sites, such as the massive torii gate standing partially submerged in the sea. The gate belongs to the island's famous Itsukushima Shrine, a World Heritage site that dates back to the 12th century. For the best hanami (cherry blossom viewing) spot, head up to the area around the Tahoto pagoda. From here you can enjoy a view of the pagoda surrounded by cherry blossoms, plus see the iconic red torii gate, another pagoda and the clear water of the Seto Inland Sea.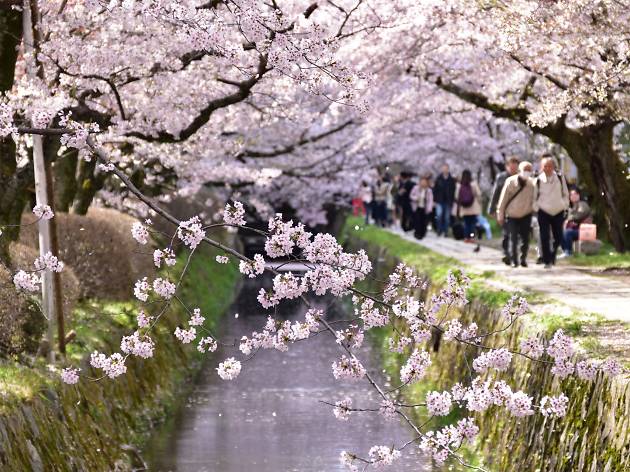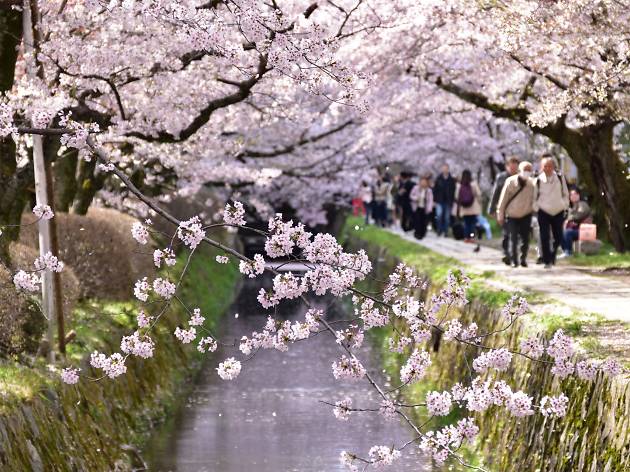 Photo. Jonaka/Photo AC
Kyoto is famous for its many historical shrines and temples with millions of visitors flocking to the sacred grounds throughout the year. Come spring, these structures look even more magical when they are surrounded by pastel pink cherry blossoms.
For the best sakura photo ops, walk along the city's famous 'Philosopher's Walk' (Tetsugaku no Michi), a pedestrian path beside a canal lined by hundreds of cherry trees that's located between the famous Ginkakuji temple, also known as the Silver Pavilion, and the Nanzenji temple. Along the path you can find a number of shrines and temples, which are all covered in pastel pink blooms.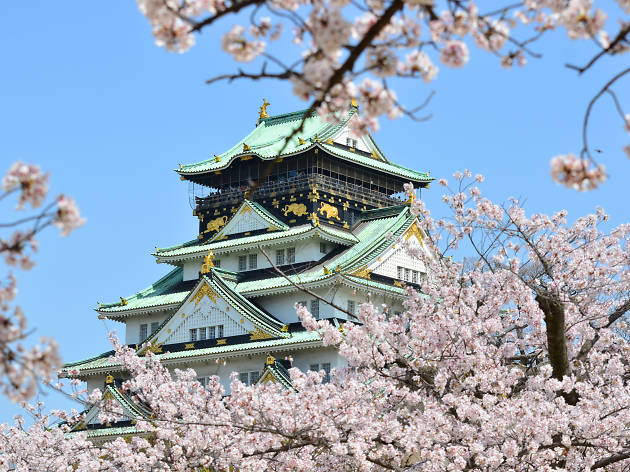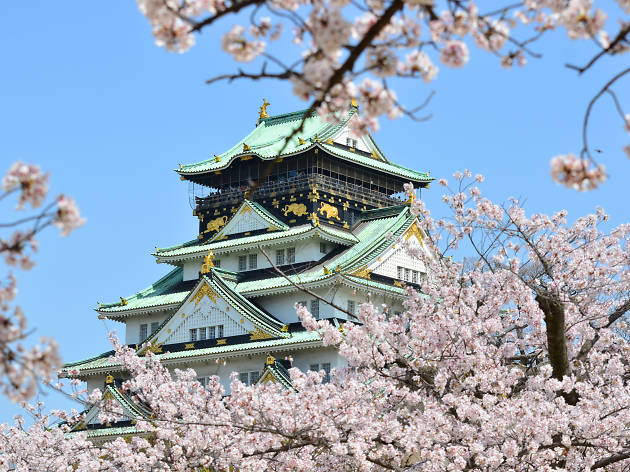 Photo: Harrie/Photo AC
When we think of cherry blossoms in Osaka, then one photo pops into our mind: the beautiful white Osaka castle with its green roof and golden highlights surrounded by an ocean of pink blooms. The park around the castle boasts about 3,000 cherry trees with some of them lit up in the evening, creating beautiful photo ops even after sunset.
Photo: Kay Ecker/Dreamstime
The 16th-century Kanazawa Castle is a popular choice for sakura-spotters, as is the prestigious Kenrokuen Garden, which boasts over 420 cherry trees in 20 varieties. The banks of the Asano River at Kazue-machi Chaya tea district are also lined with cherry trees.
Photo: Nopparatk/Dreamstime
The park surrounding Takada Castle features over 4,000 cherry trees, lit up by almost as many paper lanterns. At Okozu Bunsui, around 3,000 Yoshino cherry trees grow along the banks of the Shinano River.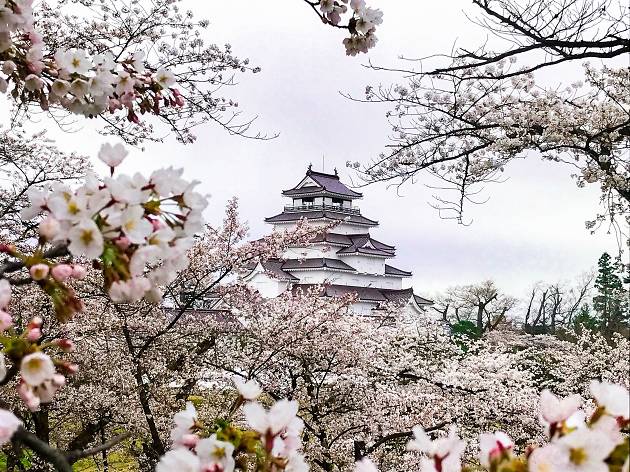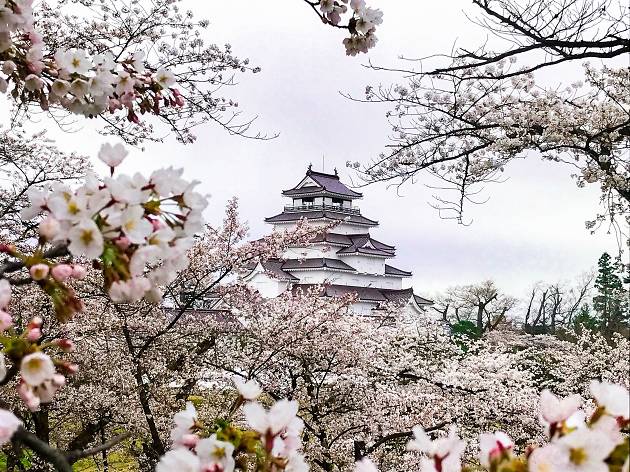 Photo: Tabea Greuner
One of the best sakura spots in Fukushima prefecture is the Tsuruga Castle with its surrounding park, located in Aizu-Wakamatsu, an old samurai town famous for its history and local sake.
Stroll through the castle grounds that boast about 1,000 someiyoshino cherry trees, which make for great photo ops when framed against the historic structure. The trees are lit up come evening, so get your cameras ready for some beautiful night shots as well.
Photo: Joshua Hawley/Dreamstime
Takato Castle Ruins Park has around 1,500 trees; it's a unique variety, with blossoms that feature brighter pink petals. You'll find another 500 or so cherry trees at the garden of Edo-era castle Komoro Kaikoen.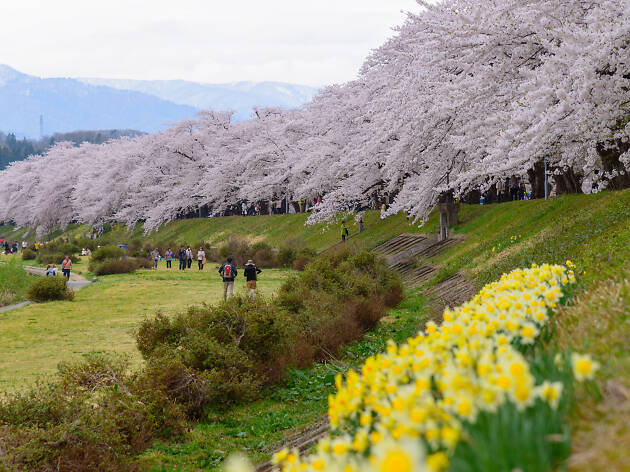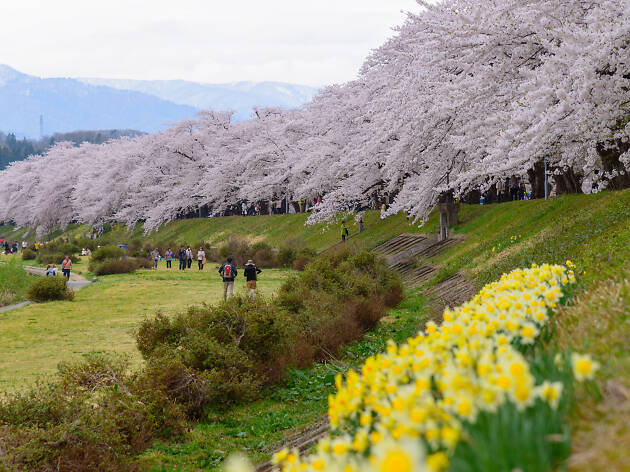 Photo: Hiro1775/Dreamstime
Visit the well-preserved samurai village of Kakunodate, famous for its weeping cherry trees. Alternatively, the Hinokinai riverbank, a designated National Place of Scenic Beauty, features a 2km stretch of sakura.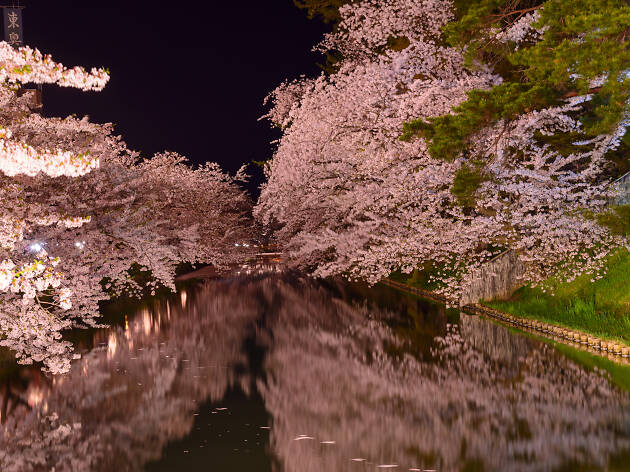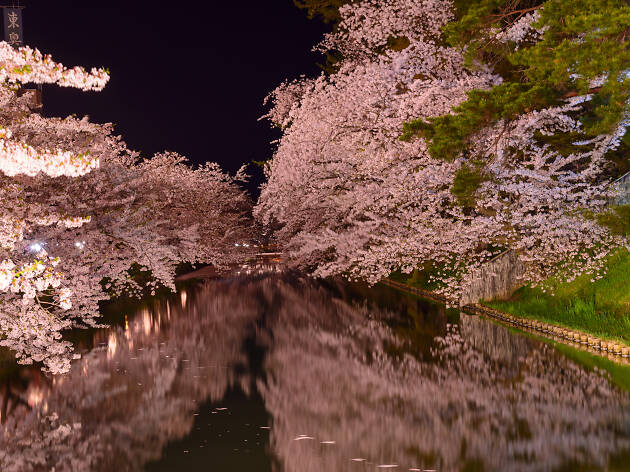 Photo: Hiro1775/Dreamstime
Hirosaki Park's 2,600 cherry trees are made up of over 50 different varieties; there's even a tunnel formed by the trees you can walk through. If you're feeling adventurous, head northwest to Ashino Park, which is part of the vast Ashino Chishogun Prefectural Natural Park.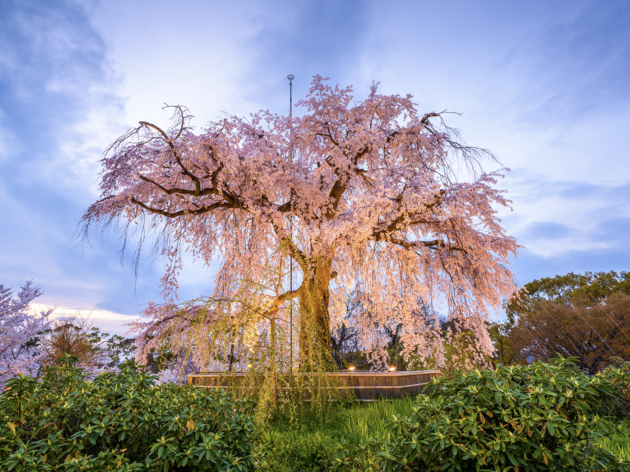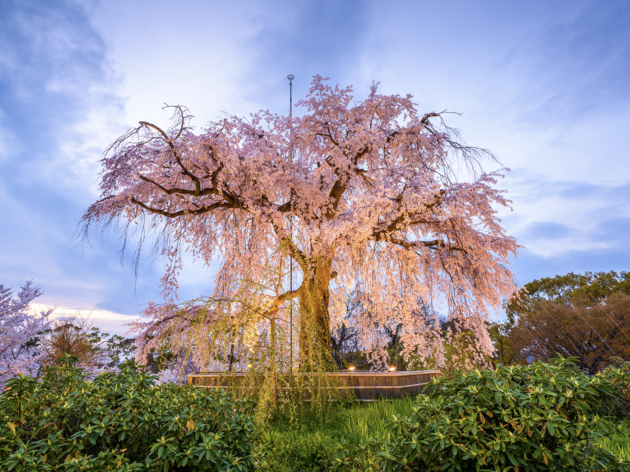 Photo: Sean Pavone/Dreamstime
Hokkaido Shrine and its adjacent Maruyama Park are among Sapporo's top destinations for hanami (cherry blossom viewing) parties. Alternatively head to nearby Nakajima Park, where you can find a diverse range of cherry trees, including the weeping cherry and the double-flowering cherry.
More cherry blossom fun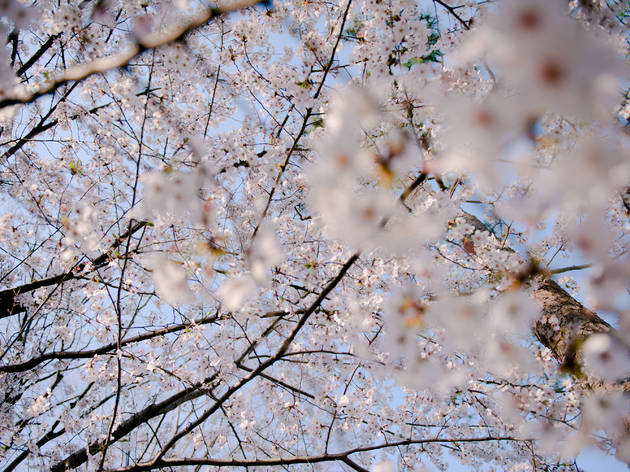 Where to see the sakura – Tokyo parks, gardens and more great hanami spots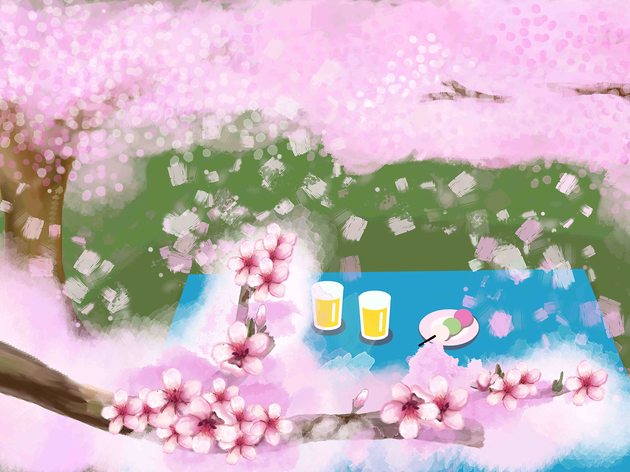 Getting your hanami on is the highlight of the year for many – here's how to appreciate the sakura like the locals
Everything you need to know about the prettiest time of year in Tokyo – from the 2019 cherry blossom forecast to the best sakura viewing spots, and more