The 10 best parks in Toronto
From family-friendly green spaces to biking and walking trails, the best parks in Toronto are nice escapes from urbanity
The name Toronto actually derives from the Mohawk word "tkaronto," which some claim to mean "where the trees are standing in the water" and others translate to "a gathering place." It should come as no surprise, then, that the best parks in Toronto are some of the most fabulous and beautiful around Canada.
It's always nice to find a park deep within a bustling city, especially after spending hours walking through the museums, historical attractions and fun markets that give Toronto its unique character. Sometimes, you just need to chill out, right?
This Canadian city asks you to do just that when visiting the ample green spaces peppered across town. The best parks in Toronto range from family-friendly areas replete with playgrounds for the kids to adult-friendly spaces boasting bike and walking trails and even an impressively constructed summer ice rink.
Best parks in Toronto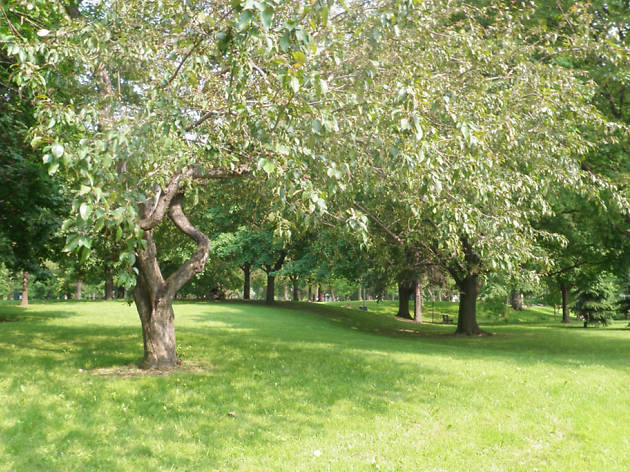 Photograph: Courtesy Yelp/Jennifer K.
On any given summer evening, you will see kids running barefoot and laughing around Dufferin Grove Park. Located just south of Bloor Street West and Dufferin Street, the 5.3 hectares are occupied by families and friends enjoying the great outdoors. There is a cool reflexology footpath, sand to build castles, a wading pool, a playground, a skateboard area and a multipurpose sports field. You can also make use of the two wood ovens near the basketball court, in case you get hungry while perusing the park.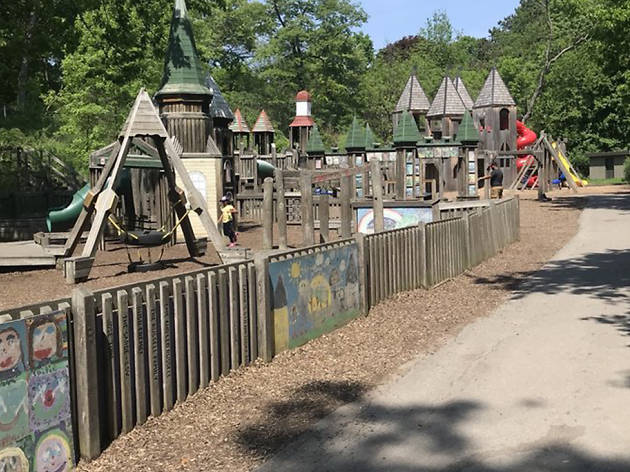 Photograph: Courtesy Yelp/Austin G.
Recognized as a natural site within the city borders (over one-third of the land here is still in natural form), High Park also happens to be the famous site of cherry tree blossoms in April and May. Those with little ones in tow will be relieved to find a playground to keep them busy. The green space also includes a dog park, a picnic area, a pond, sports facilities and the kind of wildlife that will make you feel all fuzzy inside. Adorable bushy-tailed squirrels looking for nuts—we're talking about you.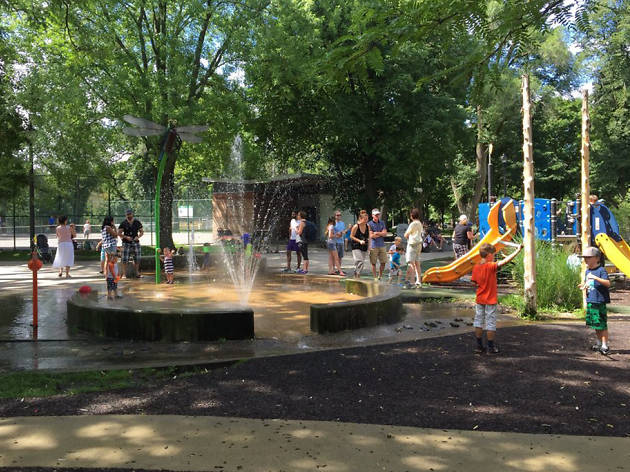 Photograph: Courtesy Yelp/Michelle L/
This newly remodeled, 2.9-hectare park is replete with large trees and lots of picnic opportunities. You'll see adults playing tennis and baseball and kids in bathing suits splashing around the wading pool and playing with toy boats. Oriole Park is a definite fun-time for all.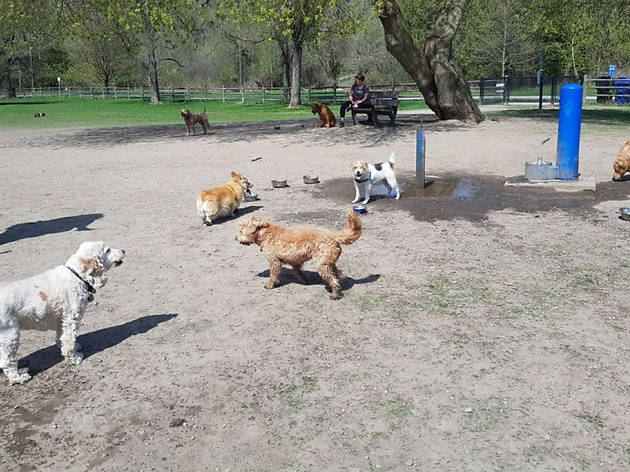 Photograph: Courtesy Yelp/Alice L.
Bird lovers flock to Sunnybrook Park to admire the several species that call the green space home. The space, just north of Leaside, is huge (154 hectares!) and boasts many bike and hiking trails. Feel free to bring your pooches along: there is an off-leash dog area on premise as well.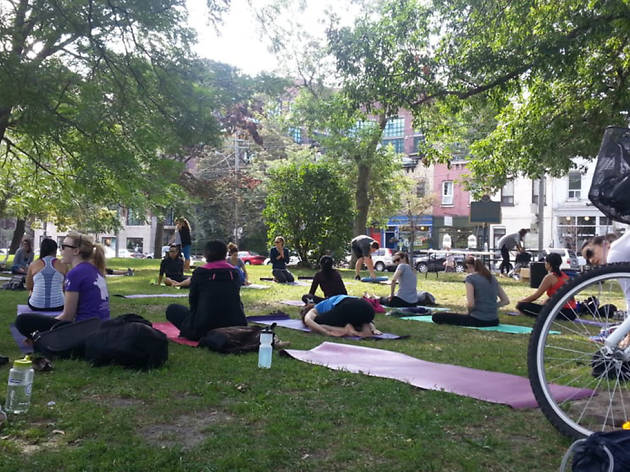 Photograph: Courtesy Yelp/Lynne T.
Trinity Bellwoods attracts a large millennial crowd. The 14.6-hectare park on Queen Street West is not far from the funky Queen stores but is also a land all its own, with three baseball diamonds, eight tennis courts, two volleyball courts, a picnic area, a wading pool and a fun playground for kids. Rumor has it that a few uniquely white squirrels made the space their home.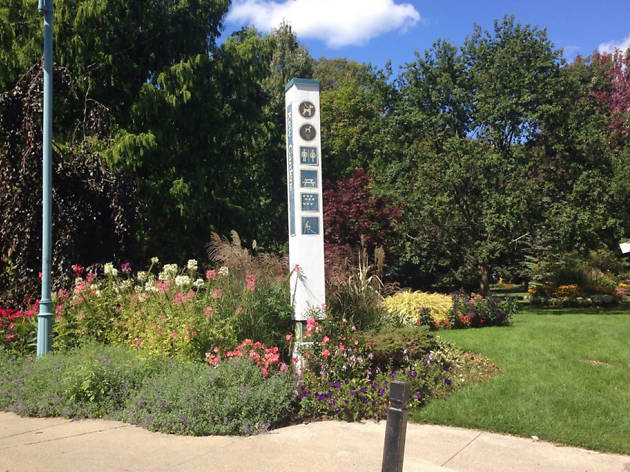 Photograph: Courtesy Yelp/Elle R.
One of the nicest parks in the area is Kew Gardens. This popular 6.5-hectare stretch runs from Queen Street East to Lakeshore, with the added distinction of being completely wheelchair accessible. A plastic mat system begins from the bottom of the pool building and leads to the shore, allowing mobility devices to access the water and the sand. If idling on the grassy area sounds a bit boring to you, opto to join the history buffs and tour the old gardener's cottage on property instead.
Photograph: Courtesy Flickr/cc/wyliepoon
For a view of Toronto's pretty waterfront, head to Sherbourne Common in the Harbourfront neighborhood. Not far from the busy Queens Quay area, this is an ideal destination during all seasons. Throughout the summer, set yourself up on the grass and get tanning. In the winter, bundle up and skate on the outdoor ice rink at Dockside Drive. The Paul Quarrington ice rink was named after Toronto author, musician and screenwriter Paul Quarrington, of Whale Music fame.
Christie Pits, named after the famous Christie sand pits that were here until the early 1900s, is found at Bloor Street West and Christie Street in Koreatown. You will often see families with young children playing in the playground, wading pool or having fun at one of the many community events that the park hosts. There is also a picnic area, a basketball court, a volleyball court, a ball diamond, a fire pit and changing room facilities. This is as park-like as it gets.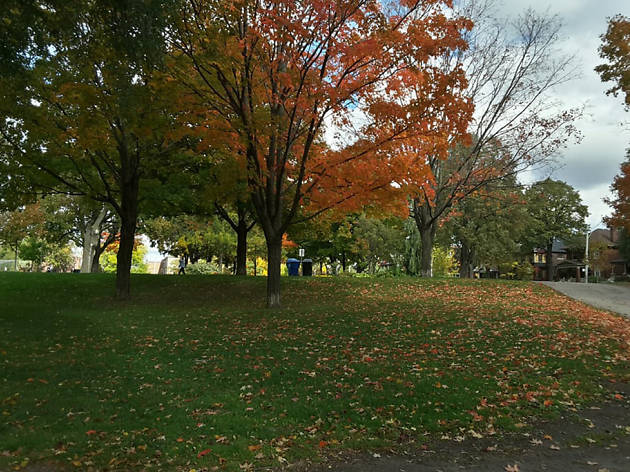 Photograph: Courtesy Yelp/Adam G.
Head to Toronto's Danforth neighborhood and visit Withrow Park for a day of fun adventures. Kids love the wading pool and playground while adults make use of the seven bike trails to explore the eight-hectare park on wheels. There is also a firepot, a clubhouse, a changing room and an off-leash dog area where local canines run free.
10. Trillium Park and William G. Davis Trail
One of Toronto's newest parks is located in the old Ontario Place, at the waterfront. Trillium Park and William G. Davis Trail have transformed a boring parking lot into something magnificent—the kind of destination you'll want to travel to throughout all seasons. In the summer, skate along the rink constructed from polymer material or walk through the several trails on premise. As the weather turns a bit cooler, you'll want to turn your escapes to Trillium Park into history-making lessons: come by to admire the two impressive large stone walls connected to a bridge that are engraved as a moccasin identifier to symbolize First Nations culture and heritage and the land this park was built on.
Can't spend enough time outdoors?
There are many sandy shores and splashing waves to choose from and several local beaches boast Blue Flag certification, an eco-friendly designation bestowed upon clean, accessible marinas and beaches that meet safety and water quality standards.
Best selling Time Out Offers