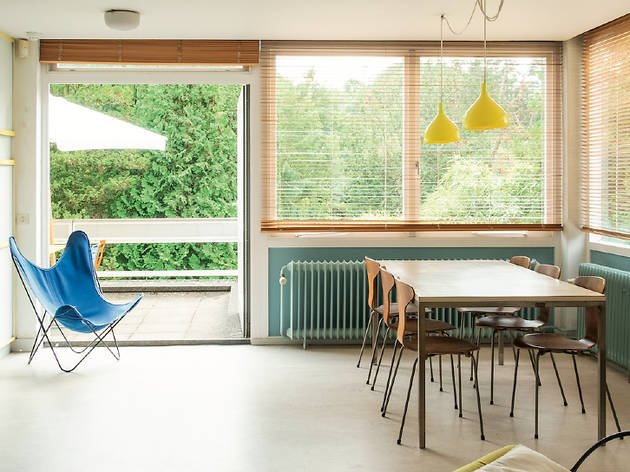 10 incredibly stylish modernist buildings you can actually visit
Jaw-dropping modernist buildings can be found dotted all over the globe. Here are ten that'll let you drop by – or even stay over
What the hell is modernism? Only the dominant architectural style of the mid-twentieth century, that's what. Its basic elements – a lack of ornament, a connection between indoors and outdoors, form following function – have mutated over the years, but its appeal endures. Because honestly, what more could you want in a space than shitloads of glass, sunlight, steel and reinforced concrete?
Spanning a bunch of subgenres, from Bauhaus to brutalism, modernism has shaped everything from suburban houses to skyscrapers. And despite being widely poopooed by people who prefer their buildings boring and old-fashioned, modernist structures at their best are both incredibly practical and drop-dead gorgeous.
No wonder, then, that modernist architecture has a serious cult following. With so many examples around the world, you can even plan your travels around spotting the biggies of the genre. And now there's a new essential guide to doing literally that: 'Modernist Escapes: An Architectural Travel Guide', by author, designer and modernist obsessive Stefi Orazi.
Orazi's stonking guide brings together more than 130 modernist buildings around the world, including legit icons designed by architectural big shots like Alvar Aalto, Ernö Goldfinger and Le Corbusier. All are open to visitors, and many even host overnight stays, for full immersion in that impeccable mid-century aesthetic.
Here are ten of the most beautiful modernist buildings that feature in Orazi's book. Read on if you, like us, are planning a trip that's a) super-memorable, b) kind of highbrow and c) absolute #modernist gold for your Insta feed.
Beautiful modernist buildings that you can visit
More cool buildings you should definitely check out
Great artists don't just create great work – they make beautiful spaces too. Here are five of the most beautiful artists' homes that welcome guests.