Heads up! We're working hard to be accurate – but these are unusual times, so please always check before heading out.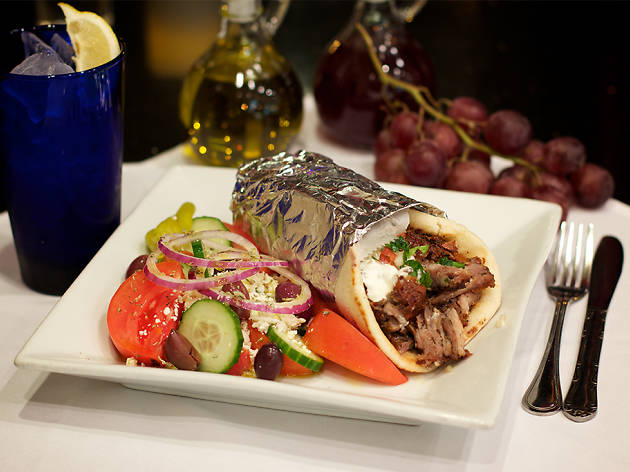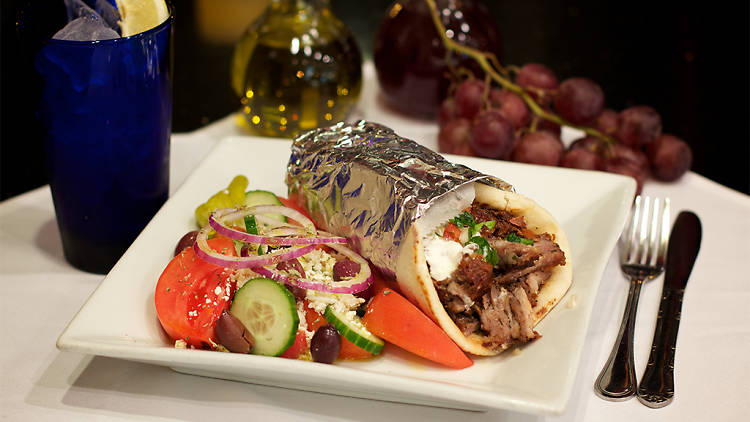 The best Greek restaurants in the USA
From tzatziki to fresh fish dishes, the best Greek restaurants in the USA serve authentic food in beautiful settings
Best Greek restaurants in the USA
Kokkari serves Hellenic cuisine—essentially an inventive and seasonal update of traditional Greek—that may indeed qualify as "food of the gods," as it's described. Start with marithes tiganites (crispy smelt with garlic-potato skordalia and lemon, or "fries with eyes," as some folks affectionately call them) or some of the best grilled octopus in town. Then work your way up to traditional moussaka—a rich, creamy baked casserole of eggplant, lamb ragout and béchamel—and their famed lamb chops. Get the galatkoboureko and loukoumades for dessert—you saved room, didn't you? The restaurant has a rustic and welcoming feeling; it's always popular for lunch and dinner, and fantastic for groups and celebrations (get a large fish for the table). It's one of those San Francisco classics that always feels right, no matter the occasion.
The James Beard-nominated taverna is the brainchild of sommelier Evan Turner, so it's no surprise that Helen boasts one of the country's most extensive Greek wine lists. The bottles—more than 120 varieties imported from all over the peninsula—are piled in racks scattered throughout the space, creating a rustic, cellar-like atmosphere more typical of a wine bar than a traditional Mediterranean eatery. Chef William Wright (Telepan, Philippe) leads the kitchen, turning out elevated Greek fare (don't miss the impeccably flaky cheese-and-greens phyllo pie) that also highlights local Houston ingredients, including—of course—the area's excellent Gulf Coast seafood.
The location is different and the name has changed, but the Cypriot cooking at chef Konstantinos Pitsillides' Kanella 2.0 is every bit as good as the original, if not better. A newly-installed wood-fired oven and charcoal grill add a smoky hint to whole roasted branzino, goat chops and lamb-filled flatbread, while a full-fledged liquor license (the old Kanella was BYOB) means a new sophisticated drinks program. Choose from deftly-mixed cocktails like the masticha-infused Cypriot or ouzo daiquiri and hard-to-find wines from Greece, Lebanon and Hungary.
This Mediterranean stunner from tapas king Jose Andres centers around—you guessed it—mezze, a collection of small plates usually paired with booze (and there's plenty of it). Boasting over 70 items, chef Michael Costa's menu may read like The Odyssey, but we've got the CliffsNotes: Order heavily from the seafood and vegetable categories. Zaytinya's stuffed dolmades, crispy Brussels sprouts and ouzo-battered catfish are a must, as well as any of the spreads—trust us, you'll need something to dip the reappearing baskets of warm, just-baked pita in.
Chef Thomas Soukakos has been closing the distance between the Greek isles and the Emerald City since opening his first Seattle spot in 1994. His latest Capitol Hill venture dispatches elevated takes on mezze from an open kitchen into a modern, minimalist dining room filled with splashes of his homeland's iconic blue. Begin with a basket of grilled Columbia City Bakery bread and house-made sesame-studded koulari, followed by oregano-dressed branzino and grilled meatballs. For dessert, there are puffy loukoumades drizzled in Greek honey, cinnamon and a Theo's chocolate sauce that's listed as optional, but should really be mandatory.
Though the number of Greek restaurants is growing in L.A., the number of good Greek restaurants is still relatively minimal. Inotheke is an exception. The chic Santa Monica restaurant comes from chef Carolos Tomazos, a native of Cyprus who has gained experience at Per Se and Le Bernardin. The clean, bright lines and mellow color scheme of Inotheke make the space both a swanky date spot and a prime location for a business lunch. Either way, you'll be sharing your plates here—a beautifully dressed Greek salad, maybe, or oysters to start. The moussaka is a richly layered dish of ground beef, eggplant, zucchini and a variation of béchamel, while the scallops may be the most tender bivalves you've ever had. Accented by tomato, ouzo, feta, scallions and rice, they're worthy of breaking the "shared" trend and ordering just one for yourself. For dessert, an incredible plate of baklava arrives cut into two triangles, oozing with honey and sweet as can be. Oh, and the wine? There's an impressive menu dedicated to just that, including a fantastic cava and some truly incredible sherries to round out the meal.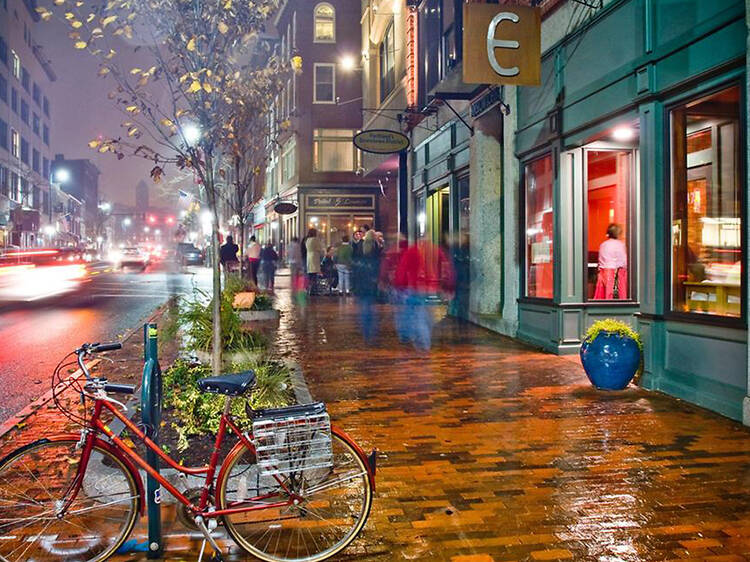 Photograph: Courtesy Emilitsa
7. Emilitsa Greek Restaurant in Portland, ME
Running Emilitsa has always been a family affair. Named after their mother, the Congress Street restaurant was opened in 2008 by brothers Demos and John Regas, hospitality vets who oversaw the kitchen and dining room, respectively. Chef Demos recently handed the back-of-house reigns over to son Niko, a Jean-Georges alum making his mark with reinvented Greek cooking. The menu has gotten a refresh—there are now lamb ribs glazed in coriander and citrus and grilled Nova Scotia swordfish topped with sweet peppers—but Emilitsa's original spirit and inspiration remain untouched. Grandma would be proud.
Named after the Hellenic word for "wave," this elegant, navy-ceilinged eatery run by Buckhead Life Hospitality Group (103 West, Bistro Niko) fittingly focuses on whole fish. Chef Pano I. Karatassos selects the day's freshest catch—displayed on ice as diners enter the room—and cooks them over a wood-burning grill, basting frequently with lemon, oregano and olive oil. Skilled servers will fillet the finished fish tableside, adding to the fine dining ambiance, but Kyma is anything but stodgy—its separate and uber popular vegan and vegetarian menus make it an inviting and satisfying experience for everyone.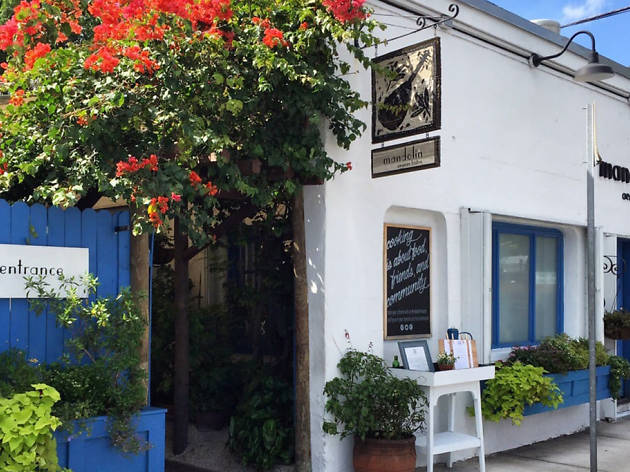 Photograph: Courtesy Yelp/Rodrigo M.
For an authentic Greek meal with a side of beautiful, Mediterranean-inspired scenery head to Mandolin. Bold blue doors and subtle splashes of cerulean give the feeling you're dining somewhere along the Aegean coast, especially on balmy summer nights. In keeping with the laid-back seaside-like experience, food is light and fresh. You'll find an assortment of traditional mezzes (dips are delicious and all made in-house) as well as whole fried fish and other just-caught seafood. To drink, you can't go wrong with a glass of freshly batched sangria.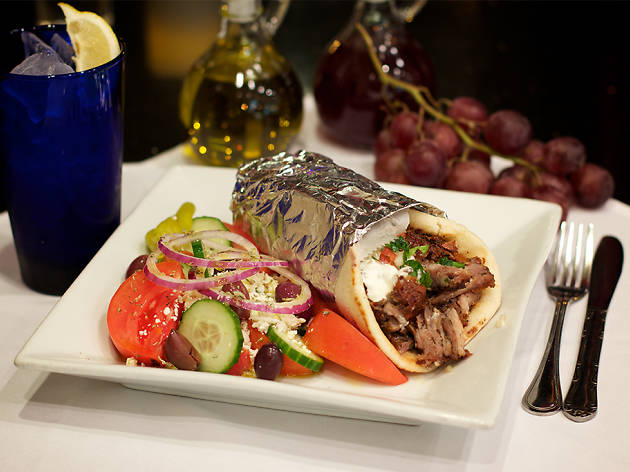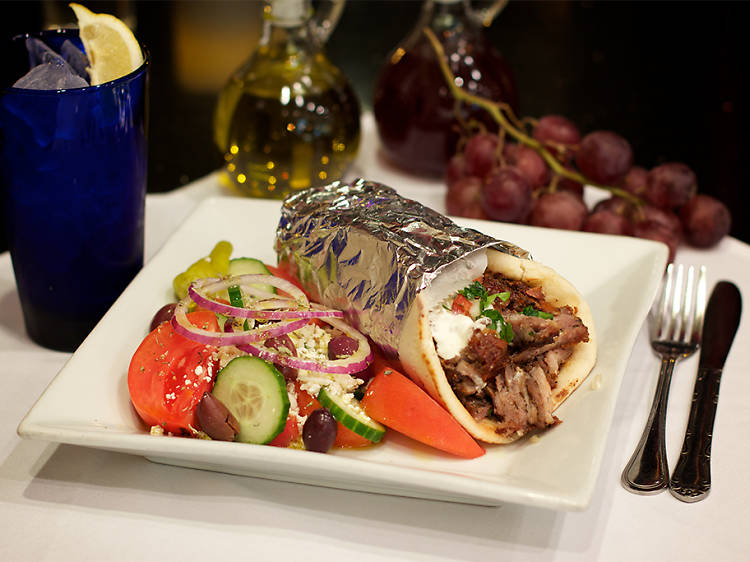 Photograph: Frederick Fairbanks
10. Esperia Grill in Brighton, MA
In 2006, husband-and-wife owners Tim and Georgia Athanasiadis transformed their pizzeria into a casual Greek kouzina, a move that brought top-notch gyros to the town of Brighton. True to tradition, marinated pork and chicken get sliced off the spit and charred on a flat-top grill before they're wrapped up in pita with a heaping dollop of tangy homemade tzatziki. The generously-portioned bundles are sure to fill you up, but save room for the fried feta doused in honey and fig jam.
Show more