London's best Indian restaurants
Find more than just a slap-dash curry at this list of Indian restaurants in London – from restaurants serving classic Moghul food to modern interpretations of pan-Indian cuisine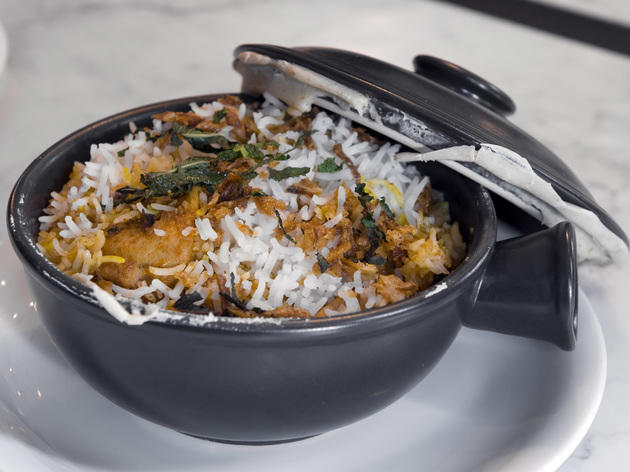 Indian restaurants in London offer a Bollywood symphony of flavours and cooking styles. If you're looking for something beyond your bog standard Brick Lane curry, the list below should fire you up. From homely dhal dishes to Punjabi-grilled meats worth queuing for, discover the best Indian restaurants in London.
Get more spice in your life
Explore regional specialities as well as a roll-call of classics at our pick of Thai restaurants. London offers quality chain Thai restaurants alongside innovative joints putting unique spins on Thai street food. You'll find them all in the list below.
Read more
Sponsored listing
Khanage
There's an emphasis on Lahori dishes at this relatively new Wimbledon restaurant, though other Punjabi dishes also feature, as well as a selection of recognisable Indian options, too. Desserts such as kheer, gajar halwa and gulab jamun are all made in-house, and play an important part on the menu.   Many of the most popular dishes come from the tandoor, so expect to see plenty of mixed grill platters, plates of tandoori chicken, lamb chops and murgh shashlik - marinated chicken cooked on skewers with capsicum and onions. Specials include chicken tikka jalfrezi, kofte curry, chicken tikka do piaza, tandoori trout and nihari - a traditional Northern Indian dish of lamb slowly cooked on the bone and served with coriander, ginger and chillies. Keep an eye out for set menus, children's meals and lunchtime buffets, too.
"Khanage has just won Restaurant of the Year in London at the English Curry Awards 2016! Come down and see what all the fuss is about."