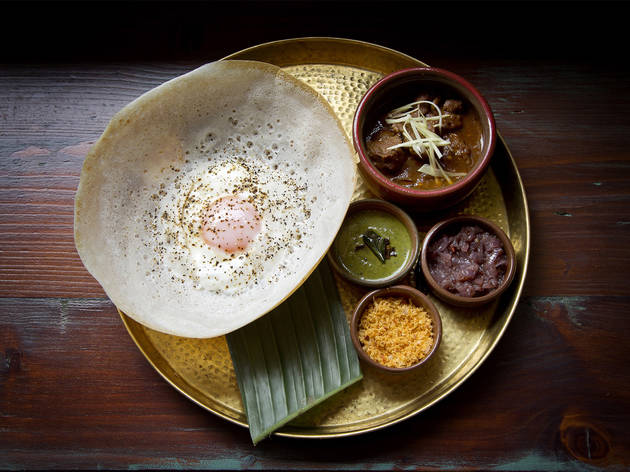 1/8
© John Carey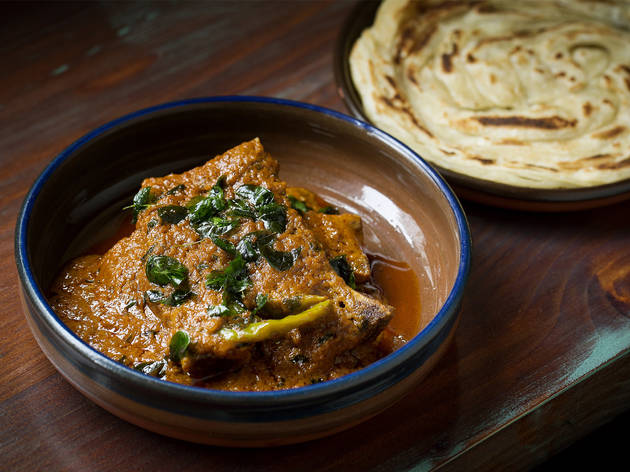 2/8
© John Carey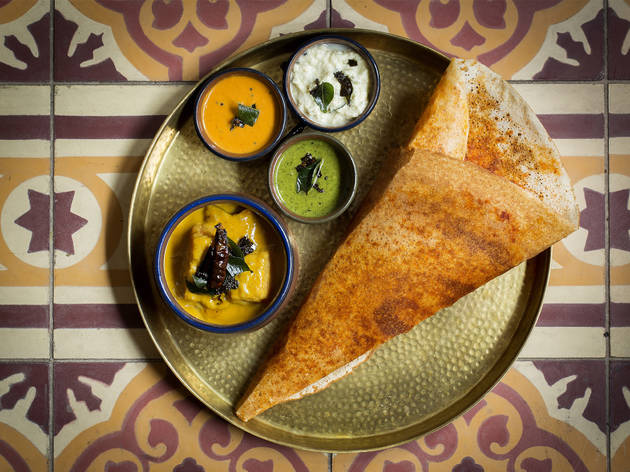 3/8
© John Carey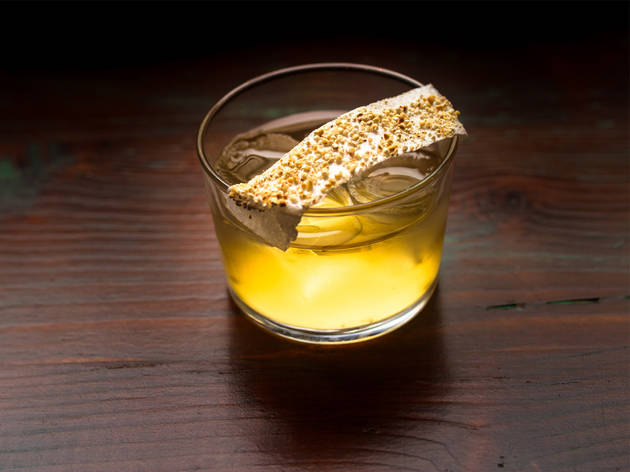 4/8
© Karan Gokani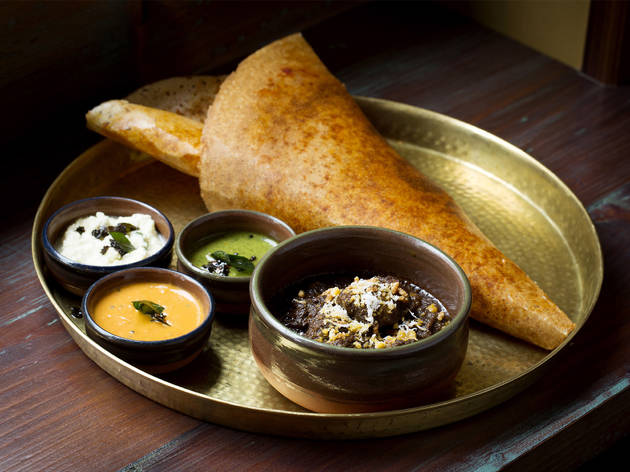 5/8
© John Carey
6/8
© Karan Gokani
7/8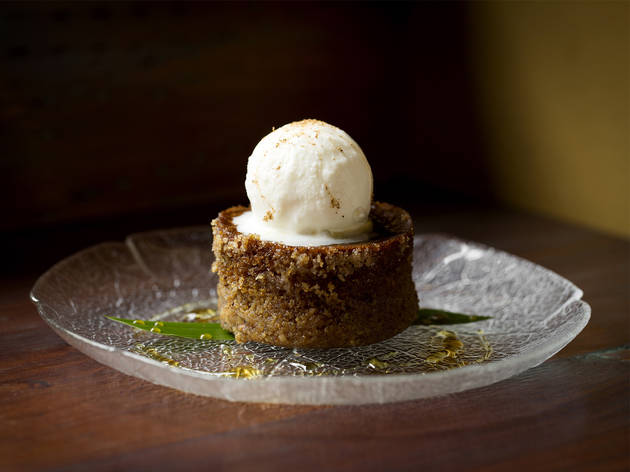 8/8
A Soho restaurant featuring dishes inspired by Sri Lanka and Tamil Nadu.
'Come back to my place', shouted my Uber driver. 'We'll look after you!' This exchange, back in May, was more innocent than it sounds. Having found out that I was half Sri Lankan (upon which he immediately high-fived me, causing the car to lurch thrillingly to one side), my Colombo-born taxi driver was now trying to solve my personal problems, namely how long it had been since I'd last had a decent hopper.
These bowl-shaped savoury crepes, you see, are technically a breakfast item. So attempting to order them in a traditional Sri Lankan restaurant at the 'wrong time' is typically met by a baffled expression. Hence his offer to drive us to his place in Hendon, where his wife would cook. If I weren't already running late, I might just have said yes. (And by the way: inviting a total stranger to your house for food is completely normal behaviour in Sri Lanka).
But now I wouldn't have to. The Sethis, who are basically Midases of the restaurant world (Gymkhana, Bubbledogs and Bao are just three of their restaurants), have only gone and opened a Sri Lankan restaurant, specialising in…well, you know.
And it is an absolute joy. As you might expect from a no-bookings joint in Soho, it's small but stylish, effortlessly mixing old and new. Exposed brick meets wood panelling; pretty patterned tiles meet carved-wood devil masks. The menu, likewise, gives traditional Sri Lankan street food a fashionable lift. Slender breaded and deep-fried mutton rolls came with a ginger, garlic and chilli 'ketchup'. A dinky dish of roast bone marrow with a fiery 'dry' sauce and buttery roti was disturbingly delicious, as was an unapologetically spiced guinea fowl curry. The egg hopper had a soft-middled yolk at its base, but crunchy batter at the top: this is no mean feat.
String hoppers (steamed rice noodle 'pancakes') came with not just a classic mild coconut pouring curry but with a terrific fresh coconut sambol. To finish, watalapam (spiced 'set' coconut custard) was exceptional, even if the slice was the smallest I've ever seen.
This I can live with. But what did leave a bad taste was the relentless upselling from the otherwise exceptional staff. Tone this down and Hoppers might just be one of the best new spots in London. Mr Uber should bring his wife.
Venue name:
Hoppers
Contact:
Address:
49 Frith Street
London
W1D 4SG

Opening hours:
Mon-Sat noon-2.30pm, 5.30-10.30pm
Transport:
Tube: Tottenham Court Rd or Leicester Square
Price:
Dinner for two with drinks and service: around £70.
Do you own this business?
Average User Rating
4.1 / 5
Rating Breakdown
5 star:

15

4 star:

23

3 star:

5

2 star:

2

1 star:

1
Awful system trying to get into the restaurant. The soho branch said we'd have to wait 3 hours so went to the St. Christopher's Place branch and had to wait one and a half hours. The inability to book a table online for less than 4 people and making people hang around the area for 3 hours is ridiculous. Once we did eventually get through the door the food was lovely and the staff were nice. Please rethink your booking process.
Sorely disappointed. Success has gone to their head.
Terrible service - everything arriving out of order, so e.g. our (unremarkable) bone marrow was stone cold by the time we got roti/idli to scoop it up with. Pricing is ridiculous. How can they charge £1.50 for a single tiny Idli? The portions of kari were also miniscule. The vegetable kari offerings were again unremarkable but fine. The meat was really not good at all. The waitress recommended the black pork which was tough, dried out and laden with far too much curry leaf. The lamb kothu roti was a greasy affair with big lumps of lamb fat - and greasy cooked dough, making it resemble a bad chinese noodle dish. The egg in the egg hopper was supposed to be runny but was over cooked and hard. The only truly yummy things were the pilau rice, the green chutney, and the (miniscule) roti. The staff was overly eager to hurry us along - and removed dishes while our group was still eating from them.
I love appam/hoppers - but I'll make my own thank you - this is certainly not worth waiting hours for.
Waited 3.5 hours for a table for 4 on a Thursday night (even though I got there at 5:40pm to put my name down), but it was totally worth it! As long as you're happy to go and find a bar or something to keep you occupied, then it's definitely worth the wait.
The food is super tasty, and the cocktails are pretty damn good too! Absolutely loved the chicken lollipops and the hoppers are delicious too!
Definitely worth a visit if you're happy to wait.
Impossible to get in. They don't take reservations and as many times I went to put my name on a list at least five hours ago, its already full for the night. Whats the secret??
Hard to find a table - after many attempts, we managed to get a table and loved the food.
Staff's advice was very helpful.
We came here early on Wed evening, around 6pm and we got a table straight away (well one of us got there first to put our name down). They don't let you have a table unless the whole party is present. This place is VERY popular with those in the know as well as to Indians so... you know it's good. Pricing is very reasonable and the egg hopper is just the best with the chutney... and the Kari!
Everything I have read online about Hoppers has been so positive apart from the queueing time but I was happy to put that aside as I have queued for other restaurants such as Dishoom and it has been well worth it. I had high expectations and initially I was impressed by the interior and immediate buzz in the atmosphere. However thereafter I have to say I was thoroughly disappointed. My disappointment stemmed mostly from my first interaction with our waitress who made it clear that we had to order drinks. starters and mains altogether otherwise we would not recieve our food in a timely manner. I therein felt unwelcomed and at pressure to have to order, eat and leave which made the whole experience far too rushed.
Whilst the starters (some of the best mutton rolls I have eaten compared to many I have eaten in Sri Lanka) which came quickly were very good, again unfortunately the rest of the meal was lacking flavour and by all account didn't have the exciting factor I was expecting. The buffalo biriyani was pleasant but the fish curry was bland, had one piece of fish in it and lacked a depth of flavour. The sambols accompanying the hoppers were so small that the taste was hard to obtain. The hoppers themselves were huge and the base far too thick - I felt they were too big but probably due to the fact that they were priced at £3 per hopper!
The worst part of the evening was when we were still finishing our cocktails (which were very nice) and the waitress simply placed the bill on the table even though we hadn't actually asked for it!
It was disappointing overall and far from what I was expecting. Yes, there were queues outside but that will always happen when you don't take bookings but that doesn't mean that those customers who are sitting and enjoying their meal should be rushed and pressurised into leaving as that ultimately leaves a sour taste. And, whilst sometimes that is palatable overall the food was also disappointing and overall led to a disappointing experience. Whilst the ambition is there to make Sri Lankan food existing I think this unfortunately fails to hit the mark.
A good addition to the Soho dinning scene. Over hyped and definitely not worth the ridiculous queues but the food is good and the atmosphere and service pleasant.
It was probably only a matter of time before the humble hopper started to make an impact on Instagram. The golden yolk in the middle of an eye catching, bowl-shaped pancake, presented on a gold tray complete with exotic banana leaf and a selection of colourful curries, chutneys and sambals, set off nicely by the dark wood table setting. Thankfully alongside being very photogenic, the food also tastes very good. The hoppers themselves are mostly vehicles for the other dishes described, and there was little to let the side down. Dosas provide a similar function, and the podi version is coated in a mix of spices which ensure it packs as much of a punch as whatever you dip it in. 'Short eats' are also excellent and bring more variety to the table. Bone-marrow varuval and chicken heart chukka were my personal favourites. I was a little disappointed to hear that desserts (which I had heard were very good) are no longer offered. Something cool and fruity would be a nice refreshment after the rich and spiciness that comes before, but I suppose those waiting for a table behind me were probably thankful for the omission. Getting a table here can be a challenge, but by getting in early I was seated straightaway, albeit slightly awkwardly as the middle two on a table of six. Sri Lankan food has long been overlooked despite the prevalence of their Indian neighbours, so its great to see it being given its chance to shine amongst the other Soho hotspots.
I was there with my team on a cold winter after noon. We were given a nice service. The food was great and tasty. A bit crowded at times and hard to get a table. However the down side is you will be charged separately for the chutneys (those little colourful things you see in the little pots). Other than that, the taste is very authentic. A nice authentic South Indian restaurant in the middle of Soho.
Utterly, astonishingly good. Sure, it's one of those pesky no-bookings deals, but at least they let you put your name down and send you a text when your table's ready (Dog and Duck is probably the best nearby option for pre-dinner pints). So you'll not be queueing in the cold like a chump, unless that's your idea of fun.
The food is excellent. Everything – everything – we tried was delicious, curiously flavoursome and spiced just right. It's best to take a few people along with you and order a selection of starters, curries and the pricier, bigger dishes. Everything arrives pretty quickly, so if you decide you've under-ordered, it's no hassle to call for reinforcements. Even the desserts were stunning.
My one criticism is the poor beer selection – a single, run-of-the-mill Sri Lankan lager for £4.50 a bottle. I'm sure nobody would call the restaurant out for being inauthentic if they put a few local craft options on the menu.
A stunning experience, and great value, too, at around £33 a head. GO.
Wow! I have wanted to check out this place since it opened but it is always packed. The wait was around 1 hour but you can put your name down at the door and grab a drink nearby. We ordered a mix of dishes and a Hopper or Dosa each with a variety of Karis and the portion sizes are perfect for sharing. All really tasty and different but on the slightly spicy side which was great for me but some may need a glass of milk on the side. I recommend the Bone marrow Varuval, Egg Hopper and any of the Karis. Make sure you order extra roti because it is that good!