Michelin star restaurants in London
Find all the London restaurants awarded with a shining Michelin star, from long-standing culinary institutions to newer restaurants gaining a star in 2018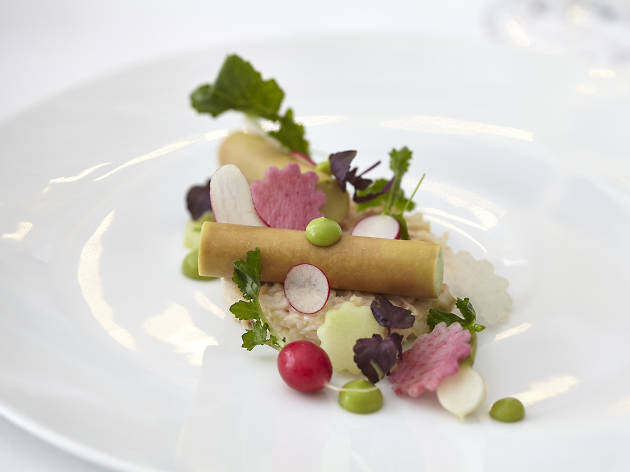 The yearly unveiling of the Michelin Guide's Great Britain and Ireland edition is always big news in the food nerd world. For very good reason, too – London's one of the top-ranked cities in the world for fine dining. And it's got plenty of stars to cement that status.
While Michelin's expertise on expensive, upmarket restaurants is well-known, the Michelin Guide has also been criticised for its relevance to ordinary diners. Conspicuous by their absence are more affordable places to eat – you'll find many restaurants in five-star hotels in the list below.
The canny eater, it should be said, should consider aiming at the board's Bib Gourmand list – a kind of 'highly commended' round-up that doesn't require the formal fripperies of the starred system. Really, it's where the most exciting stuff lies, and plenty of those places appear in our meticulously compiled list of the best restaurants in London. On a plus note, Michelin is one of the few publications to visit anonymously and pay for its meals, just as Time Out does (pats on the back for us).
However, if you're feeling flush then read on to find all London restaurants with a Michelin star.
RECOMMENDED: The 100 best restaurants in London
London restaurants with one Michelin star
Alyn Williams, formerly head chef at Marcus Wareing at The Berkeley, has opened his own restaurant at the Westbury Hotel.
Make the most of it and book a stay at The Westbury.
Book now
Read more
This Michelin-starred restaurant at The Halkin Hotel comes from the Arzak family - famed for their eponymous, three Michelin-starred restaurant in San Sebastian, Spain. Ametsa offers a similarly intricate showcase of New Basque cuisine.
Book now
Read more
Venue says: "Our opulent Russian inspired winter terrace is now open. Voted one of the best in London."
The team behind South Place Hotel – D&D London – understand their City clientele. Smooth service is always required, as is a reliable and consistent dining experience. As such, their fine dining restaurant on the sixth floor is never going to be the most daring restaurant in London, but it makes up for this in technical excellence and professionalism.
Make the most of it and book a stay at South Place Hotel.
Book now
Read more
The London branch of Robuchon's high-end globe-spanning chain (there are also outposts in Las Vegas, Taipei and his native Paris) could be anywhere in the world, but thinks it's funkier than most gastronomic shrines. Customers are mostly tourists, drawn by the reputation for quality control and clever layering of texture and flavour.
Buy tickets
Read more
If proof is needed that tapas is fashionable, the queues at Barrafina are it. And there will be a queue: bookings aren't taken and hopeful diners can expect to wait at least an hour, any evening of the week. Yet seldom does anyone leave Barrafina disappointed. The place is part restaurant, part theatre, in which diners play a part.
Read more
This glamorous first-floor cocktail bar and stylish restaurant blend modern furnishings with traditional Indian touches. The venue attracts big spenders – suits on expense accounts, romancing couples and curious tourists. Fronted by well-known chef Atul Kochhar, the kitchen produces modern cooking in the haute-cuisine league.
Book now
Read more
Tom Kemble is head chef, having previously worked at Hedone in Chiswick and Faviken in Sweden.
Book now
Read more
Show more
London restaurants with two Michelin stars
London restaurants with three Michelin stars
It is perhaps a tribute to London's international status that there's a niche for this restaurant in the capital; relatively few people apart from star footballers are in a position to frequent it. Nor would we want to: indeed, there are other places we'd rather visit elsewhere within the Dorchester. The cooking and setting are undeniably lovely, yet the overall experience lacks wow factors – apart from the bill – largely because of its unfashionably restrained, traditional approach to fine dining. Still, the restaurant commands a loyal clientele.
Make the most of it and book a stay at The Dorchester.
Book now
Read more
Clare Smyth MBE has now been appointed chef-patron of Gordon Ramsay's flagship Chelsea restaurant. Her name features on the intelligently inventive menu, and the cool, elegant dining room has been refurbished with distinctly feminine touches, including lilac-toned silk-screen print panels. Dishes tantalise then delight the senses; no element of the complex assemblies seems showily redundant – even the pouring of sauces at table adds visual and aromatic impact. We left with a smile, and lifted spirits.
Book now
Read more
See Time Out's top 100 restaurants
Feast your eyes on the top restaurants in London, from the new gastronomic game-changers to the seasoned heavyweights who give this city its culinary chops
Read more
Eat at a top-rated restaurant then stay at a top-rated hotel
You've found your dream restaurant. Why not push the boat out and book an overnight stay to match? Whether it's a five-star hotel in Mayfair, a budget option near the Eurostar, a chic cheap hotel in Camberwell or a Bloomsbury-era B&B minutes from the British Museum, you'll find them in our definitive list of the best hotels in London.
Read more