Michelin star restaurants in London
Find all the London restaurants awarded with a shining Michelin star, from long-standing culinary institutions to newer restaurants gaining a star in 2017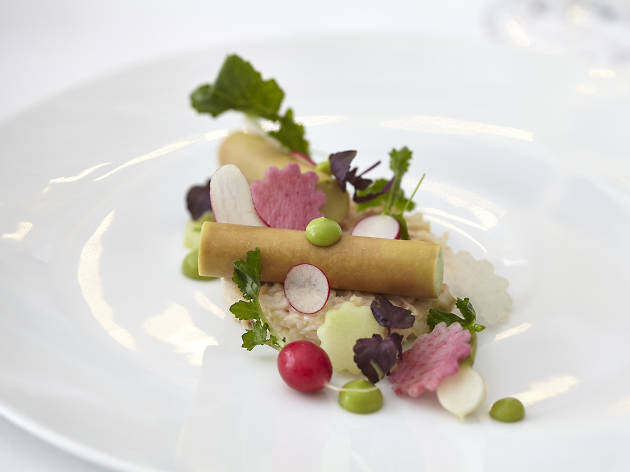 The unveiling of the Michelin Guide's Great Britain and Ireland edition is always a hotly anticipated event among culinary followers of celebrity chefs and top restaurants, and with good reason – London is one of the top-ranked cities in the world for fine-dining. We're happy to report that London's status holds year after year, the capital decorated with Michelin stars aplenty.
While Michelin's expertise on expensive, fine dining restaurants is long-established, the Michelin Guide has also been criticised for its relevance to ordinary diners. Conspicuous by their absence are more affordable places to eat – you'll find many restaurants in five-star hotels in the list below. Coverage of ethnic restaurants has also been criticised with a lean towards French and Italian food. On a plus note though, Michelin inspectors visit anonymously and pay for their meals, just as all reputable restaurant guides and websites do (including Time Out).
Time Out has meticulously compiled its own list of the best restaurants in London, based on 25 years of anonymous review visits, which takes value for money into consideration as one of the main criteria. However, to find all London restaurants with a Michelin star, read on.
RECOMMENDED: The 100 best restaurants in London
London restaurants with one Michelin star
Alyn Williams, formerly head chef at Marcus Wareing at The Berkeley, has opened his own restaurant at the Westbury Hotel.
Make the most of it and book a stay at The Westbury.
Book now
Read more
This Michelin-starred restaurant at The Halkin Hotel comes from the Arzak family - famed for their eponymous, three Michelin-starred restaurant in San Sebastian, Spain. Ametsa offers a similarly intricate showcase of New Basque cuisine.
Book now
Read more
Venue says: "Try our special 'Taste of Spring' menu with four courses and a glass of Champagne for £48."
The team behind South Place Hotel – D&D London – understand their City clientele. Smooth service is always required, as is a reliable and consistent dining experience. As such, their fine dining restaurant on the sixth floor is never going to be the most daring restaurant in London, but it makes up for this in technical excellence and professionalism.
Make the most of it and book a stay at South Place Hotel.
Book now
Read more
If proof is needed that tapas is fashionable, the queues at Barrafina are it. And there will be a queue: bookings aren't taken and hopeful diners can expect to wait at least an hour, any evening of the week. Yet seldom does anyone leave Barrafina disappointed. The place is part restaurant, part theatre, in which diners play a part.
Read more
This glamorous first-floor cocktail bar and stylish restaurant blend modern furnishings with traditional Indian touches. The venue attracts big spenders – suits on expense accounts, romancing couples and curious tourists. Fronted by well-known chef Atul Kochhar, the kitchen produces modern cooking in the haute-cuisine league.
Book now
Read more
Tom Kemble is head chef, having previously worked at Hedone in Chiswick and Faviken in Sweden.
Book now
Read more
Venue says: "Céleste's Sunday Brunch Club: 11am to 2.30pm each Sunday, serving breakfast, lunch, healthy choices and roasts to share."
Fine-dining at the Lanesborough Hotel, following the hotel's 2015 relaunch. Chef Eric Frechon and Executive chef Florian Favario presents modern European dishes in an old-fashioned room that relies on natural light from its domed glass ceiling.
Make the most of it and book a stay at The Lanesborough as well.
Book now
Read more
Like a well-cut blazer, Chez Bruce may not be especially original, but it is largely reliable. In 2010 the restaurant expanded into the neighbouring site, but little changed, and not much has altered since. The look is a study in classic (if slightly dated) restaurant decor and the cooking is equally timeless, led decisively by the French school without much deference to culinary fads.
Book now
Read more
Atop a hive of financial firms in Floor 24 of Tower 42, this is one heck of a dining room with a view. It's a gorgeous space: nocturnal, sexy and full of art-deco flashes, where Jason Atherton earned another Michelin Star in 2015.
Book now
Read more
Show more
London restaurants with two Michelin stars
London restaurants with three Michelin stars
It is perhaps a tribute to London's international status that there's a niche for this restaurant in the capital; relatively few people apart from star footballers are in a position to frequent it. Nor would we want to: indeed, there are other places we'd rather visit elsewhere within the Dorchester. The cooking and setting are undeniably lovely, yet the overall experience lacks wow factors – apart from the bill – largely because of its unfashionably restrained, traditional approach to fine dining. Still, the restaurant commands a loyal clientele.
Make the most of it and book a stay at The Dorchester.
Book now
Read more
Clare Smyth MBE has now been appointed chef-patron of Gordon Ramsay's flagship Chelsea restaurant. Her name features on the intelligently inventive menu, and the cool, elegant dining room has been refurbished with distinctly feminine touches, including lilac-toned silk-screen print panels. Dishes tantalise then delight the senses; no element of the complex assemblies seems showily redundant – even the pouring of sauces at table adds visual and aromatic impact. We left with a smile, and lifted spirits.
Book now
Read more
See Time Out's top 100 restaurants
Feast your eyes on the top restaurants in London, from the new gastronomic game-changers to the seasoned heavyweights who give this city its culinary chops
Read more
Eat at a top-rated restaurant then stay at a top-rated hotel
You've found your dream restaurant. Why not push the boat out and book an overnight stay to match? Whether it's a five-star hotel in Mayfair, a budget option near the Eurostar, a chic cheap hotel in Camberwell or a Bloomsbury-era B&B minutes from the British Museum, you'll find them in our definitive list of the best hotels in London.
Read more
Sponsored listing
Michael Nadra Chiswick
It's hard to know why this Chiswick high-flyer, a hop and a skip from the chi-chi shops of Turnham Green Terrace, isn't better known. The food, cooked by Craig Best (ex La Trompette), dabbles in the Orient (chilli, daikon, ginger, soy), while showcasing the best of European ingredients (foie gras, burrata, English asparagus, serrano ham). Our set lunch – superb value at £24 for three courses – delivered on every level: presentation, originality, flavour, va-va-voom. Fish is a particular strength. Soft-shell crab (crisply tempura-ed) with daikon and sweet chilli was vibrant and zingily fresh, as was an unusual salmon ceviche with piquillo peppers and noisettes of sweet potato. Mains showed similar verve. Sautéed king prawns served with playfully criss-crossed fillets of sea bass and herby tagliatelle had great depth of flavour; tender, flavoursome rabbit came with a sweet-sour caponata. A chocolate fondant could have done with more salted caramel, but this is a tiny quibble. Service was friendly and informed, the wine list a global affair with plenty of affordable options. The spartan room (monochrome photos, white walls, black chairs) lacks atmosphere, but the superb cooking made for a memorable meal. Get a boothed window table if you can.