The 100 best horror films
The best horror films as voted for by more than 100 experts, including Simon Pegg and Roger Corman.
By Derek Adams, Dave Calhoun, Cath Clarke, Sarah Cohen, Nigel Floyd and Tom Huddleston, with the generous support of everyone at FrightFest and Cine-Excess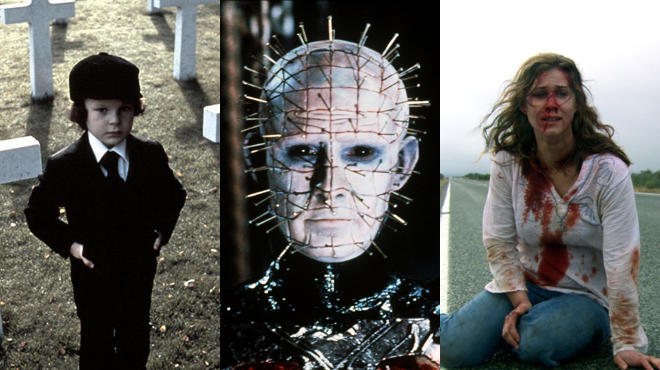 SLIDE SHOW: View the 100 best horror films as one slide show >>
Just in time for Halloween, Time Out proudly presents the 100 best horror films, as chosen by those who write in, direct, star in and celebrate the genre.

RECOMMENDED: Complete guide to Halloween, NYC haunted houses, and costume shops

Horror cinema is a monster. Mistreated, misunderstood and subjected to vicious critical attacks, somehow it keeps lumbering forward, leaving a trail of destruction in its wake. For some, horror films are little better than pornography, focused purely on evoking a reaction—be it terror, disquiet or disgust—with little thought for 'higher' aspirations. For others, they're just a bit of fun: a chance to shriek and snigger at someone's second-hand nightmare.

But look again, and the story of horror is also the story of innovation and non-conformity in cinema, a place where dangerous ideas can be expressed, radical techniques can be explored, and filmmakers outside the mainstream can still make a big cultural splash. If cinema itself has an unconscious, a dark little corner from which new ideas emerge, blinking and malformed, it must be horror. The question is—which are the best horror films?

We polled well over 100 horror enthusiasts—with big names like Roger Corman, Guillermo del Toro, Simon Pegg, Clive Barker and Alice Cooper, and horror legends like Coffin Joe, Kim Newman and Tom Six—and came up with a definitive top 100 list.

The result may surprise you: while the top ten may be stuffed with big hitters, the full list is wonderfully unpredictable and packed with oddball leftfield choices. But what about your opinion?

As always, we're keen to know what we got wrong and what we got right, so leave your opinionated rants ('Where the hell was Leprechaun: Back 2 tha Hood?!') in the comments below. Meanwhile, enjoy the list and prepare to be frightened. Very, very frightened.
100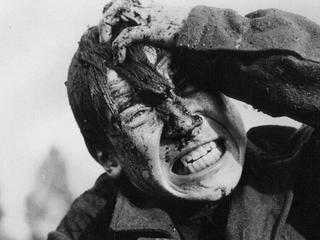 Come and See (1985)
Dir Elim Klimov (Aleksei Kravchenko, Olga Mironova, Liubomiras Lauciavicius)

Inspired in part by I Come from the Burning Village, a collection of interviews with survivors of the Nazi atrocities committed against the peasant farmers of Belarus in the early 1940s, Klimov's savage masterpiece influenced Spielberg's Saving Private Ryan, and Malick's The Thin Red Line, though neither deserves to be mentioned in the same sentence. Separated from the partisan soldiers he joined after leaving behind his mother and two sisters, 12-year-old Florya (Kravchenko), together with pretty teenage peasant girl Glasya (Miranova), wanders aimlessly and struggles merely to survive. Deafened by an explosion, Florya bears silent, wide-eyed witness to the genocidal near-annihilation of the civilian population. Cinematographer Alexei Rodionov's fluid Steadicam draws us into the black heart of the horror, which is also painted on Florya's increasingly haggard face. J G Ballard called it "one of the greatest war films ever made".—Nigel Floyd
 Watch Come and See now at Amazon Instant Video
99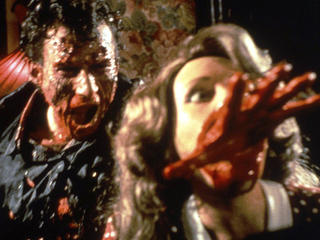 Dead Alive (1992)
Dir Peter Jackson (Timothy Balme, Diana Peñalver, Elizabeth Moody)

At the time, Jackson's satirical splatterfest was by far the goriest movie ever made (at least in the English language), yet the tone is gruesomely funny rather than violent or cruel. The innocent love affair between 25-year-old virgin Lionel (Timothy Balme) and the lovely Paquita (Diana Peñalver) is interrupted when his domineering mother is bitten by a Sumatran Rat-Monkey and transforms – through several putrescent stages – into a hideous zombie with a craving for human flesh. Most of the laugh-out-loud humour derives from the hilarious incongruity between the sedate suburban setting, with its polite ladies who lunch, and the blood-drenched spectacle of the loving couple fending off a slavering horde of flesh-eaters with household and garden implements – most iconically and most effectively, that great Kiwi invention, the fly-mo.—Nigel Floyd
 Watch Dead Alive now at Amazon Instant Video
98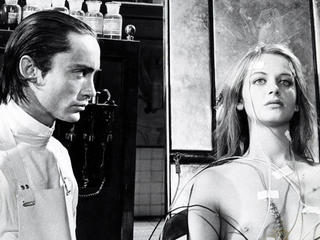 Flesh for Frankenstein (1973)
Dir Paul Morrissey (Joe Dallesandro, Udo Kier)

Andy Warhol was a producer on this camp, incredibly gory and oh-so-loose spin on Mary Shelley's creation. Kier plays a Serbian version of Baron Frankenstein, the creator of a new Adam and Eve who are dead set on procreating furiously in order to produce a whole new human race. The Factory's favourite boy, Dallesandro, steps up to satisfy the baron's over-sexed sister and increase the film's flesh quotient. It's one of those films the midnight-movie slot was made for. It was initially released in 3D after being cut to secure even an 'R' rating in the US, and the 3D effects mainly consist of people's innards swimming in pools of blood. Memorable line: "You can't say that you know life until you've fucked death in the gall bladder."—Dave Calhoun
 Buy Flesh for Frankenstein now on Amazon
97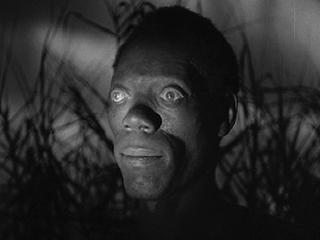 I Walked with a Zombie (1943)
Dir Jacques Tourneur (Francis Dee, Tom Conway, Christine Gordon, James Ellison)

Set on a West Indian island, Tourneur's follow-up to Cat People (1942) (see No. 29) offers a febrile mix of Caribbean superstition, family secrets and women in white nightgowns sleepwalking in moonlight. Brought from Canada to care for a plantation manager's invalid wife, impressionable young nurse Betsy (Dee) is baffled by her patient's vague demeanour and nocturnal wanderings. Although aware that a secret is being kept from her, Betsy determines to snap the woman out of her catatonia, if necessary by secretly taking her to a voodoo ceremony. To the incessant, rhythmic sound of drums, Tourneur stages a series of elegant, fluid set pieces charged with sickly fear and moral ambivalence.—Nigel Floyd
 Watch I Walked with a Zombie now on iTunes

 Watch I Walked with a Zombie now at Amazon Instant Video
96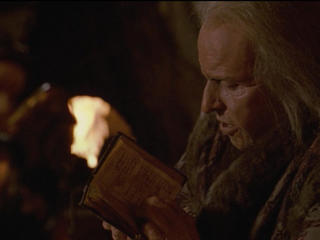 Cronos (1993)
Dir Guillermo del Toro (Federico Luppi, Margarita Isabel, Ron Perlman)

Del Toro's first feature is steeped in the lifeblood of Gothic lore, yet utterly modern in its horror sensibility. When an ageing Mexican junk shop owner, Jesus Gris (Luppi), stoops to lick a drop of blood from the pure white marble floor of a toilet – a scene at once elegant, shocking and pitiable – we know we are in the hands of a true original. Gris is rejuvenated by an ancient mechanical device which, in return for regular transfusions of his blood, promises eternal life. More time, therefore, to spend with his beloved granddaughter, Mercedes (Isabel). But terminally ill industrialist Angel De la Guardia (Perlman) also covets the vampiric device. Even more impressive than Del Toro's fertile imagination and consummate technique is the film's heartfelt compassion.—Nigel Floyd
 Watch Cronos now on iTunes

 Watch Cronos now at Amazon Instant Video
95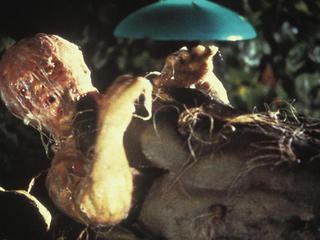 Invasion of the Body Snatchers (1978)
Dir Philip Kaufman (Donald Sutherland, Brooke Adams, Leonard Nimoy)

It's gratifying to see both Body Snatchers movies on this list: Don Siegel's 1956 original may be punchier and more bracing, but Philip "The Right Stuff" Kaufman's '70s remake is funnier and more self-aware. While the original movie was (depending on who you believe) an examination of either McCarthyist conformity or encroaching communism, the remake takes things into weirder, more oblique territory, lampooning the fallout from the '60s ideal with its lentils-and-beansprouts nature freaks and its bandwagon-jumping psychotherapy converts. Plus it's an absolutely terrific horror movie: the scene where Sutherland smashes up a gestating pod-person with a rake is gruesome as hell, but it's that famously devastating closing shot that really chills the blood.—Tom Huddleston
 Buy Invasion of the Body Snatchers now on Amazon
94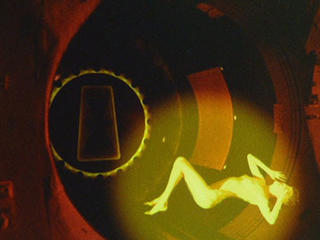 God Told Me To (1976)
Dir Larry Cohen (Tony Lo Bianco, Deborah Raffin)

The horror game can be tough. Larry Cohen is without question one of the most inventive, idiosyncratic American writer-directors of the 1970s, his outstanding oeuvre spanning low-budget social commentary, low-rent blaxploitation and a handful of the most politically engaged horror films ever made. Yet here we are, 35 years later, and he manages to scrape one film into our Top 100. God Told Me To is without question one of darkest, sharpest, oddest films on this list, a tale of serial murder, religious mania and alien abduction shot on some of mid-'70s New York's least salubrious streets. Cohen deserves to be mentioned alongside Carpenter and Craven in the horror canon – and this might be his masterpiece, though It's Alive, Q: The Winged Serpent and The Stuff all run it close.—Tom Huddleston
 Buy God Told Me To now on Amazon
93
Threads (1984)
Dir Mick Jackson (Karen Meagher, Reece Dinsdale, David Brierly)

Originally aired on British TV during the mid '80s, Mick Jackson's docudrama is a sobering, scary and highly realistic hypothetical account of what might happen following a breakdown of society perpetrated, in this instance, by a nuclear strike on Sheffield. The sense of impending doom is palpable as the city's citizens watch TV news reports about the collapse in relations between Russia and the West. Panic buying becomes looting as humanity begins to adopt a dog-eat-dog mentality. Then the obliteration begins – and it's pretty ghastly. Small wonder Threads is in this list; while not strictly part of the horror genre, it provokes a raft of similar emotions – only here you're aware that this can really happen. Powerful, thought-provoking stuff.—Derek Adams
92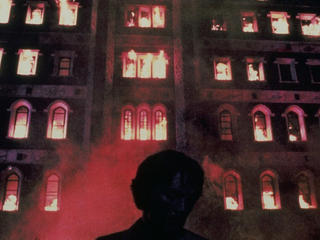 Inferno (1980)
Dir Dario Argento (Leigh McCloskey, Irene Miracle, Alida Valli, Daria Nicolodi)

Horror cinema at its most baroque: a simple libretto is embroidered with elaborate, flowing camera movements, abstract blocks of colour, unsettling sound effects and soundtrack composer Keith Emerson's thunderous rock variations on Verdi. Drawing, like Suspiria before it, on Thomas de Quincey's mythology of The Three Mothers, it explores the long-distance relationship between Rose (Miracle) and her brother Mark (McClosky), who inhabit apartment houses in New York and Rome. These buildings were built to house The Mother of Darkness and The Mother of Tears. Miracle's early dip into the muffled world of a flooded sub-basement immediately immerses us in the dreamlike narrative, one that replicates the free associative fluidity of the unconscious. Argento's best work is far behind him, but this alone justifies his cult reputation.—Nigel Floyd
 Watch Inferno now on iTunes

 Watch Inferno now at Amazon Instant Video
91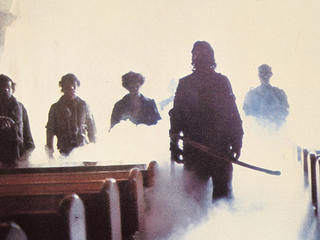 The Fog (1980)
Dir John Carpenter (Adrienne Barbeau, Jamie Lee Curtis, Janet Leigh)

A couple of years after scaring the bejesus out of us with Halloween, John Carpenter collaborated with regular screenwriting partner Debra Hill for this classic chiller about a mysterious bank of glowing fog that sweeps over a Californian seaside town, unleashing a torrent of frights perpetrated by the zombified ghosts of some rather miffed, vengeful mariners who perished just off the coast some 100 years earlier. No horror film worth its salt would be fulfilling its duty without a suitably scary location and here, of course, it's the big white solitary lighthouse where Carpenter's former wife Barbeau (playing a radio DJ) is so thoroughly terrorised. You really must check out the original trailer for this film; the voice-over is classically bad.—Derek Adams
 Watch The Fog now at Amazon Instant Video
---
You might also like
---
Film events calendar for New York City
Time Out videos
---
---
@TimeOutNewYork
Subscribe to Time Out New York on Spotify for playlists and recommendations from our Music team.


Check out New York's best restaurants, hottest street style, cool apartments and more.