101 things to do in New York City: Fall 2012
Your essential guide to the season's best things to do in New York City—festivals, parties, hot new spots and more—makes like a leaf and drops.
By Time Out editors Sat Sep 1 2012
81. Have a good ol' time in Queens at the Queens County Fair
Price band: 1/4
Critics choice
You needn't flee NYC for some old-fashioned, small-town fun. At the 30th annual Queens County Fair, urbanites can compete in pie-eating, corn-husking and arm-wrestling competitions, and enjoy other down-home attractions, such as pig races and hayrides ($2). Prolong the day's rustic feel by making your way through the farm's biggest attraction, its three-acre corn maze (11am–4:30pm; $9, children 4 to 11 $5; children under 4 free).
Greenmarket shoppers, take note: Now is the time to preserve seasonal produce in preparation for the barren winter months. The Brooklyn Kitchen runs classes six days a week where you can learn how to extend the life of your favorite ingredients. On Sept 19 and Oct 1, sip Brooklyn Brewery beers while Rick Field of Rick's Picks leads a hands-on pickling workshop (6:30pm; $55), or brush up on your canning skills when Kendall Holmes of McClure's Pickles instructs on Oct 10 and 22 (6:30pm; $55).
83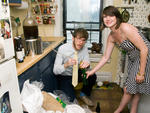 Brew your own beer
Fall is the best time to brew your own tipple. Compared with the sweltering summer, the climate in your apartment should be more friendly to the fermentation process (the ideal temperature for ale yeasts is between 65 and 75 degrees). But to take advantage of these favorable conditions, you'll need equipment. Brooklyn Brew Shop (brooklynbrewshop.com) sells convenient one-gallon brewing kits (equipment plus ingredients) in varieties such as Everyday IPA and Chocolate Maple Porter ($40 each). You can buy the packages in person at the Beer Room at Whole Foods Bowery (95 E Houston St between Bowery and Chrystie St; 212-420-1320, wholefoodsmarket.com; daily 8am–11pm), which carries a wealth of hardware, including five-gallon fermenters, siphon tubes and air locks. In addition to supplies, brew shop Bitter & Esters offers a Homebrewing Essentials class (dates and times vary; $55) that'll take you through the process step-by-step.
Price band: 2/4
Critics choice
During college football season, show allegiance to your old stomping grounds at a bar that supports your team. In New York, that's no problem: There's a tavern devoted to almost every (decent Division I) squad. On Saturdays, Kentucky Wildcat fans pack the rowdy midtown pub Jack Demsey's, which has 22 TV screens. And proud onetime Syracuse students can reminisce about the glory days during games at Break Bar and Billiards (32-04 Broadway between 32nd and 33rd Sts, Long Island City, Queens; 718-777-5400, break-ny.com). For more sport-watching options, try these best sports bars.
36 W 33rd St, (between Fifth Ave and Broadway)
More info
Sure, it's a little early to be skating, but the preseason rates at NYC's most famous rink are half of what they'll be over the holidays. Take advantage of the discounted price (and lack of crowds) from October 13 to November 8 to practice your spins and jumps—and tick an item off your New York bucket list.
30 Rockefeller Plaza, (between 49th and 50th Sts)
More info
Price band: 1/4
Critics choice
To those who say that Coney Island has lost its edge, we say…well, you're mostly correct. But some vestiges of the area's colorful past remain: Over two consecutive weekends, you can see a bevy of bearded gents—and ladies!—showing off their creative follicles, followed by a convention for the impressively inked. Start growing your whiskers out now for the Beard and Mustache Championship (Sept 8 at 8pm; $15), which gives hirsute folks the chance to compete in categories like Best Beard, Best Sideburns and Best Fake. After that, the Tattoo and Motorcycle Show (Sept 14–16) welcomes enthusiasts of both bikes and tats; there are contests to determine the best in show for each, as well as the opportunity to gawk at exceptional varieties of both.
87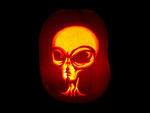 Find some pumpkins to carve (or smash)
You know what October means: It's time to get creative with gourds. This year, forgo the corner bodega and make your annual pumpkin purchase a true pilgrimage: Scads of nearby farms have them available to the public. Apple Ridge Orchards (appleridgeorchards.com), Dr. Davies Farm (drdaviesfarm.com) and Soons Orchard (soonsorchard.com) are just a few spots where you can pick your own. Happy smashing!
88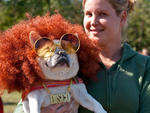 Doll up your dog at a harvest festival
Most city slickers are pretty far removed from agricultural activities, but don't let that stop you from celebrating fall's bumper crop on October 20. (Any excuse for a party, right?) There will be music, theater, food from local restaurants and a canine costume contest at Socrates Sculpture Park (11am–3pm; free). Last year's event featured adorable pups dressed as sharks and pirates. On the same day, Brooklyn Bridge Park will offer pumpkin decorating, live music and other festivities at Pier 6 (10:30am–1pm; free).
89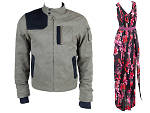 Work on your wardrobe
The temperature's dropping. You need more clothes (last year's just won't do). Thankfully, two of our favorite local clothing boutiques—menswear store Odin and womenswear emporium Kirna Zabête—are participating in the second installment of the Shops at Target (target.com), a collaboration between the chain and small independent businesses throughout the country that hit shelves on Sept 9. The well-priced apparel ($20–$200) from both high-end retailers doesn't disappoint in effectively translating their chic aesthetics into affordable pieces. For more high-fashion, low-cost options, consult our shopping guide to fall 2012's big fashion collaborations.
Locations throughout the city
---
Users say
I was really enjoying this list, I hadn't made plans for tonight, so I was sitting alone, in my apartment, with my tabby Max. He and I were especially excited about the Queens County Fair, but unfortunately I don't think we'll be able to make it since my mother will need to be taken to the doctor's that weekend and she likes knowing that I'm at home in case she needs me. It was an enjoyable evening, me and Max, but unfortunately when we came to the end of the list our pleasant evening was brought to an unexpected halt. I searched the entire length of this list, and the rest of your website, but I can't seem to find the 101st thing to do in NY. LIkely I won't be able to do it, I don't get out of the house that often because of my asthma, but I really enjoyed imagining myself doing those wonderful things with all those happy looking people. I hope you'll post the 101st item, if no please send it to the included email address, I don't have a computer with a printer, but that is my mother's email address, she'll print it out and deliver it to my apartment, Yours Truly, Rod
This list is awesome! I'm particularly jazzed about the LitCrawl and Halloween Parade. You left taking a language class off the list though. Fall is the perfect time to take an indoor class and keep your mind active. I took a Spanish class at Fluent City and it was awesome. The offer 10 languages (French, Spanish, Italian, Portuguese, German, Arabic, Chinese, Japanese, Russian, Hebrew) and have affordable classes in Brooklyn and Manhattan. My teacher was Ricardo and he was really cool. Check out their classes at http://www.fluentcity.com Thanks for the list!!