Free things to do on your staycation: Unemployed-cation ideas
Whether you're out of work or just feeling the pinch, you can still staycation with these free things to do in NYC.
By Jonathan Shannon Tue Jun 12 2012
Photograph: Gulshan Kirat/BBG

Being unemployed can be a stressful business. Relieve some of the pressure with this staycation of free things to do. Take a trip to the serene Japanese garden in the Brooklyn Botanic Garden, then debut your writing at a free reading event.

RECOMMENDED: Full list of staycation ideas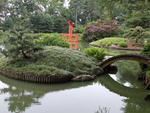 Price band: 1/4
Critics choice
Your first move this summer should be to decompress. Visit this verdant green space beside Prospect Park on Tuesdays—when admission is free all day—to avoid the stress of the weekend crowds, not to mention the strain on your wallet. We recommend strolling past the waterfalls in the Japanese Hill-and-Pond Garden, before perching in the little viewing pavilion by the water and staring at the serene koi. Have you forgotten your crippling debt yet? Keep staring. • Free.
990 Washington Ave, (at President St)
More info
Your unemployment—real or imagined—is the perfect time to work on the Great American Novel you always knew was in you. Pen a new chapter and debut it at this monthly event for emerging writers: Each author has six minutes to read their work to a crowd consisting of established literati and those who are just there for the complimentary wine and cupcakes. (E-mail renegadereading@gmail.com with your genre, writing sample and short bio to be considered for a spot.) Even if you don't get on the docket, the readings are bookended with two hours of mingling, allowing plenty of time for you to expound on your forthcoming tour de force. • Free.
721 Franklin Ave, (between Park and Stering Pls), 11238
More info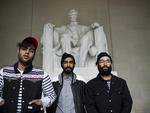 Catch gratis Twin Shadow and Das Racist shows
If you can stomach the sights and sounds of overblown consumerism, head to Times Square to catch the debut of Twin Shadow's new video, "5 Seconds," on huge LED screens, followed by a live performance in support of the singer-songwriter's new album, Confess, out July 10. The following evening, head to Red Hook for Das Racist's only scheduled New York show of the year. As Kool A.D.'s recent pair of mixtapes attest, the hip-hop trio is still as wildly inventive as ever, showcasing the kind of blue-sky thinking your ex-boss simultaneously demanded and stifled. Make the journey to Red Hook on a school night with your crew, employed or not—but the paycheck-wielding ones should be treating you to a few beers. • Twin Shadow: Times Square, 43rd St and Broadway (twinshadow.net). Mon 18 at 8pm; free. Das Racist: Red Hook Park, Bay St between Clinton and Henry Sts, Red Hook, Brooklyn (summerstage.org). Tue 19 at 7pm; free.
---
---
Here are the ten New York experiences you simply can't miss.
Don't fret, penny-pincher—each of these fun cheap date ideas will cost you $30 or less.
Tired of swamped tourist traps, huh? Check out these alternative things to do in New York.
@TimeOutNewYork
Subscribe to Time Out New York on Spotify for playlists and recommendations from our Music team.


Check out New York's best restaurants, hottest street style, cool apartments and more.