New York beaches off the beaten track
These New York beaches are all within one hour of the city, so you can find the seaside spot that suits your needs
By Marley Lynch Wed May 28 2014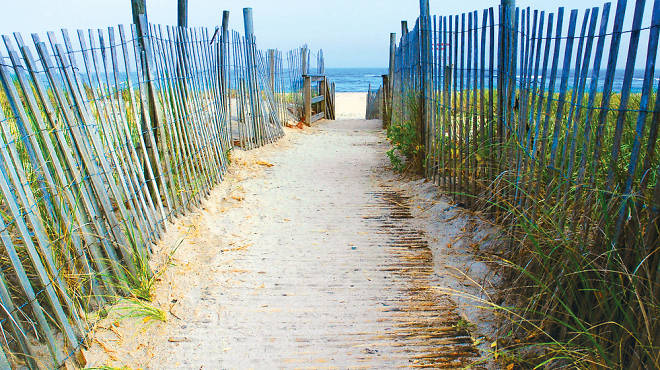 Robert Moses State Park Photograph: Courtesy www.flickr.com/cisc1970
By now, you've probably battled the crowds at Jones Beach, braved the murky waters of Coney Island and waited in line with inked Rockaway denizens for a delectable (if overhyped) fish taco. It's time to seek out some less familiar New York beaches, and TONY's resolute beachcombers have got you covered. (Note: Travel times are measured from downtown Manhattan.)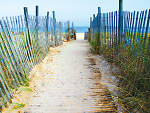 For the escapist: Robert Moses State Park, Long Island
Bliss out among the dunes on this massive Fire Island beach, which has enough nooks and crannies for you to uncover your own secluded patch of sand. Though only a 20-minute drive past the perpetually packed Jones Beach, this peaceful five-mile stretch of oceanfront feels worlds apart; you'll find more and more solitude as you walk further from the immense parking lots. On top of amenities like umbrella rentals, concessions and an 18-hole golf course right on the water, you'll get clean, shell-studded sand and just-rough-enough waves for boogie boarding. We advise capping off your day with a hike to the lighthouse at the western end of the beach, which offers a breathtaking view of the sunset.
How to get there: Car (60mins, parking $10) or LIRR to Babylon, then transfer to the S47 bus to Robert Moses Beach (2hrs, $21.50 round-trip with an MTA Beach Getaways package; mta.info/lirr/getaways)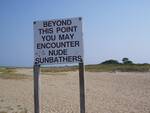 For the nudist: Gunnison Beach, Sandy Hook, New Jersey
Shed your clothes and inhibitions at one of the biggest and most popular nude bathing spots on the Eastern Seaboard. This sparkly clean two-mile stretch of sand was once the site of a military base; soldiers frequently went skinny-dipping in the nearby surf until the facility was decommissioned in the early '70s. Today, the beach continues to attract naturists—so much so that parking is frequently maxed out on weekends. Avoiding tan lines isn't the only draw, as this pristine coastal destination also offers dramatic views of lower Manhattan, hiking (clothing required; we recommend the Old Dune Trail) and bird-watching.
How to get there: Car (60mins, parking $15) or ferry (35mins from Wall St–Pier 11 or 50mins from E 35th St terminal, $45 round-trip; seastreak.com)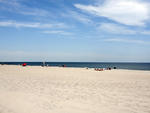 The easternmost end of "The People's Beach" has long been the city's unofficial LGBT waterside hot spot. On this broad, open shore, you'll find a lively scene populated by scantily clad girls and boys, and although it's not officially allowed, the occasional nude sunbather. Check out the recently renovated Art Deco bathhouse, a relic from the Robert Moses era, and the slightly dingy but charming boardwalk—perfect for a stroll and some shameless cruising. Concession stands are few and far between, so come prepared with a picnic.
How to get there: Car (35mins, parking $10) or 2 or 5 train to Flatbush Ave–Brooklyn College, then transfer to Q35 bus to Jacob Riis Park (75mins)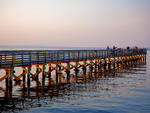 For the dog owner: Bayshore Waterfront Park, Monmouth, New Jersey
You'll definitely need a car to reach this scenic park by the sea, but isn't Fido worth it? After all, the city has really dropped the ball when it comes to canine-friendly waterfronts in the summertime—dogs are not allowed on any NYC beaches between May and September. This lovely county park on Jersey's northern shore lets your doggie have some fun in the sun, provided he's on a leash. Take advantage of the picturesque fishing pier, peaceful picnic areas, and of course, the mile-long stretch of pristine beach.
How to get there: Car (60mins, parking free)
---
---
Users say
None of these are off the beaten path. They are all well-known and crowded.
Hi: Great article! I also would like to recommend you look into the beach at Highlands, NJ. The Seastreak Ferry goes directly there from 35th St & Pier 11 7 days a week. They recently installed a tiki bar which is owned by a local restaurant, Chilangos (732 708 0505). It is super convenient- you just walk off the ferry about 50 feet to the beach and tiki bar! Just bring your beach chair, towel and sunscreen. There is weekend entertainment and great staff. Definately worth exploring for a quick aritcle in your magzine.
Here are the ten New York experiences you simply can't miss.
Don't fret, penny-pincher—each of these fun cheap date ideas will cost you $30 or less.
Tired of swamped tourist traps, huh? Check out these alternative things to do in New York.
Find more popular Things to Do features