The burb-cation staycation: Relive life in the suburbs in NYC
Remember those golden summers you spent as a kid in the 'burbs? This staycation will bring it all back with bike rides, outdoor pools and more!
By Rebecca Fishbein Tue Jun 12 2012
It was a time of innocence: frolicking in outdoor pools and holding hands with your main squeeze while cycling during never-ending summers. You can't turn back time and reclaim your youth, but you can reexperience those same thrills with our burb-cation staycation.
RECOMMENDED: Nine more ideas for a New York staycation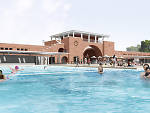 Cool off at the revamped McCarren Park Pool with the rest of the American Apparel–tank-suit-clad youth of Williamsburg: The space opens to the public this summer after a nearly three-year, $50 million renovation. The new 37,571-square-foot pool will be able to hold 1,500 people at a time; swimmers can also expect a sandy expanse for volleyball and a rec center with a gym, a weight room and a basketball court.
Lorimer St, (between Bayard St and Driggs Ave)
More info
Catch an offbeat indie flick under the stars with one of the latest offerings from Rooftop Films. This year, the series's repertoire of shorts and features will be held at outdoor venues in Manhattan, Brooklyn, Queens and the Bronx, with new locations at Dekalb Market and MetroTech Commons in Downtown Brooklyn. Stop by for the Rick Alverson–directed The Comedy, starring Tim and Eric's Tim Heidecker (June 27 in the BAMcinématek parking lot in Fort Greene), or check out some off-the-wall animation at the Animation Block Party (July 27 at Williamsburg's Automotive High School). Live music, Q&As and after-parties with complimentary drinks follow each event. • $12.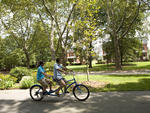 Governors Island is closed on Fridays this summer because of ongoing renovations, but you can still explore NYC's mini-oasis on two wheels every Saturday and Sunday, plus Labor Day: Rent a cycle from the Bike and Roll NYC stand (two hours $15, all day $25), or bring your own on the ferry—then spend the day pedaling through the 172-acre car-free zone. While on the island, scope the crafts at the Better than Jam pop-up shop; hit a few rounds at the gratis Figment minigolf course; or just pass out in the grass with the sun on your face. (But be sure to return your rental before 5:30pm; last call for taking out a cycle is 4:30pm.) And if you plan your Governors Island visit for Labor Day weekend, you can bike at no cost; all bicycle rentals are free.
---