The geek-cation staycation: Vacations in NYC for nerds
Let your nerd flag fly with these staycation ideas for fans of Dr. Who, old-school cartoons and nerdy subcultures.
By Amy Plitt Tue Jun 12 2012
Previous
Photograph: Caroline Voagen Nelson
Next
Photograph: Michael Meysarosh
Don't stay in and rewatch the entire Buffy series (your VHS copy is about to give out anyway). Commune with fellow unrepentant geeks at a bar with Dr. Who flourishes, a gathering of retro-cartoon fanatics and other nerds of all different stripes. Who knows, maybe you'll find a staycation romance with your very own Buffy.
RECOMMENDED: Nine more ideas for a New York staycation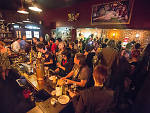 It's tempting to spend your staycation indoors, binge-watching the BBC's Doctor Who reboot on Netflix over a weekend. But when you're ready to engage with other Captain Jack Harkness obsessives, head to this proudly geeky Prospect Heights watering hole. Debate the relative merits of the different Doctors (10th or 11th?) with your fellow nerds as you sip a cocktail based on elements of the British show (including the Companion, which pairs a PBR with a shot of whiskey; $5). And should nature call, you can excuse yourself to the TARDIS-shaped bathroom.
683 Washington Ave, (between Prospect Pl and St. Marks Ave), 11238
More info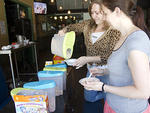 Price band: 2/4
Critics choice
Nostalgic party-planners Secret Formula will throw several of these bashes, during which you watch Saturday-morning cartoons while imbibing adult beverages, over the next three months. June's event takes on a Father's Day theme, and will feature dadcentric episodes of vintage programs such as The Smurfs and DuckTales. As you giggle over the old-school shenanigans, chow down on sugary cereal (there's an all-you-can-eat buffet included in the ticket price), or toss back the Sonny—a White Russian topped with Cocoa Puffs for $7. • $11.
136 Metropolitan Ave, (between Berry St and Wythe Ave), 11249
More info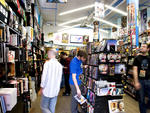 Discover a new nerdy subculture at this massive shop, which stocks more than 50,000 volumes of graphic novels and manga. On the first floor, you'll find toys, action figures (Avengers figurines are especially popular these days), quirky character T-shirts and comic books (new arrivals hit shelves every Wednesday), as well as longer tomes, such as Alison Bechdel's Are You My Mother? ($18.70). Meanwhile, the upstairs loft is packed with anime DVDs and books, as well as offbeat horror and imported magazines like Hobby Japan and role-playing games. Follow the store's Twitter feed (@fpnyc) for updates on drop-ins by artists and writers.
---