Best New York ski resorts for skiing and snowboarding
Looking for New York State's best skiing and snowboarding? Hit the slopes—or trails—at one of these New York ski resorts just two to five hours from the city.
By Lee Magill Thu Jan 10 2013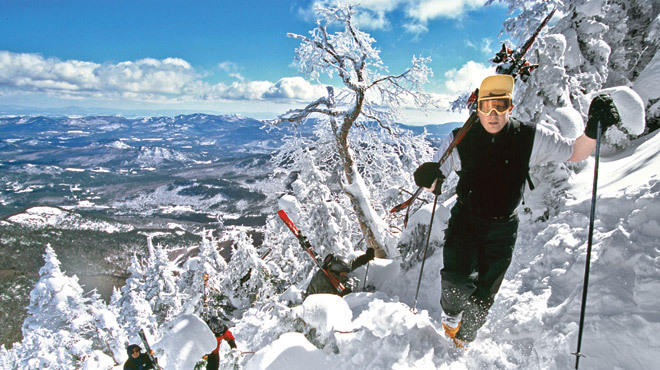 Skiing-"The Slides" at Whiteface Mountain Photograph: Darren McGee
Three hours or less from NYC

Counteract winter doldrums by taking a snow day (or weekend). Head for the hills for some exhilarating skiing and snowboarding at these prime New York ski resorts. If your New Year's resolution is to get fit, cross-country skiing is a good way to kick-start your regime while taking in beautiful scenery. Many resorts also offer adventure sports such as zip-lining and tubing.

RECOMMENDED: Winter getaways from NYC
Belleayre Mountain
2½ hours by car or bus
Located in the pristine Catskills Forest Preserve, this state-run mountain is an affordable and less-crowded alternative to the other Adirondacks resorts. Belleayre's 47 trails cater to a range of skill levels, most of which are ideal for intermediate skiers. Boarders will dig the recently improved terrain park and two progression parks, full of jumps, boxes and rails. But for a more serene way to experience the surroundings, traverse Belleayre's nearly six miles of backwoods trails on cross-country skis or snowshoes. Bellayre Mountain Rd, Highmount, NY (845-254-5600, belleayre.com). Daily 9am–4pm. Lift tickets: weekdays $47, weekends and holidays $59. Equipment rental: half day $27, full day $33. One-hour group lesson $30.
Where to stay: The charming Delaware Court Motel (1141 Main St, Fleischmanns, NY; 845-254-5090, delawaremotelcatskills.com; $75–$200 per night) offers cottages and efficiencies with kitchens.
Catamount
2½ hours by car
Situated on the edge of the Berkshires, Catamount's tame slopes make it ideal for newbies, families and nondiehard skiers—especially those on a tight budget. Of its 33 trails, 40 percent are suitable for beginners, but the resort also has the Berkshires' longest run. (The resort straddles the New York–Massachusetts border, making it possible to ski through both states on one slope.) Its terrain park, full of jibs and jumps perfect for intermediate boarders, has a dedicated area for those trying tricks for the first time. 3290 State Hwy 23, Hillsdale, NY (518-325-3200, catamountski.com). Mon, Tue, Thu 9am–4pm; Wed 9am–9pm; Fri 9am–10pm; Sat 8:30am–10pm; Sun 8:30am–4pm. Lift tickets: full day $29–$61, night $27–$35. Equipment rental: day $45, night $36. 90-minute group lesson $40.
Where to stay: The no-frills Holiday House Motel (2871 Rte 23, Hillsdale, NY; 518-325-3030, holidayhousemotel.com; $35 per night) offers 13 clean, quaint—and cheap—rooms.
Catskill Scenic Trail
3 hours by car, 4¼ hours by bus
This 26-mile trail in Delaware County in the western Catskills, has stunning mountain views and is the result of the state's "Rails to Trails" program, which turned the rail bed of the former Delaware and Ulster Railroad into a well-maintained recreational trail. Passing through farmland and small towns, the CST can be accessed from its west end, at Bloomville; from its east end, at Roxbury; or from the village of Hobart, in between. The trail's level, stable surface, flat grade and generous breadth make it ideal for beginners and cross-country skiers who would rather avoid the sport's backcountry challenges. 21 Railroad Ave, Stamford, NY (845-586-2929, catskillscenictrail.org).
Where to stay: Self-proclaimed "boutique motel" the Roxbury (2258 Roxbury-Stratton Falls Rd; 607-326-7200, theroxburymotel.com; $99–$375 per night), in the village of the same name, is a rustic inn with whimsical, fancifully decorated rooms.
Hunter Mountain
2½ hours by car or bus
This spot, popular with city dwellers, has 58 trails that are broken into three distinct clusters, making it unlikely you'll be hindered by skiers with abilities much different than your own: Hunter One, with a bunny slope and several beginners' runs; Hunter Mountain (summit elevation: 3,200 feet), whose longer trails are perfect for intermediate and advanced skiers; and Hunter West, a network of steep, often mogul-filled runs on the other side of the mountain for black-diamond types. The Empire Terrain Park offers freestyle skiers and snowboarders plenty of jumps, boxes and rails, while a nine-lane snow-tube park (two hours $20) is fun for families or the young at heart. 7740 Main St, Hunter, NY (800-486-8376, huntermtn.com). Mon–Fri 9am–4pm; Sat, Sun 8:30am–4pm. Lift tickets: weekdays $60, weekends and holidays $70; advance-purchase and multiday discounts are available. Equipment rental: full day $39. One-hour group lesson $35.
Where to stay: Less than a mile from the base lodge, Hunter Inn (7433 Main St, Hunter, NY; 518-263-3777, hunterinn.com; $110–$270 per night) is equipped with a hot tub, fireplace and a cocktail lounge.
Minnewaska State Park Preserve
2 hours by car
This quiet nature preserve just west of New Paltz includes 19 miles of carriageways that, with the right amount of snowfall, provide some of the state's best cross-country terrain for intermediate and advanced skiers. (Nonbackcountry trails are groomed by park staff throughout the winter.) Intermediate skiers can try the trail around the lake, Upper Awosting, Castle Point and Millbrook Mountain, while advanced skiers will enjoy Lake Awosting and the Hamilton Point Loop. Due to some steep inclines and cliffs, it's not recommended for beginners, and the lack of amenities (no heated lodges, food or snowmaking) means you'll need to plan this trip more carefully than others. Entrance at 5281 Rte 44-55, Kerhonkson, NY (845-255-0752, lakeminnewaska.org). Open daily 9am–5pm. Vehicle entry fee $8.
Where to stay: The Super 8 Motel New Paltz (845-255-8865, super8newpaltz.com;
$69–$79) is an inexpensive and convenient base.
Pineridge Cross-Country Ski Area
3 hours by car
If you're looking for a full-on cross-country experience with the grooming and amenities normally found in alpine ski resorts, this destination in the foothills of the Taconic and Berkshire mountains is your place. Thirty-plus miles of woodland trails wind through forests and along Poestenkill Creek, and some lead to spots with a 1,746-foot elevation and great views. With both groomed and ungroomed trails, plus several lit up for night skiing, the resort is suitable for all skill levels, and offers lessons ($16), a rental shop (full day $17) and a lodge with a roaring fire. 1463 Plank Rd, Petersburg, NY (518-283-3652, pineridgexc.com). Daily 9am–4pm; day pass $18.
Where to stay: The Hilton Garden Inn (235 Hoosik St, Troy, NY; 855-277-5057, hiltongardeninn.hilton.com; $109–$179) is the ideal choice for its spotless amenities and good service.
Plattekill Mountain
3 hours by car
The varied terrain, few crowds and laid-back vibe of this Western Catskills spot give it a decidedly "small mountain" feel. (Testifying to its grassroots popularity, volunteers gathered in the fall to prune undergrowth, in an effort to make its tree trails more skiable this winter.) Its 2,200-foot base elevation means you're already on the mountain when you arrive. Of its 38 trails served by four lifts, Plattekill's two most beloved runs are Powder Puff, an unusually long, two-mile slope at just the right grade for beginners, and the double-black-diamond Blockbuster, with 1,100 feet of continuous vertical drop. 469 Plattekill Rd, Roxbury, NY (607-326-3500, plattekill.com). Fri–Sun 8:45am–4:15pm. Lift tickets: full day $58, half day $49. Equipment rental: full day $32, half day $25. 90-minute group lesson $30.
Where to stay: Andes Hotel (110 Main St, Roxbury, NY; 845-676-3980, andeshotel.com; $85–$145), with ten motel rooms, also runs a solid restaurant and tavern, so you don't have to look elsewhere to refuel.
Windham Mountain Resort
2½ hours by car or bus
While the terrain of this chill Catskills spot ranges from 12 novice-appropriate trails to seven steep double-black runs, nearly half the runs are rated intermediate, making the mountain a great place for risk-averse skiers who know what they're doing. Meanwhile, venturesome riders and free-skiers will enjoy the five terrain parks—particularly the Big Air Bag (day pass $10), an enormous inflatable cushion that allows you to practice jumps like a professional stuntperson. Powder lovers won't want to miss the resort's First Tracks program, which lets you ski the 267-acre mountain with a guide before the lifts open to the public ($15, reservations required). 33 Clarence D. Lane Rd, Windham,
NY (800-754-9463, windhammountain.com). Mon–Thu 9am–4pm, Fri 9am–8pm, Sat 8am–8pm, Sun 8am–4pm. Lift tickets: weekdays $52, weekends and holidays $72. Equipment rental: full day $40, half day $34, night $23. 105-minute group lesson $34.
Where to stay: Hotel Vienna (107 Rte 296, Hunter, NY; 518-734-5300, thehotelvienna.com; $100–$200 per night) has Jacuzzis and an indoor pool, and lays on free Continental breakfast and Wi-Fi.
Three hours or less from NYC
---