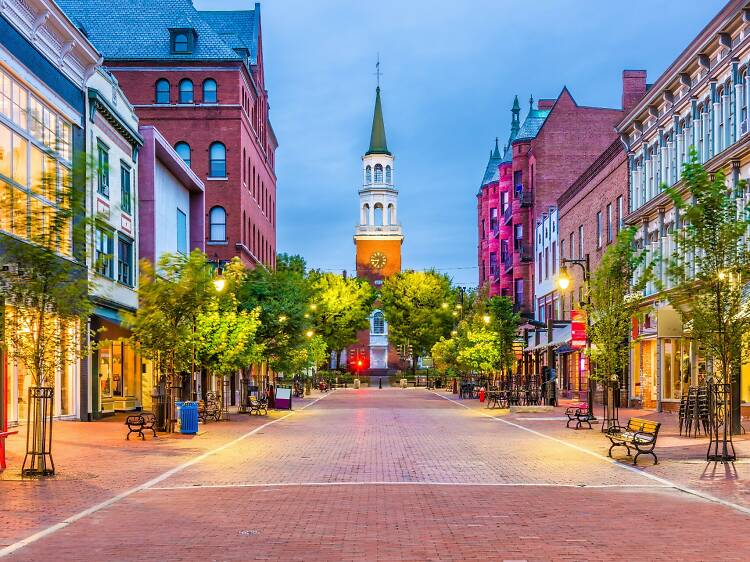 Photograph: Shutterstock
6 hrs by car, 8 hrs by Amtrak
The lakeside city of Burlington is that classic New England destination you might expect. From the shining waters of Lake Champlain to City Hall Park, the city is quite beautiful. Mixed among the walkable streets with quaint homes are cafes and bars you'll want to linger at, a mix of indy and luxury shops, and a flourishing craft beer scene. When you go, expect to have a laid-back, choose-your-own-adventure getaway with an abundance of opportunities for fun and exploration.
What to do:
Shop at the Church Street Marketplace and dine at our favorite spots August First, The Farmhouse Tap & Grill and Juniper, but don't miss out on Zero Gravity Craft Brewery or The Archive for those who like cold adult beverages. In the mood for local music, head to Radio Bean. Of course, Burlington is close to a handful of sky resorts, so pack warmly! For more details, we put together a 24-hour itinerary for you.
Where to stay: At the chic Hotel Vermont ($208-$599 per night), you'll have a cozy, stylish and convenient stay in Burlington. The lobby itself is comfortable—to the left is an arrangement of complimentary snacks and information about Burlington and to the right is a dock for about six bikes you can take out for free. Warm wood accents and clean linens are a balm to travel-weary souls and the platform bed and pillows were cloud-soft. The best part of Hotel Vermont, though, is the locally-made products it stocks its rooms with.