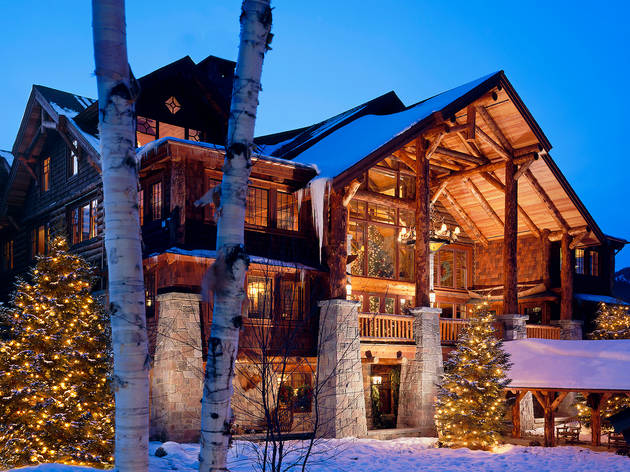 The best winter getaways from NYC
Hit up ski destinations, mountain towns and upstate resorts with our roundup of the best winter getaways from NYC
In need of winter getaways from NYC? While there are plenty of things to do in winter in NYC, the city can also feel awfully gloomy when the sun disappears at 4pm each day. To ward off the winter blues, you could get yourself into one of the best bars with fireplaces or...you could flee. Whether you're the adventurous type looking for some of the area's best ski trips near NYC or a more low-key vacationer wanting to kick back and relax, we've got you covered with the best winter getaways from NYC.
RECOMMENDED: Find more weekend getaways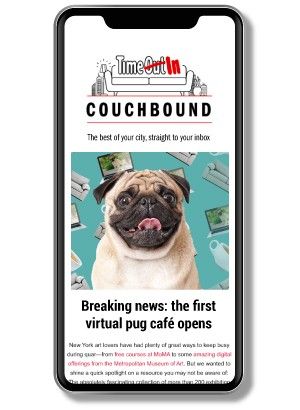 An email you'll actually love
Sign up to our Couchbound newsletter and bring the city to your sofa
Subscribe now
Best winter getaways from NYC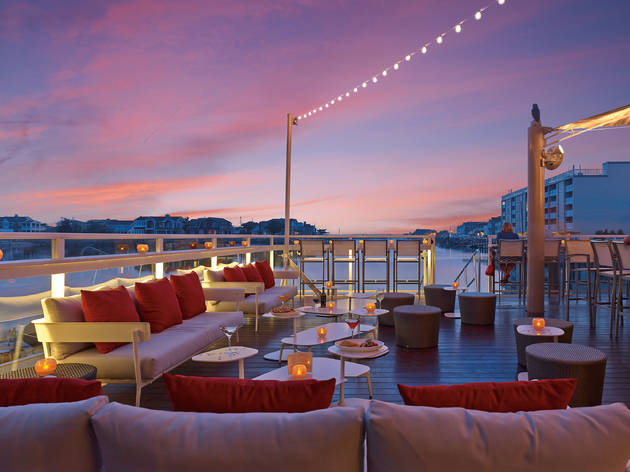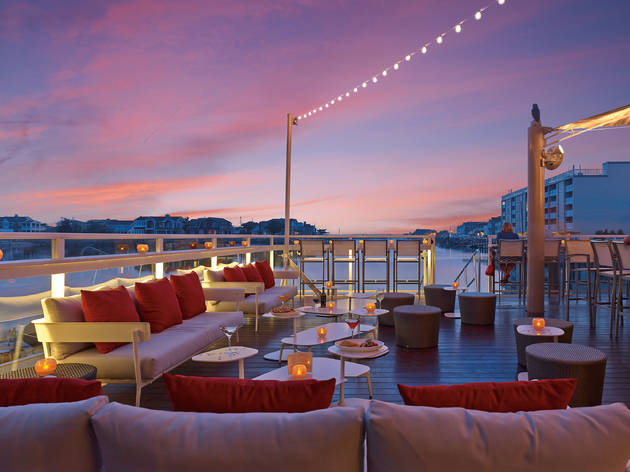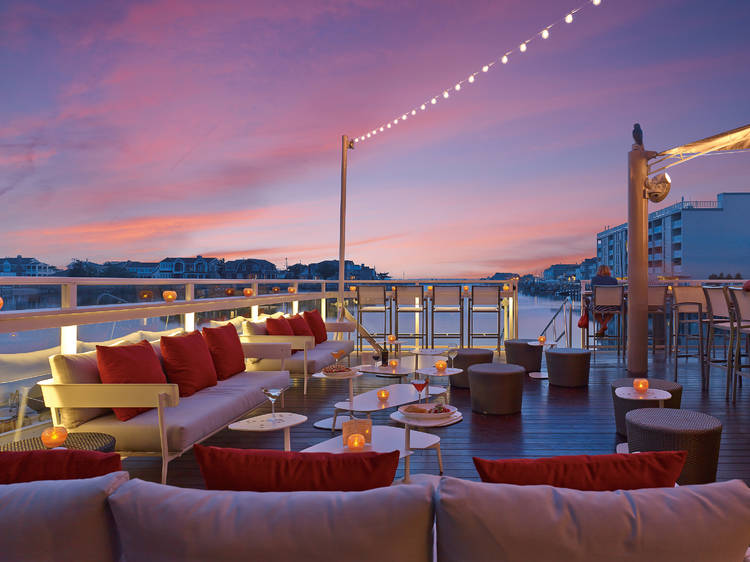 2.5hrs by car
Some of the most underrated winter destinations are actually off-season summer hot spots, like this charming town on the southernmost corner of the Jersey Shore. A mashup of tiny shops, cottages and beaches, the three-block-wide community is populated by beach-going families and longtime renters and vacationers during summer. During the winter, trees are bedecked with Christmas lights and those quaint streets are a bit roomier, offering a peaceful setting complete with views of gentle snowfall over the picturesque bay.
What to do: Along with Avalon, Stone Harbor is one of two beach towns located on Seven Mile Island, which was first established in 1887. Nature lovers will enjoy the coastline's beautiful, protected sand dunes. (You can look, but don't touch!) In the summer, good winds and short walks to the waterfront make this beach a favorite for surfers and boogie boarders, but during the winter, don't miss Stone Harbor Point at the southern tip of the beach, which offers beautiful views of the cape and a lighthouse at Hereford Inlet.
Where to stay: The aptly coastal chic Reeds at Shelter Haven is one of the town's main destinations, with fine dining at Sax Restaurant & Lounge, live music events at the bar, and 37 beautifully-appointed guest rooms and suites that each offer the feel of a New England coastal escape in the middle of south Jersey. In the early winter, the waterfront dining area stays open for guests to cozy up with blankets on lounge chairs and catch views of the untouched beach which seems to go on for miles. One of the best parts? Rooms are equipped with working fireplaces—ideal for keeping warm while enjoying floor-to-ceiling views of the bay.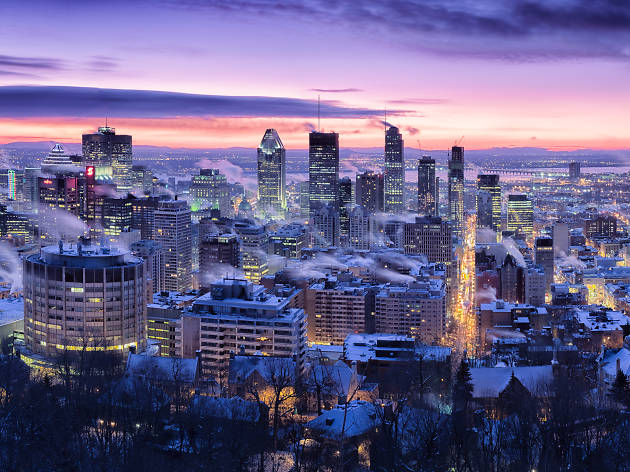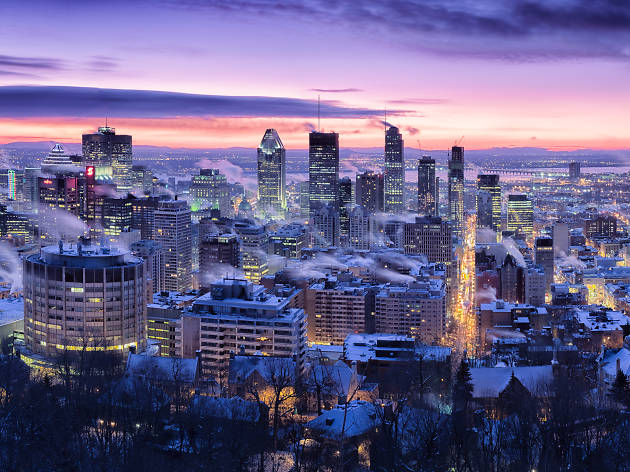 Photograph: Courtesy CC/Flickr/Christian Barrette
6hrs by car
Folks forget that Montreal (yes, in Canada) is as quick a drive from the city as upstate attractions including Niagara Falls. And for just a six-hour drive, you can immerse yourself in another country, cuisine and culture.
What to do: Montreal is a culinary capital to rival New York City (just ask them about bagels), and during the winter, comfort foods like poutine at the classic Québécois joint Pierette Patates or anything at the beloved Joe Beef make for hearty feasts. Waterfront scenes are another forte in the city—from the old-Montreal port to the revitalizing winter hot spa Bota Bota. And for the adventurous vacationer, try ice skating or skiing on the Mont-Royal. Last but not least, check out the glowing Montreal en Lumière Festival, a festival of lights, music, food, and art.
Where to stay: Symbolizing the marriage of French and English, Fairmont the Queen Elizabeth is one of our favorite stays in downtown Montreal. Known as the site of the John Lennon-Yoko Ono bed-in of 1969, the hotel offers a central location, impeccable hospitality and contemporary, refurbished digs following a multi-million renovation.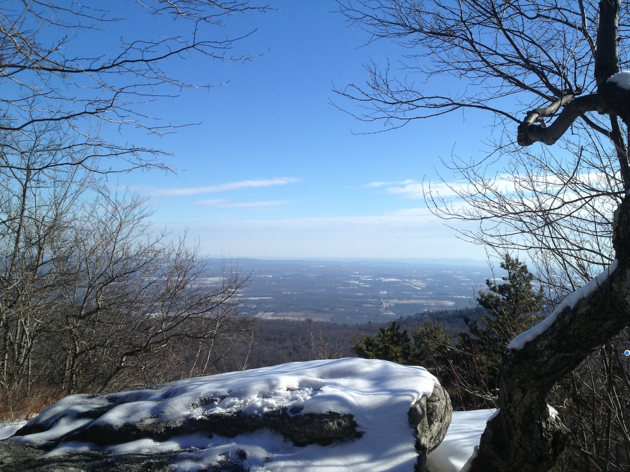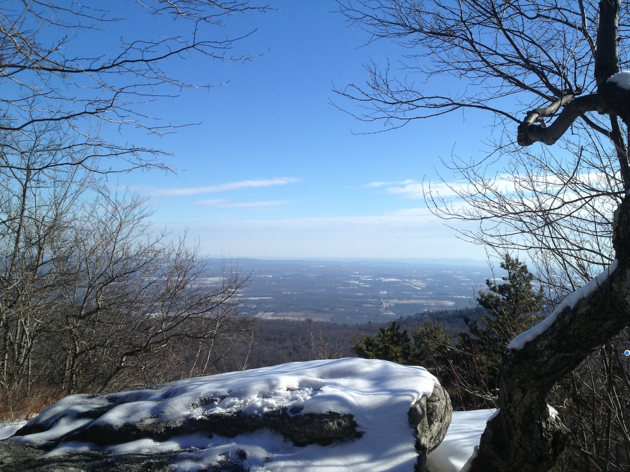 Photograph: Courtesy CC/Flickr/Philip Bump
1.5hrs by car
First settled by French Huguenots, this hamlet is surrounded by loads of natural attractions and villages that offer a small-town getaway from the city. For a town of just over 5,000, it boasts a large amount of sites on the National Register of Historic Places, including a mountain historic district and an 18th century mill known as the oldest in the state.
What to do: The area intersects with the rock climber–beloved Minnewaska State Park Preserve, whose stunning rock formations include a five-hour hike up to the cliffs called Gertrude's Nose. During the winter, the main attraction is the Tuthilltown Spirits Distillery, the first whiskey distillery in the state since Prohibition. Producing several styles of spirit, namely bourbon, rye and rum, the distillery offers tours, tastings at their tasting room and even a menu of grub to complement it at the Tuthill House at the Mill restaurant.
Where to stay: Fancy a stay at a 148-year-old Victorian castle resort in the heart of the Hudson Valley? The Monhonk Mountain House is surrounded by miles of untouched nature and is known for an acclaimed spa replete with an outdoor heated mineral pool and a rejuvenating solarium. Though a bit pricier, a stay here is an elegant way to unwind while taking in breathtaking natural beauty.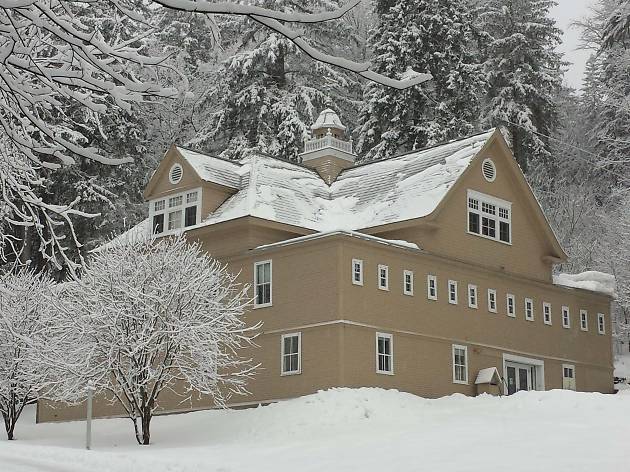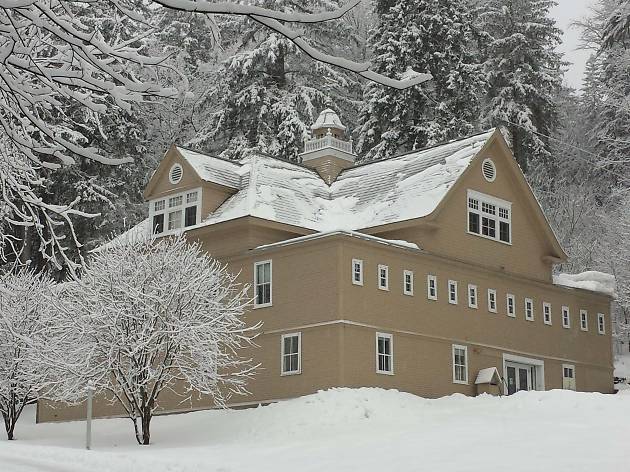 Photograph: Courtesy CC/Flickr/Marsh-Billings-Rockefeller NHP
5hrs by car
It takes five hours to reach this almost magical Vermont shire town founded in the 18th century, but it's certainly worth visiting during the wintertime Wassail Weekend—an annual December celebration where residents don their finest holiday wear to parade into town on horseback and participate in a variety of other activities including a tree lighting. Throughout the cold months, the Main Street shops, historic homes, and country inns are blanketed in pure white snow, making it one of the most beautiful small towns in America.
What to do: The town is also home to some of the oldest—and finest—general stores in the country, including FH Gillingham & Sons, which specializes in local goods like jellies and jams as well as handicrafts. Beyond the town's borders, there are also ample outdoor attractions ranging from the dairy-producing Billings Farm & Museum, the conversation-friendly Rockefeller National Historical Park and, for the adventurous, the Suicide Six skiing and snowboarding area.
Where to stay: Find room and board at the Lincoln Inn & Restaurant, helmed by Michelin-trained chef Jevgenija Saromova and her partner, owner Mara Mehlman. Located on six acres of landscape, the secluded inn follows the tradition of Europe's lauded restaurant-inns—destination-worthy eateries that offer accommodations for an immersive sense of place. Here, visitors have access to six rustic guest rooms, each with a different design.
Photograph: Courtesy Whiteface Lodge
5hrs by car
A drive up the New York State Thruway takes you into the heart of the Adirondacks-set winter wonderland Lake Placid. Outdoor enthusiasts have their pick of activities: cross-country skiing, ice-skating, touring historic sites of the 1980 Olympic games. Test your skills during the Lake Placid Loppet, an annual 25K or 50K cross-country skiing race held at the Olympic Sports Complex (Feb 24 to 26). Or strap on skates and hit the frozen Mirror Lake, or gear up for a luge or bobsled ride.
What to do: Snag a bird's-eye view of the highest vertical drop east of the Rocky Mountains when you take a ride on the Cloudsplitter Gondola. The eight-person chariot transports you from the Main Base Lodge of Whiteface Mountain to the top of Little Whiteface in about 15 minutes. Between Instagram snaps along the way, bask in the mountain views, ski trails, forests and Lake Placid itself.
Where to stay: You can't do much better than the Mirror Lake Inn, a four-diamond, seven-acre resort boasting a full spa, gym and salon, private beach, indoor and outdoor pools, tennis and golf and excellent access to hiking and skiing trails. Whiteface Lodge puts you right in the action, since it's just a few minutes from the ski slopes of Whiteface Mountain and mere blocks from Lake Placid. That said, given the spot's one-bedroom suites, on-site restaurants and spa, you might not even want to leave.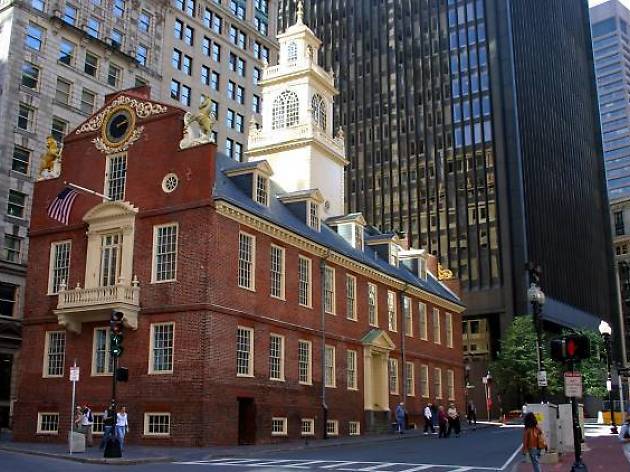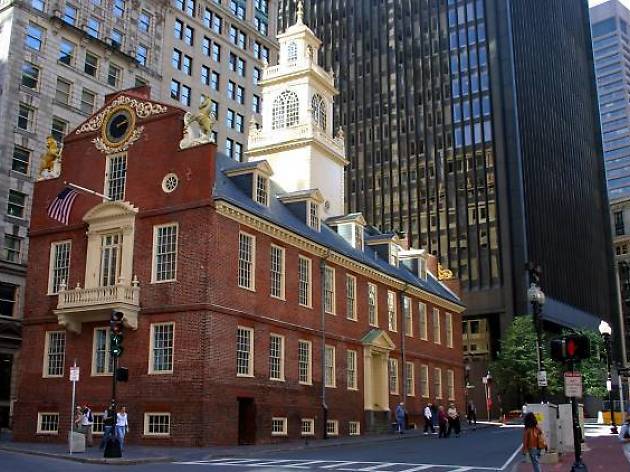 Photograph: Shutterstock
5hrs by bus or 3.5hrs by Amtrak
Sometimes escaping the city means heading to another city. The City of Kind Hearts, the Cradle of Liberty or Beantown—whatever you call it, Boston is an ideal extended weekend trip for history buffs and food lovers alike. Sitting some 200 miles north of NYC, this city will soon be home to a 16-restaurant Time Out Market.
What to do: There's something for everyone in Boston: Sports fans can catch a Red Sox game at Fenway Park while art geeks head to the Institute of Contemporary Art or Isabella Stewart Gardner Museum, a reconstruction of a 15th-century Venetian palace founded by the eponymous socialite. One of our favorite things to do: Take a walk through Boston's Freedom Trail starting with the statue of George Washington at Boston Common, passing the Massachusetts State House and ending at the USS Constitution, the world's oldest commissioned warship.
Where to stay: One of the city's newest hotels, the 136-room, boutique-style Envoy has already racked up the accolades. Its Seaport location—offering views of the Boston Harbor—is complemented by nautically themed rooms. There's an in-house restaurant serving serious seafood along with live music, and a rooftop bar overlooking the water. Bar bites from the Outlook Kitchen downstairs include pulled pork tacos, salumi flatbread and two different grade A burgers.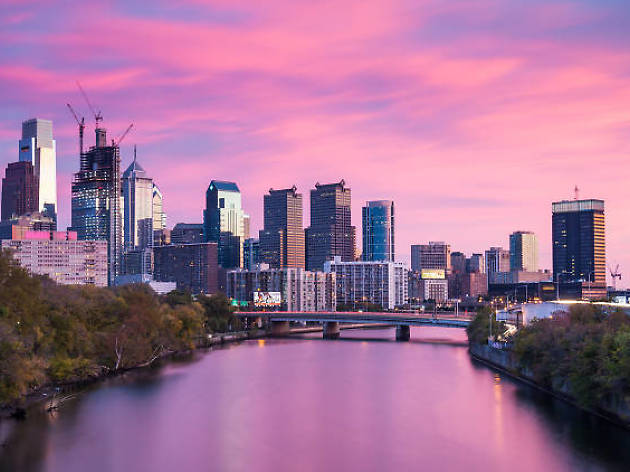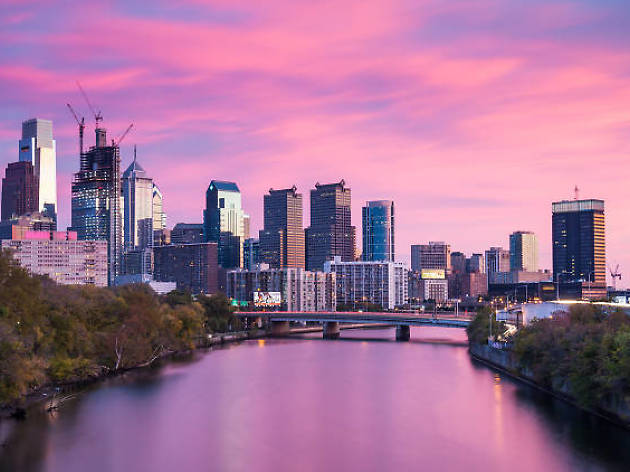 Photograph: Shutterstock
1.5hrs by Amtrak or car, 2.5hrs by NJ Transit and SEPTA
Philadelphia is an excellent year-round escape from NYC. Just 95 miles southwest of Manhattan, the City of Brotherly Love gives NYC a run for its money in the Christmas cheer department. During winter, check out destinations like the Electrical Spectacle at Franklin Square, the Holiday Light Show at Shady Brook Farm or the Deck the Hall Light Show at Dilworth Park's Wintergarden to get in the mood.
What to do: Beyond lights, a trip to Philadelphia is hardly complete without a cheesesteak: Try the tourists-loved Pat's or Geno's, or try more local favorites like John's Roast Pork or Campo's Deli. The latter is located near famous sites like the Liberty Bell, a hot spot for culture vultures. Other dining options include the Reading Terminal Market at City Hall, famed for being America's oldest farmers' market, or a critically-acclaimed brunch mainstay, High Street on Hudson.
Where to stay: Consider a smaller boutique hotel when staying in Philly: The Old City's Lokal Hotel is housed in an erstwhile Civil War cap-making shop with just six modern-industrial units. Check-in and -out is all app-based, and an in-room tablet and city guide offer enough support and suggestions for things to do in Philadelphia. For a homey vibe without getting an Airbnb, opt for the award-winning Dwight D Hotel, a rejiggered 19th century townhouse with eight elegant rooms, concierge and cleaning services.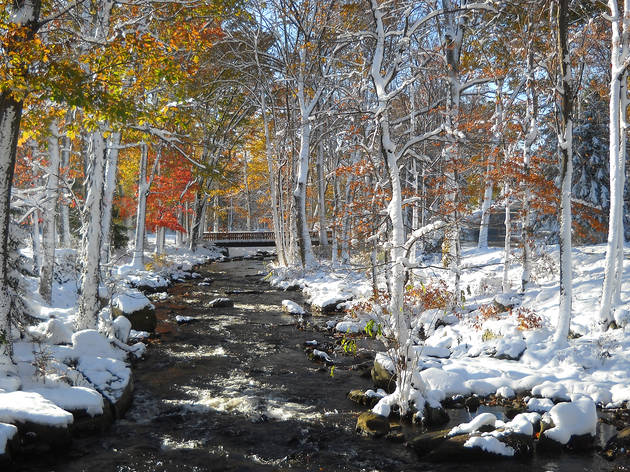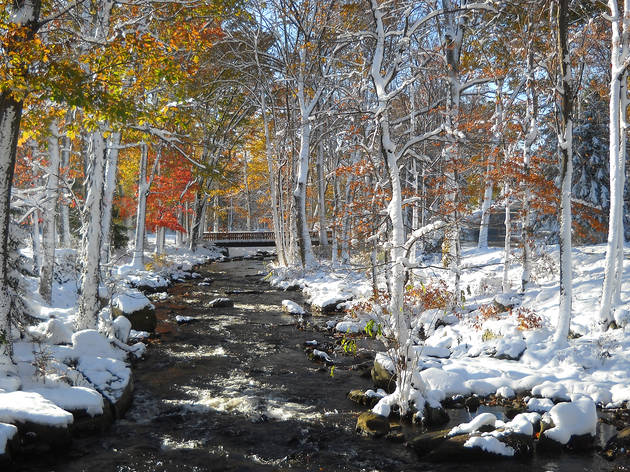 Photograph: Gaby Shearer
2hrs by car or Martz Trailways Bus
Don't scoff at the Pocono Mountains. The area's become an underrated getaway for New Yorkers, who typically flock to the snowcapped Catskills or Adirondacks come wintertime. This modest mountain range is home to a bevy of nature activities and lodges that'll make your Instagram followers drool with jealousy.
What to do: Explore a snowy forest during a winter hike or on the back of a dog-drawn sled. Through Skytop Lodge, you can sign up for hikes or a session with Arctic Paws Dog Sled Tours, during which you'll settle in behind a team of energetic huskies. (Please leave the "mush" yelling to your tour guide.) If you want to go full-on winter outdoorsperson, cast away from Skytop's private Poconos stream, which is stocked with trout, for some ice-fishing.
Where to stay: Why not just settle into Skytop Lodge's historic digs, which sit on more than 5,000 acres of nature preserve? The stately stone Main Lodge has 124 guest rooms and suites, all of which are decidedly regal, with dark wooden headboards and end tables, pops of royal blue in the bedspreads and decorative accent walls. After a day of hiking, tuck into the Windsor Room for hearty, stick-to-your-ribs winter fare, like French beef stew or the red-wine–braised chicken, and white-bean and duck casserole.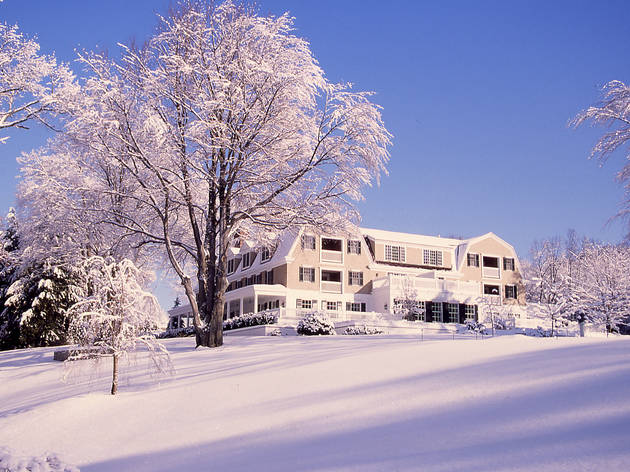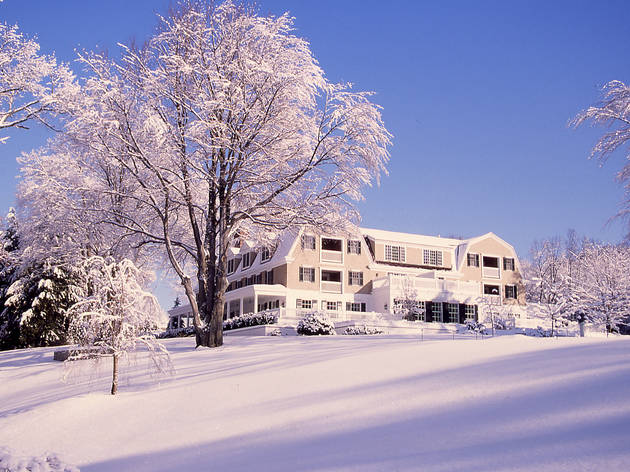 Photograph: Courtesy Mayflower Grace
2hrs by car
Fun fact: Washington Depot—one of the five smaller villages within the area—inspired Gilmore Girls' Stars Hollow. And while you probably won't stumble into Luke's Diner or grab international cuisine at Al's Pancake World, there's still plenty of New England cuteness to be found in the historic town, which dates back to 1779 and was named in honor of—you guessed it—George Washington, who passed through the area many times during the Revolutionary War. Enjoy sweet views of the Shepaug and Aspetuck Rivers, high-steepled churches, stone Colonial homes and a provincial town square, and you'll be relaxed in no time.
What to do: Speaking of R&R, the Mayflower Grace, a country retreat on 58 acres of gardens and woods, has an on-site 20,000-square-foot spa. Get loose during its Japan ritual, which starts with an exfoliation using ginger grass and bamboo and is polished off with a shiatsu massage with wild lime silk oil and plum blossom cream. Then further pamper yourself during the Hamman Red Flower, which begins with a scrub of coffee beans, olive stones and lemon, followed by a wrap in rhassoul clay. You'll feel like butter in no time.
Where to stay: Your spa destination, the Grace Mayflower, touts 30 rooms and a Relais & Châteaux designation and is surrounded by 3,000 acres of nature preserve. Its interior is understatedly elegant, with floor-to-ceiling windows that flood the public spaces with sunlight. Rooms are decked out with white and beige tones, with overstuffed couches, four-poster beds, window seats and in-room fireplaces. Unwind with a soak in the marble bathroom before slipping into your robe and sinking into plump, oversize pillows. Meanwhile, the airy dining room, complete with white linen tablecloths, is where you tuck into signature dishes like East Coast oysters and Maine lobster.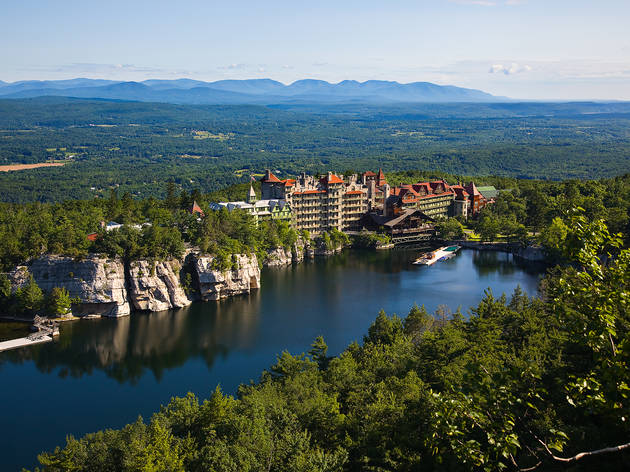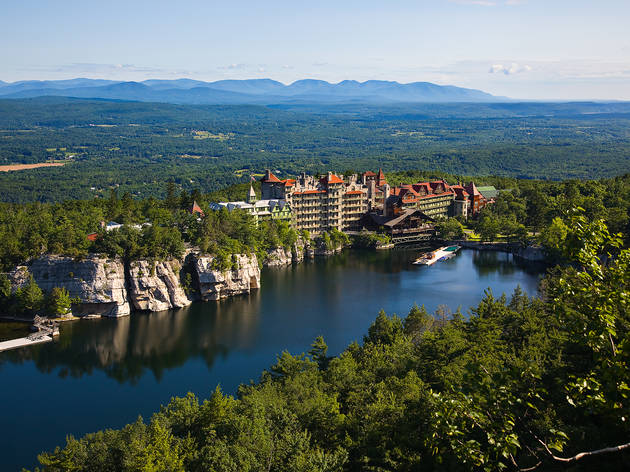 Photograph: Jim Smith Photography
2 hours by car, 1.5 hours via Amtrak to Poughkeepsie, followed by 1 hour car ride
Nestled in New Paltz by the Catskills is the unreal Mohonk Mountain House, which boasts over 1,000 acres leading to the stunning Mohonk Preserve.
What to do: Make the most of your R&R by paddleboarding and rock climbing by day and indulging in exquisite farm-to-table feasts by night. And when in doubt, always agree to the warm stone massage at the Mohonk Mountain Inn.
Where to stay: It's no surprise that the Mohonk Mountain Inn is on our list. Founded by Albert Smiley in 1869, the national historic landmark sits on a pristine mountain lake surrounded by lush forests and scenic hiking trails.
Show more
More winter getaways from NYC
Need a break from the city? Head out for a day of kayaking, hiking or another of these year-round outdoor adventures.