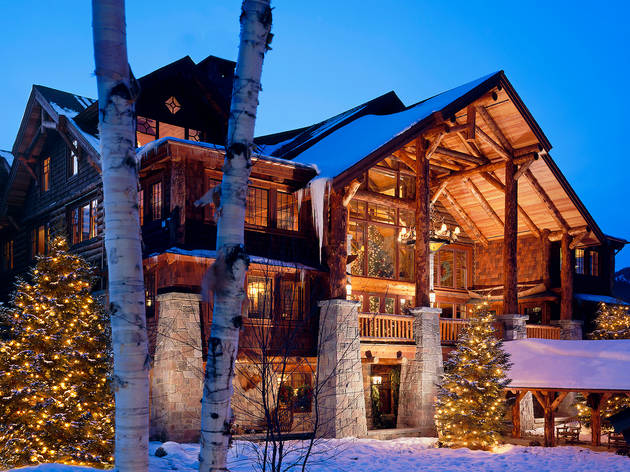 The best winter getaways from NYC
Hit up ski destinations, mountain towns and upstate resorts with our roundup of the best winter getaways from NYC
It's time to getaway. The city is quiet, the powder out there is fresh and the need is great. While there are plenty of things to do in winter in NYC, the city can also feel awfully gloomy when the sun disappears at 4pm each day. To ward off the winter blues, you could get yourself into one of the best bars with fireplaces or...you could flee. Whether you're the adventurous type looking for some of the area's best ski trips near NYC or a more low-key vacationer wanting to kick back and relax, we've got you covered with the best winter getaways from NYC.
RECOMMENDED: Find more weekend getaways
Best winter getaways from NYC
More winter getaways from NYC
Nothing is better than spending the colder months in a cozy cabin near NYC. It's the perfect winter getaway from NYC and is only made better with hot chocolate, a crackling fireplace, wool sweaters and a cozy cabin to cuddle up in. Whether you need lodging at ski resorts near NYC or somewhere rustic chic for a girls' weekend, this list of cabins near NYC on Airbnb has got you covered. After just a few hours of driving, you could be snuggling in a chalet in the Pocono Mountains, relaxing in a geodesic dome in upstate New York or sipping a hot toddy in a trendy container cabin in the Catskills. No matter where you choose to go, escaping the city to a snow-covered wonderland has to be one of the top things to do in the winter.
RECOMMENDED: Full guide to weekend getaways from NYC
Note: please check the latest travel guidance before booking your trip.
This article includes affiliate links. These links have no influence on our editorial content. For more information, click here.
Want to stay cozy as f*ck during your trip to New York? Rent one of these Airbnbs with fireplaces instead of a boring old hotel room. Whether you want to stay in one of the coolest Airbnb Brooklyn rentals or you're looking for something near all the top New York attractions, this list includes plenty of suitable options. Fireplaces add pizzazz to modern lofts, vintage brownstones and artsy studios—and the ambiance that flickering flames lend to a chilly evening is hard to deny. Fair warning: Once you've seen how stunning these Airbnbs with fireplaces in NYC look, you might not be willing to go back to the typical Airbnb New York City rental.
RECOMMENDED: Full guide to the best hotels in NYC
DISCLAIMER: Given current regional and national guidelines, certain businesses mentioned in this article are operating on different schedules and limited capacities. Call each business before your visit to receive up-to-date information.
The best road trips from NYC will take you to quaint cottage towns, beautiful fishing destinations and European-like cities ideal for romantic getaways. Because let's be honest: as much as we love our city, one of the best things to do is to get the hell out sometimes. All of the destinations we highlight are less than six hours away but if you really want to hit the road, opt to go cross-country when embarking on the best road trips in America.
RECOMMENDED: Find more weekend getaways

Show more