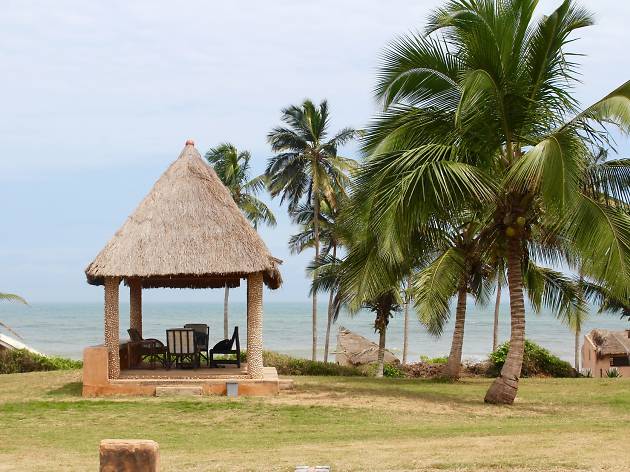 The epitome of the perfect beach holiday!
Sankofa Beach House is, according to the website, "a special place dedicated to bringing together people with 'big' ideas who are committed to having a 'great time'."
We're all for that. The Beach House is certainly a relaxing place to sit and reflect.

It is located in Langma Village near Kokrobite Village, about 50 minutes drive from the centre of the city on a quiet and clean beach area. There is a three bedroom guesthouse, a suite chalet and a one bedroom chalet that sits on four acres of beach front property. Also on the premises is a large summer hut, bar, massage hut, as well as volleyball and grilling areas.

There are also outside changing rooms with toilets, showers and sinks. The food is curated day-by-day based on what fresh ingredients are available.
| | |
| --- | --- |
| Venue name: | Sankofa Beach House |
| Contact: | |
| Address: | Kokrobite |
| Opening hours: | Always open |
Rating Breakdown
5 star:

0

4 star:

0

3 star:

0

2 star:

0

1 star:

1
THE OWNER OF THIS ESTABLISHMENT CURSED AT ME AND THE MANAGER SLAPPED HIS EMPLOYEE FOR BEING TRUTHFUL AFTER TELLING MY FRIEND ONLY WHITE PEOPLE WERE GUESTS THERE. I COULD SMELL THE ALCOHOL ON THE OWNER'S BREATH AS TOLD ME THAT BECAUSE HE OWNS THE PLACE HE CAN
"DO WHATEVER THE FUCK HE WANTS" AND YELLED IN MY FACE FOR DEFENDING THE WORKER. I usually don't write reviews but Sankofa Beach House near Weija is the worst place I have ever been to in Ghana and generally in the world, no exaggeration. At first it seemed like an okay place and the service from one particular worker, ( I don't want to mention his name because I fear for his well being and employment) was great. We waited on a friend to join us. When she came the manager of the place told her that only white people stay at the beach house so she should go. She insisted that she was meeting friends and that we were at the beach. He told her there was no beach and directed her away from the location. She then found her way back and that's when I heard her voice. The manager then began to scream and put his hands in my face. I told him not to raise his voice and not to put his hands in my face. The man is yelling at me, a patron, and my friend as well as her Uber driver! He says staff must be informed of a person's arrival. I told my server who told the manager. The manager then threatens to slap our server after realizing his own fault. At this point the owner comes. When he hears my American accent, he tries to connect. I thought he was coming to rectify the situation. While he wastes time trying to speak about boston rather than the horrendous treatment of workers, THE MANAGER SLAPS ANOTHER EMPLOYEE. The owner then curses at the employees to go home. As I try to tip the battered employee the owner says it doesn't concern me and screams in my face to leave the server alone and stop trying to pay him for his great service. The service is truly beyond me. Embarrassed, the manager tries to approach him and I requested that he come nowhere near me. I'm so disappointed to hear a gross violation of human rights because he knows people need work. I even cried because I was so stunned and offered the worker a ride.