Global beats
Ghanaian musicians are becoming recognised across the world thanks to innovative musicians such as Jahwi, and foreigners inspired by Accra's beats. Ben Lerwill investigates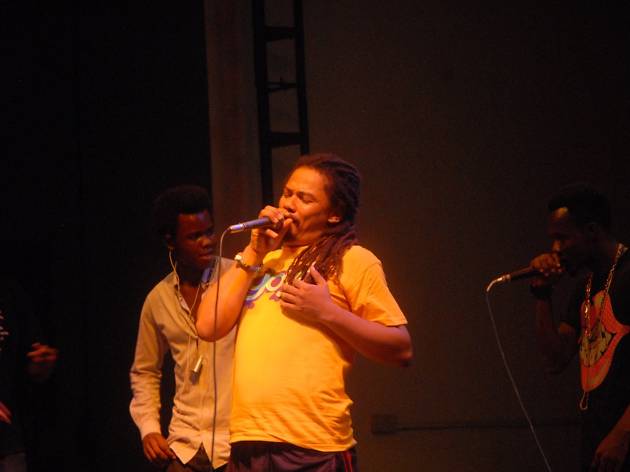 Homegrown talent...
"Each song sort of breathed itself into being," says Jahwi, the Accra musician whose debut full-length album, Ancient Soul Cries, gives as clear a picture as any of the kind of inventive underground music currently coming out of the city. Its blend of laid-back beats, Ghanaian patois, firebrand subject matter and layered instrumentation draws on a mix of different genres – from rock and reggae to afrobeat and hip-hop – and touches on everything from war to sex.
Jahwi himself, also a photographer, poet and painter, has been a well known name on the local cultural scene for years. Tellingly, he draws his song-writing influences from a whole host of sources. "My first encounters with music were hundreds of vinyl records that my father had collected over his travels. I began DJing his parties from the age of six – it was a disco and funk era, but some of the most influential forces in my music are people like Fela Kuti, Nina Simone, Sizzla Kalonji and Bob Marley. I could sing 'Redemption Song' before I could speak English."
Jahwi's paintings have been exhibited everywhere from South Africa to Australia, and given the right exposure his album has the potential to reach a similarly wide international audience. At a time when so much street-level music seems throwaway, Ancient Soul Cries has a more mature sound than most. "It sounds dark sometimes," he says, "but its main objective is healing."
Ancient Soul Cries is out on Maddrenegade Music
...and the London boys inspired by Ghana's beat
At time of writing, the video for Friday Night – a high-tempo tune by London producers The Busy Twist – has clocked up close to 40,000 views on YouTube. It's not hard to see why it's popular. The music merges Ghana's tropical hustle with flavours of the UK bass scene, while the video itself, shot in Accra, captures the shuffling, goodtime vibe of the capital in the sun.
The two 22-year olds behind the project, Gabriel Benn (aka Tuesday Born) and Ollie Smith (aka Ollie Twist), have so far released two EPs under The Busy Twist name, with an album set to emerge soon. They've collaborated with various Ghanaian musicians. So how did two young Brits, childhood friends in London from the age of 10, come to be working with the locals in West Africa?
"I had a placement teaching English in Ghana a few years ago and met so many talented musicians," explains Gabriel. "When I got back home, I persuaded Ollie we should go out to record them. We formed such a tight unit with the musicians out there that we realised there was really something in it. The Busy Twist was born from there. We've been going back and forth from Ghana for the last three years."
And what is it about the sound of Ghana that inspires them? "It's the energy, the vibrancy, the way that the music is just so ingrained in people's blood, in their everyday lives. Ghana is somewhere we love."
Friday Night EP is out on Soundway Records
Five more to know about
R2Bees
The duo won the main prizes at the 2013 Vodafone Ghana Music Awards
Fuse ODG
A British hip-hop artist of Ghanaian descent who has collaborated with Wyclef Jean
M.anifest
A rapper of real pedigree with a CV that includes work with Damon Albarn and Erykah Badu
Kaakie
A female dancehall-reggae singer from Accra, named Ghana's best new artiste in 2013
Sarkodie
A rapper hailing from the coastal town of Tema, nominated for a MOBO award in 2012.
Where to see great live music in Accra
More to explore