Interview: M.anifest
Time Out talks to the prolific Ghanaian rapper about his work, his influences and his high-profile collaborations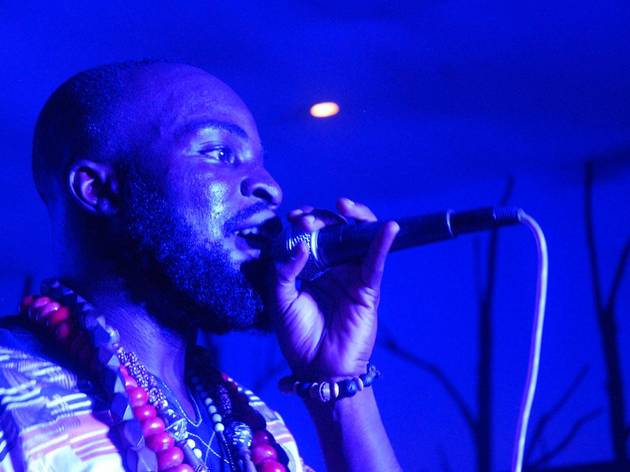 He's collaborated with the likes of former Blur frontman, Damon Albarn (for his Rocket Juice & the Moon project) and Ghanaian highlife legend Ebo Taylor - rapper M.anifest talks to Time Out about his work, his influences and why he's moved back to Accra...

Why did you move back to Accra?
It was never the plan to be away permanently. The plan was a simple one actually: get a college education and then return. As fate would have it I got caught up and carried away in my artistic journey. It's been a good ride in Minneapolis.

How much influence has US culture had on your music?
I would be a fool to deny that my decade-long experience in America hasn't had an effect on me. Being far from home comes with a lot of longing, nostalgia, retrospection and perspective on home and belonging. You have the choice of succumbing to another man's identity in a bid to be more accepted or to learn more about yourself and be stronger in who you are. I believe I chose the latter.

Have you always wanted to be a rapper?
I had a love for poetry and music at an early age. I went from singing along to my favorite hip-hop records to quietly penning my own rhymes. Never in my wildest dreams did I think I could build a career out of it. Then hip-hop was localized through hiplife in Ghana and the gap closed. It took me till 2005 to lose my fear and embrace my calling.

Who are your biggest musical influences?
My biggest influences musically are mostly from childhood when I was, for a lack of a better word, most impressionable. A lot of highlife like Alhaji K Frimpong, Amakye Dede, Koo Nimo, and African acts that reached us such as Hugh Masekela and Hedzoleh Soundz, Fela, Miriam Makeba, Lucky Dube. Then of course a lot of hip-hop, hiplife, and reggae: 2pac, Naughty by Nature, the Fugees, Nas, Biggie, Obrafour, Gregory Isaacs, Peter Tosh, Buju Banton and many more. As I grew older I got into a lot more jazz, soul, some rock and a lot of genre-defying music especially.

What was it like working with Damon Albarn?
Damon is a creative genius. It's evident he has had an expansive affair with music and creativity from his prolific and diverse discography. Most importantly he's inspired and it's infectious being around that sort of inspired energy. I was invited to bring my own musical identity so I was surprisingly given a carte blanche of sorts. It meant finding synergy and bringing something new to what was already a genre-breaching musical canvas Damon, Flea and Tony [Allen] had come up with. It pushed my creative limits too which I liked.

Is there a third solo album in the pipeline?
I think there is. I'm always conspiring and musing on new music. Before the next solo however there a couple of music videos from 'Immigrant Chronicles' we'll be liberating. I'm also hoping to have an EP completed with highlife legend Ebo Taylor before my next album. All things equal that will be sooner than later.

Where is your favourite place in Accra to hang out?
Labadi beach is always a good time. Tawala on Wednesday nights is fun. Reggae music at the beach at night. You can't beat that.