Soul Food + recipes
As a cookery book dedicated to Ghanaian cuisine is released, Time Out eats its way through some of the classic dishes and looks at what makes the food so appealing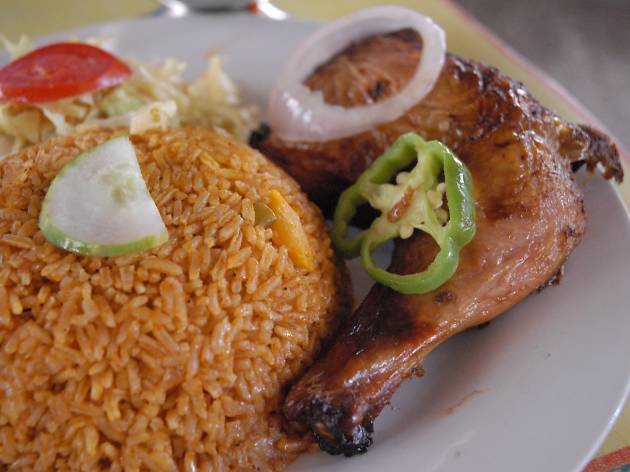 Ask any Ghanaian who cooks the greatest jollof rice and the number one answer is 'Mum', of course. Coming a close second place, occasionally first, is 'Gran'. Third place is usually reserved for 'me'. Jollof rice, a dish of rice, tomatoes, onion, spices and whatever is lying around in the pantry, is arguably Ghana's national dish – well it would be if it wasn't eaten widely in Senegal, Gambia and Nigeria (but they don't count, it is Ghanaians who know how to do it properly).
In a recent interview with Lethal Bizzle, an UK hip hop star with Ghanaian parents, told Time Out Accra, 'I grew up eating Ghanaian food: yam, fufu and jollof rice that my mother used to cook. I still carry on making it in my own house myself. Jollof rice and chicken is probably my favourite dish of all time.'
For expatriates, ensconced in some far away country, it is a meal of their homeland that, perhaps more than anything else, often provides the idea of comfort. Yet it is more than the assemblage of ingredients. A meal is who you share it with – family, friends, a loved one – that is remembered. In Ghana, like in Mediterranean countries, the mealtime is to be savoured. Time is needed to taste the food, the love that went into it, and the company it is eaten with. It is something the sizable Ghanaian Diaspora feels acutely. Yet fret not, US-based, Accra-born Sandra Amoako has published a book that will help ease the longing for the homeland, and allow visitors to Ghana to recreate their favourite dishes at home. Akwaaba: A Taste of Ghana is a journey through the culinary landscape of Ghana, providing alongside recipes, nuggets of quirky information about Ghanaian food and culture and some helpful hints.
'For me, Ghanaian food is a part of who I am and a gateway to where I come from,' Sandra Amoako told Time Out Accra. 'The wonderful thing about Ghanaian cuisine is that each person does it in a slightly different way and so you could visit someone and try the same Ghanaian dish (jollof rice etc) you have at home but it will still be new, delicious and exciting.'
It was this longing that first encouraged Sandra to embark on the journey of publishing her own book. Born and raised in Accra, it wasn't until Sandra went to university in Pennsylvania she truly got into cooking and friends, loving her peanut soup (someone actually cried when they found Sandra had run out of peanut soup at an international food fair), encouraged her to write the cookbook they couldn't find on the shelves of bookstores. And after three years, her book was finally published.
The core of a traditional Ghanaian dish is something starchy, usually cornmeal-based, with a soup or sauce, often highly spiced. It is often served alongside boiled rice, fried plantain or yam.
One of the most common dishes is tilapia, a tasty grilled fish, with banku. Banku is cooked fermented corn or cassava dough. The gooey mixture is then used to attack the fish and spicy sauce by hand. It's sticky and delicious.
It is also similar to fufu, a thick paste made from cassava or other vegetables that is common all over Central and West Africa. A rather more acquired taste is kenkey. Made from fermented corn and cassava dough, it is then wrapped in banana leaves and boiled to a bitter paste
'I think visitors to Ghana should try jollof, peanut soup with rice ball or fufu, kebab (with really good kebab pepper), kele wele, fried yams and pepper sauce and red-red (fried red plantains with beans stew). Jollof is the little black dress of Ghanaian cuisine. But they should try everything…they are all so delicious!' Sandra says.
Yet as exotic as it may sound, most of the ingredients are readily available in the UK and US. Ghanaian ingredients include staples such as rice, yam and plantains as well as cooking oil (vegetable and palm), fresh tomatoes, ginger, onions and spices – all foods that most people will have access to and be able to cook at home.
In Accra there are some fantastic, homely restaurants such as Auntie Muni's and Katawodieso, that serve traditional meals such as waakye – a plate of refried beans, rice, salad, beef and some fish, usually eel – just like mum's, as well as all the other classics.
Yet as we have identified, there is more to a meal than the food and in Accra. The great thing about meal times in Ghana,' says Sandra. 'Is that everything had been made that day and so you also get to appreciate your family for taking time to prepare a hearty meal. A meal made from great ingredients with a dash of heart and soul.'
Try this at home
Cookbook author Sandra Amoako offers two of her favourite recipes.
Garden Egg (aubergine) Stew
Ingredients:
9 garden eggs (aubergines/eggplants)
8 large tomatoes or 1 can of tomato puree
2 large white onions
1 tablespoon of red pepper powder
1 habanero pepper
1 teaspoon of nutmeg
1 (grated) small ginger root
½ lb of steamed or dried fish
1 cup of dried
1 cup of palm oil
Salt ( to taste)
Preparation:
Boil the garden eggs for 12-15 minutes, then remove the skin and seeds.
Dice the garden eggs and place in a bowl.
Heat palm oil in a cooking pot for about three to five minutes in medium heat.
Dice 1 onion and fry in the heated oil for three minutes.
Add pepper powder and nutmeg to frying onions and let simmer for three minutes.
Add dried shrimp to the frying onions.
Blend tomatoes, habanero pepper and other onion ad add to the frying onions.
Let sauce simmer for about 15 minutes on medium heat.
Add 1 cup of water to the sauce and let simmer for another 20 minutes.
Then add the fish and diced garden eggs to the sauce.
Let the stew simmer for another 30-40 minutes on low heat.
Add salt to taste.
Helpful hints
It's called garden egg because of its eggshell colour, size and shape.
If you are using your local type of aubergine (if you are in different country), prepare it the same way as in this recipe.
You can use any fish of your choosing – tilapia, cod, haddock, etc.
This stew goes well with boiled yams, green or red plantains, rice and even boiled potatoes.
Tatalé
Ingredients:
4 over-ripe plantains (very soft)
1 medium ginger root
1 habanero pepper
2/3 cup all-purpose flour
4 cups of vegetable oil (for frying)
2 small white onions
Preparation:
Peel and mash plantains until texture has even consistency.
Blend onions, peppers and ginger.
Add blended spices to mashed plantains and mix well.
Add flour slowly to mashed plantains to bind the mixture.
Let marinate for 30-40 minutes.
Pour oil in a cooking pot and heat on medium high for five to seven minutes.
Use a medium-sized ladle to scoop some plantain mixture into hot oil.
Fry each side for three minutes or until golden brown.
Remove cooked tatalé and place on a sheet.
Repeat steps seven, eight and nine with remaining plantain mix.
Helpful hints & more:
Make sure you use over ripe plantains – the outer skin should be turning black or should be almost black.
For a smoother texture, you can use an electric hand-mixer to ash the plantains.
You can eat tatalé as a snack or combine it with some beans stew and create a hearty lunch or dinner.
Best places to try Ghanaian cuisine