Time Out Accra apps
Time Out's free iPhone, iPad and Android apps let you discover the best of the city while on the move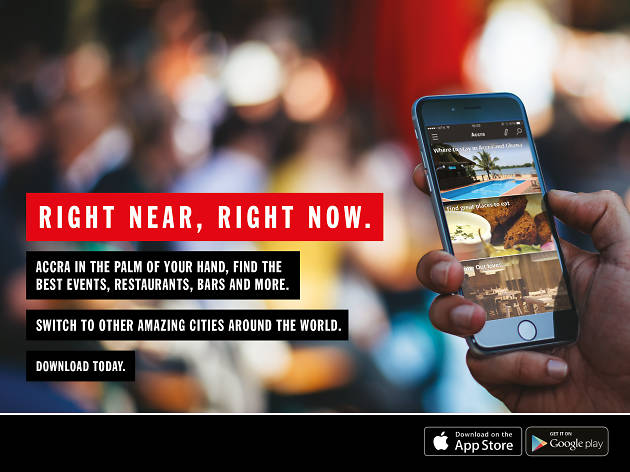 Get the most out of your city with the brand new Time Out Accra mobile apps. We've put everything that's great about the capital in one place, with information on gigs, events, bars, restaurants, club nights, film releases and much more.
TIME OUT APP FEATURES
Your City, Your Way – Discover the Best of Your City
- Need a night planner or a restaurant advisor? Time Out's event finder offers inspiration around you Time Out makes it possible for you to plan the best trips to get the most out of your weekend.

Personalise Your Home Screen – Save and Explore Your New Favourites
- Customise your Time Out experience and travel to all the events and restaurants that you love. Save all of your favourite locations and events to create a customised city guide. Curate the best of your city, and keep track of your favourite spots!

Switch Cities – Discover What's Around You, Anywhere
- Switch from city to city and find out the best around you. From concert tickets, festivals, daily events, stores, and places to eat and drink – Time Out will guide you to the best of any city. With Time Out's event mapper, a great night will always be just a tap away.

Travel Smarter - Create Shortlists for Other Cities Before You Visit
- Browse locations and events in cities worldwide, and prepare a customized travel guide before you visit.

Share Your City – Help Friends Discover What You Love
- Share photos of your favourite festivals and events, store or place to eat. Post about places to eat or favourite cinemas, and use other users as travel advisors when you take a new trip.

And did we mention they're free?
As beautiful as it is useful, the iPhone app will help you make the most of your city while on the go. Features include: enhanced location-based search for planning now or later, shortcuts to instant inspiration from the homescreen and editors' picks.
Download from the Apple App Store
----
Instant Accra inspiration for Android users, plus comprehensive listings covering the city's hottest goings-on. Need to find somewhere to eat or drink fast? Use the 'restaurants nearby' or 'bars and pubs nearby' functions on your GPS-enabled handset to find critic-approved venues close to you.
Download from the Google Play Store