Heads up! We're working hard to be accurate – but these are unusual times, so please always check before heading out.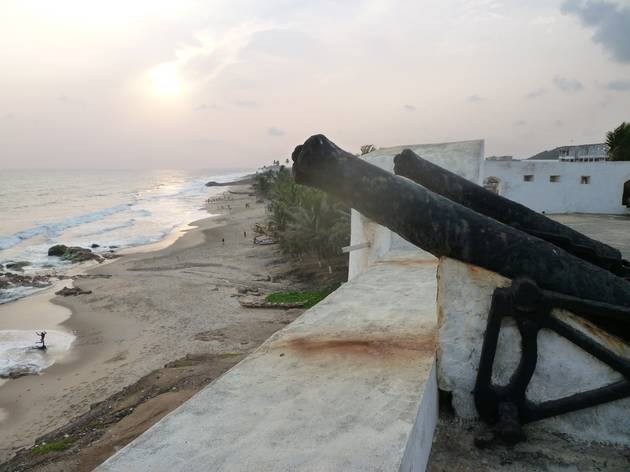 Where to go in Ghana • Cape Coast
Venture beyond Accra to see Ghana's other attractions, and take a trip to Cape Coast – Ghana's old capital city
Cape Coast might be the former capital city, but when held up against Accra, it's the very picture of serenity. You'll have to look elsewhere for your endless traffic jams. This isn't to say it doesn't feel lived in, but the atmosphere is more redolent of a coastal community than a big, bad metropolis. Pastel-hued fishing boats fringe the beaches, groups of schoolkids trip along in the sunshine and dinky shops and houses create a through-the-ages architectural mishmash. Past the lagoons on the edge of town, meanwhile, are some of the most enticing swathes of beach in the country. 

All of which makes it unsurprising that Cape Coast is such a tourist draw. The centre is an appealing place in which to watch and wander - particularly down by the crescent-shaped harbour - but while there's an intoxicating feel to the pace of life here, it also has a sharply sobering history.
You'll most likely be aware of Cape Coast Castle already (Barack and Michelle Obama visited in 2009 to much fanfare - see 'A tour through Ghana's history'), and it was here that some of the worst atrocities of the slave trade era were committed. The city was founded by the Portuguese in the 15th century, and the solid white bulk of the castle acted first as a fortified base for overseeing the export of gold and other goods before 'market forces' initiated a move into human trafficking.

A tour of the site today makes for a harrowing, but undeniably salutary, visit. Thousands upon thousands of West African men and women were imprisoned within the castle's scratched dungeon walls - in truly horrific conditions - before passing the 'Door of No Return' and being shipped off to the Americas, the majority of them not surviving to reach their final destination. To establish a clearer understanding of the crushing reality of the period, the 45-minute guided tour (included in the ticket price) comes highly recommended. There's also a museum on site. The Castle is now listed as a World Heritage Site, and gazing down today from its old ramparts at the late-afternoon hubbub of fishermen and red-dust footballers, it's hard not to be stirred by the human cost of its past.

To harness your own inner musician, meanwhile, try the regular half-day drumming and dancing workshops from Women in Progress (www.womeninprogress.org, +233 244 530 467, US$11). The organisation - which supports fair-trade project Global Mamas - also offers workshops in batik-making (US$16) and Ghanaian cookery (US$11).

Getting there
Four buses a day head to Cape Coast from Accra's main STC station on the Ring Road, costing around GH¢10. Those with private transport should drive west along the coastal road from Accra. The journey takes between two and three hours, slowed by umpteen speed bumps en route. Frequent tro tros drive the few kilometres between Elmina and Cape Coast. When getting back from Elmina, hop into a shared taxi in the Chapel Square area.


_______________________________________________________________________
Where to eat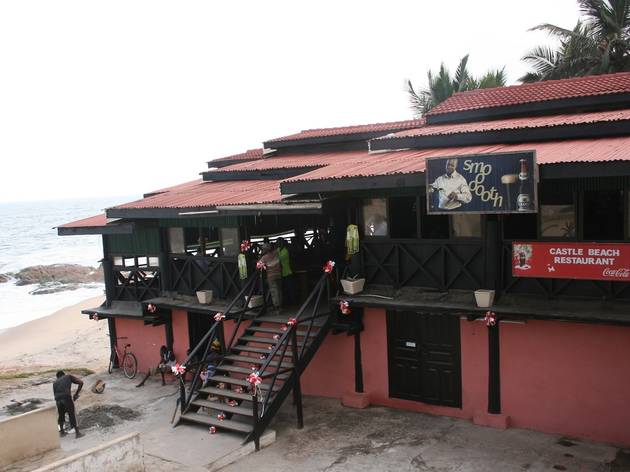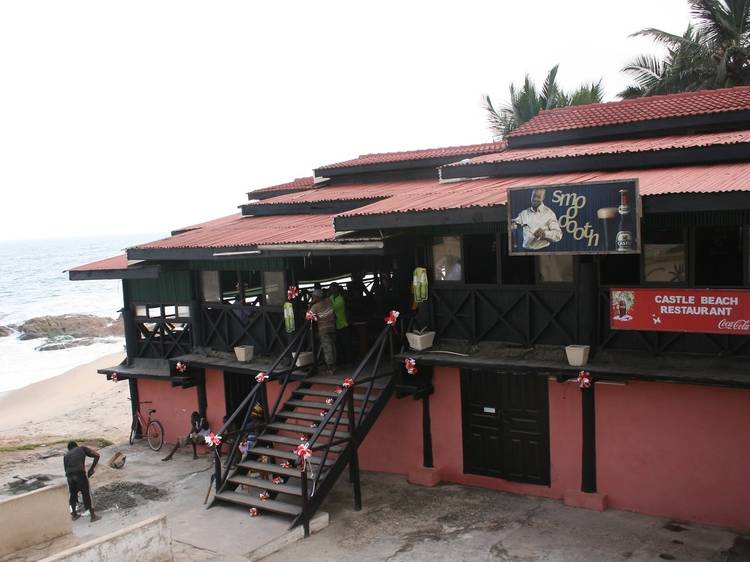 © Daniel Neilson
For location and ambience, it's hard to top the Castle Beach Restaurant adjacent to the castle. It's an atmospheric spot with dark-wood platforms and wide green bamboo screens, with several areas giving diners good sea views. There's a lengthy menu of coconut curries, stir-fries and seafood dishes.
Main courses GH¢12-25.
This little place is the base for the fundraising arm of the Baobab Children Foundation. There is an excellent little shop stocking all manner of eco-friendly, fair trade and recycled goods, including cosmetics, art works and fine kente cloth. It has an adjoining vegetarian snack bar with dishes of tofu, salads and fruits, many from its organic farm. The organization also has five rooms in Cape Coast.
www.baobab-children-foundation.de
Where to stay
This rather singular property lies around 10 minutes along the road to Kakum National Park. It's notable principally for the crocodiles that patrol its lake (and occasionally its bar-restaurant), but there's plenty of passable accommodation on offer, and its location makes it a haven for birdlife. There's a wide mixture of chalets, double and family rooms available to 'experience the joy and comfort of a sleep'. There's also a gift shop, conference facilities, restaurant and bar (main courses GH¢6-18).
Double from GH¢35; chalets GH¢75-200.
www.hansbotel.com
The Mighty Victory Hotel is a decent option for those in search of mid-range accommodation – a double with fan goes for US$25, while those with air conditioning are US$40 a night. All rooms have a TV and shower. There is room service and a restaurant serves breakfast, lunch and dinner. There's also a bar, gardens, conference suite, wheelchair access and internet access.
Doubles US$25-40.
www.mightyvictoryhotel.com
This is probably the most upmarket hotel in Cape Coast since the closure of Eshu. Billed as three-star, this is a comfortable option with 29 air-conditioned rooms and cable TV. Four of the rooms are suites. There's also a swimming pool, restaurant, bar and grill, shops, internet café, business centre, fitness centre, secure parking and conference facilities.
Double US$60-80.
www.sanaalodge.com