Where to go in Ghana • Takoradi-Sekondi
Venture beyond Accra to see Ghana's other attractions, and take a trip to Sekondi and Takoradi – Ghana's Twin City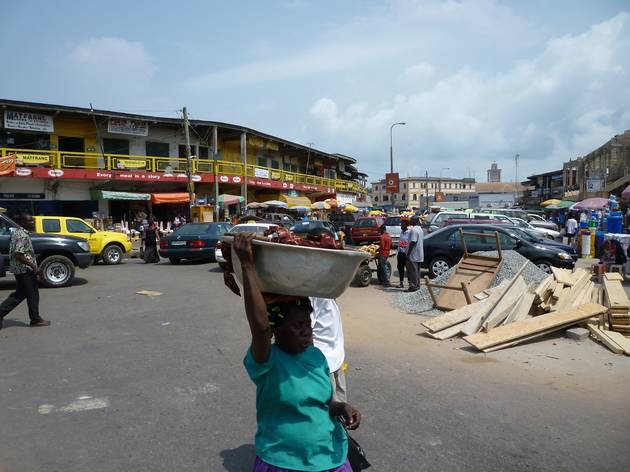 The two towns of Sekondi-Takoradi are together known as the Twin City. In reality, they should be known as the triplets. Takoradi is split into two separate areas: a beachside area with hotels and restaurants and, a couple of miles inland, its naughty big brother, the frantic hub of life in the city, the centrepiece of which is a raucous circular market - one of the most colourful in Ghana.
Situated an hour west of Elmina, the city emerges after miles of sugar and palm-oil plantations, circling vultures and vendors on the side of the road selling freshly killed, or cooked, savanna cane-rat (known locally as grass-cutter - they're around GH¢25 for lunch on the go).
Takoradi (or Tadi, as Sekondi-Takoradi is generally called collectively) has entered into the consciousness of Ghana, and that of the international community, because of the oil trade. It's off the coast here that up to three billion barrels of light oil are estimated to be. Large-scale exploration is ongoing and the service industry in Takoradi is bracing itself for time as a fully-fledged boom town. Predictions of an endless throughput of oil workers haven't quite come to fruition yet, but there are big plans.
For sightseers, Sekondi has a Dutch fort and a colonial railway station in what is still known as 'European Town', but there's little cultural heritage in Takoradi, despite it being Ghana's fourth most populous city (335,000 - 2005 estimate). Most visitors here tend to be businesspeople, engineers and other oil workers, the upside of which is that there are some good hotels and restaurants, mostly around the quiet beachfront area. People do swim in the sea here but, as all along the coast, there's a strong undercurrent. The beach itself is clean and uncrowded. It's also from here that coast and sport-fishing boats can be hired. Book through Captain Hook's (Beach Road, +233 31 20 27085).
The difference between the serene beachfront and the commercial centre of Takoradi couldn't be starker. At the very heart of town is Market Circle, a disorientating frenzy of colour, noise and smells. Lorries full of yams are unloaded, machete-wielding coconut sellers lop off tops and stick in straws, and a bewildering array of goods are paraded past on head-tops: sunglasses, dried fish, flip flops and colanders. Further into the centre, meanwhile, an almost exclusively female sales force hawk colourful vegetables, chilli peppers, fish and a variety of meat.
Getting there
STC buses travel between Takoradi and Accra several times a day. They take around four hours for the quick service. The buses leave Accra from the main STC bus station and arrive next to the North Sea Restaurant (see left) in Takoradi.
Although the only airport in Takoradi is the military air base, there are regular direct flights to Accra, something that will certainly increase as the oil business picks up momentum. Fly STarbow (+233 24 500 0000,
www.flystarbow.com
) flies to Takoradi from Kotoka International Airport in small Embraer 110 aircraft. It is a 35-minute flight. Antrak Air (+233 302 782 814,
www.antrakair.com
) also has daily flights from Accra.
_______________________________________________________________________
Where to eat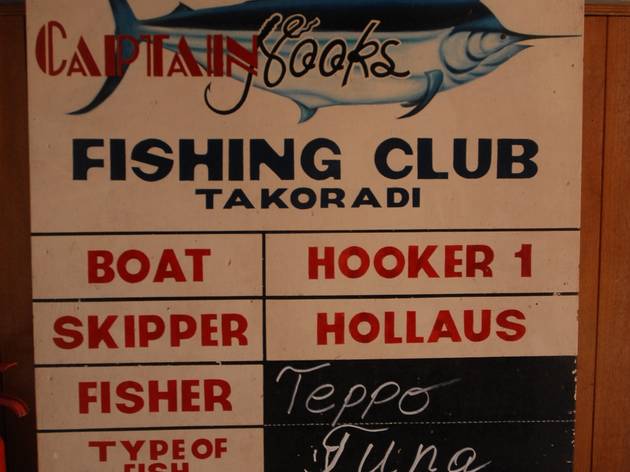 Captain Hook's
One of the most popular places for expats to eat is the German-run Captain Hook's, which at one time was related to the restaurant in Accra, but now, despite an almost identical menu, is autonomous. The restaurant focuses on seafood, with dishes such as sole meunière and lobster, but there are also steaks. Hemingway's Bar (what else would it be called?) is a popular nautically-themed pub, with a central bar propped up by regulars night after night. It's a pleasant place for a drink, and open between 6pm and 1am daily.
Main courses GH¢25-60. Open 6pm-1am.
A cheaper option, but also well-renowned for its seafood, is North Sea Restaurant. The dishes at this German-owned restaurant (yes, another one) include lobster provençal and grouper fish gratin, as well as good pizza. There is also chicken with jollof rice and other Ghanaian dishes. It offers some imported beers on tap and a happy hour with half-price drinks between 6-7pm every Friday.
Main courses GH¢14-30. Open 10am-11pm daily.
www.northsea-restaurant.com
Read more