The best Amsterdam coffeeshops
Welcome to the capital of cannabis culture...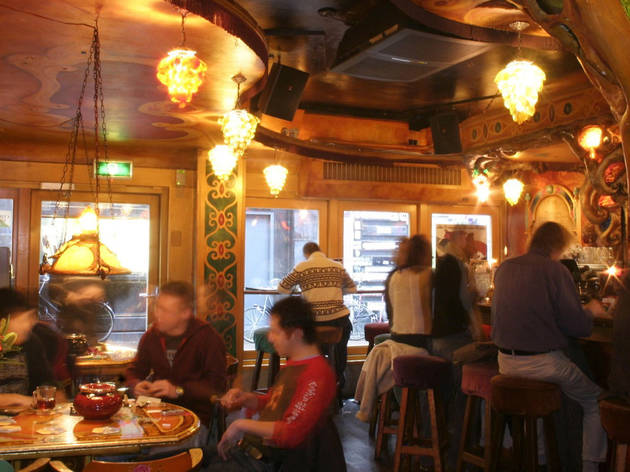 Drug wars are rarely won, something the Dutch acknowledged in 1976 when they decriminalised marijuana and hash. Since then, the laws on cannabis have always been fuzzy, and it has never technically been legal. As for over-the-counter sales, coffeeshops weren't legalised until 1980. Amsterdam coffeeshops are under continual scrutiny and must regularly dance with the law. They can legally sell to you, but cannot buy from growers - the legislators assume that ganja magically appears in the storeroom. It's illegal to smoke tobacco in any working environment and this includes, perversely, coffeeshops. You can still smoke 'pure' weed, and many shops have sealed smoking rooms for ciggies. But fret not: Mary Jane has had a rough ride since the beginning, but she still enjoys more freedom here than just about anywhere else.
In terms of ambience, every establishment is different. Some offer amazing food, others are great for lounging. Some have a terrible atmosphere, but supply the best hash in town. Others have it all. The following list is our guidelines for what a great coffeeshop can be. With roughly 250 in Amsterdam, you could easily stumble across your own. Coffeeshops are banned from advertising, so some of the websites listed here don't reveal addresses or are fan sites. Thus information is not always strictly accurate, and operational telephone numbers can be few and far between. In other words, it's all suitably hazy.
The best Amsterdam coffeeshops
Tucked away down a narrow alley, this lively shop is a tourist hot-spot. The staff are friendly, internet is free and chess boards are plentiful - as are the separate rooms connected by spiral staircases. They also have a healthy-sized drug menu, including half a dozen bio weeds and spacecakes.
This small smoker's empire on the Harlemmerstraat includes a coffeeshop (at street number 102) and two toking-friendly bars that serve alcohol, Barney's Farm (number 98) and Barney's Uptown (number 105), with some of the best coffeeshop food around. The decor is inspired by an old-fashioned apothecary, but the experience is absolutely 21st century.
On a pedestrian street, just a few steps away from the Albert Cuyp market, Katsu is decidedly homely with all its potted plants and dim, cosy lighting. Katsu's cannabis selection (split between Jamaican, Mexican and 'Nederwiet' strains) comes highly recommended by our buddies at the Cannabis College, and the helpful attitude of the staff here means that Katsu is much loved by the local toker, too.
Known for its unforgettable (even by stoner standards) interior, the visual experience acquired from Dampkring's decor could make a mushroom trip look grey. Moulded walls and sculpted ceilings are covered in deep auburns laced with caramel-coloured wooden panelling, making a perfect location for the movie Ocean's 12. In case you missed it, in-house monitors loop the same scene all day long.
A marvellous discovery on an otherwise hideous touristy street by Leidseplein, De Rokerij is an Aladdin's cave. Lit by wall-mounted candles and beautiful metal lanterns, it's decorated with colourful Indian art and a variety of seating (ranging from mats on the floor to decorative 'thrones') - all of which is highly appealing to those feeling the effects. It gets very busy in the evening and on weekends.
Squeezed on a little corner near the copious book and art sales on the Spui, this small shop has all its decor slightly askew - even the CD rack. It's known for exceptional, high-grade hash, including pre-rolled joints. The large window up front boasts a truly beautiful view of city life on an old sloping street.
This legendary coffeeshop tenders highly potent weed with prices to match. They've won the Cannabis Cup over 30 times and, with the Grand Hotel next door, occasional celebrities stop by to get hammered. The vibe inside has grown a bit commercial, but it's still worth a peek, if only to see the beautifully handmade interior with sunken floors, mosaic stones and blown-glass lamps.
This snug shop is shaped like a long, sleek train carriage with a polished interior and high-quality ganja. It tends to fill up fast, but they have a separate space operating a similar policy under the same name next door. There you'll find a full bar, regular DJs and, if the drink and dope combination renders you immobile, a good variety of hotel rooms upstairs. Across the street is Getto, arguably the single best gay/straight-friendly bar in town, where the green smoke is also allowed.
Run by two blokes living the modern American dream: get the f*@k out of America. They did so by opening this stellar coffeeshop, which offers some of the best weed and hash on the planet (try the Bubble Gum or Grey Mist Crystals). Also on offer are large glass bongs, a vaporiser and free refills of organic coffee. The owners are highly affable and often more baked than the patrons: sometimes they stay in bed and miss the noon opening.
Show more
Find more coffeeshops in Amsterdam