The best brunch in Austin
Our guide to the best brunch in Austin, from boozy hot spots to laid back eateries serving eggs, pancakes and mimosas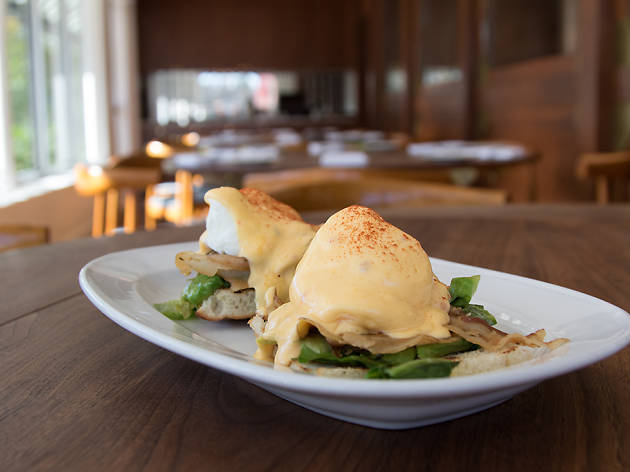 Weekends are for sleeping in—especially if spending your nights at the best bars in Austin—which is why selecting where to devour the best brunch in Austin is a task to be performed well in advance. Roll out of bed and head to one of these local spots for some delicious eggs, pancakes or a booze-filled late breakfast meal (after all, the best hangover cure is more drinking). Top off your weekend with a walk through the best Austin museums and an evening stop at one (or two) of the best venues for live music in Austin.
Best brunch in Austin
1
Brunch service at VOX Table is pretty special. The inviting space is bright and open, the dishes are beautifully presented and Chef Joe Anguiano never disappoints. For those who like to have a bit of savory and a bit of sweet, indulge in plates like the stuffed brioche toast with roasted strawberries, or the olive oil pancakes with fig and walnut butter. Looking for lots of protein? The salsa verde pork hash with sweet potato and fried egg is perfect. And because no brunch in Austin is complete without an adult beverage (and because Vox Table's bar program is one of the best in town)—don't forget to order a cocktail.
Book now
Read more
2
Brunch alongside Austin's young and hip at Launderette, the neighborhood cafe (and former actual launderette) that nabbed a semifinalist spot on the James Beard Foundation's 2016 Best New Restaurant list. The casual, global-inspired fare is great anytime of the day but is a must-have brunch option. Thick buttermilk pancakes with blueberry maple compote and crème fraiche are an obvious pick but we also love the asparagus benny (English muffin, poached eggs, serrano ham, truffle hollandaise). For something that leans more towards lunch, the addictively-tasty Plancha burger (American cheese, special sauce, pickles, challah bread) has been declared the best burger in Austin by multiple outlets. Pair any of these with the light and fresh Bird of Paradise (blanco tequila, grapefruit, lime, sea salt, soda water, anise) and you have yourself a meal to remember.
Read more
3
Boiler Nine Bar + Grill is located in the historic Seaholm Power Plant. The eatery offers local (when available) vegetables, meats, Gulf Coast fish, housemade sausage and more, prepared using a wood-fired grill. Planning on heading to the restaurant with a group of six or more? You might want to call in advance.
Book now
Read more
4
Clark's Oyster Bar reflects the personality of Clarksville, the historic neighborhood where you'll find this popular ode to bivalves. The crisp, white interior is elegant with white and black penny tile flooring and luncheonette-style seating in the bar. There's a charming formality here, from the staff's bowties and pressed aprons to the refined approach to the menu. You should always get the oysters: each of them with cute names ("black bear," "lucky limes") and origins on the East coast, West Coast and PEI. The crab cakes and lobster roll are winning picks for entrée, as is the mac and cheese with lump crab. The cocktail menu is a mix of martinis and modern classics, all of which are mixed with care. And good booze.
Book now
Read more
5
Chef Jacob Weaver features modern and classic Italian brunch dishes in Juliet's beautiful space, which is clad in Italian modernist fixtures, furniture and wall treatments. Brunch highlights include the rich brunch risotto (creamy rice with poached eggs, parmigiana, pancetta and peas) and the egg in a hole (brioche, parmigiana, grilled kale and n'duja gravy). Keep the Italian vibe going with a tasting of four of beverage director Jeramy Campbell's seven negroni variations, including La Petite Negroni, made with vodka, aperol and lillet rouge.
Read more
6
Sundays at Wu Chow's dim sum brunch are fun and interactive; you'll order small dishes from the menu of bite-size dumplings, shumai and fritters and share them with your tablemates. Still hungry? Keep ordering, as the dishes come fast. Shrimp and cilantro dumplings, shrimp and leek cakes, pork potstickers, bean curd with oyster sauce and the top-selling Shanghai pork soup dumplings are some of the most popular picks. For drinks, you can opt for a potent Tsingtao Shandy (baijiu, fresh ginger, lime and Tsingtao beer) or a teapot of chrysanthemum tea, served in a glass pot with a "blooming" flower.
Read more
7
Located on the fourth floor of the musically inspired Hotel Van Zandt, Geraldine's has become a Sunday funday brunch destination. The chic, inviting space boasts a gallery kitchen, a stage for live music, a rooftop pool and quite possibly the best cocktail program of any restaurant in Austin. A few menu highlights include caffeinated cocktail Muddy Waters (cognac, Averna, orgeat, cold brew coffee, condensed milk, egg white and nutmeg), Pimento cheese empanadas with harissa and avocado and the fried potato tot hash topped with pulled pork, poached egg and hollandaise sauce.
Book now
Read more
8
Micklethwait Craft Meat is a tiny, one-pit trailer with a handful of picnic tables situated in an unsuspecting East Side lot. You won't wait eons, but you do need to arrive within the first couple of business hours to ensure a taste of pitmaster Tom Micklethwait's goods—though they're open until 3pm, they often sell out quickly. Our recs to help you decide before you arrive: a bit of brisket (stands up splendidly to the knife and fork test), some of the wonderfully smoky, extra-peppery pork spare ribs and a beef rib. The latter will run you $20 by itself, so consider sharing, but the melt-in-your-mouth quality trumps almost any five-star steakhouse beef select. Essential sides: lemon-poppy-seed coleslaw—a crisp, creamy twist on a classic—and jalapeño-cheese grits, a Southern staple spiced to perfection.
Read more
9
Constantly changing its menu, Odd Duck strives to utilize seasonal ingredients from local farms. Chef Zechariah Perez's current menu is filled with amazing creations, including a cheeseburger corn dog with mustard foam and a green chile waffle (chicken syrup, crispy skin, melon and cayenne, goat cheese). Get your brain buzzing with Cory's coffee, made with Clyde May's whiskey, cold brew, cinnamon and dry vermouth served via nitro tap.
Read more
10
Situated on the far East side along the river and defined by the kind of Southern hospitality rarely seen in today's restaurants, Jacoby's is the ideal spot to take your parents or in-laws to. For brunch, ask for an order of pimento cheese for the table before digging into the moist braised beef benedict (poached egg, biscuit, horseradish hollandaise). Then treat yourself with the deep fried red velvet cake topped with cold brew maple syrup, whipped cream and berries.
Read more
11
Hopfield's is a casual brunch spot that serves great French-inspired fare and craft beer. The weekday brunch includes a full English (two eggs, bacon, sausage, beans, tomatoes and toast) while the more extensive weekend menu lists an indulgent French toast, biscuits and gravy that will conquer your heart. Always order the fresh-cut pommes frites and a pint of beer from the constantly rotating list of craft ales on tap.
Read more
12
Fortight is the newest addition to Austin's scene. Expect bright modern digs peppered with perfect dishes, like thick-cut avocado toast with two poached eggs, the Fortright waffle sandwich (smoked bacon, Gruyére, overeasy egg and maple syrup). Revel in classic brunch drinks, like mimosas and greyhounds, in addition to solid wine and beer options.
Read more
13
Bullfight, Chef Shawn Cirkiel's Spanish Tapas restaurant in Central Austin, features an all Spanish wine list with the best selection of vermouth and sherry in all of Austin. Bullfight accepts a limited number of reservations and reserves a portion of the dining room for walk-in guests each night. Seating is done on a first-come, first serve basis.
Book now
Read more
15
Sometimes you want a late breakfast that is cheap, quick, and good—this is where Paperboy comes in. The savory hash bowl (roasted Yukons, braised pork belly, grilled peppers and onions, poached egg, pecan mole) satisfies those who crave a more filling meal while the sweet toast with ricotta, peach jam and granola is on the lighter side. Paperboy doesn't serve alcohol (or allow BYOB—for now), but you won't even miss mimosas when you're sipping on coffee from Tweed Coffee Roasters or enjoying the lightly sweet and very refreshing watermelon aqua fresca.
Read more