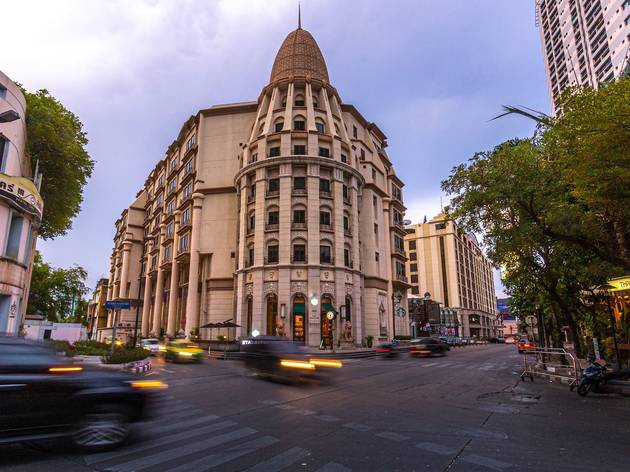 8 most photogenic Starbucks establishments in Bangkok
Time for architecture appreciation!
Okay, before you start getting all fired about Starbucks, let's calm down for a few seconds and think about how it isn't always that bad.
The American coffeehouse chain is—undeniably—ubiquitous (which is pretty convenient for a quick grab-and-go) and quite creative about its drinks line-up (great if you're not a conventional coffee drinker). But in Thailand, we reckon that Starbucks is known for something else other than its coffee: the architectural design of its shops.
Most branches boast their own unique touch, which helps enrich the experience of going to a Starbucks in Thailand. The one at ICONSIAM, for instance, took inspiration from Thai art and culture, and decorated the entire 1,260-square-meter space with eye-popping features, such as lantern-like ceiling art and a wooden spiral staircase.
This attention to design is a real boon for the brand, especially when the café-hopping hype in Thailand seems to be getting stronger and stronger each day—people tend to care more about bagging a cool photo for their Instagram rather than getting a drink. And the stunning art-inspired interiors of Starbucks establishments in Bangkok and other provinces provide that perfect shot.
So here we are, responding to the hot trend by listing down the eight most photogenic Starbucks in the capital. Go get a cuppa and flaunt your best angle for that one stylish snap.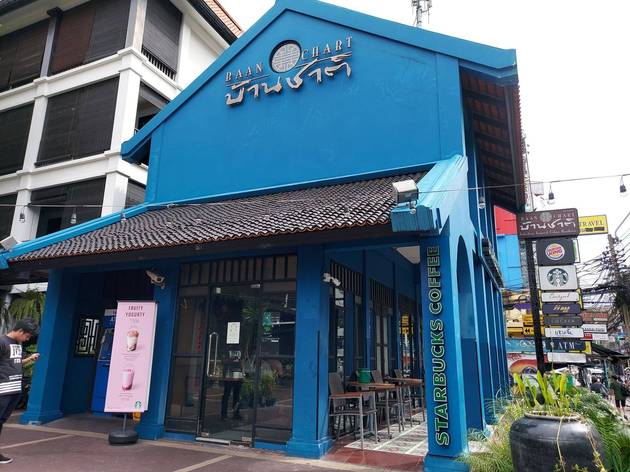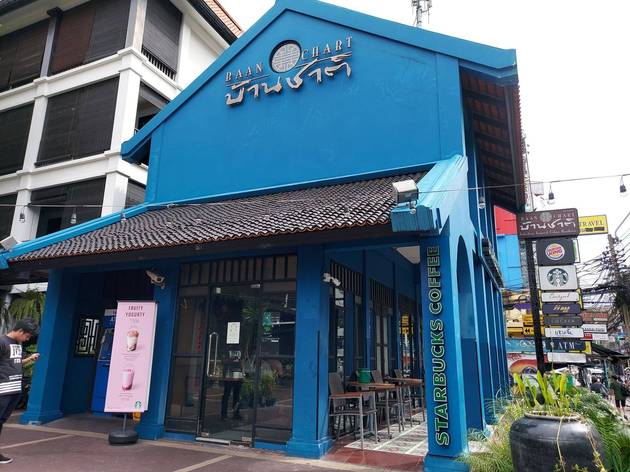 Starbucks Coffee
Done in the Indo-Chinese style, this bright blue Starbucks is reminiscent of the buildings one would see in Penang, Malaysia. The eye-catching outpost is one of the five Starbucks establishments in Thailand to receive a LEED (Leadership in Energy and Environmental Design) recognition for its sustainable construction and go-green operations.
Location: Baan Chart, Chakrabongse Road
Opening hours: Daily (07:00 to 23:00)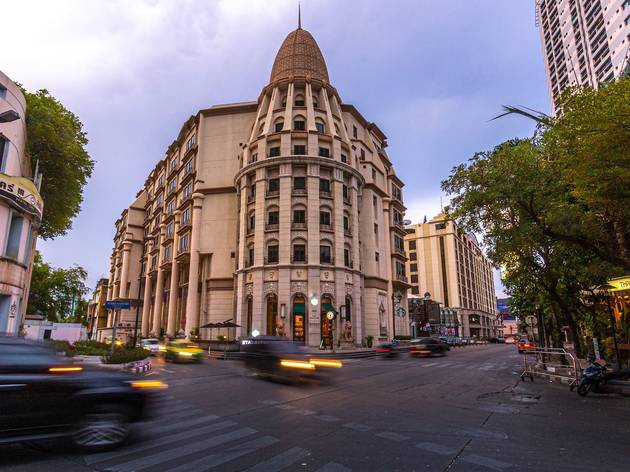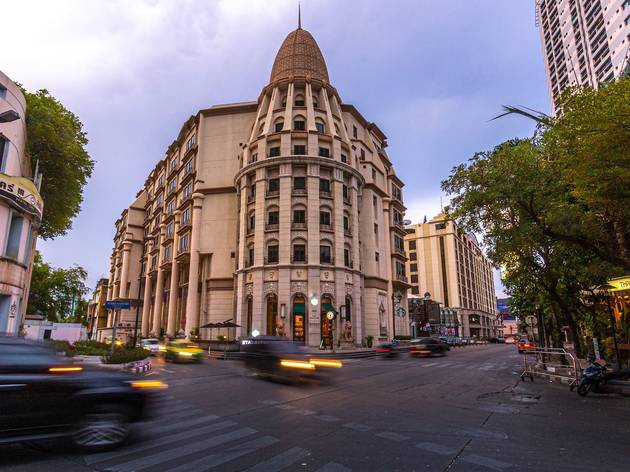 Starbucks Coffee
This branch, located at the The Davis Hotel on Soi Sukhumvit 24, may just be one of the most-visited Starbucks in the city. The imposing facade of the hotel takes inspiration from old English architecture, which is perfect for those who want to look like they're actually in Europe. (There's even a London-style phone booth on the sidewalk.) Maysa Design is responsible for the shop's equally impressive interiors, which feature curved walls and tall white columns.
Location: The Davis Hotel, Soi Sukhumvit 24
Opening hours: Daily (06:00 to 22:00)
Starbucks Coffee
There are so many Starbucks outlets in CentralWorld, it's ridiculous. But we want to give a shout-out to a particular shop on the first floor. This branch is the second-largest in Thailand, occupying a space of 760 square meters. It is home to Reserve™Bar and Starbucks® DRAFT—two major features that the brand has launched to elevate the experience with more artisan drinks. Walking inside the premises, you will get the soothing vibes from the golden ceiling that imitates the coffee-growing ridges. There are also beautiful pieces of art by local artists hanging on the walls to add the artistic value to the place.
Location: CentralWorld (1st Floor)
Opening Hours (10:00-22:00)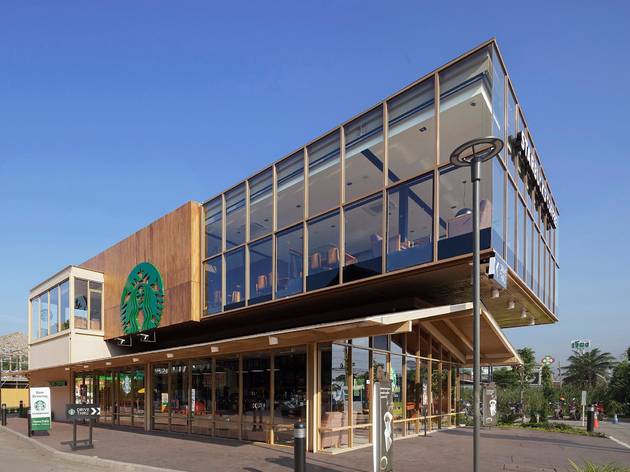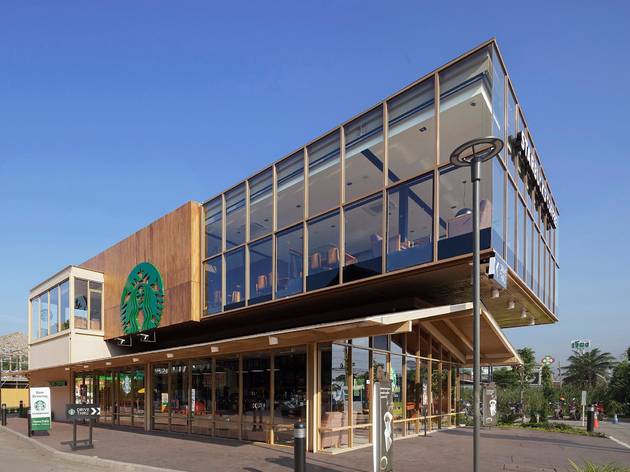 Starbucks Coffee
This Starbucks, located at a massive marketplace in the up-and-coming residential neighborhood, takes the style of a countryside barn. Floor-to-ceiling glass windows let sunlight filter in, accentuating sleek wooden furniture by I Like Design Studio's Narucha Kuwattanapasiri.
Location: Food Villa Ratchaphruek, Ratchaphruek Road
Opening hours: Daily (24 hours)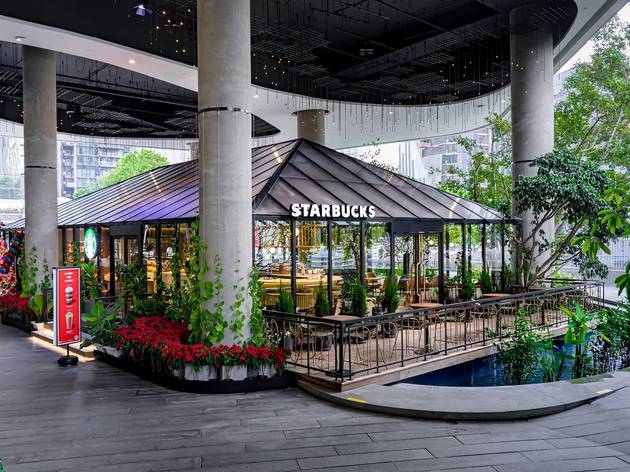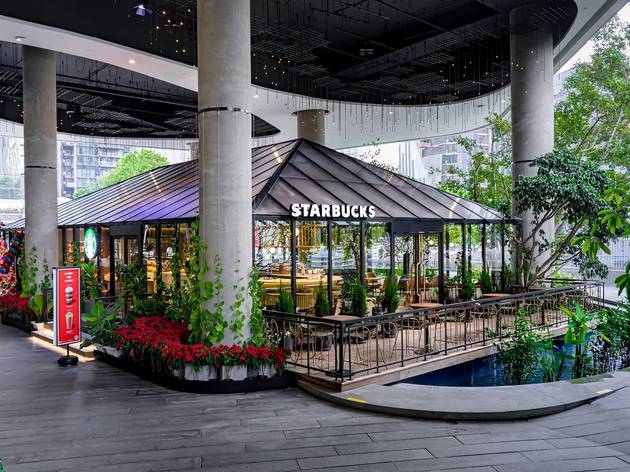 Starbucks
Set in a glasshouse in EmQuartier's beautifully conceptualized Helix Sky Garden, this Starbucks is surrounded on all sides by soothing lush greenery and encircled by a small pond. The natural vibes will make you forget, even momentarily, that you're in an urban setting.
Location: The EmQuartier (5th floor)
Opening hours: Daily (10:00 to 21:00)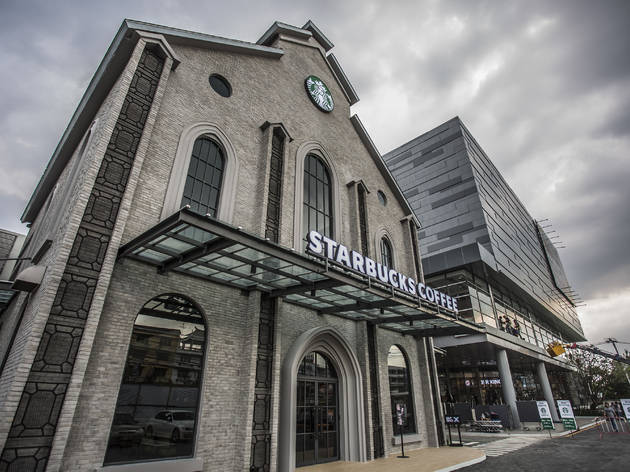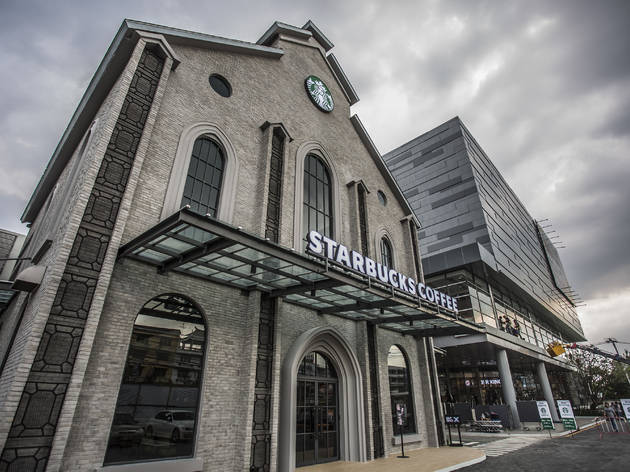 Starbucks
Don't be confused if you first mistake this Starbucks outpost for a church. Toolbox Architects Company Limited was recruited to give life to this Romanesque structure, which features a stone facade, an arched doorway and windows, and a vaulted ceiling. The JAS URBAN branch also has a spacious second floor for co-working and meeting purposes.
Location: JAS URBAN Srinakarin, Srinakarin Road
Opening hours: Daily (06:30 to 22:00)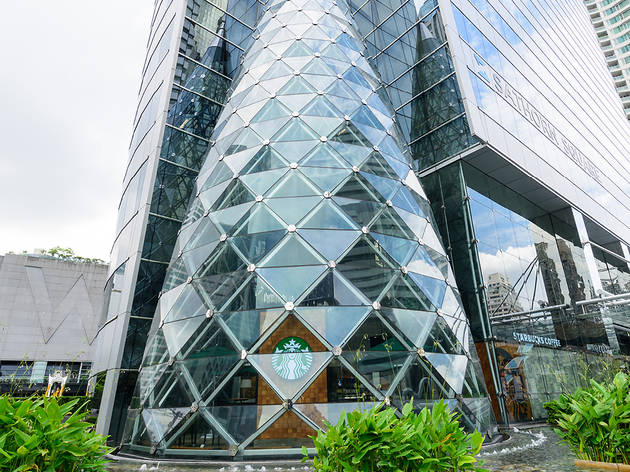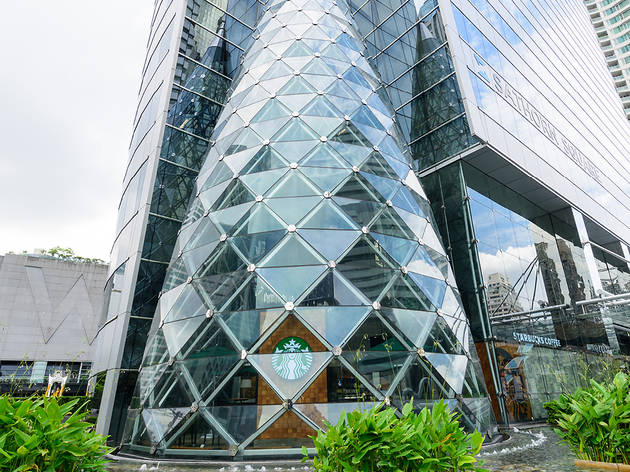 istock
A gigantic cone-like glass structure marks the facade of Sathorn Square Tower near BTS Chong Nonsi. Within this striking piece of architecture, designed by award-winning firm P&T Group, is a Starbucks. The shop's interiors are not as breathtaking, but we're sure you'll gain enough social media mileage with creative shots by the grandiose outer structure.
Location: Sathorn Square Tower (1st floor), BTS Chong Nonsi
Opening hours: Mon to Fri (06:30 to 20:00); Sat and Sun (07:00 to 18:00)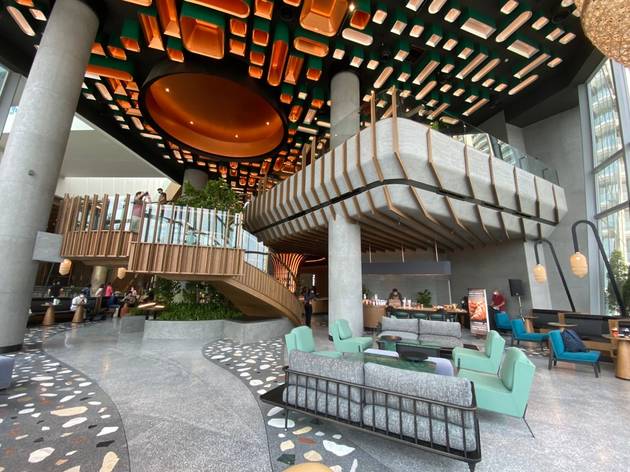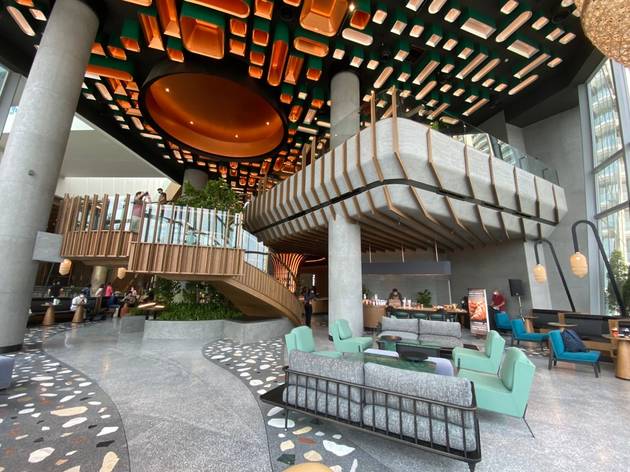 Natchapa Srisanguansakul/Time Out Bangkok
Starbucks Reserve Chao Phraya Riverfront
The latest Starbucks branch in Bangkok takes over a huge riverside space on the seventh floor of ICONSIAM. It is also the biggest one in the country, encompassing two stories and 1,260 square meters, and boasting a seating capacity of over 300. Its stunning interiors were a collaborative effort between Thai local artists and Starbucks regional designers, which produced highlights like the Coffee Flavor Wheel and a wood-carved mural.
Location: ICONSIAM (7th floor)
Opening hours: Daily (10:00 to 22:00)