Best Portuguese restaurants in Bangkok
Where to savor Portuguese fare in the city
What was once one of the best Italian contenders in Bangkok has taken a different turn to explore modern Portuguese flavors, officially making it the only Portuguese restaurant in Bangkok. Benefitting from the culinary heritage of Nelson Amorim and Ricardo Nunes, Il Fumo's Portuguese-born head chef and sous chef, Il Fumo now has a new menu that celebrates the traditional flavors of the European nation but with a more contemporary slant. The restaurant is also actively teaming up with noted chefs in both Bangkok and Portugal, as with a recent collaboration with the renowned chef Vitor Matos of Antiqvvm, the one Michelin-starred restaurant in Porto.
Eat these:
Meia Desfeita: This refreshing starter features bacalhau (salted and dried cod) served with chickpea purée and olive oil ice cream.
Arroz de Pato: This popular dish serves a tantalizingly aromatic Earl Grey-infused duck with its jus and puff rice.
Portukáli…Portakal…Portokál: A dessert that commemorates how the Portuguese introduced the bitter orange to the world (which is the reason why "portugal" means orange in many languages), it features an orange-shaped Pudim Abade de Priscos, a Portuguese sweet flan filled with orange mousse.
Baan Sakul Thong The food at Baan Sakulthong may be a far cry from the authentic fare served in Portugal, but the restaurant is a testament of how the Portuguese greatly influenced Thai cuisine. The lineage of the Sakulthong family can be traced back to the Portuguese settlers who migrated to the Kudeejeen quarter from Ayutthaya in the 18th century, hence Baan Sakulthong churns out dishes with Portuguese influences following the recipe of Chawee Sakhulthong, the owner's great-grandmother. A set menu consists of three Thai-style appetizers, followed by five main courses with Portuguese accents and one dessert. Advanced booking is required.
Eat these:
Tom Ma Faad: A Thai-Chinese interpretation of traditional Portuguese stew, cozida à Portuguesa, this dish features an intensely flavored herbal broth served with braised pork. According to Baan Sakul Thong's owner, this fusion stew particularly impressed the Portuguese ambassador to Thailand when he dined at the restaurant.
Portuguese kha nom jeen: A non-spicy version of red curry with fermented rice noodles, the dish may have been the attempt of early Portuguese settlers to make pasta with white sauce. Khanom jeen was substituted for the pasta and coconut milk-based broth for the creamy sauce.
Samo pork: In this heavenly dish, tender roasted pork with cinnamon and cardamom is served atop spice-filled pork jus.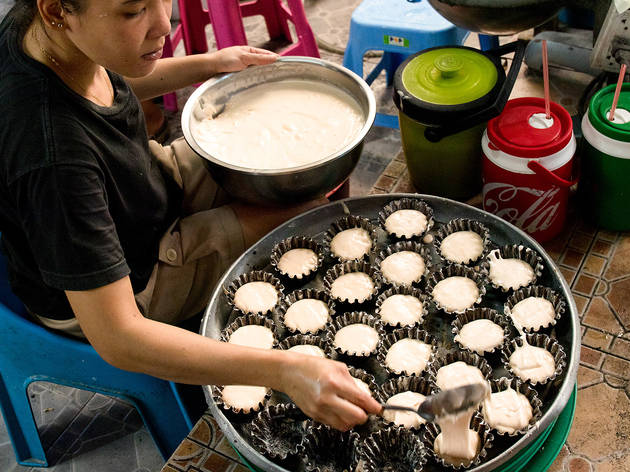 Sereechai Puttes/Time Out Bangkok
When in Kudeejeen, try the famed Kudeejeen cupcake, a traditional Portuguese-influenced treat made from a recipe dating back 200 years. The cupcakes are made with three main ingredients—flour, eggs and sugar—and are topped with raisins, persimmon, dried winter melon and sugar. Only four bakeries in the neighborhood sell the cakes— Baan Pah Lek, Baan Pah Pan, Baan Lan Pah Pao and Tanoo Sing—most of which have been making these treats for more than five generations.
Read more
II Fumo's Portuguese chefs talk about their underrated national cuisine.
More to explore