Best places to eat somtum in Bangkok
We list down the awesome places to eat somtum in Bangkok—and tells you everything else you need to know about our so-called national dish.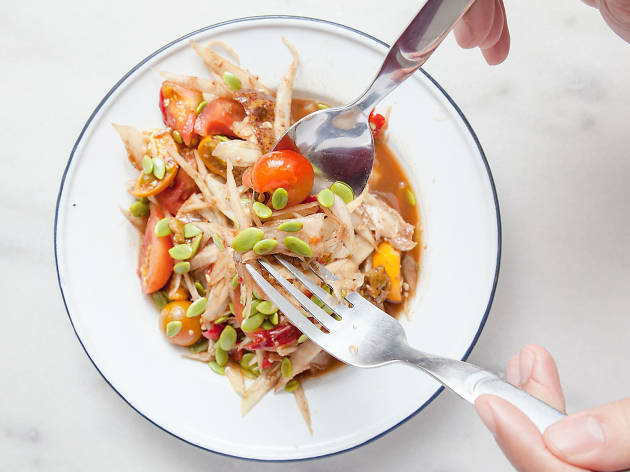 A brief history of somtum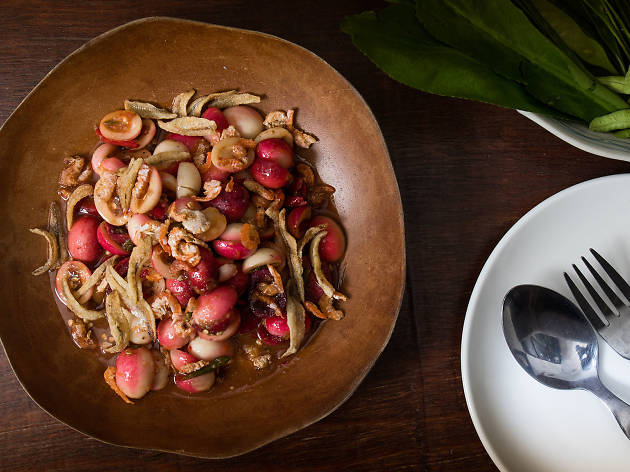 No one can pinpoint when exactly the nation's beloved dish appeared in Thai culinary history.
According to food historians, it is widely believed that the somtum we know today was first introduced as an adaptation of tumsom, a spicy and sour salad that's long rooted in the northeastern (Isaan) culture. Tumsom was made by pounding sour (som means "sour" in the Isaan dialect) vegetables or fruits such as mango, pineapple or tamarind together with savory condiments and ingredients.
The papaya-based tumsom, or tum bak hoong in Isaan, is likely what inspired the creation of somtum.
Respected food expert Nidda Hongwiwat mentions many theories explaining how tum bak hoong became a national sensation in her book Krua Thai Khon Thai (Thai Kitchen, Thai People). One theory proposes that the dish was brought to the central region by traders, and was adjusted for the local palate with the addition of palm sugar, fish sauce and lime juice. Another theory expounds that tumsom may have been popularized during the reign of King Rama V, who was known for his "casual visits" to his people all over the country. Some of his courtiers may have tried the dish during one of these visits, loved it and brought the recipe back to the royal court. Tum bak hoong, according to Hongwiwat, was adapted by one of King Rama V's royal consorts, Saisavali Bhiromya—who was praised for her skill of adapting local food into royal cuisine—into kao mun som tum, a dish consisting of coconut boiled rice, shredded beef, chicken curry, tamarind paste and papaya salad. The dish evolved over the years and was combined with many ingredients until it became the somtum we know today.
Read more about somtum
We spoke with somtum expert and Phed Phed owner, Nattaphong Saehu, to learn more about the fiery dish.
The Isaan-born restauranteur reveals his quest to conquer the world with papaya salad.
More to explore