Heads up! We're working hard to be accurate – but these are unusual times, so please always check before heading out.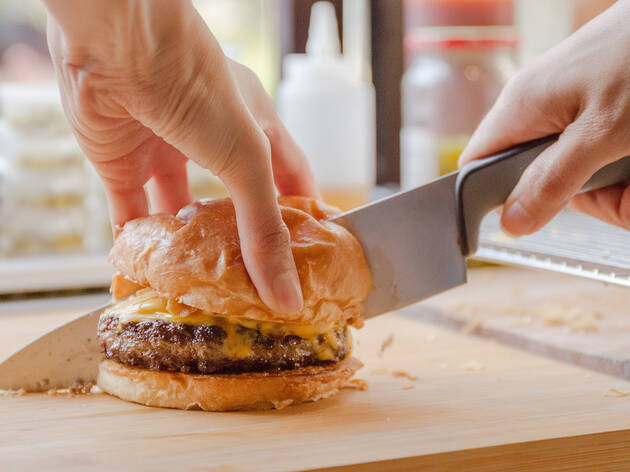 The best burgers in Bangkok
Because not all burgers are created equal
Food trends come and go. But burger always captures a place everyone's heart. Big, fat, juicy patty slapped in between soft warm buns is to-die-for mouthful. While fast food chains churn out industrial, sad-looking burgers to feed hungry crowds, a number of burger specialists in Bangkok take their burgers seriously and offer meaty marvels that are heavenly delicious. Here are the burgers that hold a special place in our hearts.
The best burgers in Bangkok
Daniel Thaiger burger made its name in the Bangkok food truck scene for its succulent burgers, and now the brand is expanding to locations on Soi Sukhumvit 11, and the latest branch at The Commons. Check out the schedule of the food truck here. Menu includes the Mr. Steve which is the bestseller, a simple yet irresistible burger that sandwiches a juicy beef patty in between warm brown bread. At Daniel Thaiger, they know to cook the meat medium, which, if you ask carnivores, is the only way to enjoy a burger.
Available for delivery service on Grabfood.
Egg-focused eatery Crackhouse offers an all-day breakfast menu that features The Big Crack – the monstrous marvel featuring dry-aged Angus beef, cheddar, smoked bacon, caramelized onion, fried egg sandwiched between warm brioche bun.
Crackhouse is offering delivery service on Lineman and takeaway order. You can also contact the restaurant directly via Line account @crackhouse.
Chef/owner Taiki Rattanapong Tsubota has opened a new shop for his famous "reservation-only" burger outlet Homeburg at The Common Saladaeng. The menu features only two choices: Homeburg's acclaimed burger Homeburg Prototype#1 (B380). The burger specialist teams up with Pit Master and churns out Brisket Burger featuring thick slice of flat brisket.
Contact 06 3363 3659 or order from Foodpanda for delivery service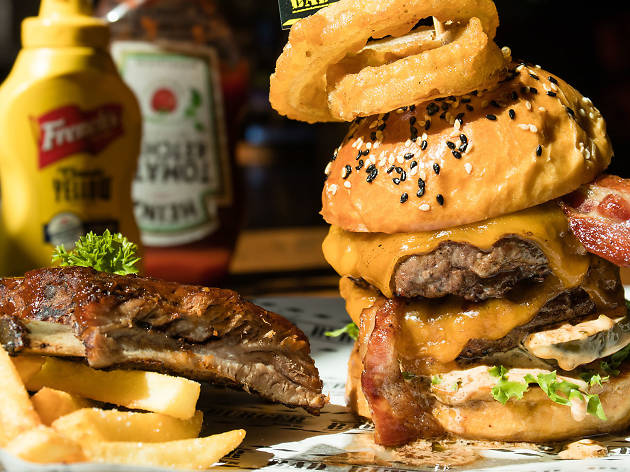 Bad Burger actually churns out some of the city's best burgers. There is a wide selection of burgers on the menu—from cheeseburgers to bacon burgers—each one made with the finest meat, homemade sauce and pickles, and daily-made brioche buns.
The venue is currently open for takeaway only.
The gourmet burger joint in Pullman Bangkok looks to please late-nighters 24/7 with four delicious signature burgers within a vibrant all-American, diner-style space.
25 Degrees is currently open for delivery service via Lineman and takeaway order.
Billy's Smokehouse
The smokehouse at Mahathun Plaza is a destination for grilled goodies and succulent burger. The famous Billy's Burger feature two beef patties with white cheddar and caramelized onion, elevated by the restaurant's "secret" sauce.
The restaurant will offer delivery service soon. Check Billy's Smokehouse Facebook page for update.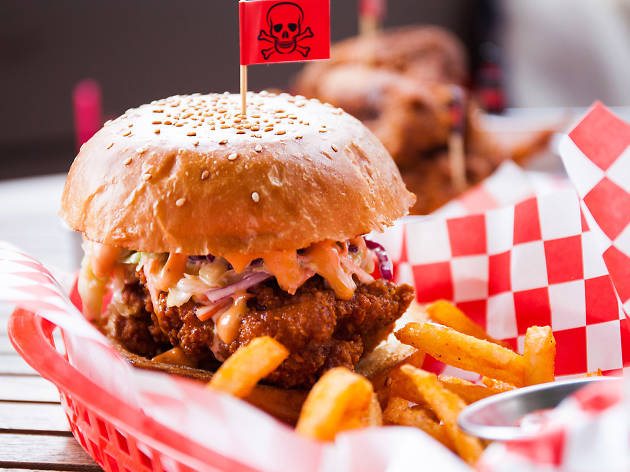 Sereechai Puttes/Time Out Bangkok
Non-meat eaters will fall in love with Fowlmouth's chicken burger featuring Nashville-style fried chicken. You can choose the level of spicness, from non-spicy Buttermilk, to extremely spicy Death. The treat is served with curly fries.
Fowlmouth is available for takeaway and delivery service via Grabfood and Foodpanda.
Vegan-friendly eatery Broccoli Revolution is leading the surge against the earthy-crunchy reputation usually associated with meatless places. This popular haunt is famous for its signature charcoal burger. The patty is made with quinoa and broccoli, sweetened up by mango salsa and dill slapped in between soft charcoal buns.
Broccoli Revolution is available for takeaway and delivery service via Grabfood and Foodpanda.