The best of Tokyo 2016
Warming up your year-end Tokyo trip with the best cafes, restaurants, bars, shops and attractions from the Time Out Love Tokyo Awards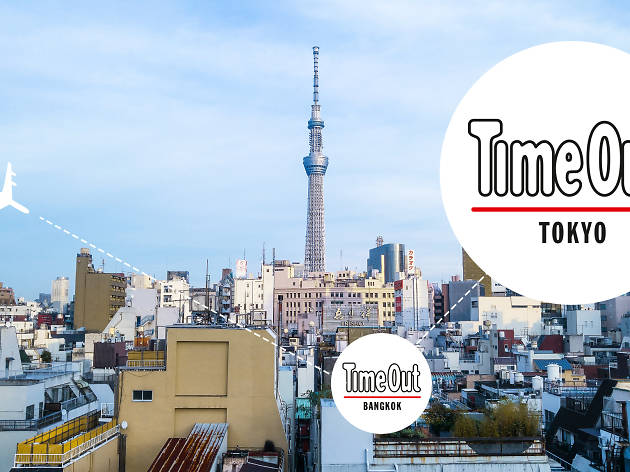 Best cafés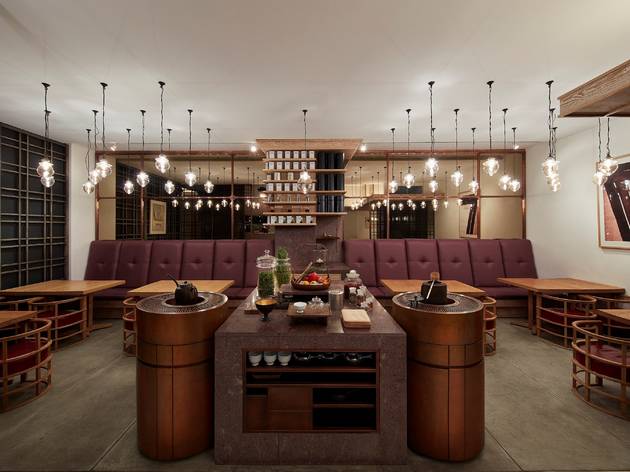 Higashiya | Time Out Love Tokyo Awards 2016 winner
This tea salon puts a fresh twist on traditional Japanese confectionery. As well as the typical combination of green tea and sweets like cold kuzu noodles, the salon also serves alcohol – ask the staff which beer, shochu or wine goes best with your sweets. They also offer a sparse food menu, including a sumptuous lunch tray with five small dishes, miso soup, rice, green tea and wagashi. It's a spot relaxing enough for hours of lingering in busy Ginza.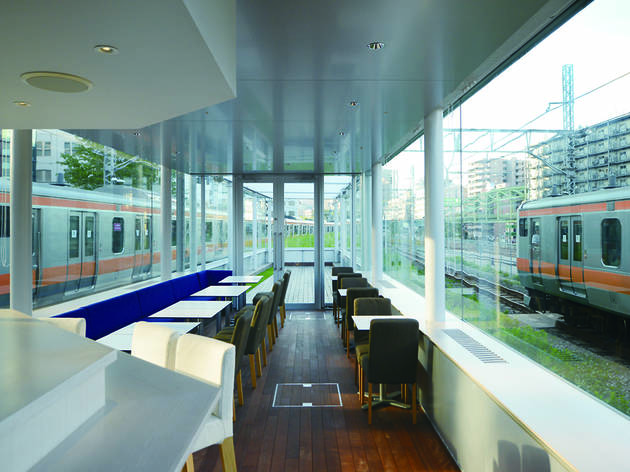 N3331 | Time Out Bangkok editor's favorite
Kanda's old Manseibashi station complex has undergone an impressive revival, and this cool café is its most recognisable symbol. Situated right in between the Chuo Line tracks, N3331 is not only the perfect place for train geeks, but also a nice spot for enjoying a long and lazy lunch. The café turns into a nihonshu-focused bar at night.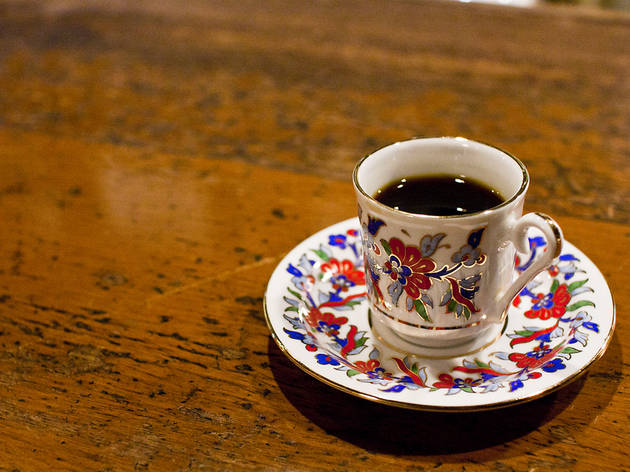 Café de l'Ambre | Time Out Bangkok editor's favorite
'Coffee Only' reads the sign outside Café de l'Ambre, which has been keeping the Ginza hordes well caffeinated since 1948. Remarkably, it's still run by the same man – Ichiro Sekiguchi, now just a few years shy of his 100th birthday – though he's entrusted some younger tykes to handle the day-to-day running of the place. Though they treat their coffee with the utmost seriousness, this isn't one of those fussy, killjoy coffee temples where conversation has to be conducted in furtive whispers and customers need a secret handshake to get through the door (we exaggerate, but only slightly). On a recent weekday afternoon visit, it was packed and only marginally less raucous than an average izakaya, with all of the tables taken and only a couple of vacant seats at the bar. The interior looks like it was last remodeled in the early '80s, although some of the equipment is clearly much older, and it's also the only coffee shop we've visited that has a washing machine behind the counter, on account of the cloth filters used when preparing drinks. Take your pick between a lone blend coffee and 30-odd single origin varieties, including a good number of aged coffees. The air of accessibility extends to English-language menus, and practically demands that you order something odd: we end up plumping for an 18-year-old Brazilian Bourbon variety that's downright intense.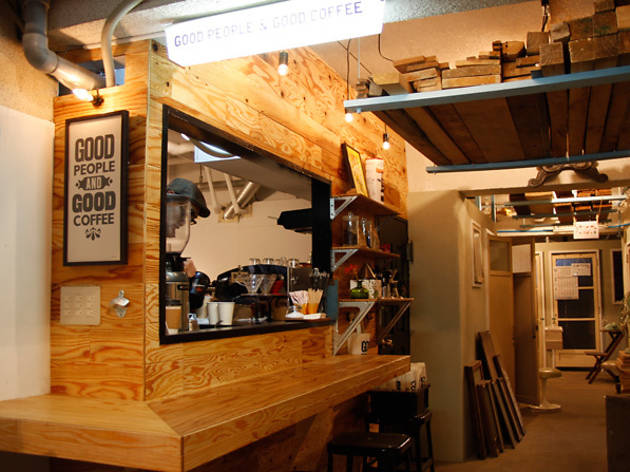 Good People & Good Coffee
Out of the many deserving coffee shops that have recently opened in Tokyo, if we had to use our trembling, caffeine-addled fingers to place the crown on just one it would be this hipster haven in Ikejiri-Ohashi. The relaxed enclave that it's carved out of the creative atmosphere of the area is decorated like a garage, with an assortment of tools on the wall and lumber hanging casually from storage units attached to the ceiling. Seating comes in the form of worn old furniture strewn around the room and three stools placed at the counter. As well as being one of the few places in Tokyo you can get a flat white (a double shot of espresso with steamed milk, priced here at ¥450) they offer their own original blends, roasted every Tuesday. Currently there are two: Johnny B Goode, rich tasting with a hint of caramel, and Tomando, a slightly fruity brew named after a song by Cuban musician and coffee lover Perez Prado.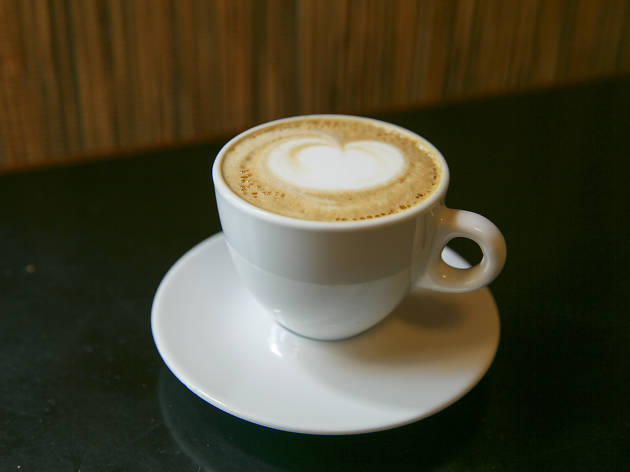 Fuglen Tokyo
A favourite of international style bible Monocle, the original Fuglen shop in Oslo, Norway is a blend of café, cocktail bar and vintage design boutique, where even the furniture is up for sale. Its Tokyo shop, which opened in May 2012, transplants the concept to a backstreet corner not far from Yoyogi Park, in the space formerly occupied by Koz Café. Fuglen Tokyo opens at 8am on weekdays, selling tea and some remarkably good coffee during the daytime (though not any food – if you're feeling peckish, bring your own). It switches to bar mode in the evenings, with Japanese and Norwegian craft beers and a menu of cocktails devised by champion bartender Halvor Digernes, which makes extensive use of infused spirits and bitters; try the ginger daiquiri: it's a winner. The uniqueness of the décor – even the Biri-straw wallpaper is '50s vintage – and outdoor seating make this a plum destination for caffeine addicts and the cocktail crowd alike, though be prepared to pay Oslo prices for your drinks.
Best bars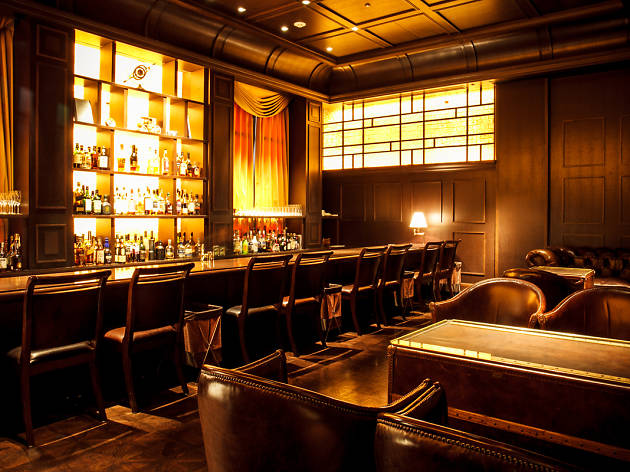 Bar Oak | Time Out Love Tokyo Awards 2016 winner
Hotel bars usually aren't very inspiring places, especially if you're not staying at the establishment in question. But the Tokyo Station Hotel's boozer sure isn't like most hotel bars: moved to its current location after a six-year renovation completed in 2012, it incorporates red bricks and wood in the décor and is manned by Hisashi Sugimoto, who's been with the hotel since 1958. 'The Master' mixes up his signature Tokyo Station cocktails from 5pm every day – best be there on time for the chance to grab a counter seat and watch Sugimoto work his magic up close.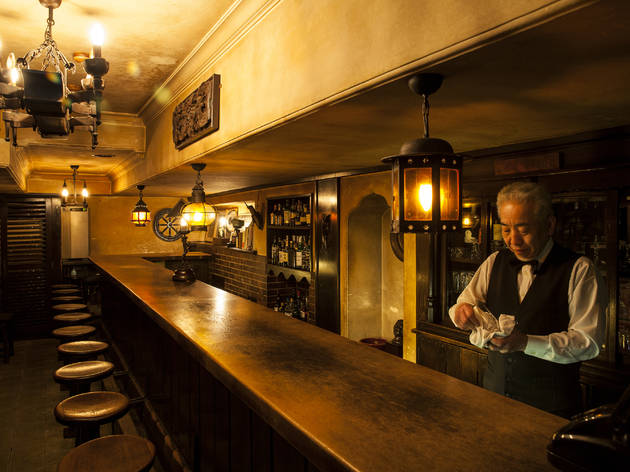 Lupin | Time Out Bangkok editor's favorite
Established in 1928, this venerable bar was much loved by the literati of the Showa period. Supported from the start by such writers as Kyoka Izumi and Kan Kikuchi, it also became a home for painters, actors and photographers such as Kafu Nagai, Sanjugo Naoki, Yasunari Kawabata, Fumiko Hayashi, Ango Sakaguchi and Osamu Dazai. The menu is modest with a selection of whiskies, bourbons and cocktails, but with its collection of photographs of writers taken by the photographers of the time, it's the perfect place for highbrow literary discussions.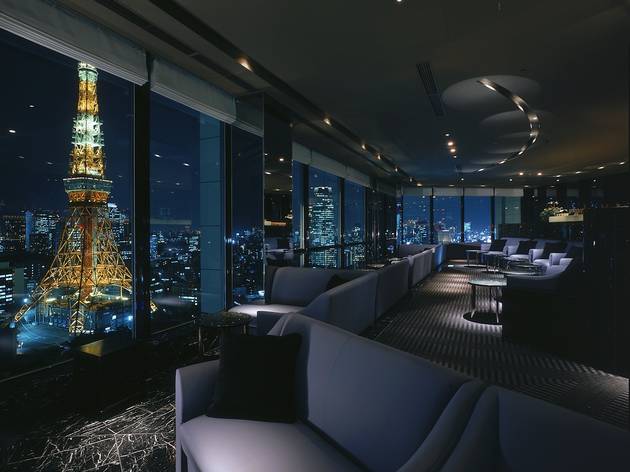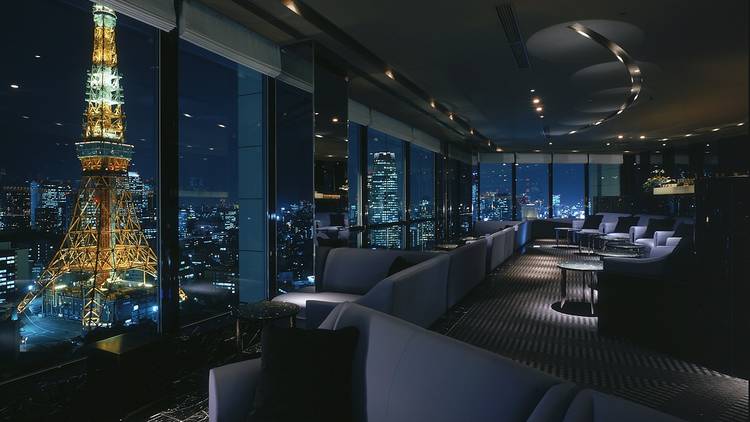 Sky Lounge Stellar Garden | Time Out Bangkok editor's favorite
Although the Skytree is taller, newer and fancier, many Tokyoites still prefer good old Tokyo Tower over its upstart challenger. If you agree that the city's original symbol and beloved Eiffel Tower rip-off is still number one, you owe it to yourself to check out the Prince Park Tower's 33rd-floor Sky Lounge and its eye-popping views of the orange-and-white mast. Especially stunning when lit up at night, the tower is best viewed from the 'pair seats' by the windows. Make sure to explore the extensive wine list, too.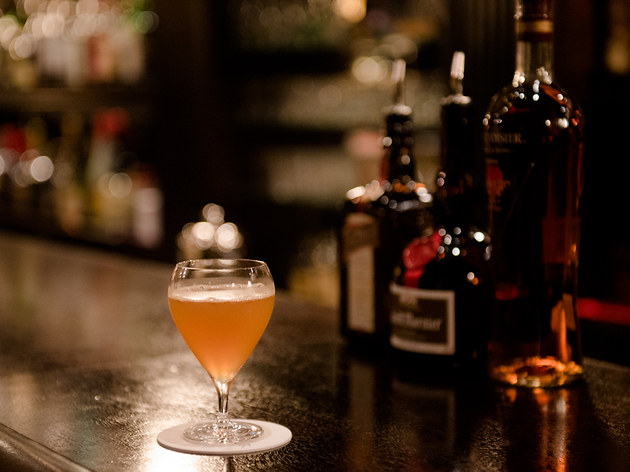 Star Bar Ginza
Hisashi Kishi broke into the bartending spotlight back in 1996, when he took home the International Bar Association's world championship title at the age of 31. Now also an accomplished author and minor celebrity, he is one of Ginza's most impressive barmen, both in terms of physical appearance and technical skill. Kishi's kingdom is called Star Bar, a quiet basement spot on Namiki-dori, where everything – from the handcrafted ice cubes to the exclusive leather stools – exudes a desire for perfection.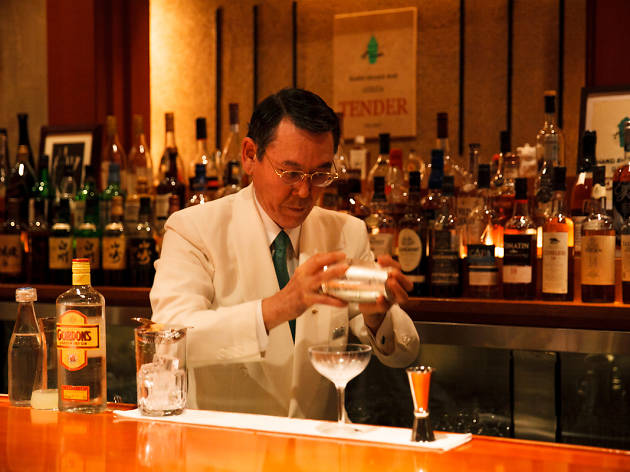 Tender
Watch the flamboyant cocktail-creating performance of Mr Hard Shake, or Kazuo Ueda, one of the most famous bartenders in Japan whose award-winning drinks have even found acclaim in the World Bartender Champs. Ueda's bar, found on the fifth floor overlooking Sotobori-dori, is among the more welcoming of Ginza's high-end cocktail temples and is great for quiet conversations over one of the best gimlets you'll ever taste. Note that cocktails cost between ¥1,600 to around ¥3,000 and there's a strict dress code: you'll need to wear at least a button-down shirt. 
Best restaurants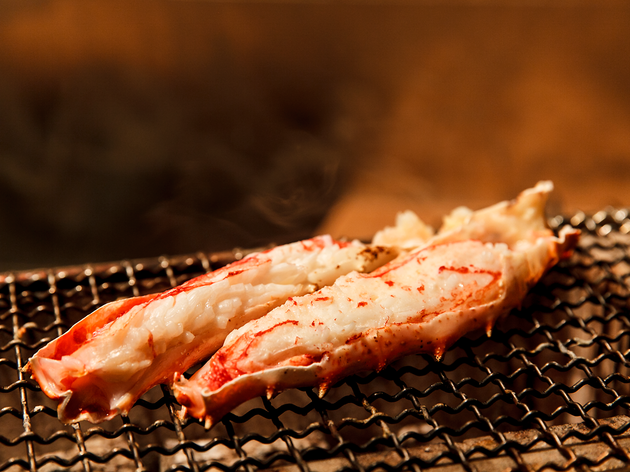 Kitafuku Ginza | Time Out Love Tokyo Awards 2016 winner
From the moment you remove your shoes to walk on the tatami mats to the moment you eat your final morsel of supple crabmeat, Kitafuku is an exhilarating experience. A meal lasts at least two hours, which is the minimum time necessary for a live king crab (typically around 4-5kg) to be deshelled, systematically dismantled – leg by leg, claw by claw – and feasted upon having been prepared in various ways: boiled, charcoal-grilled and sashimi. If you're squeamish, be warned: you'll see your dinner alive moments before you eat it. Kitafuku's ceremonial crab-feasting begins with sashimi for obvious reasons; the chefs, who are sent to Hokkaido to master the art of slicing and snapping jumbo-sized crustaceans, break off the crab's legs and place them in iced water to be served raw. The rest of the crab is boiled or charcoal grilled, its meat to be eaten at various stages of the cooking process so guests can experience the gradual adjustment of texture and flavour. The little touches at Kitafuku are wow-inducing: magnificent ceramic plates complete with crab illustrations, beautiful decorative calligraphy on the charcoal grill; a coup de théâtre that takes places when the chef introduces the most coveted piece of crab on the table – the heart. A meal at Kitafuku doesn't come cheap – and if you're not a big fan of crab, don't even think about it – but it's worth every yen for a unique and spectacular evening out.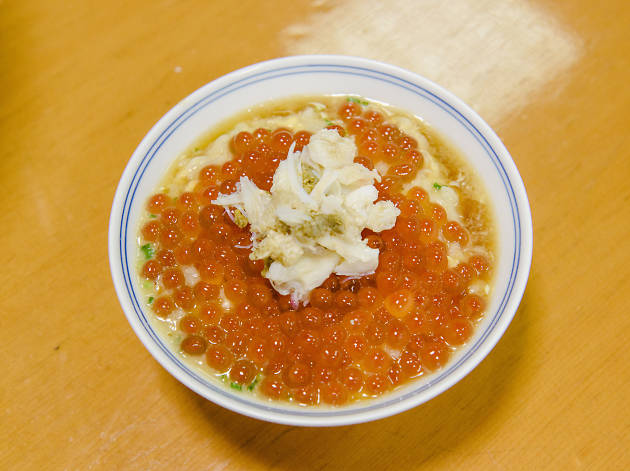 Makino
A cluster of food safety certificates on the walls should assuage the fears of even the most ardent fuguphobes – the blowfish at this Taito-ku restaurant, right in between Asakusa and Ueno, won't kill you. Quite the contrary, in fact. After eating a mustard-flecked cube of wobbly nikogori, boiled fugu in its own jelly, you'll have a spring in your step, and not only because you successfully ate the hardest food in the world to negotiate with chopsticks. The creations produced by the gregarious husband-and-wife team at this unostentatious seafood restaurant are vivid and stimulating. The menu is short: fugu six ways (jellied, raw, grilled, deep-fried, soup, hot pot) plus Makino's blowfish-free signature dish (¥19,000, feeds four), a colossal hot pot of crab, daikon and melting butter, to be topped up with rice, cod roe and egg when you've polished off the seafood. Aside from the food safety certificates, the décor consists of some peculiar fugu-centric conceptual art (one appears to portray a lady happily bathing inside a blowfish's belly), well-stocked sake shelves and low seating on tatami mats. Fugu is winter food in Japan so don't plan a visit in the summer, not least because Mr and Mrs Fujii will be away on their annual holiday in Hawaii.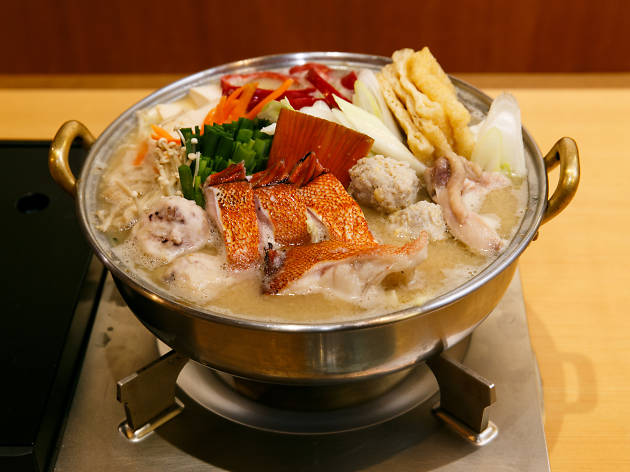 Chanko Kuroshio
Chanko nabe is the protein-rich hotpot dish eaten by sumo wrestlers to build up their massive bodies, and there's no better way to enjoy this traditional favourite than by having it cooked by a former wrestler. Koto Kuroshio is still a larger-than-life character, despite having shed plenty of weight since his active years, and welcomes all comers to his Kagurazaka restaurant. Photographs of his glory days adorn the walls, a trophy can be seen here and there, and Kuroshio will happily put up for a photo op to authenticate your sumo eating experience.  Contrary to popular belief, chanko nabe is actually very healthy. Containing fish, chicken, meatballs and tofu while also brimming with vegetables such as leek, carrot, peppers and mushrooms, it's cooked in a dashi stock flavoured with either soy sauce or miso. However, a pot usually consumed by four diners would be eaten up by a single sumo wrestler. Kuroshio uses white barley miso for the stock – something that gives the soup a slightly sweet flavour. The fish varies depending on the season but is always included in generous chunks. Chicken is the sole kind of meat used, as it's firmly believed that sumo wrestlers should only eat animals with two legs – to help them remain standing in the heat of a bout, of course.  Considering the sumo-sized portions, we recommend bringing both a large group and a true rikishi attitude. You're guaranteed warm service and a relaxed atmosphere with plenty of sumo memorabilia.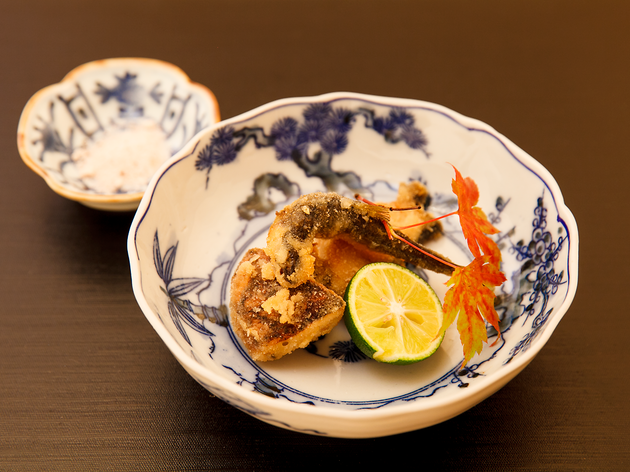 Suzuki
At this hidden Shintomicho gem, you're in for delicate and colourful meals prepared by an itamae with 15 years of experience in New York City (plus 13 in Japan, but he barely mentions it). Easy on the eye, uncompromisingly seasonal and ambitiously out-there in terms of flavours, chef Suzuki's cuisine feels almost underpriced – despite the fact you need to shell out a flat ¥10,000 (plus tax) for the omakase, the only option on the menu. This deal is composed of ten or so seasonal dishes, which draw on influences from French, Italian and fusion styles while remaining very Japanese both in terms of preparation techniques and presentation. On our visit, Suzuki's autumn menu included creations like marinated and grilled sanma (Pacific saury) and fresh ginkgo nut jam.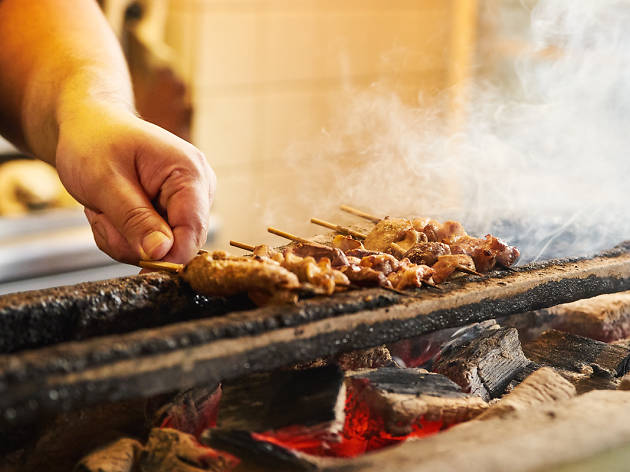 Yamariki Honkan
Upon entering this 92-year-old establishment, you're immediately smacked with the intense smell of beef stew, simmered for who knows how many hours. The recognisable 'Yamariki aroma' makes its presence felt on each of the three levels (and stairwell) of this shitamachi classic, where the speciality is, of course, nikomi. Cooked in a huge cauldron-like cask iron pot, it gets its unique flavour from beef tendons simmered in a miso-based broth from 9am until last orders at 10pm. The intensity of the soup and tenderness of the beef increase over time, so you're sure to note a significant difference between a bowl ordered at 5pm and one called for at 9pm. Nikomi is usually served with rice, but Yamariki opts for the more sophisticated accompaniment of crusty slices of garlic-rubbed French baguette for mopping up the rich juices.  Besides the hearty signature dish, you can order typical izakaya fare like yakiton (pork skewers) with soy or salt, sashimi, tofu and pickled vegetables. Large bottles of chilli-infused liquid are scattered all over the joint; upon closer inspection, we realised that this is actually a vodka mix that can be added to the nikomi – or pretty much any dish – to give it a special kick. Be warned, it packs a punch. English menus are available, but the restaurant only takes cash.