Barcelona's best paellas and rice dishes
Dig in to some of the best places in Barcelona to find the perfect paella or scrumptious rice dish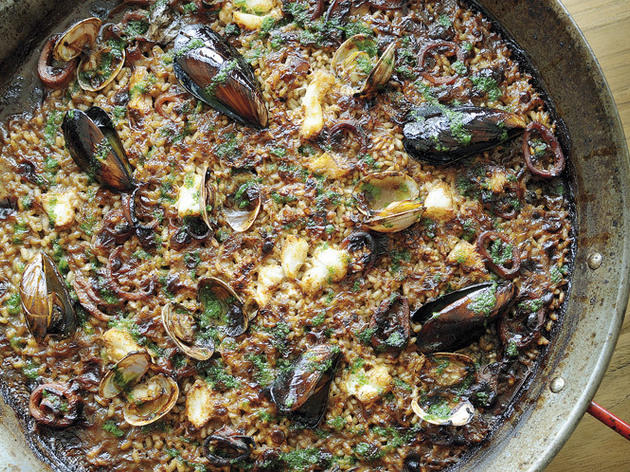 Finding a truly good paella in Barcelona can be complicated, especially these days when anyone with a handful of rice, a jar of broth, and a picture of the dish outside their tourist-trap establishment can claim to have the best paella in town. Don't worry, you don't have to go to Valencia to taste this traditional dish. Barcelona does paella right, and if you see 'arros', or 'rice' on the menu, don't scoff. The Catalans adore their rice dishes, which are more brothy than your standard paella, and just as gorgeous. Our list of the best restaurants for paellas and rice dishes is here to guide you in the right direction.
Paella and rice restaurants to write home about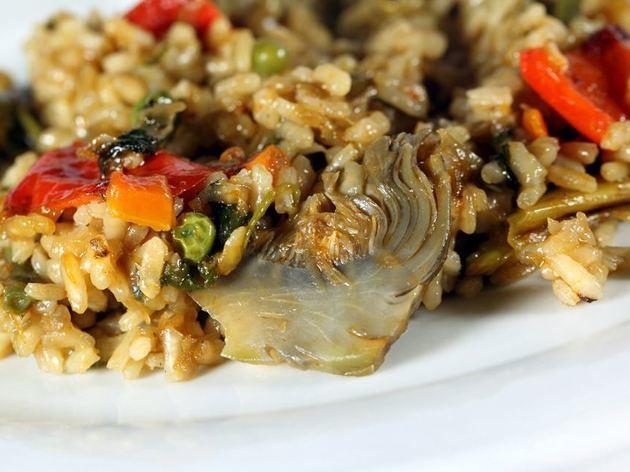 At 7 Portes they do a lot of things, all of them good, but some will be remembered with a special sentiment – the starters to local family dinners, for example, including ham, anchovies and croquettes, and some amazing cod fritters that will still be tingling your taste buds between courses. If the start of the meal is a surprise, wait until the main course arrives. Try their fantastic paella Parellada, which is exactly what more than 70 percent of the clientle order. The deletctable rice comes with monkfish, mussels, squid, lobster, minced pork, 'botifarra' sausage and rabbit. And all the seafood is peeled to save you the work and let you get tucked straight into the pleasure.
Restaurants, Mediterranean
This restaurant, located in a former textile factory in the Les Corts district, offers no fewer than 28 different rice dishes. And you can eat them straight from the pan with a wooden spoon. They also do take-away dishes. Try the 'passejat' (literally, 'walked') rice, with a recipe that dates back to the 15th century. It got its name from when women used to carry it to be cooked in the community oven, and it's out of this world, with chickpeas, chicken, and pig's ear, presided over by a 'morcilla' blood sausage with diced onion.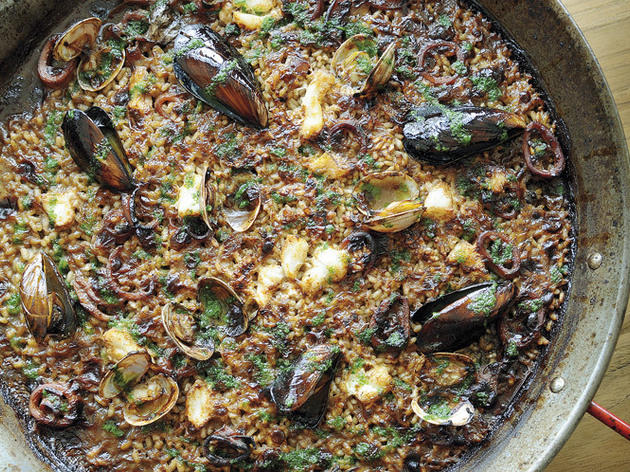 Barraca is a restaurant that cooks up classic rice dishes made with a modern and gourmet touch. The menu boasts six rice specialities that won't steer you wrong, including standouts with artichokes, squid and sausage (dry, light, very tasty) or a more filling paella with perfect rice and fish fillet, or the black rice casserole. Also popular are the rice with octopus, and the vegan one. Quintessential Barceloneta starters include croquettes, cod fritters and great seafood. Views of the sea and of Passeig Marítim are impressive, and most of the products are organic and local.
Restaurants, Mediterranean
La Nova Esquerra de l'Eixample
Valencian chef Miquel Pardo didn't want his restaurant to live and die by paella, but he did want it to be an important dish, and he set up a tasting menu that deserves a round of applause. And it also happens to be the set lunch menu (which changes weekly), with three tapas from the menu, rice and dessert for less than €16. And even better is the creamy Peking duck croquette – the bird is roasted and glazed, and there's a touch of kimchi and mint – and a salad of roasted leeks with smoked teriyaki eel and honey (the smoky/spicy relationship here is magical, like in their roasted broccoli with and chicken tandoori sauce and spicy cheese).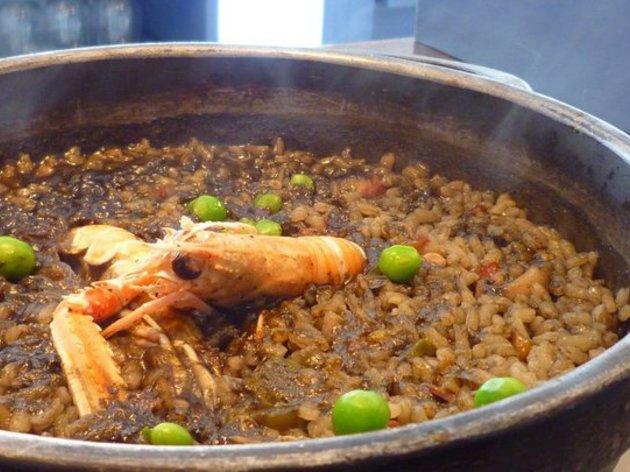 Restaurants, Mediterranean
La Mar Salada has positioned itself in recent years as one of the leading seafood restaurants in Barcelona. Earning the praise are Marta, who inherited the family business; her partner, Albert; and former El Bulli chef, Marc Singla. Together they decided that cuisine from the sea wasn't all about seafood paella and fish 'suquet' (stew), but that it's also about a creative and respectful way of treating the marine products that often landed a few meters from the premises. Although their menu no longer features the much-missed 'mar i muntanya' rice, you will find spectacular stews and paellas, like their black and the 'de senyoret' rice with razorfish, monkfish and prawns.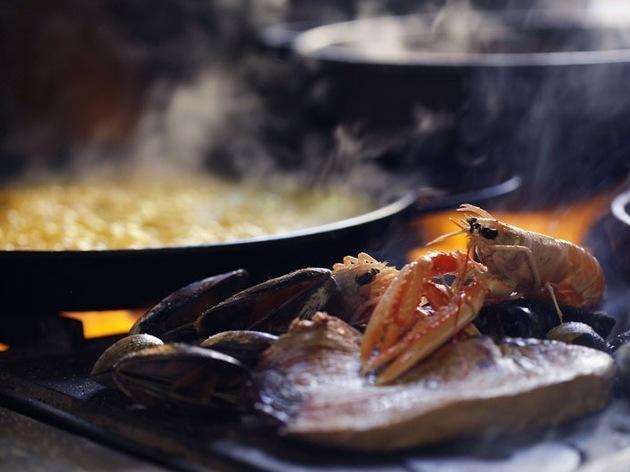 Restaurants, Mediterranean
Can Solé, a classic in Barceloneta, has been around for more than 110 years. In 1994 Josep Maria García acquired the restaurant from the Homs family (who had run it as a fishermen's tavern) because he couldn't let a restaurant like this be lost. García has kept the restaurant running along the same lines and he's earned a deserved reputation for making the best stewy rice dishes in the city, served up in sizeable portions, like the lobster one or the one with sea urchin and scallops – an extraordinary example of creamy seafood goodness.
Restaurants, Mediterranean
Can Ros is another reason to head to Barceloneta for a meal, with its set lunch menu for under €15 and the à la carte menu boasting a special section for rice dishes, where you'll find an outstanding rice with 'capipota' (calf's head and foot) and prawns, and a melt-in-your-mouth rice with lobster. We ordered the black rice with cuttlefish and artichokes – artichokes are a good litmus test. To whet our appetite we ordered squid croquettes with alioli (garlic mayonnaise), which arrived fried to perfection, resting on a lovely cushion of alioli and tomato sauce. Simplicity, just what we were after.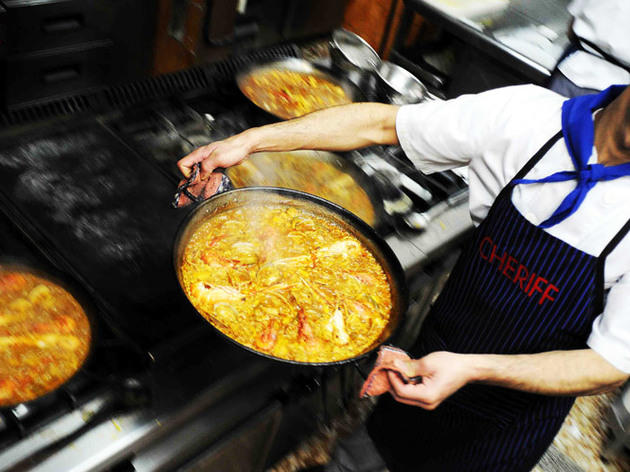 Restaurants, Mediterranean
Cheriff is one of those restaurants that strives to have some of the best paellas in Barcelona. We can't say it's No. 1, but it's definitely in the top 10 in town. And you will find loads of fans who will say they make the best paellas in the city. Their fish paellas will find a fond place to live in your memory, and if you want to really treat yourself, get the lobster rice stew.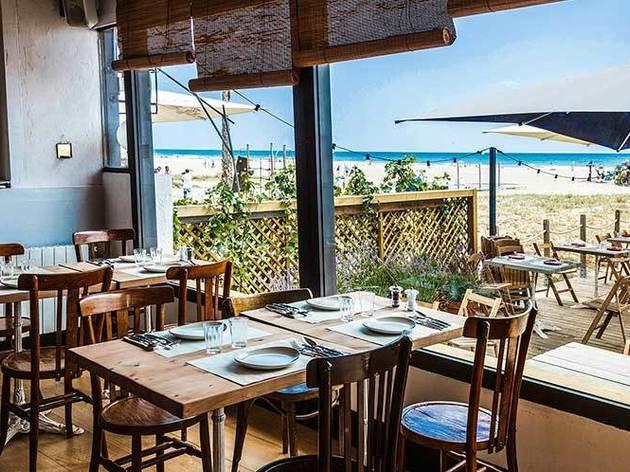 Barracuda is an extension of Barceloneta's Barraca (see above), and a place where you can sit with your toes in the sand and your eyes on the phenomenal views of the Castelldefels beach, dining on delicacies cooked up by Xavier Pellicer and company in the kitchen. Specialities include rice dishes, paellas and fideuà noodle dishes. You'll also get fresh fish, organic ingredients and high-quality dishes.