Barcelona's best paellas: the rice stuff
Ten of the best places in Barcelona to find the perfect paella or scrumptious rice dish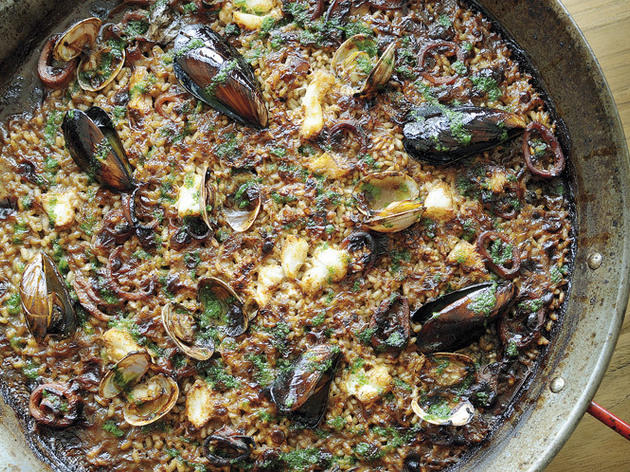 Finding a truly good paella in Barcelona can be complicated, especially these days when anyone with a handful of rice, a jar of broth, and a picture of the dish outside their tourist-trap establishment can claim to have the best paella in town. Don't worry, you don't have to go to Valencia to taste this traditional dish. Barcelona does paella right, and our list of 10 of the best restaurants for paellas and rice dishes will guide you in the right direction.
Ten paella and rice restaurants to write home about
At 7 Portes they do a lot of things, all of them good, but some will be remembered with a special sentiment – the starters to local family dinners, for example, including ham, anchovies and croquettes, and some amazing cod fritters that will still be tingling your taste buds between courses. If the start of the meal is a surprise, wait until the main course arrives. Try their fantastic paella Parellada, which is exactly what more than 70 percent of the clientle order. The deletctable rice comes with monkfish, mussels, squid, lobster, minced pork, 'botifarra' sausage and rabbit. And all the seafood is peeled to save you the work and let you get tucked straight into the pleasure.
Read more
This restaurant, located in a former textile factory in the Les Corts district, offers no fewer than 28 different rice dishes. And you can eat them straight from the pan with a wooden spoon. They also do take-away dishes. Try the 'passejat' (literally, 'walked') rice, with a recipe that dates back to the 15th century. It got its name from when women used to carry it to be cooked in the community oven, and it's out of this world, with chickpeas, chicken, and pig's ear, presided over by a 'morcilla' blood sausage with diced onion.
Book now
Read more
Quim Marquès's touch is noticeable in the cuisine of this restaurant that's in one of the best locations in Port Vell. In summer the terrace is one of the most coveted places in the city to sit outside, and their famous Barceloneta paella is one of the most in-demand dishes. Any time of year it's a great spot to linger over traditional dishes with a dash of the modern and complete tastiness.
Book now
Read more
La Mar Salada has positioned itself in recent years as one of the leading seafood restaurants in Barcelona. Earning the praise are Marta, who inherited the family business; her partner, Albert; and former El Bulli chef, Marc Singla. Together they decided that cuisine from the sea wasn't all about seafood paella and fish 'suquet' (stew), but that it's also about a creative and respectful way of treating the marine products that often landed a few meters from the premises. Although their menu no longer features the much-missed 'mar i muntanya' rice, you will find spectacular stews and paellas, like their black and the 'de senyoret' rice with razorfish, monkfish and prawns.
Read more
Portly, jovial waiters have been charming moneyed regulars for more than a hundred years at Can Solé. Over the course of time, many of these diners have added to the framed photos, sketches and paintings that line the sky-blue walls. What continues to lure them is the freshest shellfish (share a plate of 'chipirones' in onion and garlic, Cantabrian anchovies or red shrimp to start) and fillets of wild turbot, lobster stews and sticky paellas. Beware the steeply priced extras (coffee, cover).
Read more
Cheriff és un dels restaurants que pugna per ser on es fan les millors paelles de Barcelona. No sabem si el millor, però són al 'top ten' de les paelles sens dubte. I molta gent s'atreveix a dir que fan les millors de Barcelona. Les seves paelles de peix són antològiques, i si us voleu clavar un luxe, demaneu la caldereta de llagosta.
Read more
Welcome to one of the popular and few terraces on the seafront. Excellent fish, rice dishes (especially the lobster one) and a delicious tataki by Ibiza-born chef Jordi. Lobster is the house specialty: the secret lies in the crab, which adds to the seafood flavour of the broth, and a touch of anise that is typical to Ibizan cuisine. The seafood, mixed and black paellas are also a big draw.
Read more
It's really no big deal, only that Xavier Pellicer is gastronomic consultant to a restaurant where the chef is Rafa Valicourt. La Barraca is relatively new on the restaurant scene, having opened in 2013, and the menu boasts six rice specialities that won't steer you wrong, including standouts with artichokes, squid and sausage (dry, light, very tasty) or a more filleing paella with market fish, or the black rice casserole. Classic Barceloneta starters include croquettes, cod fritters and great seafood.
Read more
Michelin star–winning chef and restaurateur Àngel Pascual is behind this restaurant that focuses on cuisine for the people without restraints: you'll find craft beer, tapas and small dishes on the menu. There are also dishes like cannelloni with free-range chicken and a potato and brie bechamel, as well as steamed mussels infused with Sichuan pepper and thyme. The set lunch is affordable and well worth a try. Also important to the line-up is rice: four times a week the set lunch menu includes top rice dishes, which are also on the regular menu. Some have quite the personal touch, such as the rice dish with Iberian pork rib and octopus, all grilled with 'sofrito' vegetable sauce, or the classic and delicious black 'fideuá' noodles.
Read more