Back Bay neighborhood guide
Discover the best local restaurants and bars, arts and entertainment and things to do in Back Bay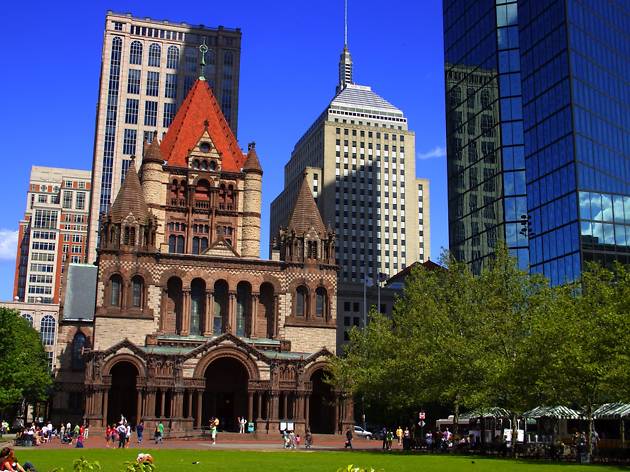 Today's Back Bay is a mix of affluent residential streets and commercial districts. Although it contains some of Boston's most important architectural sights, it's also the city's main shopping destination, where you'll find everything from global mega-chains to cutting-edge designer boutiques. But it wasn't always so—only 150 years ago, the entire area, from the Public Garden to the Fens, was submerged in swampland; a massive landfill project to meet the needs of a population surge made the area what it is now. Though the neighborhood has a conservative "old Boston" reputation, there's an increasing number of funky businesses, not to mention a visible student presence.
Restaurants and bars in Back Bay
Southwest, Spanish and Mexican flavors mix as this bustling tapas and tequila joint—and arguably home of Boston's best margarita. Pop in for drinks on the patio or grab a booth inside for inventive small plates like Spicy Ahi Tuna "Cabo Rolls" with wasabi guacamole ($12.95) or short rib tacos ($9.95). Still, the real scene stealer is brunch. Served from 10am to 3pm on Saturdays and from 10am to 11am on Sunday, the Fiesta Brunch features two courses and unlimited coffee or tea for only $7.95.
Ken Oringer's Clio contains a four-star, subterranean secret: a sashimi bar. Chef Tony Messina elevates the form with counterintuitive, cross-cultural combos like yellowtail with banana and candied jalapenos and tuna with burrata and Asian pear; the best seats in the house are at the bar, where you can watch the magic happen. Those who prefer their fish cooked can still savor a splendid meal of octopus dumplings and lobster tempura. And Uni's weekend late-night menu may well have started the city's ramen craze, especially with a veggie broth that incorporates Parmesan rinds and 10 different kinds of mushrooms. Don't skimp on the street-food snacks, either. Or the Sapporo.
A wall of record sleeves, graffiti-covered restrooms and a low budget, laid-back feel make this place a favorite with locals, passing bike messengers and people from all over town who appreciate a cheap drink or two. Friendly bartenders and the Cartoon Network on the TV add to the kind of jolly atmosphere that can only be found at a place that keeps a fake Christmas tree on the bar all year long. The Delux, in all its kitschy glory, is a hidden treasure.
Museums and galleries in Back Bay
Here's proof that Boston really is at the centre of the universe, or at least the world. The Mapparium—the world's largest walk-in globe—is among the city's quirkiest landmarks. Located at the Mary Baker Eddy Library in the Christian Science Plaza, it is, essentially, a three-story model of the globe built to scale. The perfect sphere runs 30 feet in diameter, traversed by way of the glass bridge that bisects its interior. It's a somewhat eccentric proposition in itself, but several unusual features up the oddball quotient considerably.For one thing, there are the weird acoustics. Sound bounces off the globe room's non-porous glass walls, amplifying it tenfold. The effect is pleasantly hallucinatory—whispers across the room register directly in your ear. Another idiosyncratic feature is the map itself. Instead of depicting the world's current geography, the 608 stained-glass panels recreate the planet as it was in the mid 1930s, when the project was completed. Most of the borders are outdated; several of the countries shown have long since been swallowed up by larger, hungrier, hardier entities. It is, as the piped-in voice overhead reminds us, "a world that no longer exists."Built in 1935 for the then-astronomical sum of $35,000, the Mapparium was originally conceived as a symbol of the Christian Science Monitor's global audience. Its creator, Boston-based architect Chester Lindsay Churchill, designed the rest of the library as well. Ironically, it's the map's obsolescence t
The BPL is actually two libraries. The original structure, designed by Charles McKim and completed in 1895, is now the research library, while an extension opened in 1972 to function as a general library. Frequented by local students and casual book-browsers, the complex is well worth visiting. Most days you can join an informal art and architecture tour conducted by volunteers (call for times), but the labyrinthine structure is a joy to get lost in as well. At the center of the building is the cloistered courtyard, with its central fountain—a tranquil place to linger. Bates Hall (the expansive second-floor reading room named after an early benefactor) runs the entire length of the library, and features a majestic barrel-arched ceiling. Another highlight is John Singer Sargent's recently restored epic mural, the Triumph of Religion, which dominates the third floor gallery; there are also murals by 19th-century French painter Puvis de Chavannes, among others. The modern wing of the library—which echoes its parent's materials, lines and proportions in a modernist vocabulary—has had its critics but has aged well.
Hotels in Back Bay
Converted from a private residence, the slender Charlesmark is a beacon of minimalist boutique elegance on busy Boylston Street. The chic lounge and patio, opened in 2005, draws a local crowd. There's no restaurant, but Back Bay's culinary wealth more than compensates. The hotel is the work of local architect Dennis Duffy—a man responsible for some of the hippest restaurant, commercial and private revamps in town—whose clean, simple aesthetic is perfect for maximizing space in the modestly proportioned rooms.
Just 800 metres from Copley Square, this apartment is located in the Back Bay neighbourhood of Boston, Massachusetts. Wireless internet access is provided free of charge.A fully equipped kitchen, including a dishwasher, is offered in Newbury Street Unit #3 – Furnished Back Bay 1 Bed by Short Term Rentals Boston. A flat-screen TV is provided as well, and the apartment features an en suite bathroom.Dining options abound in the Back Bay neighbourhood. Towne Stove & Spirits, featuring local seafood and craft cocktails, is 3 minutes' walk away, while Tapeo, serving Spanish tapas, is only 150 metres from Newbury Street Unit #3.The Hynes Convention Center is less than 150 metres from the apartment, while Fenway Park is 1 km away. The Charles River Esplanade is 10 minutes' walk from the Boston Newbury Street Unit #3 – Furnished Back Bay 1 Bed by Short Term Rentals.
Blending global luxury, Back Bay stye and New England charm, the Mandarin Oriental is an oasis in on bustling Boylston Street. The city's most sought-after shopping and dining is just steps away, but inside the Mandarin, elegant and modern guest rooms wow with stately decor. Elsewhere in the building, the world-class Bar Boulud serves up seasonal French fare, while the 5-star spa pampers guests with hydrotherapy, steam rooms, vitality pools and more.
Back Bay music and nightlife
Named after the classic Kenmore Square jazz club that hosted such greats as Billie Holliday, Louis Armstrong, Charlie Parker, Duke Ellington and Ella Fitzgerald, Storyville sure has a lot to live up to. And while the Copley Square space doesn't quite do the historic name justice, is does offer quality, laidback nightlife and dancing. More a lounge than a club, two separate rooms with two separate dance floors means that if you don't like the song, you can change venues in just seconds.
Shopping in Back Bay
At first glance, it looks like any other convenience store, the window lined with faded bleach bottles and paper towels. Something's odd though—the kid behind the counter is a little too stylish, the water stains on the ceiling are too perfect, the horse race on the TV seems to be caught in a loop and none of the bottles of detergent seems to have moved in months. Step in front of the faux Snapple vending machine, to activate the hidden sliding door and reveal the secret store within a store. Inside is the ultra-modern interior of Boston's flyest sneaker shop—carrying rare kicks from Nike Tier Zero and Adidas Consortium, as well as deluxe streetwear and books on art and design.
Bobby Garnett's fabulous vintage emporium in the SoWa warehouse gallery complex is well known to Japanese denim aficionados, movie wardrobe professionals and local rockers. The pristine stock spans the 1930s to the '70s and, although women's clothes are sold, the focus is menswear. Here you'll find both $25 501s and three-figure vintage versions, American sportswear and lots of cool suits, including English labels from the 1960s.
Record stores have enough financial issues as it is, but try making it work when you only sell one genre. To be fair, UGHH.com—founded back in 1997 by a Northeastern business student—started on the web, and earns 90 percent of its revenue via mail-order purchases. The store is less than ideal for browsers, with computer kiosks in place of traditional rows of physical albums, but UGHH's rap inventory remains peerless. it also carries T-shirts, watches, graffiti supplies and more. Buy enough, and they might throw in a free poster. UGHH also hosts free live performances—time things right, and you might catch a drop-in from a Wu-Tanger.