The best burgers in Boston you need to try
The best burgers in Boston range from faithful classics to modern luxuries; devour them all at these local spots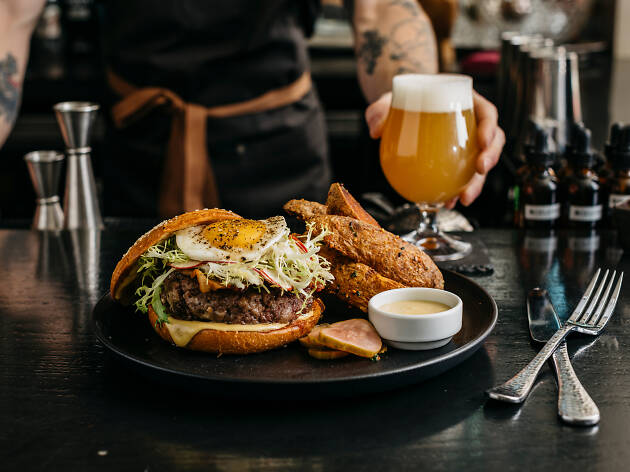 When it comes to the definition of culinary comfort, some might prefer a hearty bowl of pasta from one of the best Italian restaurants in Boston, but we think the burger, no longer so humble, is the ultimate comfort food. From classic, no-frills patties to creative gourmet versions, the best burgers in Boston are sure to rock your culinary world. Some are served at casual, wallet-friendly eateries, while others can be found at the city's priciest restaurants. True aficionados consider a top-notch burger the highlight of their night, while others seek out some meaty goodness for a solid base before heading out to the best bars in Boston or one of the incredible Irish pubs in town.
RECOMMENDED: Full guide to the best restaurants in Boston
A burger destination we love so much that we welcomed them into Time Out Market
Restaurants, Contemporary American
Very few viral burgers stand up to the hype but Craigie on Main's certainly does. Local "snout-to-tail" pioneer Tony Maws remains at the top of his game at his flagship operation. The chef-proprietor uses the best local and organic ingredients for his culinary creations. Locals and culinary tourists fill the dining room, where only a four course prix-fixe menu is served. The casual, welcoming bar area, now known as COMB (Craigie on Main Bar), offers an a la carte menu and monthly-rotating burger specials, along with the classic, grass-fed Craigie on Main Burger. Arrive early if you're craving one of the burgers, as they're sold in limited quantities and often sell out.
Lovers of Tony Maws' iconic burger at Craigie on Main head across the river to Time Out Market Boston for the first and only Craigie Burger location. Local, seasonal and organic ingredients make up the "OG" Craigie Burger (Northeast Family Farms beef, sharp cheddar, signature Craigie ketchup), and Maws presents new variations topped with kimchi Russian dressing and swiss cheese or burnt bread steak sauce and charred umami onions.
See the best burgers in America
From prime no-frills patties to exotic Juicy Lucys, our pick of the best burgers in America is appropriately diverse