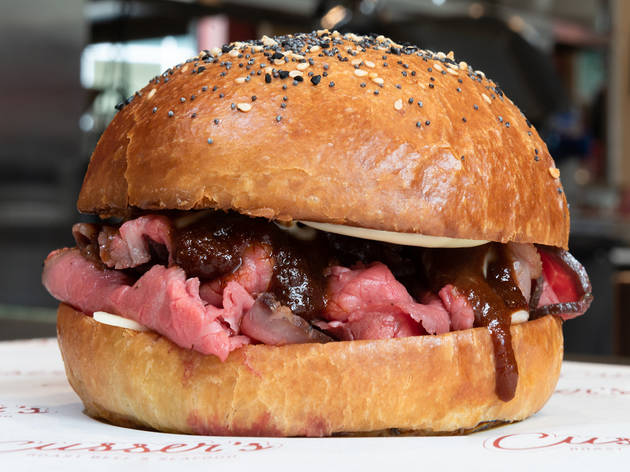 The best sandwiches in Boston
With delicious ingredients between slices of tasty bread, these restaurants make Boston's best sandwiches
Hand-held and often easily portable, a sandwich packs complementary flavors into every bite. These Boston sandwich shops and delis know their way around fresh, delicious ingredients. Whether you're looking for a quick lunch or a belly-busting pick-me-up, these are the sandwiches that will do the trick. From healthy, veggie-packed options to classic pastrami piled high, consider your lunch plans decided. For more hand-held options, check out our guides to these sandwich-adjacent treats: the best lobster rolls, best hot dogs and best burgers in Boston.
RECOMMENDED: Full guide to the best restaurants in Boston
Sandwich makers we love so much that we welcomed them into Time Out Market
At Time Out Market Boston's BISq outpost, customers can enjoy gourmet sandwiches such as a savory Cubano, crunchy fried chicken, or pork belly with sweet potato, salsa and aioli on ciabatta.
You'll be cussing at the moon when forced to pick between the critically-lauded, mouthwatering roast beef sandwiches at Cusser's, which began as a street-side takeout window at the Back Bay's upscale Mooncusser Fish House. Chef Carolyn Johnson is inspired by the popular roast beef shacks that dot the North Shore, and her gourmet interpretations of comforting classics will forever change the way you view sliced beef on a bun; here, the nourishing sammies are made with rare, all-natural wagyu and decadent toppings. Don't forget to round out your order with crispy onion rings or hand-cut fries.
Boston has a sizable population who grew up with comforting deli staples, but in recent years most of the area's old-school joints have vanished. Enter Kendall Square's celebrated modern-era deli, Mamaleh's. At Time Out Market Boston, the Mamaleh's team brings its scrumptious smoked fish platters and juicy pastrami sandwiches—perfect for a filling meal or a quick nosh—across the river to the Fenway. Treat yourself to a freshly-prepped sandwich made with hand-made bagels and hormone-free, antibiotic-free meats (expertly cured, smoked, and roasted in-house).
Best sandwiches in Boston