The 15 best hot dogs in Boston
From chili-loaded sausages to franks topped with mayo, mustard and relish, here are the best hot dogs in Boston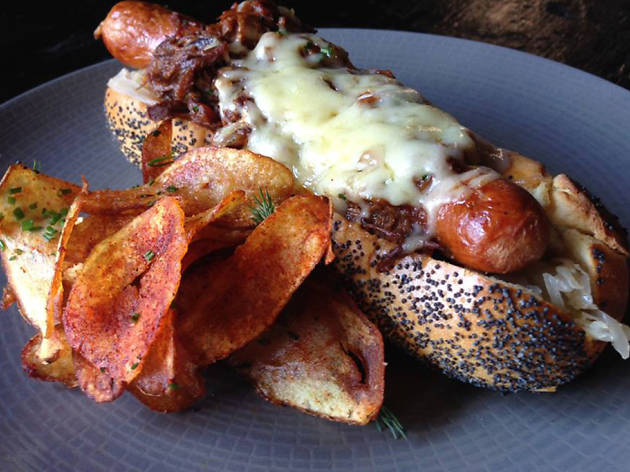 You heard it here first: hot dogs are the new burgers. Where once local chefs were competing to create the best burgers in Boston, kitchen wizards are now jostling to prepare delicious sausages. These chili-topped franks prepared with mayo, mustard, relish and more are the ideal meal before a night spent at the best karaoke bars in Boston or after a long day of drinking at the best bars in Boston. Whatever your topping preference, the best hot dogs in Boston will satisfy your cravings.
Best hot dogs in Boston
Restaurants, American creative
A Relais & Chateaux hot dog? We've officially seen (and tasted) everything. When this foie gras frankfurter was first introduced as a special at Barbara Lynch's Menton in 2015, diners went mad (and paired it with champagne). And so the special became a permanent fixture at the Gold Bar, a $24 novelty that is more than worth the price tag. The toppings change with the seasons (currently it's porcini catsup and peach mustard), but the dog's allure is evergreen.
Photograph: Courtesy Yelp/Tiffany L.
Tony Maws, the burger maestro at Craigie on Main, has developed an equally divine hot dog at his more casual gastropub. The off-menu, Monday-only house dog is a blend of pork shoulder, grassfed beef chuck and beef shoulder, served inside a homemade pretzel bun with housemade condiments. Also on Mondays, Maws invites a guest chef to debut his or her own competing gourmet dog. Can't wait until then for your weinerfest? The Sunday brunch hot dog hash is a pretty divine first act.
Photograph: Courtesy Yelp/Tiffany L.
Once upon a time, a hipster hotel met a hipster izakaya, and the Dogzilla hot dog was born. Tim and Nancy Cushman, the geniuses behind O Ya, brought tiki drinks and maki rolls to the Verb Hotel, sure, but it's the bacon-wrapped, jalapeno- and cheese-stuffed, deep-fried, kabayaki sauce- and bonito flake-topped Dogzilla that's emerged as a breakout star. Do we know the calorie count? No we do not, and that's by design.
Photograph: Courtesy Yelp/Momo Y.
Restaurants, Contemporary European
A hot dog at a German restaurant? Yes, sir. Chef Tim Wiechmann blends pork and beef to make his frankfurt, which is then encased in a homemade potato bread roll. What takes it to the next level, though, are the toppings: chili and melted comté cheese, plus gourmet ketchup and mustard.
Oh, that kimchi dog. Only served during lunch (both at the brick and mortar restaurant and the food truck), it's well worth the midday indulgence. A Piggery Farm pork and beef dog (made from heirloom, pasture-raised pigs and cows) is slathered in organic kimchi and sriracha aioli and then blanketed in a scallion pancake. So creative and so, so divine. If you simply can't get enough, you can always return for the dinnertime hot dog and kimchi fried rice.
Bet you didn't know your favorite cocktail bar also serves your favorite hot dog. It's simple and perfect: a housemade weiner (beef and pork) topped with caramelized onions inside a homemade poppy seed bun. That's it, although there's also usually a nightly hot dog special that might feature toppings like kimchi and bacon. We also love the "carrot miso dog"—a, yup, carrot, glazed in miso and topped with kimchee mayo.
Photograph: Courtesy Yelp/Sherry H.
7
Photograph: Courtesy Wurst Kitchen
Here's another secret for you: about 50 minutes south of Boston is a French restaurant that serves hot dogs. Let that sink in. Inside the well-known Chez Pascal is a far smaller space with four bar stools, two communal tables and a takeout window. Here, guests can fall in love with the housemade hot dogs from chef Matt Gennuso, who serves them for both lunch and dinner. During lunch, the hot dog gets the simple bun treatment; come dinnertime, the dog is plated outside the bun, served on a wooden board alongside the condiments. The newly addicted can and should buy the dogs for home cooking.
Yes, it's confusing, but one of the area's most celebrated taco spots also dishes up a muy delicioso dog. The Sonoran dog (which you'll only find here, not at the Allston branch) starts with an all-beef Pearl hot dog, blankets it in bacon and then goes full bore with the toppings: refried beans, Longhorn cheese, roasted salsa, chipotle mustard and crema. Prepare by fasting and stocking up on antacids.
Photograph: Courtesy Yelp/Jon S.
Come for the beer book, stay for the dog and tots. There are four regular weiners on the menu, including a Chicago style dog and a foot-longer topped with chili, shredded cheese and Green Goddess dressing. But you're here for the weekly special—or as the menu so quaintly puts it, the "f**king special." At this moment, it's a beef dog topped with diced red onions, whole grain beer mustard and sauerkraut on a buttered toasted bun—simple and f**king perfect.
Seeking a comfort dog? Trina's has you covered. The casual bar has not one, not two, but six griddled options to choose from, including a corn dog and a tofu pup. But you should go whole hog here. The chili cheese dog is a great gateway drug to ease you into the weekly special, which could feature anything from French fries to mac and cheese.
They had you at "giant Jenga," but you keep coming back for the Kobe dog (almost more of a sausage). It's basic and gourmet at the same time, topped with pickled red cabbage and mustard. You'll want to try the Choripan ($6), an Argentinian-style dog consisting of an open-face Portugese bun topped with grilled and sliced chorizo links, chimichurri and scallions, resting open face on dense Portuguese buns. It looks a little odd, but how long do you spend looking at your food anyway?
We love a good food secret… but we also love sharing one. So come closer: On certain days, the divinely conceived and named Bacon Truck serves a deep-fried, bacon wrapped hot dog, usually announced on Twitter just a few hours beforehand. It's also available when the truck caters your special event… so get planning.
Restaurants, Contemporary American
Any discussion of this newish South Boston spot has to begin and end with the Kobe Beef Chi Town Dog. For starters, it's a rarity to find a frankfurter around these parts that gets the proper Windy City treatment (mustard, celery salt and a pickle nestled in the side of the bun). Here it's a little cheekier: napa slaw, pickled mustard seeds and sriracha mustard (i.e. spicier than your average Chi dog). The only problem? It's listed as an appetizer and satisfies about the same level of appetite, so you just might need to order two.
Not every hot dog need be glamorous. For more than 60 years, the Southie stalwart has plied Bostonians with their favorite cheap dog: a simple steamed weiner on a dry-toasted bun, for all of $1.90. There are two ways to enjoy it: all around, which means mustard, relish and onion; or all-inc., which adds ketchup to the mix. Feeling flush? Spring for the chili cheese dog at a robust $2.95.
Just the name lets you know you're in for some serious dog action. At this tiny North Shore enclave, dogs (Kosher or natural casing, veggie or non) are either steamed or grilled and then tucked into a buttered and grilled roll. Then it's accoutrements time: dozens of specialty toppings, from bacon bits to pastrami to spicy peanut sauce. And with all dogs hovering at around four bucks, you're talking cheap-and-delicious date central.