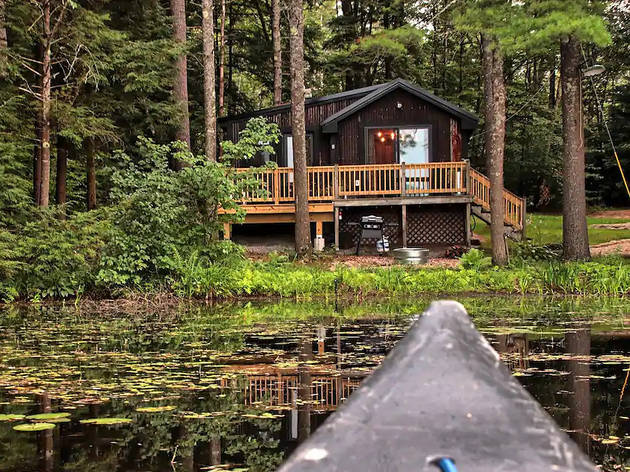 9 secluded Airbnbs you can rent near Boston
From off-the-grid cabins to cozy cottages, these secluded properties will help you get away from it all
Make your next travel adventure a quiet one. When you need to reset, look to a spot that features quiet and solitude so you can refresh and revitalize. These secluded Airbnbs near Boston offer tranquil accommodations amidst wooded forests, meadows and lakes, perfect for hiking, swimming or just relaxing. From a tiny hut to a rustic cabin on a private island, book a night or two and recharge. For other unique getaway opportunities, check out our list of the best Airbnb cabins, the best waterfront Airbnbs, or—for something a bit fancier—the best glamping near Boston.
RECOMMENDED: Full guide to travel inspo, vacation ideas and more
This article includes affiliate links. These links have no influence on our editorial content. For more information, click here.
Secluded Airbnbs to rent near Boston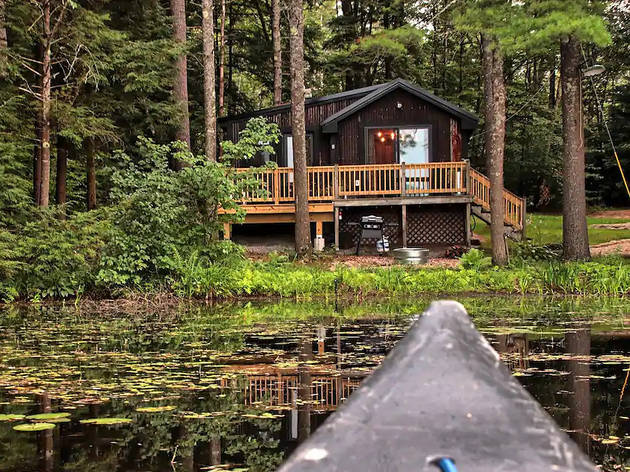 Photograph: Courtesy Airbnb
1. The Writer's Retreat in Orange, MA
This 325 square foot lakeside cottage is located on the shores of Tully Lake. Built with salvaged barn wood and featuring custom-built furniture, the intimate cottage offers seclusion and inspiration. Catch a stunning sunset from the back deck or enjoy quiet views of Mount Tully over morning coffee.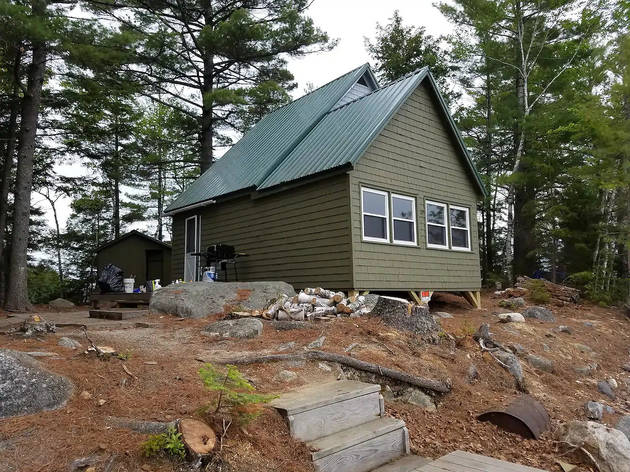 Photograph: Courtesy Airbnb
2. Rustic cabin on a private island in Indian Purchase Township, ME
What's more secluded than a private island? With stunning views of Mt. Katahdin, this island retreat is located on the fifth largest lake in Maine. Accessible only by boat, the property offers total privacy. Prepare for rustic living, with solar powered lights, bring-your-own drinking water, and no refrigeration, but all the basics are sufficient, and both cell reception and wifi are strong.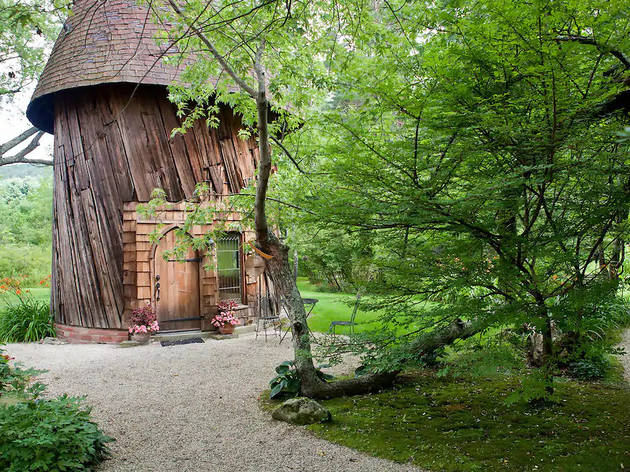 Photograph: Courtesy Airbnb
3. Silo studio cottage in Tyringham, MA
This fairytale guesthouse on the Santarella Estate in the Berkshires is both charming and romantic, with plenty of quiet seclusion. A former sculpting studio, the two-story cottage is surrounded by a lilly pond, babbling brook, and gardens.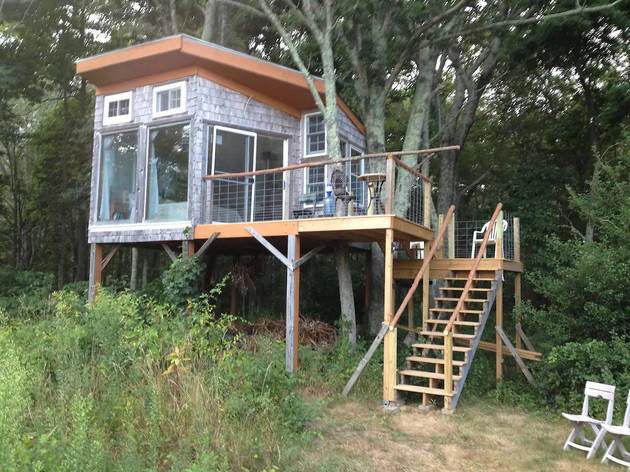 Photograph: Airbnb
4. Treehouse in Rehoboth, MA
Enjoy solitude in this treehouse overlooking a working family farm, with only the goats, horses, hogs, and water buffalo to keep you company. A rustic off-the grid property, you'll be charmed by the sounds of nature, and your cozy nights will be lit by lantern light and warmed by a fire.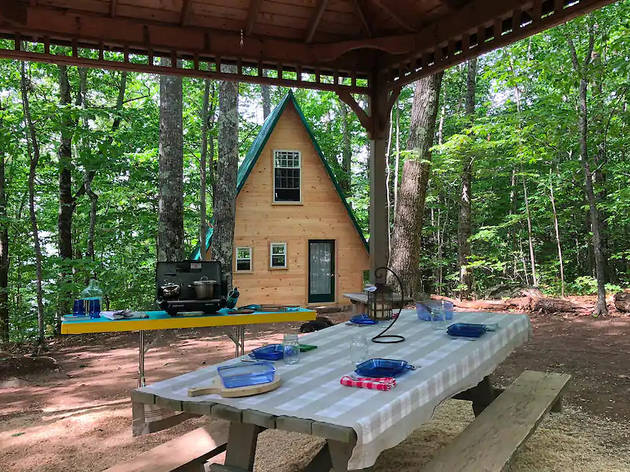 Photograph: Airbnb
5. Island a-frame in Monmouth, ME
Go off-the-grid on a private island on a lake. This secluded a-frame cabin offers plenty of adventure with your solitude. Hike, kayak, play on the rope swing, or just enjoy the sounds of nature while relaxing in a hammock. Cook under the stars and sleep in peace in a comfy bed.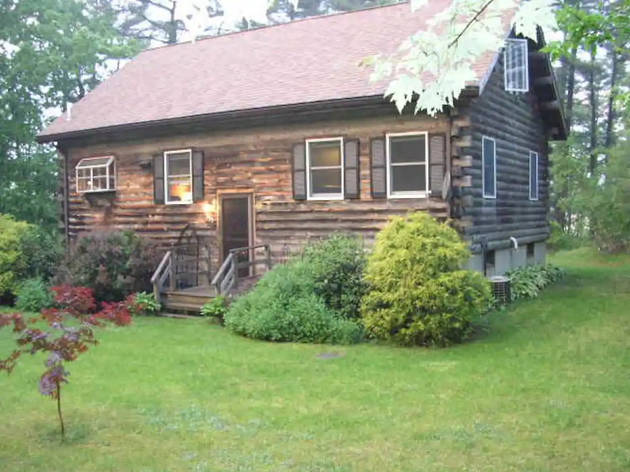 Photograph: Airbnb
6. Log house in Plymouth, MA
Located on an acre of wooded property, this traditional log house offers solitude and seclusion with easy access to Cape Cod, the beaches, and historic Plymouth. Stroll the nearby walking trails and check out the lovely cranberry bogs across the street.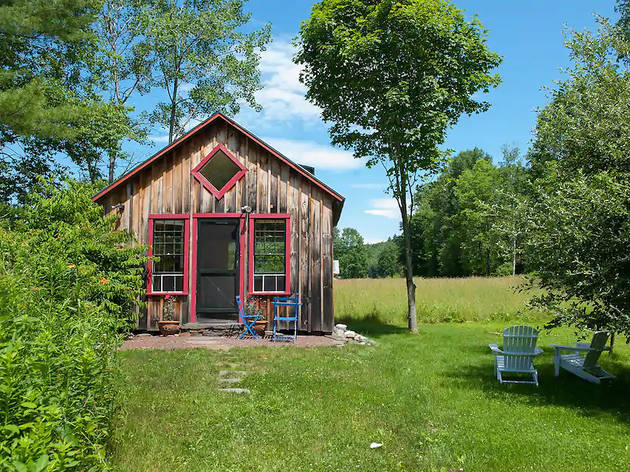 Photograph: Airbnb
7. Tiny house in Buckland, MA
This secluded cottage is located on 23 acres of meadows and woods. Stroll the gardens or the path through the woods that leads to an abandoned orchard at the top of a hill with incredible views. Visit nearby Northampton or Shelbourne.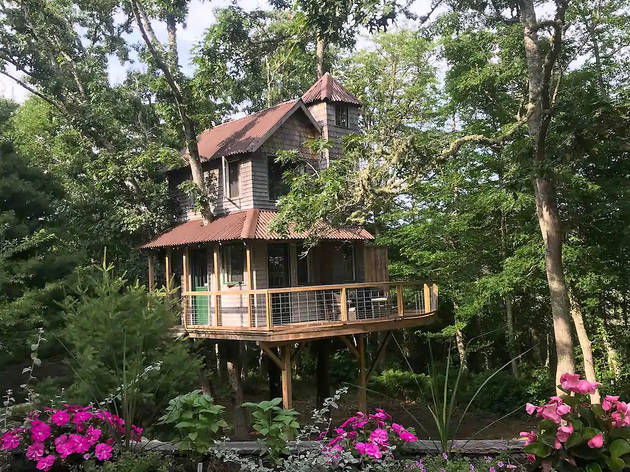 Photograph: Airbnb
8. Treehouse in Wareham, MA
Twelve feet off the ground, this unique treehouse offers views of Mink Cove. A suspension bridge leads to a porch that's perfect for quiet mornings and fabulous sunsets. Stargaze with the telescope located in the tower. Located on 2.5 acres next to a 260 acre conservation trust, there's plenty of solitude to be had.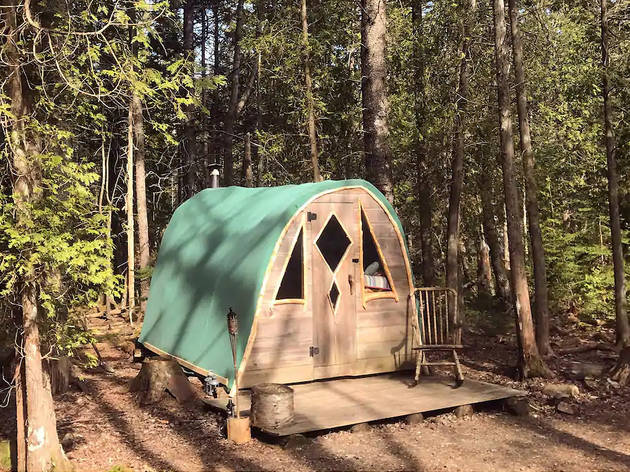 Photograph: Airbnb
9. Coyote's Den in Tremont, ME
Built with bent maples in the style of an Iroquois longhouse, this tiny cabin is located in a seven acre forest. Wander trails to see fairy houses and nature art installations, or head off property to hiking and the ocean. The property's farm has goats, chickens, and a vegetable garden for guest use.
More getaway ideas
Whether it's the dog days of summer or a bone-chilling winter, sometimes you just need to get away from Boston. So here's a list of easy options for an awesome weekend getaway.
Given how intense life can often be in our humble metropolis, every Bostonian gets a little stir crazy now and then. Fortunately, all one has to do is hit the road — or hop on a train, bus or ferry — to explore the many wonders of New England.