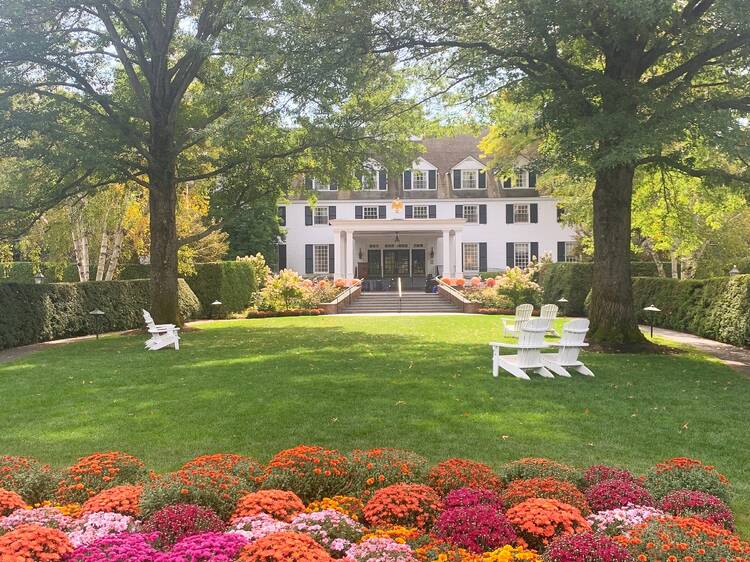 Photograph: Courtesy Katie McAleer
One of the most charming towns in all of New England. Woodstock is the perfect fall escape, travelers can visit local farms, museums, stroll through the town square and pop in and out of all the local shops.
Eat at: Worthy Kitchen (442 Woodstock Rd, 802-457-7281) definitely worthy of a visit. At Worthy Kitchen guests will find farm-to-table comfort food and local craft beers on tap.
Stay at: The Woodstock Inn & Resort (14 The Green, 888-338-2745) located right on the town square The Woodstock Inn is the perfect place to stay if you want to be centrally located to everything in town. Walking distance to tons of shops and restaurants, the Inn also has a world-class, LEED-certified Spa.
Must do: Sugarbush Farm (591 Sugarbush Farm Rd, 802-457-1757) offers free cheese and maple syrup tastings. You can explore the farm grounds, take in beautiful foliage views and do a little shopping in their farm store. If you're visiting Woodstock in the fall, you have to take a ride out to Sleepy Hollow Farm (3429 Cloudland Rd South, Woodstock, VT 05091). A privately owned property, but you can view the charming farm from the road, you'll likely be in good company with fellow photographers and leaf peepers.