Heads up! We're working hard to be accurate – but these are unusual times, so please always check before heading out.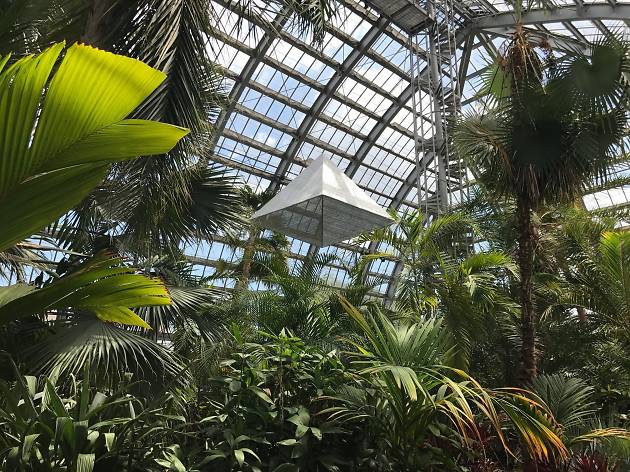 What to see and do during the Chicago Architecture Biennial
Embrace your inner architect with free exhibits, tours and lectures that learn from the past and look toward the future
The Chicago Architecture Biennial is back in action this fall, bringing architecture-related programming to venues and museums across the city, centered around the theme of "Making New History." That's a bold and expansive mandate, but befits the international forum that encompasses notable exhibitions, installations and lectures—it's all a bit more in-depth than your average architecture tour. While paying tribute to the city's existing buildings, the biennial envisions what Chicago might look like in the future by considering the past and harnessing the imagination of contemporary designers. If you're not sure where to start, take a look at some of the key things to see and do during the Chicago Architecture Biennial, which runs from September 16 through January 7, 2018.
The best Chicago Architecture Biennial programming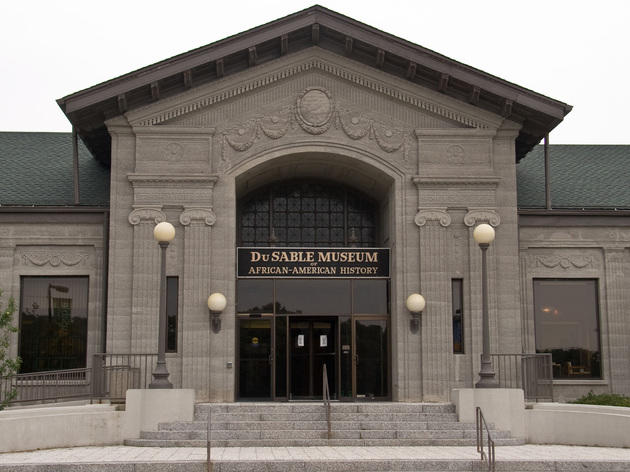 "Chicago: A Southern Exposure"
The DuSable Museum of African American History hosts an exhibition that collects photos of overlooked buildings in South Side neighborhoods like Chatham and Englewood. Assembled by photographer and South Side resident Lee Bey, "Chicago: A Southern Exposure" urges viewers to look beyond the familiar buildings covered by downtown architecture tours.
DuSable Museum of African American History, 740 E 56th Pl. Sept 21–Feb 16.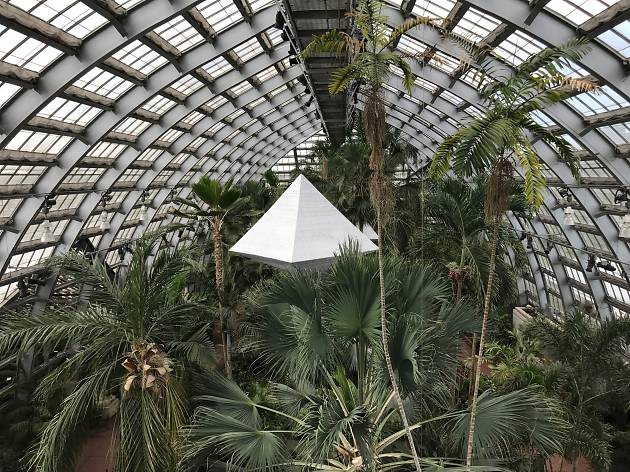 Photograph: Courtesy Chicago Architecture Biennial
Air Houses: Design for a New Climate
If you've ever considered what it might be like to live among the treetops, you'll fall for Francois Perrin's installation Air Houses: Design for a New Climate, constructed in the Palm House at Garfield Park Conservatory. The Parisian architect uses fabric to create experimental structures that encourage a more harmonious relationship with the environment.
Garfield Park Conservatory, 300 N Central Park Ave. Sept 16–Jan 7.
After identifying an underutilized space in their community, design teams in each of Chicago's 50 wards were challenged to envision a way to transform it into something more beneficial. The results are on view in "Between States," which displays 50 ways to improve a neighborhood, showcasing solutions that could potentially be shared throughout the city and across the country.
Chicago Architecture Foundation, 224 S Michigan Ave. Sept 19–Jan 7.
The success of the riverwalk clearly demonstrates how reshaping a formerly neglected area can give it new purpose and significance. The River Edges Ideas Lab enlists nine architecture firms (Perkins+Will, Site Design, David Adjaye Associates, SOM, Michael Van Valkenburg Associates, Studio Gang, Ross Barney Architects, James Corner Field Operations, SWA and Sasaki) to display ideas for future riverfront development, with the goal of turning even more of the city's vacant riverbanks into active public spaces.
Expo 72 Gallery, 72 E Randolph St. Sept 19–Jan 7.
Get a look inside the Frank Lloyd Wright-designed headquarters of SC Johnson with a free bus trip to Racine, Wisconsin. Shuttles depart from the Chicago Cultural Center Thursday through Sunday during the Biennial, taking visitors to the SC Johnson Administration Building and Research Tower as well as the Wingspread residence. You'll need to make a reservation if you want to take advantage of the gratis trip.
Chicago Cultural Center, 78 E Washington St. Thurs–Sun, Sept 16–Jan 7.
Learn from architects, designers, journalists, academics during a weekly Tuesday evening talk in the Chicago Cultural Center's Claudia Cassidy Theater. Highlights of the programing include a conversation with local artists Luftwerk about creating music from recordings of a melting arctic ice shelf and an overview of learning about architecture through graffiti with Chicago street artist Miguel Aguilar.
Claudia Cassidy Theater, Chicago Cultural Center, 78 E Washington St. Tues, Sept 26–Jan 6.
Mark Fell + Katherine Young
Bringing a bit of melody to the Biennial festivities, UK composer Mark Fell sets up 24 speakers in the Chicago Cultural Center's Preston Bradley Hall, composing an electronic soundscape that is inspired by the architecture of the space and its acoustic properties. Chicago bassoonist Katherine Young will also perform, reacting to the shifting sounds within the room.
Preston Bradley Hall, Chicago Cultural Center, 78 E Washington St. Sept 29, 8pm.
Spotlight: Architecture+Space+Design
The Chicago International Film Festival helps curate a selection of free architecture-related film screenings throughout the Biennial, with showings at the Chicago Cultural Center, the Chicago History Museum and other venues. Highlights of the lineup include vinatge footage of the city that dates back to the '60s (Nov 5, Chicago History Museum) and Columbus, which stars John Cho as an architectural scholar stranded amid the modernist buildings of Columbus, Indiana.
Various locations. Wed, Oct 5–Dec 6.
Palais de Tokyo: Singing Stones
Presented in conjunction with EXPO Chicago and curated by Katell Jaffrès of Paris cultural institution Palais de Tokyo, this group exhibit of emerging artists takes place in the DuSable's 17,000-square-foot Roundhouse space. Eleven artists such as Wilfrid Almendra and Lola Gonzàlez will create works that interact with the architecture of the venue, which dates back to 1881, showcasing how contemporary and classic structures can coexist.
DuSable Museum of African American History, 740 E 56th Pl. Sept 12–Oct 29.