The 50 most beautiful buildings in Chicago: 40–31
We searched Chicago's skyline from the skyscrapers to the side streets (and beyond) to find our favorite examples of the city's architectural excellence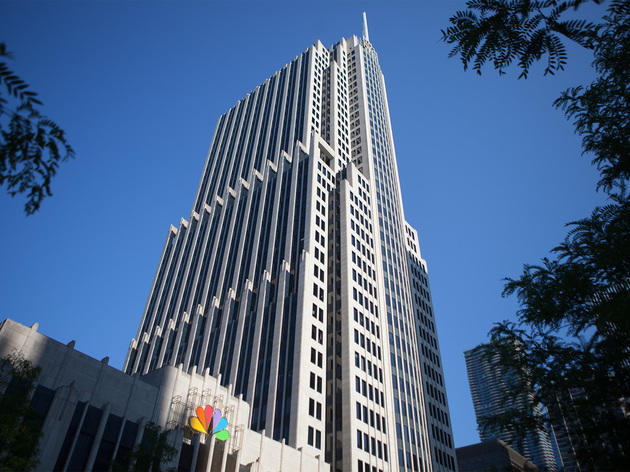 1/10
Photograph: Mark Wright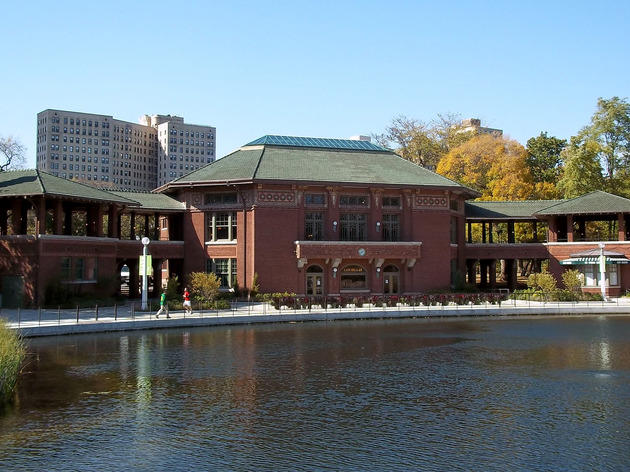 2/10
Café Brauer, Lincoln Park Zoo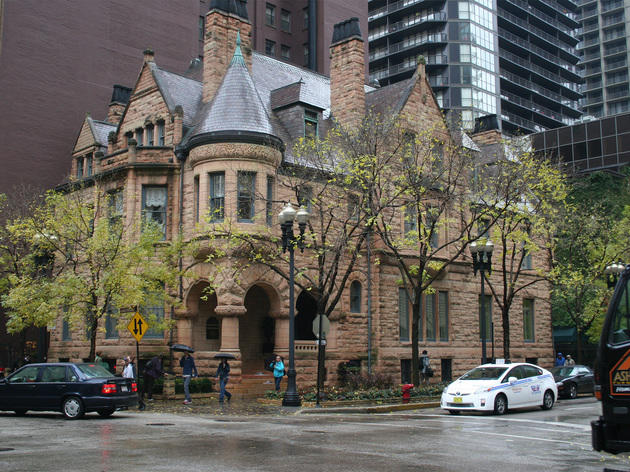 3/10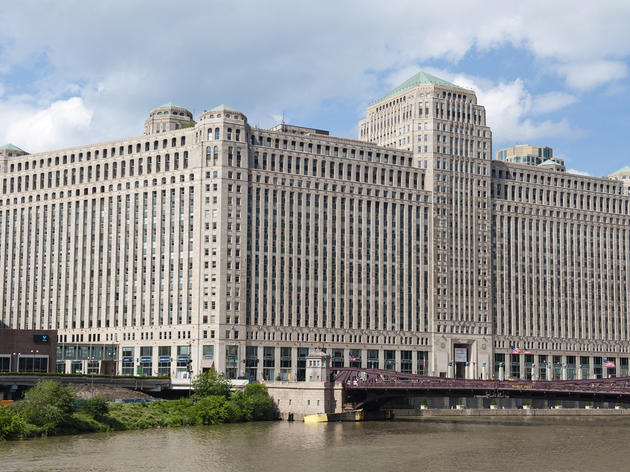 4/10
Photograph: Anne Evans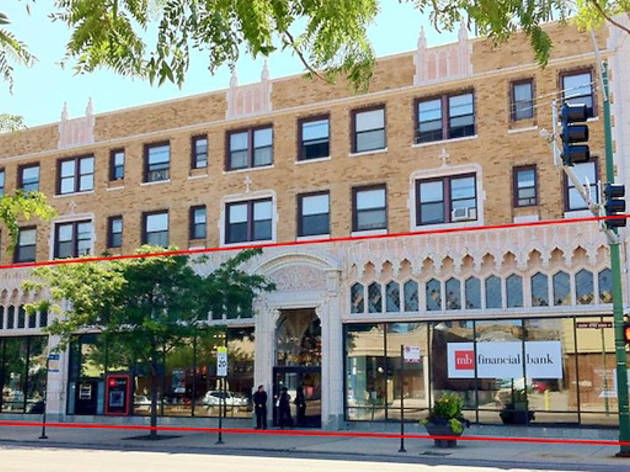 5/10
Photograph: courtesy of Seneca Realty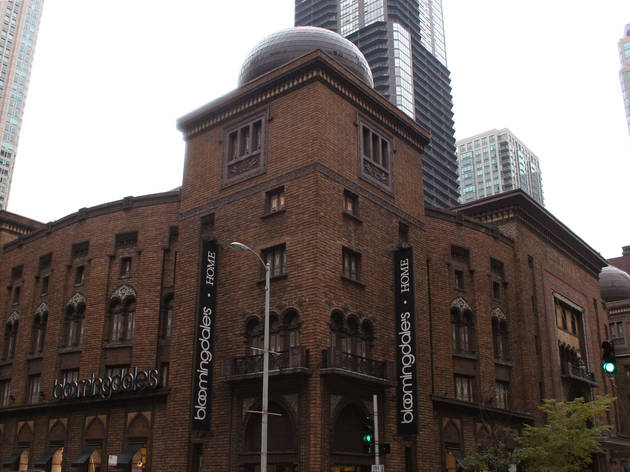 6/10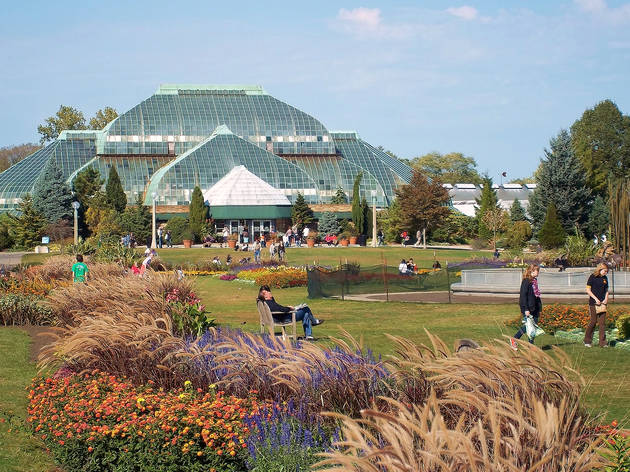 7/10
Lincoln Park Conservatory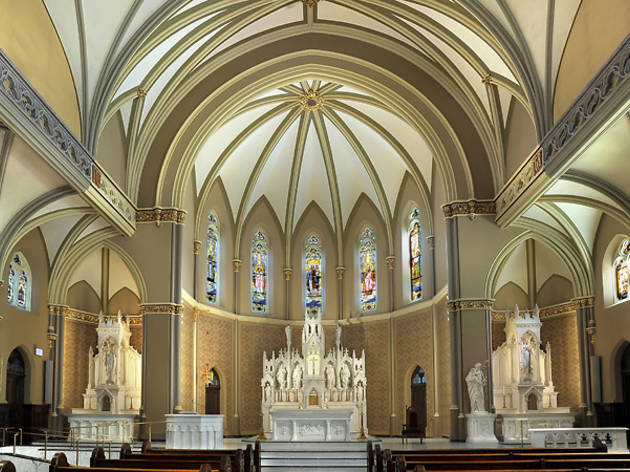 8/10
Photograph: Courtesy of the Chicago Architecture Foundation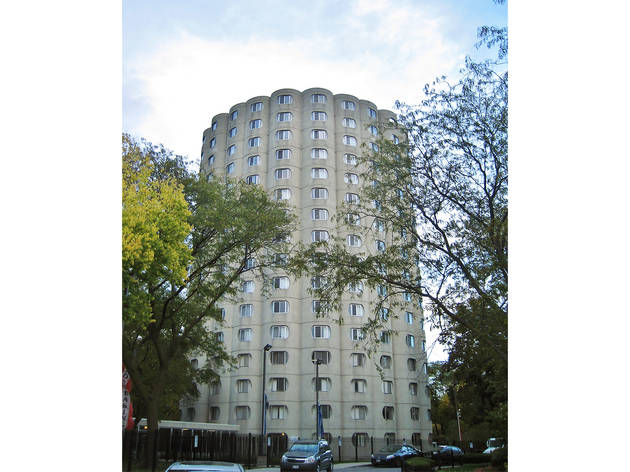 9/10
Hilliard Towers Apartments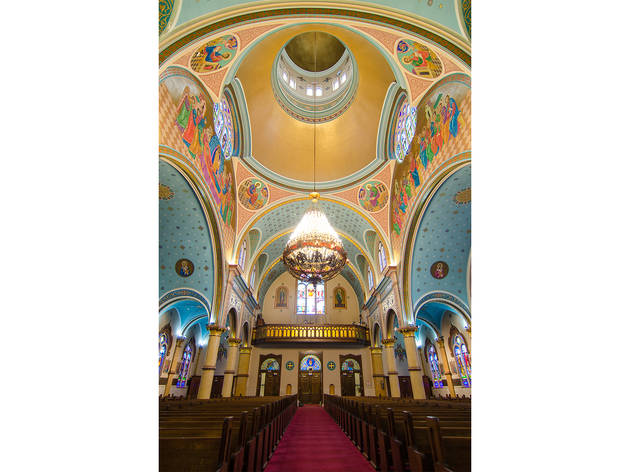 10/10
Photograph: Eric Allix Rogers
St. Nicholas Ukrainian Catholic Cathedral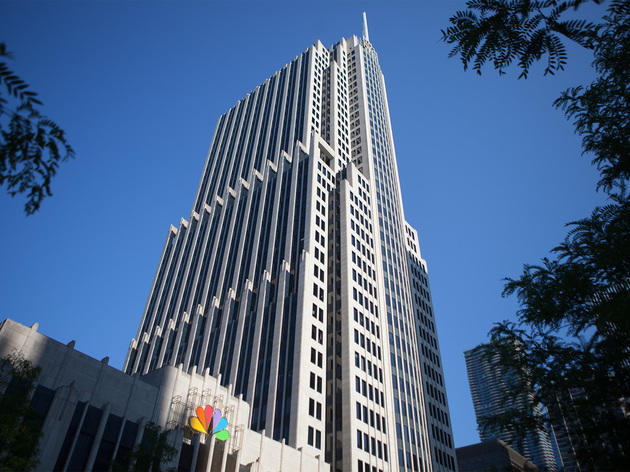 NBC Tower, 455 N Cityfront Plaza Dr
Completed in 1989
It's hard to believe this building is only a quarter of a century old, as Adrian D. Smith's Art Deco design makes it look like the type of building King Kong would've scaled had he landed in Chicago instead of New York. It's an impressive structure during the day, though the brilliantly lit flying buttresses make the skyscraper truly come alive at night.
Fun fact
One of the building's tenants is the Consulate-General of India in Chicago.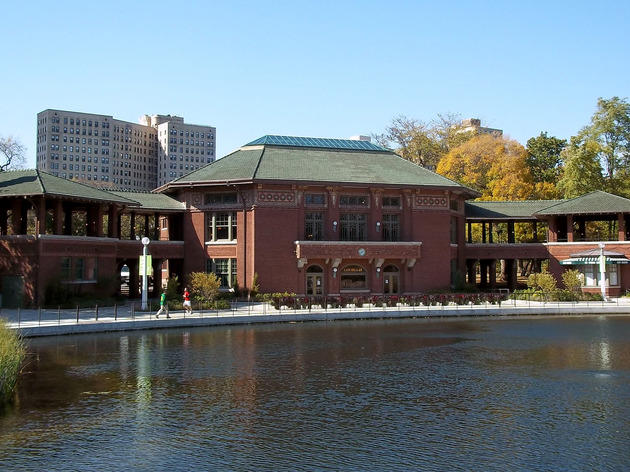 Café Brauer, 2021 N Stockton Dr
Completed in 1908
No doubt you've been to a wedding or gala at this Prairie School beauty, which the host paid a pretty penny to rent. It's no wonder this building fetches a hefty price tag: It's more than 100 years old yet still has its two original stained-glass chandeliers, the second-floor loggias (open-air walkways) make for a lovely photo backdrop, and the skylight on the 34-foot-high ceiling bathes the room in light.
Fun fact
The building fell into disrepair after being used as a theater in the '50s and '60s, mainly because state law prohibited the sale of alcohol in parks. When that law was changed in 1989, restoration work began to make it a rentable public building. Yay, booze.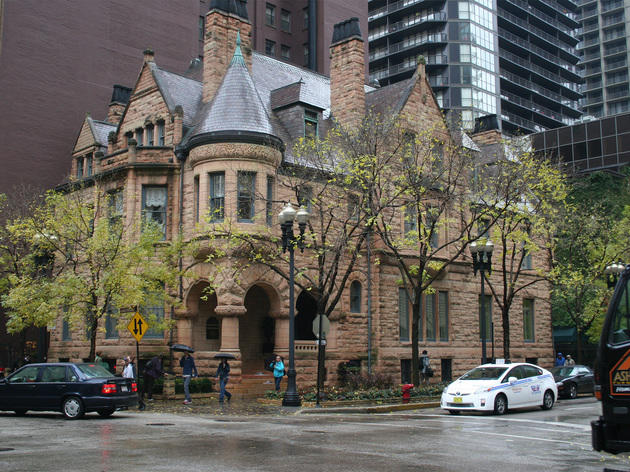 Cable House, 25 E Erie St
Completed in 1886
The Midwestern Kasota stone gives the three-story mansion a unique peach exterior, and that corner tower window makes it seem like a stout castle hiding away from the nearby Michigan Avenue bustle. Cobb and Frost built the home for socialite Ransom R. Cable, who served as the president of the Chicago, Rock Island & Pacific Railway Company.
Fun fact
The home's second tenant was John Carroll, who, as one of Chicago's first undertakers, drove the horse-drawn hearse that carried President Abraham Lincoln's body through the streets of Chicago and down to Springfield for burial.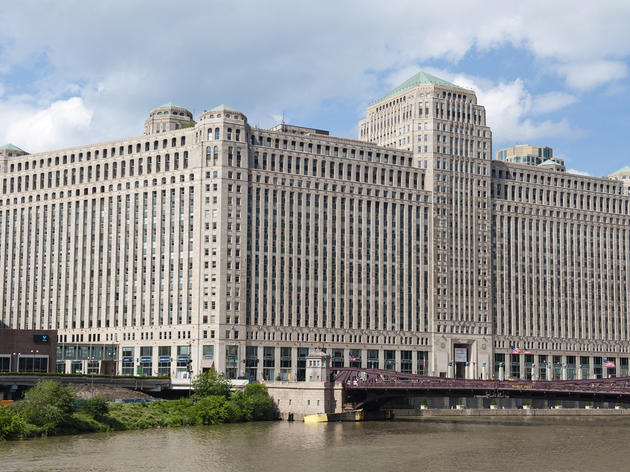 Merchandise Mart, 222 Merchandise Mart Plaza
Completed in 1930
The fact that this gargantuan building has 4.2 million square feet of rentable space yet manages to look beautiful and completely un-warehouse-like is a marvel. The largest commercial building in the world, this Art Deco gem originally housed Marshall Field's wholesale store.
Fun fact
The Mart was used as government offices during World War II until Joseph P. Kennedy bought the building and restored it to its retail glory.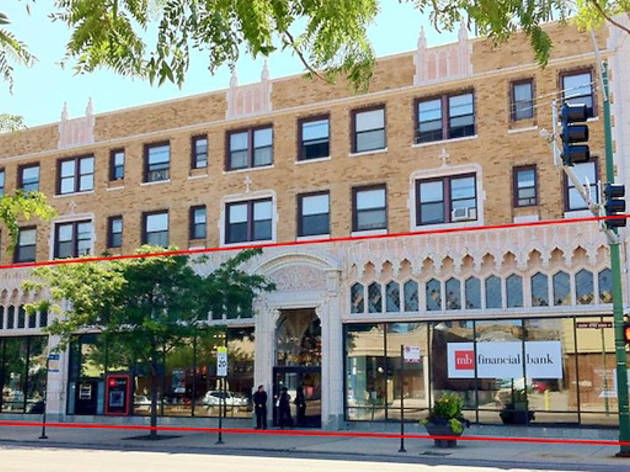 5960 N Broadway (formerly Chrysler-Riviera Auto Show Room Building and MB Financial Bank)
Completed in 1926
Most recently inhabited by MB Financial, this Edgewater architectural wonder is now vacant. Which is a shame, because this grand space, originally built as a car showroom, deserves a tenant that can do it justice (i.e., not a bank). On the outside, white terra cotta drapes small overhead windows in a French-Gothic style, while on the inside, a huge open floor is surrounded by white stucco walls, an enormous staircase curves down from a second floor and chandeliers drop down from a soaring ceiling.
Fun fact
Edgewater's "automobile row" on Broadway was home to 30 car dealerships in 1929.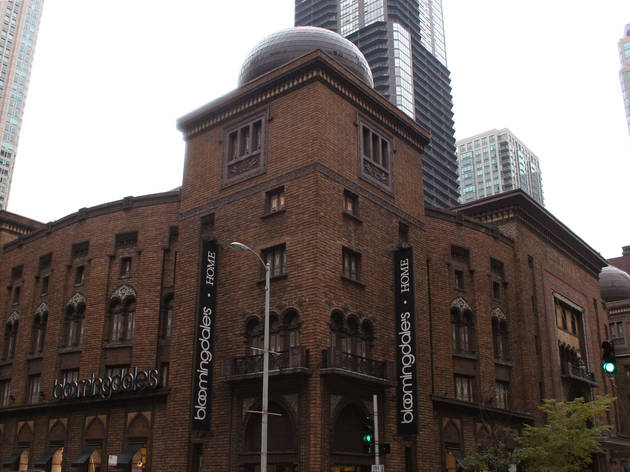 Medinah Temple (a.k.a. Bloomingdale's Home Store), 600 N Wabash Ave
Completed in 1913
The Shriners do not play when it comes to commissioning beautiful buildings. This one was saved from demolition by Bloomingdale's, which opened its first Home Store in the building in 2003. (Thanks, Bloomie's!) One hundred years ago, the Moorish-style building was used as an auditorium for the Shriners' circuses and events. Ornamented in Middle Eastern style, with arches, domes and colorful mosaics, this is a stop-dead-in-your-tracks-and-gawk structure.
Fun fact
The Medinah Temple's auditorium once sat 4,200 people.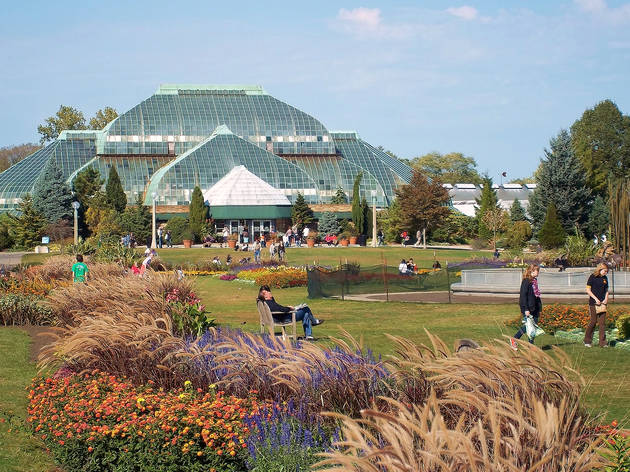 Lincoln Park Conservatory, 2391 N Stockton Dr
Completed in 1895
At a time when collections of exotic plants were becoming increasingly popular and structures utilizing steel and glass were becoming prevalent, the Lincoln Park Commission decided to replace a small greenhouse with a large conservatory. Architects Joseph Lyman Silsbee and Mifflin E. Bell worked together on the design, creating a series of rooms in the Victorian style. Sheltered by trusses that form ogee arches, structural changes to the the Palm House, Fern Room and Orchid Room have been minimal over the past 100 years, though the conservatory's vestibule did receive an important upgrade in 1954: public restrooms.
Fun fact
The conservatory holds more than 40,000 plants representing close to 200 species.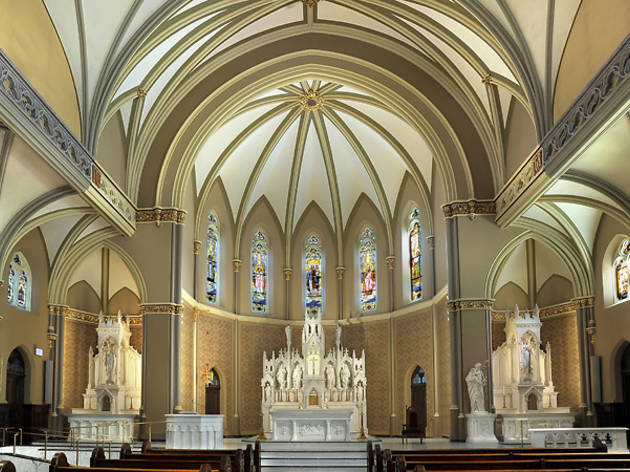 Our Lady of Mt. Carmel Catholic Church, 708 W Belmont Ave
Completed in 1914
This English Gothic structure in Lakeview towers over Belmont Avenue with its Indiana limestone and gorgeous stained glass. Stroll past on any given Saturday between April and October and you'll likely find a wedding party posing for photos on the church steps.
Fun fact
Our Lady of Mt. Carmel has two pipe organs, one built in 1928 and the second 59 years later, in 1987.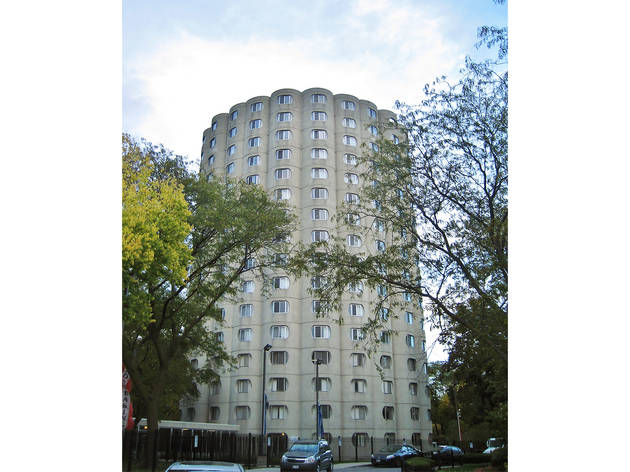 Hilliard Towers Apartments (Raymond Hilliard Homes), 54 W Cermak Rd
Completed in 1966
This overlooked Bertrand Goldberg project greets you at the Chinatown Red Line stop. Like the Marina Towers and River City, the honeycombed retro-futurism brings to mind utopian optimism and sci-fi pod living. His living spaces look like Luke's home on Tatooine. Those who live in public housing deserve Jetsons aesthetics, too.
Fun fact
Raymond Hilliard residents were chosen from records of model citizenry in other CHA projects.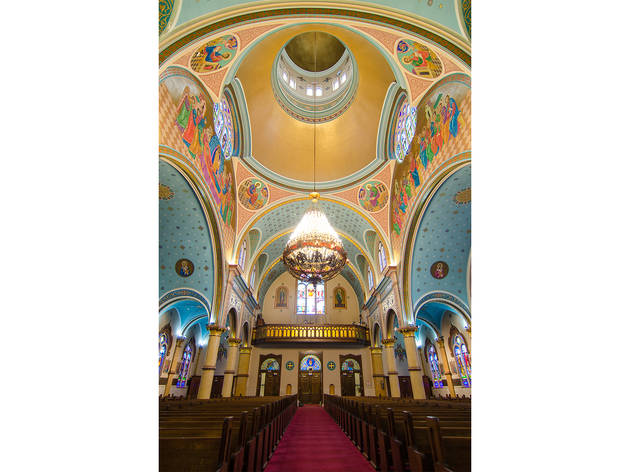 St. Nicholas Ukrainian Catholic Cathedral, 835 N Oakley Blvd
Completed in 1915
This Ukrainian Village landmark, modeled on the Cathedral of St. Sophia in Kiev, is topped with 13 domes, one for Jesus and each of his apostles. Inside the cathedral, which can hold 1,000 worshipers, you'll find an impressive blend of frescoes, mosaics, stained glass and, hanging in the center from the highest dome, a nine-tier golden chandelier.
Fun fact
St. Nicholas claims its chandelier, with 480 lights, is the largest of its kind in the United States.