Best sports bars in Chicago
Whether you want to watch a Cubs game with a PBR or a Bulls game with charcuterie, here are the best sports bars in Chicago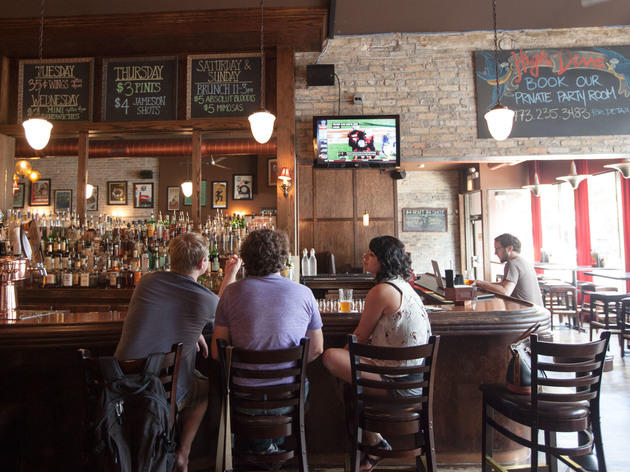 With five professional sports teams and tons of college allegiances, it's a good thing that Chicago has many great sports bars. Whether you want to watch the Blackhawks, the Bears, the Bulls or the Cubs or Sox, or cheer on your college team, here's where to go.
RECOMMENDED: Best bars in Chicago
Best sports bars in Chicago
The first thing you see is the game, projected onto the wall to a scale so large it's visible down the block. Then the hightop communal tables, the ceiling draped with an American flag. You take a seat and there's a bartender who's as happy to make you a cocktail as to crack open a PBR tallboy. He serves you a Jucy Lucy, a stroke of Minnesotan genius that injects a greasy, juicy burger with Velveeta cheese. And that's the last thing you can, and need to, remember.
Read more
It's got the requisite menu of fried food and burgers, televisions in every corner and a shot-and-beer–loving clientele. But the surroundings—stone walls, glass facade—lend this Lakeview sports bar a sensibility so laid-back and inviting that even the least sports-enthusiastic people can get into it.
Read more
Whether you're hungry for baseball, football, rugby or just beer, this straight-friendly gay sports bar will work. A solid lineup of beers on tap, tasty (and even healthy) pub grub, lots of TVs and a rah-rah decor make this a fun place to cheer for your team, whatever team you're on.
Read more
Whether 11am or 11pm, it's hard to find a seat at this North Center Brit pub. Call it European-style drinking, buffered by U.K. pub grub. During soccer and rugby matches, the crowd of regulars vacillates between raucous and downright scary, but fair-weather fans are welcome to join the zoo.
Read more
With Three Floyds Gumballhead and Half Acre Pony Pilsner on tap and wings hot off the grill, this well-lit bar will never truly be a dive. But we don't care, because we feel at home among the concert posters on the walls and the red-velvet booths. And if we're going to drink out of bottles, it might as well be from this 50 beer–strong selection.
Read more
The corner where this North Center tap sits has been a neighborhood hot spot since Prohibition: the former Schulien's featured a basement speakeasy and a house magician. The 'hood has changed—today's O'Donovan's operates as a laid-back hangout for younger couples and small groups—but the tableside magic shows (and the occasional balloon sculptor) remain on weekends. Escape the crowds in the tucked-away beer garden, heated and enclosed in the winter.
Read more
The yuppie crowd at this glamorous bar might have other things on its mind, but to come here and not order chef Jared Van Camp's charcuterie is to miss the point: More than a dozen varieties are cured in house, including standouts like the fennel-scented finocchiona. And the kitchen doesn't stop there: Everything from the hot sauce to the hot dogs is made from scratch.
Read more
The glitzy sports bar from the Bull & Bear folks is a hit—and why not? The food—pretzel with cheese fondue, burgers with crispy fries, desserts by corporate pastry chef Amy Arnold—is as good as you could eat while the game is on. The awesome beer list makes the extensive offerings accessible via icons that even denote what kind of glass each brew is served in. As for the much buzzed-about table-taps and wall-taps (yes, that's beer taps built into the walls), our server was so on top of her game, we'll gladly leave those to the high rollers.
Read more
How did one of the best sports bars end up in Ravenswood? More than a dozen beers on tap, almost that many plasma screens (42 inches, and size does matter) and 25-cent jumbo wings on Mondays—beats the sticky floors and drunken screaming at your current spot.
Read more
There's no better place to cheer on your team than this down-home, blue-collar institution that's been serving up cold ones since 1881. Arrive at least a half hour before game time if you plan to eat—and you should definitely plan to eat. Just-like-Mom-made classics include crispy pork tenderloin smothered in perfect pan gravy and greaseless fried chicken. Add doting servers, cheap beer and a living room–like atmosphere, and you've got the best sports experience short of front-row tickets.
Read more
There are other sports bars in Chicago. There are even other sports bars in the South Loop. There is, however, no use in telling either of those things to the crowd of Bears fans waiting up to an hour to secure a table (and with it, a 14-inch grilled-cheese sandwich and a prime view of a TV or 30) at the Scout: They'll just think you're trying to cut in line.
Read more
The paint's chipping off the walls here and there, the bathroom is a claustrophobe's nightmare, and if it's busy, you might be forced to belly up to a folding table. Then again, this surprisingly spacious bar is filled with so many flat-screen and projection TVs and fills our stomachs with enough good bar food that we almost didn't notice.
Read more