May 2017 events calendar for Chicago
The arrival of May 2017 events in Chicago means summer's just around the corner. Find things to do, festivals and more.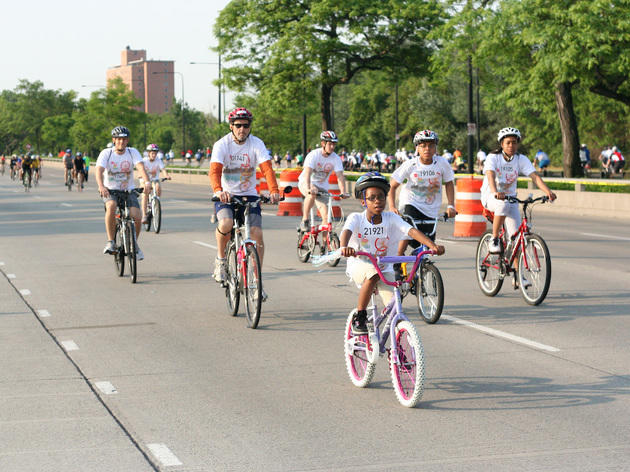 Alright, Chicago, it's time to spring into action. May is one of the most glorious months to be in Chicago. After months indoors, we can finally traipse around in light jackets (incredible!), hit up Chicago's best outdoor restaurants and rooftop bars—don't forget to bring your dog! This month boasts the first street festivals and music fests in the city, Cinco de Mayo, Memorial Day and more. That is, plenty of very good reasons to get your butt off the couch and go explore the city.

RECOMMENDED: Our complete Events calendar for Chicago in 2017
Featured events in May 2017
Your mother brought you into the world; the least you can do is show her a good time on Mother's Day. From brunch to gifts to shopping and spa treatments, start planning out your day with the help of our guide to things to do on Mother's Day.
Read more
Each summer, Chicago honors the men and women who died protecting our country with one of the nation's largest Memorial Day parades in the Loop. Prepare for the long weekend with our guide to downtown attractions, weekend getaways and more.
Read more
Joe's on Weed St has a pop culture trivia night for everyone. Pick your poison: from Harry Potter to Friends to Hamilton, here's your chance to flex that useless TV knowledge you've been racking up. The theme changes every week, so keep an eye out for your latest obsession to take the stage.
Book now
Read more
In the mood for a no-fuss burger, great craft beer and low-key trivia? Look no further than Parts and Labor's weekly trivia night, a Logan Square institution. The trivia night even partners with a local brewery or distillery the last Monday of every month, so try a new drink while flexing your deep-cut '80s movie knowledge.  
Read more
Every Wednesday night the Beauty Bar hosts a trivia and bingo night with dancing to follow. Get a group of 2-4 to play themed trivia or play bingo solo. Enjoy specials like a $6 beer and shot combo and win concert tickets, dinner packages and more.
Read more
Festivals in May 2017
Rooted in a 1979 bar contest, this four-day event features parties, a fetish and leather market, a physique competition, a sexy shoe-polishing competition and, of course, the annual crowning of International Mr. Leather. In additional to the daily Leather Market, there are the big evening events: the Opening Ceremonies, Physique Competition, International Mr. Leather Contest, IML Victory Celebration Party, and the Black and Blue Ball. Visitors can enter the leather market in return for a $10 donation.
Book now
Read more
More than 200 vendors hawk their antique housewares, furniture, ephemera, clothing and more at this indoor-outdoor festival. Stop in for vintage clothes and jewelry, a vinyl swap meet, a fancy food market and global goods bazaar or bring your own items for appraisal. This event typically occurs on the last weekend of each month. During the warm-weather months of May–September, the market adds an outdoor area, offering even more vintage shopping and a beer garden.
Book now
Read more
Free events in May 2017
Let your flag fly high at the annual family-friendly kite festival at Cricket Hill in Lincoln Park. No kite? No problem! Free paper kites are provided.
Read more
Contrary to popular belief, you don't have to spend a fortune in order to visit some of Chicago's best museums and cultural institutions. If you're willing to plan ahead, you can take in masterpieces at the Art Institute or gaze at tropical fish while strolling through Shedd Aquarium without spending a dime. You'll need to be an Illinois resident to take advantage of many of these offers, but that's one of the perks of living in Chicago.
Read more
Another one of Chicago's oldest parades is the Polish Constitution Day Parade, celebrating the first codified democratic constitutions in Europe, and one of the first in all of the world.
Read more
See some 1,200 animals, from apes to zebras, at the oldest and one of only a few free zoos left in the country. It is small, only 35 acres, but attractions like the Kovler Lion House and the Regenstein Center for African Apes pack a big punch. The best part? Entry is totally free.
Book now
Read more
Set a new high score at this arcade bar's monthly queer night. Guests can take advantage of free pinball (make sure you take a turn on the classic Star Wars and PIN·BOT tables), enjoy bar specials or bust a move in the back room with resident DJ Essential Logic.
Read more
We don't know if they're painting smiles on people's faces at the door or if they're mixing something into the booze, but everyone seems to be in a good mood at this energetic and inclusive queer party that's been going strong since 2008. It's worth getting there early, or else risk getting stuck in a line running down the block.
Read more
Show more
Theater and dance in May 2017
Let's not mince words, since we've already spilled so many of them: Hamilton, writer-composer-lyricist Lin-Manuel Miranda's biography of Alexander Hamilton as refracted through a hip-hop, pop and R&B lens, is a sprawling, stunning, singular achievement. By filtering the story of the American Experiment's beginning into modern, meticulously rhymed vernacular and populating the stage with performers of color to play the likes of Hamilton, Washington, Jefferson and Madison, Miranda and his regular collaborators (director Thomas Kail, music supervisor Alex Lacamoire and choreographer Andy Blankenbuehler) make the founding fathers feel fresh and, miraculously, human. RECOMMENDED: Our complete guide to Hamilton Chicago Weeks out from the country's naming its 45th president, Hamilton's new Chicago company arrives to remind us our democracy has always been messy, political, personal, and worth fighting for. Kail and Blankenbuehler fill designer David Korins's spare set—which suggests that, like the country, it's still under construction—with movement as thrilling and dense as Miranda's lyrics. (The few moments of stillness are also used to great counter effect.) The nearly all-new Chicago cast (ensemble member Emmy Raver-Lampman is the sole transfer) easily lives up to the originals while finding their own new moments and shades. Miguel Cervantes is a rather more grounded Hamilton than the more frenetic Miranda, who originated the role, but Cervantes conveys the man's vital, fatal
Book now
Read more
Upon entering the treasure-filled Cave of Wonders in search of some old lamp, Aladdin, the street urchin with a heart of gold, is momentarily more dazzled by the gold surrounding him. Just take a few of these coins, he suggests to those waiting outside, and you could buy all the lamps you want. Of course, it's the lamp that holds the magic—both for the purposes of the story and for this musical adaptation of the Disney animated film; on stage, as on screen, it's the Genie rather than the title character that really livens up the joint. But you get the sense in watching this endeavor, which launches its first national tour with a five-month stand in Chicago, that Disney has thrown an entire cave's worth of coins into making a dazzling, diabolically entertaining spectacle. No expense, and no pun, has been spared. The familiar story, of course, takes place in Agrabah, a fictional city where "even the poor people are fabulous," as the Genie tells us in the opening number, "Arabian Nights." Enter Aladdin (squeaky-clean Adam Jacobs, reprising his role from the Broadway production), poor of purse but fabulous of pecs. After a chance encounter in the marketplace with spunky Princess Jasmine (Isabelle McCalla), doing the old royal-disguised-as-a-commoner bit to escape her father's pressure to pick a suitor, Aladdin uses his newfound Genie (Anthony Murphy, charming and sly in the eager-to-please entertainer vein) to pass himself off as a prince.  Most of the best-loved songs from th
Book now
Read more
Corporate types hold a jargony project meeting about a project that reveals itself to be ethically dubious in the extreme in this pitch-black comedy by San Francisco playwright Aaron Loeb. Gus Menary directs the Midwest premiere for Jackalope Theatre Company, with a cast including Japhet Balaban, Rachel Sullivan, Kaiser Ahmed, Michael Kingston and Henry Greenberg.
Book now
Read more
Rachel Rockwell stages the Chicago premiere of Lee Hall's play, adapted from the movie named Best Picture of 1998 at the Academy Awards. With backing from Disney Theatricals, it was first produced in London in 2014; The New York Times described it as "Shakespeare-flavored."
Book now
Read more
Mike Nussbaum plays Albert Einstein in this National New Play Network "rolling world premiere" (it's also being produced by three other theaters around the country this season). The play, which deals with the mystery of Einstein's lost daughter, is by Mark St. Germain, author of Freud's Last Session, in which Nussbaum—who will be 93 when Relativity opens—played the title character in 2012. Northlight's artistic director, BJ Jones, stages the production.
Book now
Read more
British playwright Tanika Gupta's adaptation brings a colonial eye to Charles Dickens's story, making Pip an Indian orphan presented with the opportunity to try out life as an English gentleman. Lavina Jadhwani and Nick Sandys direct the U.S. premiere, a co-production between Silk Road Rising and Remy Bumppo Theatre Company.
Book now
Read more
There's something different about Sophia, the new duck at school, in Chicago Kids Company's bilingual (Spanish and English) musical update of the Hans Christian Andersen tale.
Book now
Read more
Bella must pierce the Beast's furry armor to see the man inside in Chicago Kids Company's original (read: not the Disney version) musical staging of the classic fairy tale.
Book now
Read more
This piece by experimentalist playwright Young Jean Lee, a sort of cabaret performance about our inevitable ends, gets a Chicago premiere staged by Haven Theatre artistic director Josh Sobel.
Book now
Read more
Show more