May 2017 events calendar for Chicago
The arrival of May 2017 events in Chicago means summer's just around the corner. Find things to do, festivals and more.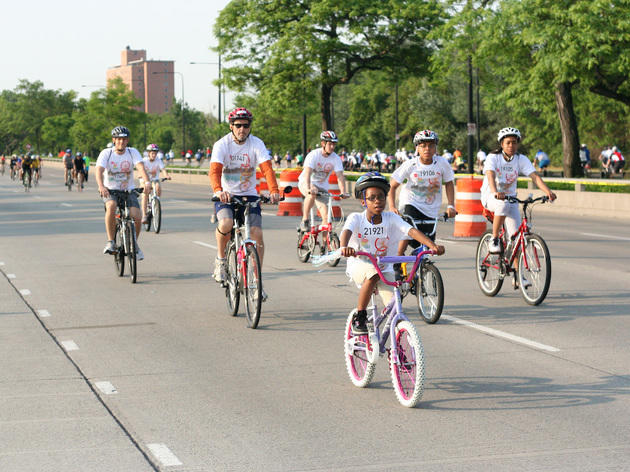 Alright, Chicago, it's time to spring into action. May is one of the most glorious months to be in Chicago. After months indoors, we can finally traipse around in light jackets (incredible!), hit up Chicago's best outdoor restaurants and rooftop bars—don't forget to bring your dog! This month boasts the first street festivals and music fests in the city, Cinco de Mayo, Memorial Day and more. That is, plenty of very good reasons to get your butt off the couch and go explore the city.

RECOMMENDED: Our complete Events calendar for Chicago in 2017
Featured events in May 2017
Your mother brought you into the world; the least you can do is show her a good time on Mother's Day. From brunch to gifts to shopping and spa treatments, start planning out your day with the help of our guide to things to do on Mother's Day.
Read more
Each summer, Chicago honors the men and women who died protecting our country with one of the nation's largest Memorial Day parades in the Loop. Prepare for the long weekend with our guide to downtown attractions, weekend getaways and more.
Read more
Joe's on Weed St has a pop culture trivia night for everyone. Pick your poison: from Harry Potter to Friends to Hamilton, here's your chance to flex that useless TV knowledge you've been racking up. The theme changes every week, so keep an eye out for your latest obsession to take the stage.
Buy tickets
Read more
In the mood for a no-fuss burger, great craft beer and low-key trivia? Look no further than Parts and Labor's weekly trivia night, a Logan Square institution. The trivia night even partners with a local brewery or distillery the last Monday of every month, so try a new drink while flexing your deep-cut '80s movie knowledge.  
Read more
Every Wednesday night the Beauty Bar hosts a trivia and bingo night with dancing to follow. Get a group of 2-4 to play themed trivia or play bingo solo. Enjoy specials like a $6 beer and shot combo and win concert tickets, dinner packages and more.
Read more
Festivals in May 2017
More than 200 vendors hawk their antique housewares, furniture, ephemera, clothing and more at this indoor-outdoor festival. Stop in for vintage clothes and jewelry, a vinyl swap meet, a fancy food market and global goods bazaar or bring your own items for appraisal. This event typically occurs on the last weekend of each month. During the warm-weather months of May–September, the market adds an outdoor area, offering even more vintage shopping and a beer garden.
Buy tickets
Read more
Free events in May 2017
Let your flag fly high at the annual family-friendly kite festival at Cricket Hill in Lincoln Park. No kite? No problem! Free paper kites are provided.
Read more
Contrary to popular belief, you don't have to spend a fortune in order to visit some of Chicago's best museums and cultural institutions. If you're willing to plan ahead, you can take in masterpieces at the Art Institute or gaze at tropical fish while strolling through Shedd Aquarium without spending a dime. You'll need to be an Illinois resident to take advantage of many of these offers, but that's one of the perks of living in Chicago.
Read more
Another one of Chicago's oldest parades is the Polish Constitution Day Parade, celebrating the first codified democratic constitutions in Europe, and one of the first in all of the world.
Read more
See some 1,200 animals, from apes to zebras, at the oldest and one of only a few free zoos left in the country. It is small, only 35 acres, but attractions like the Kovler Lion House and the Regenstein Center for African Apes pack a big punch. The best part? Entry is totally free.
Buy tickets
Read more
Learn why Chicago is often called the "City in a Garden" at spots where you can see the urban landscape bloom before your eyes.
Read more
Skokie's annual global culture festival has attendees snacking on ethnic food and sipping beer from around the world. Enjoy music, dance, art and a host of games at this family-friendly fest in one of Chicago's nearest suburbs.
Read more
Theater and dance in May 2017