Where to drink near (but not too near) the Chicago Pride Parade
When you're ready to escape the rainbow, head to these establishments just far enough away from the Pride Parade route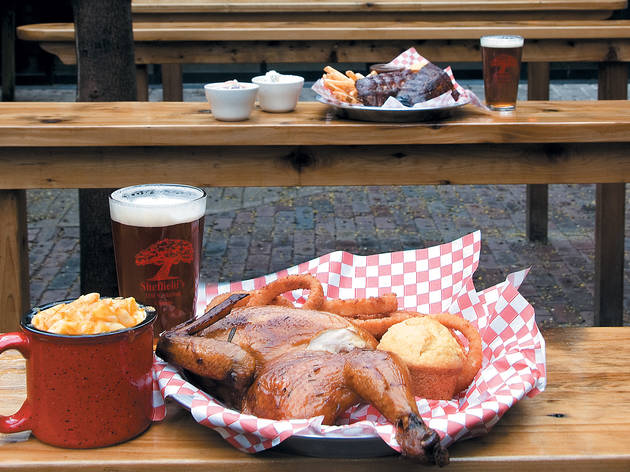 There's nothing like celebrating the Chicago Pride Parade with a million of your closest friends in Boystown. If you're like us, once it's done—or sometimes before—there's nothing like getting the hell out of there. And if the Chicago Police Department is as serious as it says it is about cracking down on open containers along the parade route this year, you'll probably be ready for a stiff drink. Here you'll find our selection of bars and restaurants within walking distance of the parade route but hopefully just far enough to be removed from the madness. Start planning your escape now (hint: stick to the west side of the route for an easier exit).
RECOMMENDED: Full guide to Gay Pride Chicago
1
The shiny awning and glittery old-Hollywood sign outside may draw us into this Lakeview bar, but the photo booth keeps us staying much later than planned. The '50s diner ambiance is swanky, the food is decent and the bar boasts a friendly crowd—so friendly that you may get back your photo strip and spot an unknown face.
Read more
2
You might expect a place that has a 70% vegetarian menu and was completely nonsmoking before it had to be to serve boring dishes made with soy milk and flaxseeds. But this coffee shop/bar/restaurant/performance space will surprise you. During brunch, the winners keep coming: The huevos rancheros are gooey, cheesy and substitute black-bean cakes for tortillas. The dinner hour brings Jeff Buckley tributes and enough surprisingly good cocktails to get through them.
Read more
3
The two coin-op pool tables suck, and you'll be lucky if there is a complete set of billiard balls. But the Gingerman, the best Wrigleyville bar for the meathead-avoider, is still a great place to play pool. The talent varies widely, from journeyman players to apprentice drinkers who struggle to hold a cue, which means you might actually get to play.
Read more
4
One of the city's best spots for rock & roll doesn't even have a stage. Instead, this Lincoln Park favorite has one of the best jukeboxes in town for the main room (so you can play DJ Fridays and Saturdays) and hires DJs for Sunday through Thursday who know their Buzzcocks from their Bullocks. Add an insane whiskey selection, more than 300 beers (Belgian, microbrews, seasonals) and frequent free movie nights, and you have a bar to call home.
Read more
5
The twentysomethings in the back room playing board games are missing out. The real action is at the bar, where silver-haired ladies flirt with ex-frat boys and the occasional indie-rock couple. It's tough to find a place in Wrigleyville where worlds collide and all are welcome for a mildly drunken kumbaya vibe, but that's exactly what this is.
Read more
6
With a claim to being the oldest bar in Wrigleyville, this dive is now under new ownership, but the dartboards, pool table, jukebox and regulars are still a blast from decades past.
Read more
7
Of all the neighborhood bars trying to make rambling Ashland Avenue feel more homey, this gem is among the homiest. Art Deco touches abound and the mood is consistently upbeat, chatty and sociable. The twenty/thirtysomething regulars live on the cusp—they're not quite Lakeview and not quite Ravenswood, which suits us just fine.
Read more
8
This huge beer garden turns into a laid-back college reunion on weekend nights in summer, with baseball-capped dudes and spaghetti-strapped chicks flanking the outdoor bar. In colder months, the attention turns to the more sophisticated picks on the beer list and the slabs of ribs that go a long way toward warming the belly.
Read more
9
Even though former Joffrey Ballet dancer Sam Franke took over this neighborhood joint in 2008, the goal of original owners Craig Fass and Mandy Franklin to have a pub with good grub and an ever expanding beer list remains. Thankfully, nobody told him that dishes like the rich and creamy duck-confit mac and cheese, and the pulled pork panini topped with creamy coleslaw go way beyond the call and duty of normal pub grub. If we're lucky, nobody ever will.
Read more
10
Let other bars emulate the experience of drinking in Belgium; Northdown has rolled into town to evoke the Midwest. It may not seem this way from the onset—the place doesn't look particularly Midwestern (it's generically, pleasantly cozy), and the menu, with its housemade pickles and Growing Power vegetables, suggests not Midwesterness but trendiness. But the heartland is found in the details: the Wisconsin beef in the burger. The Midwestern cheeses that come with the bread. The fact that it's perfectly normal for you to sit here, drink from the always-evolving craft beer list and eat nothing more than some mashed potatoes with gravy.
Read more
11
Escape to the great outdoors Wisconsin-style with your Leinenkugel, Point or Sprecher and shoot the breeze under the watchful eye of the giant moose that stands sentry. Friends meet at picnic tables, tunes float out from the jukebox (Phish and fowl with "Free Bird" represented) and the occasional neighborhood Labrador mingles with the regulars.
Read more
13
Though it opened a few months after Wicker Park's Emporium Arcade Bar, this rival barcade is not content to play second fiddle. All of HQ's 37 vintage arcade games (Terminator II, Teenage Mutant Ninja Turtles, etc.) are free to play, which means no waiting in line for tokens, more money to spend on the high-end beer list and surprisingly ambitious cocktails and no end to the sheer joy that comes from detonating your date in Mortal Kombat.
Read more