Taste of Chicago 2017 concert lineup
The concert lineup at Taste of Chicago 2017 is almost as enticing as the delicious cuisine being served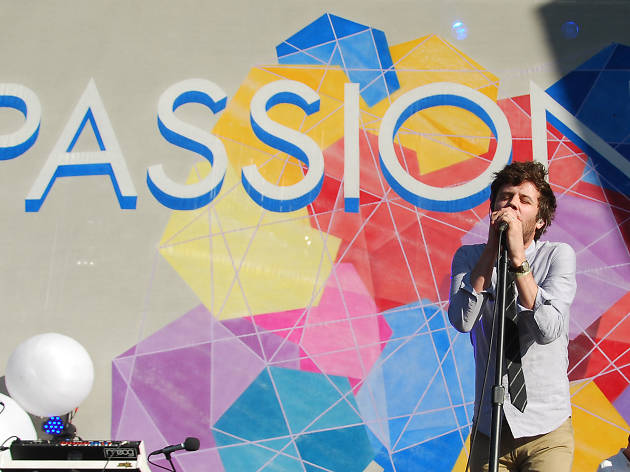 Taste of Chicago is best known for providing plenty of delicious foods for you to chow down on, but the annual event also provides a great soundtrack for your digestion—it's kind of like a miniature summer music festival. While you're enjoying some food truck fare (or a slice of Eli's Cheesecake), catch performances from acts like Passion Pit, Twin Peaks, Alessia Cara and more.
All performances free to attend (just like Taste of Chicago itself), but you'll need to purchase a ticket if you want seating at the Petrillo Music Shell concerts.
RECOMMENDED: Our complete guide to Taste of Chicago
Petrillo Music Shell lineup
Bud Light stage lineup
Wednesday, July 5 - R&B/Hip Hop Day
Dej Monae (noon)
Maurice Jackson's Independents (1:20pm)
ShowYouSuck (2:40pm)
Pinqy Ring (4pm)
The Boy Illinois (5:20pm)
Justin Ruff (6:40pm)
Thursday, July 6 – Latin Music Day
Los Vicios de Papá (noon)
Vivian Garcia (1:20pm)
The Luna Blues Machine (2:40pm)
Mariachi Monumental (4pm)
Contrabanda Live (5:20pm)
Afinca'o (6:40pm)
Friday, July 7 - Folk and Country Day
Michael Riser Band (noon)
Clique James (1:20pm)
Swingabilly Slim (2:40pm)
Jonas Friddle & The Majority (4pm)
The Railway Gamblers (5:20pm)
Jeff Givens & The Mugshot Saints (6:40pm)
Saturday, July 8 - Rock the Taste!
Steve Ramone & The Pensioners (11am)
Blood Red Boots (noon)
Oceans Over Airplanes (1:20pm)
Aeraco (2:40pm)
The Gold Web (4pm)
Bailiff (5:20pm)
Split Single (6:40pm)
Sunday, July 9 - Cornucopia of Music!
Laura Doherty & The Heartbeats (11am)
Tovi Khali (noon)
Aleph Beatz (1:20pm)
Shuba (2:40pm)
The Rad Trads (4pm)
Linsey Alexander (5:20pm)
The Waco Brothers (6:40pm)