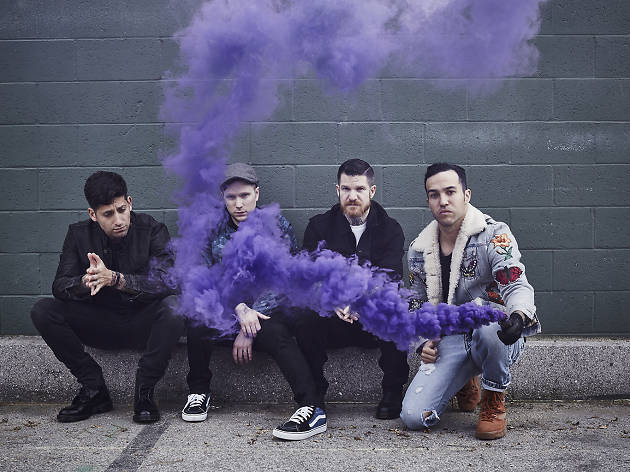 Fall Out Boy donates $100,000 to a Chicago relief fund
Posted: Wednesday April 8 2020, 11:46am
Every day we see heartwarming examples of people coming together and helping each other out, from local restaurants cooking meals for healthcare workers to neighbors cheering on first responders from their balconies. Last week, Wilmette pop-rock outfit Fall Out Boy joined the fray, making a $100,000 donation to the Chicago Community COVID-19 Response Fund via the band's Fall Out Boy Fund.
A partnership between the City of Chicago and and United Way of Metro Chicago, the community response fund collects money from philanthropies, corporations and individual donors, then puts it to use in ways that help those who are being most affected by the outbreak. The fund supports local food banks, makes sure that public school students are able to get meals and provides direct financial support to folks who have lost their jobs.
"It's important to us that we give back and support the community and local heroes who are on the front lines any way we can. No act of kindness is too small right now," Fall Out Boy bassist Pete Wentz said in a statement. "Everyone is affected by this, and we win by coming together and thinking of the world as bigger of ourselves."
If you'd like to join Fall Out Boy in making a donation to the Chicago Community COVID-19 Response Fund, you can find more information on the organization's website. And if we all do our part by staying at home, maybe we'll actually get to see Wentz prancing around Wrigley Field with Weezer and Green Day in August.
Most popular on Time Out
- The best Chicago music venue merch to buy right now
- These 7 Chicago restaurants let you send food straight to frontline workers
- For the first time ever, Au Cheval offers its fan-favorite burger for delivery
- Support the Music Box Theatre by streaming an art-house film at home
- South Loop residents are saluting healthcare workers with nightly balcony celebrations
Share the story