There's no denying that a room filled with neon lights is a sight to behold, but would you be willing to pay $40 for the privilege of walking through a small gallery filled with glowing tubes that's dwarfed by most exhibitions at the Art Institute of Chicago or the Museum of Contemporary Art? Up until yesterday, that was the price being charged for tickets to the Neon and Light Museum, a new pop-up exhibition curated by local gallerist Ken Saunders that will be on view from September 9 through October 31.
After hosting a preview of the exhibit—which is housed in a gutted, bare-bones River North space that used to host Latin American restaurant Naçional 27—last week, the organizers of the Neon and Light Museum had an abrupt change of heart about ticket pricing. As of yesterday, guests will now be able to purchase tickets to view the nearly 60 works on display for a slightly more reasonable $25 fee (those who purchased the more expensive tickets will receive free VIP upgrades or an additional ticket). The price still seems a bit high considering the size of the exhibit, but the pop-up shows that have proliferated throughout Chicago over the past few months have proved that folks are willing to pay as much as $50 to explore relatively compact exhibits, like a collection of Bansky prints or high-tech projections of Van Gogh works.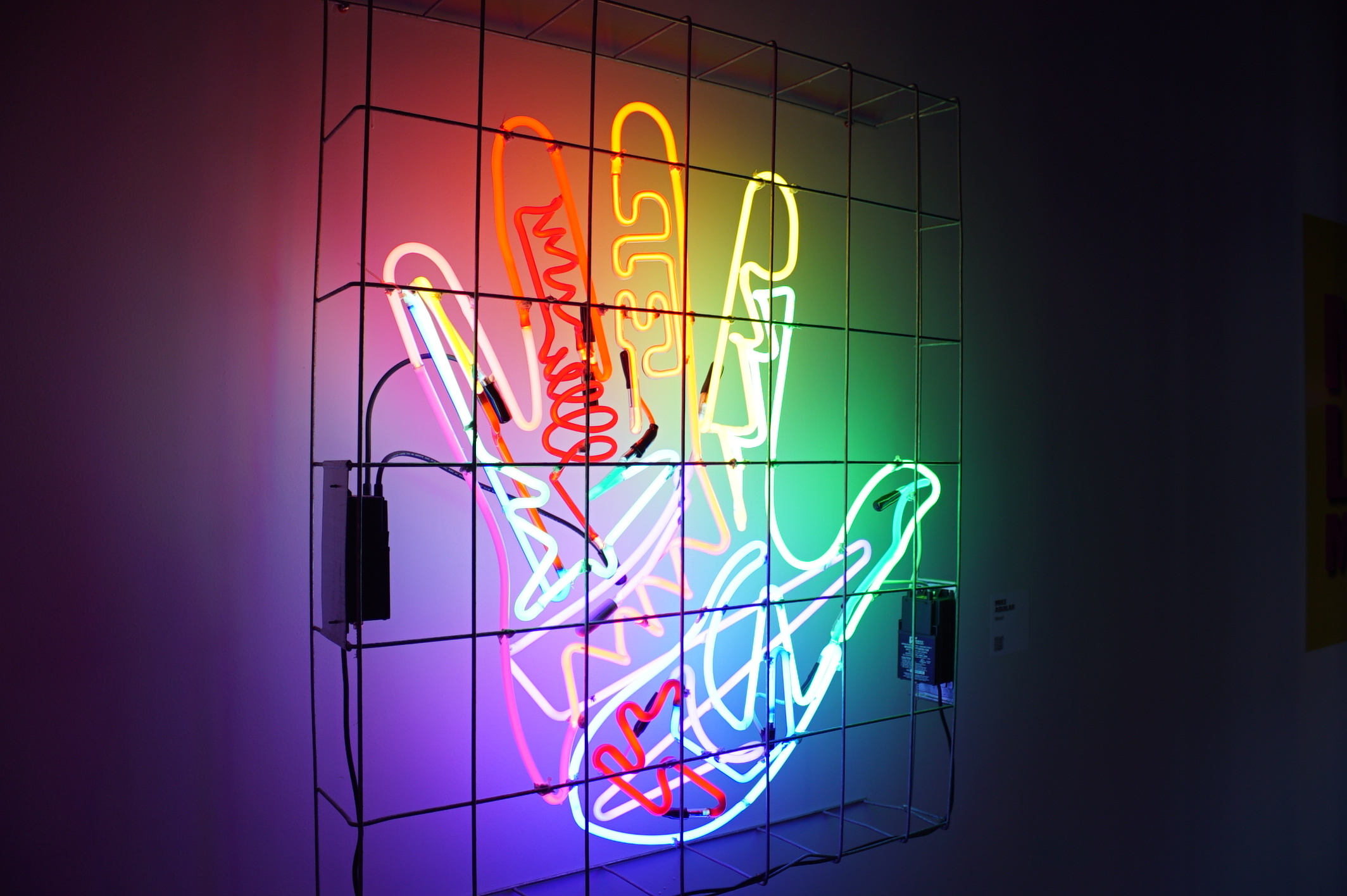 The thing that separates the Neon and Light Museum from those aforementioned pop-ups is that, save for a single work that's attributed to John Lennon (of a little band called the Beatles), this exhibit doesn't contain work by artists with the household name recognition of Banksy or Van Gogh. Sure, some fans of conceptual artist Bruce Nauman or multimedia artist Monika Wulfers may show up to see specific works on display, but the majority of Neon and Light Museum attendees are likely coming to admire the spectacle of electrified gas and snap some cool photos along the way.
With a series of hanging neon rods making up a work by Wulfers dominating the middle of the space, the Neon and Light Museum spreads the various works on display along the walls (and columns) of a single room, making it easy for Instagrammers to make their rounds. The lights are a bit dim to accentuate the colorful glow of the various pieces, but not so low that you'll come away with blown-out photos of the installation—in fact, the lighting appeared to be optimized for aesthetically-pleasing photos.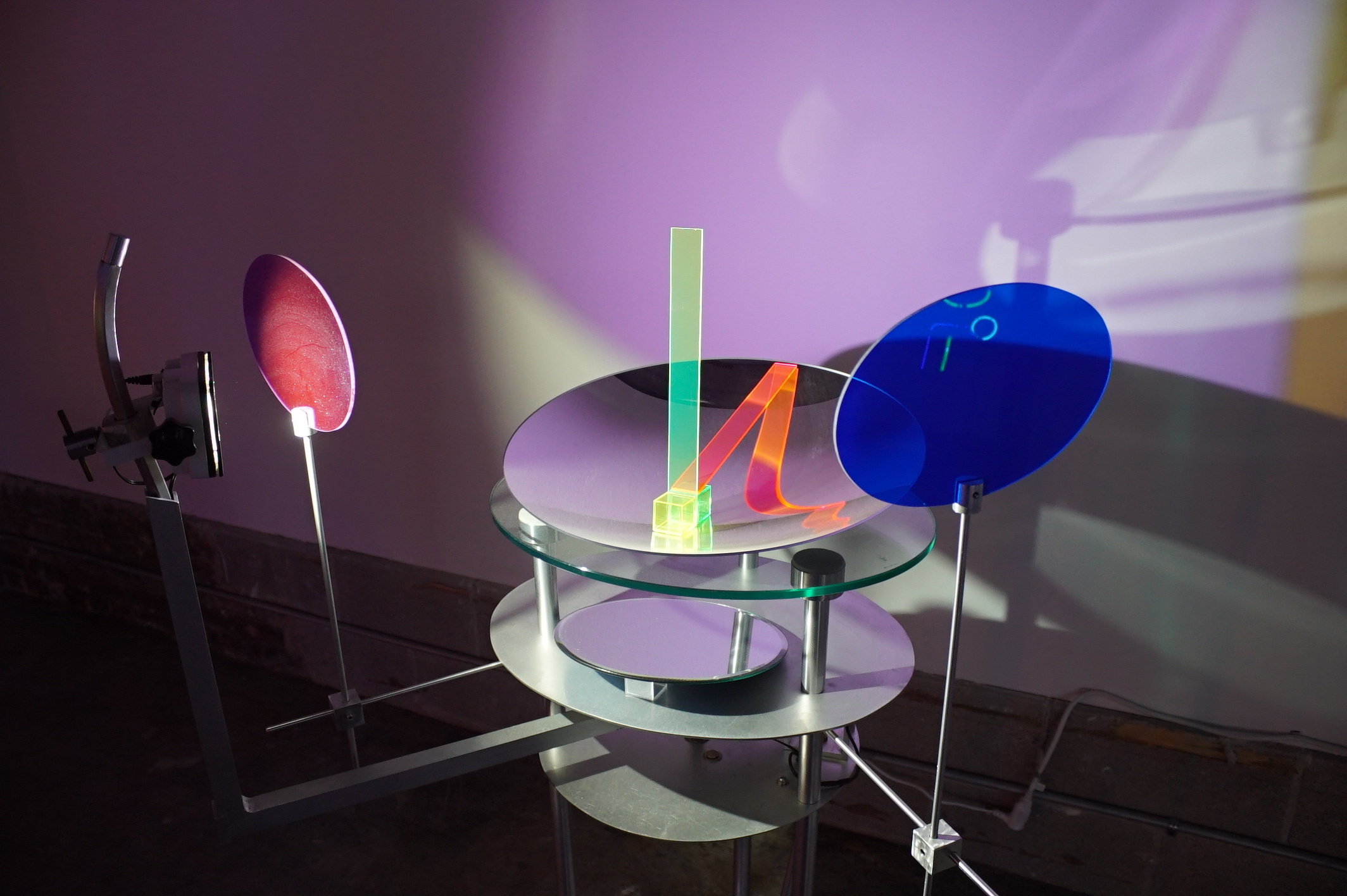 Walking laps around the space, a few of the works jumped out at me, including a sculpture by Gary Justic called "Big Onion" that shines light through panes of glass to create colorful projections and shadows and a projection by artists Annica Cuppetelli and Cristobal Mendoza that reacts as guests walk by a camera mounted in front of it. I also enjoyed the glow of Jacob Fishman's symbolic mash-up "Rear View Mirror," the hanging "Night Birds" sculptures by Michael Young and a neon figure reclining on a bed of nails called "Bored of Frustration" by John E. Bannon.
I admit that when I heard the pop-up being referred to as a "museum" earlier this year, I expected a much larger collection of works presented in the style of an exhibit that you might find at the Art Institute or the MCA, with pieces grouped together according to shared themes or by artist. The Neon and Light Museum looks more like a group show at a gallery, presented without much context and hung in a barren space that allows the art to be the undisputed centerpiece. I can't fault it for merely not living up to my expectations, though I can't imagine I'll be the only person who finds the "museum" descriptor to be a misnomer.
The Neon and Light Museum is clearly an exhibit that's constructed for easy Instagramming, though it does house some interesting works that you'd be hard-pressed to find on display elsewhere in the city. It's a pop-up experience that I expect a lot of people will gladly pay $25 to see, but it's also a show that may leave some attendees feeling cheated. It might be best described by a neon sign by Jacob Fishman that adorns the back wall of the gallery: "It is what it is."