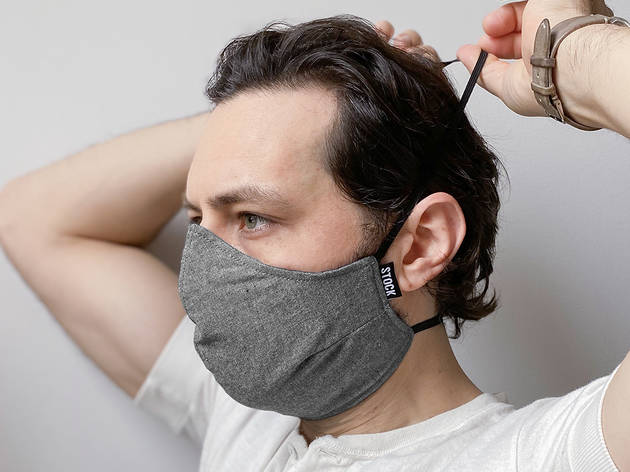 How to buy face masks from local Chicago businesses
Face coverings are required in public places beginning May 1. Here's where you can get one.
Posted: Thursday April 23 2020, 5:02pm
The latest extension of the Illinois "stay-at-home" order (which goes into effect on May 1 and lasts until May 30) requires the use of face coverings in public places where individuals cannot maintain six feet of distance between one another. While the city and state won't be punishing people who go outside without a mask on, wearing one not only helps protect you but it can also prevent anyone who is already sick (even if they don't know it) from infecting others.
The Center for Disease Control advises that individuals use layered cloth face coverings while continuing to maintain at least six feet of distance from other people at all times. You shouldn't try to obtain surgical masks and N95 masks, as that specialized gear should be reserved for healthcare professionals and other essential workers. The CDC website lists several ways to make your own mask, but if you'd rather buy one (and support local businesses), we've assembled a list of list of places where you can purchase face coverings.
Best known for manufacturing guitar straps that have been used by the likes of Wilco, Dave Matthews Band and Aerosmith, Souldier has turned its attention to manufacturing sturdy cotton face masks outfitted with a structural filter. $15 per mask
Restaurant, bar and hotel uniform manufacturer Stock Mfg is churning out washable chambray face marks (with discounts available for large orders). Best of all, 20 percent of proceeds benefit the Chicago Hospitality United Fund, providing support of unemployed hourly workers. $12 per mask
Ravenswood-based civic pride T-shirt company Chitown Clothing is offering breathable, two-layer fabric masks with elastic straps in both youth and adult sizes. You can order a plain grey mask or one with a tiny Chicago flag emblazoned on it—and a portion of proceeds from both versions benefit the Greater Chicago Food Depository. $12–$14 per mask
View this post on Instagram
Chicago-based T-shirt manufacturer Threadless has launched a sprawling line of three-ply polyester face masks sporting fun graphics from local designers like Lauren Asta, Shawnimals and Jay Ryan (The Bird Machine). A portion of the proceeds from each mask sale is being donated to MedShare, with up to a $250,000 maximum donation. $17 per mask
That #STAYHOME face mask that Mayor Lori Lightfoot has been wearing at public appearances is the work of Pride Masks, an offshoot of Chicago-based Pride Flags that has turned to manufacturing face coverings. These designs are popular, so check back often to see when new stock arrives. $15–$20 per mask
Run by the same folks who operate the Chicago-based rental company Bangtel, Mr. Pinks stocks a selection of triple-layer cotton face masks that feature filter pockets. The masks come in a variety of flashy designs (including a sequined "Paradise Disco" version) and can be ordered with elastic straps or a lanyard. $35–$55
Beginning on May 1, Chicago-based menswear brand The Tie Bar will begin selling 100% cotton non-medical grade masks made from the same fabric as its shirts. For every five-pack sold, the brand will donate five disposable masks to a Chicago-area hospital. $30 for 5 masks
The local printing company behind those amazing T-shirts that raised money for small local businesses is selling the popular washable Ello masks, which are handmade in Los Angeles. For every mask purchased, one mask is donated to a local charity, hospital or another group in need. $20 for 3 masks, $75 for 20 masks
View this post on Instagram
This denim manufacturer is producing masks in three sizes (small, medium and large), allowing folks to buy something that will fit their face. The two-ply knit cotton masks have a pouch to insert a filter for additional protection (coffee filters work great!). $10 per mask
This Chicago menswear factory was able to bring back nearly 50 furloughed workers to help sew three-ply cotton masks, which can be purchased for personal use or donated to local organizations. $30 for 5 masks
Pilsen apparel company Chicago Midwestmade has started selling stylish masks, adorned with the Chicago flag, roses and paisley designs. There are new designs available for pre-order and older designs that are in stock and ready to ship. $25–$27 per mask
View this post on Instagram
This local candle company is taking preorders for "social distancing reusable face masks," which feature a metal nose clip and the ability to insert a filter into the bottom of the mask (though you'll have to provide your own filters). $28 per mask
If you need a bulk order of face masks, Chicago-based event decoration company BBJ Linen is making double layered fabric masks that are backed with "antimicrobial, fluid repellant medical grade fabric." Just fill out the form on the BBJ Linen website to get a pricing quote. $10 per mask, minimum order of 25
If you simply must look fashionable when you wear a mask, check out these high-end hand-sewn masks from the folks behind local streetwear brand Jugrnaut. $40–$60 per mask
Most popular on Time Out
- Pretend you're on the Millennium Park lawn by streaming these archived summer concerts
- How to get house plants delivered to your doorstep during the shutdown
- The 10 most checked-out books from the Chicago Public Library this month
- The Shedd Aquarium's live cam is equal parts relaxing and mesmerizing
- One of Chicago's best bartenders urges lawmakers to legalize the sale of to-go cocktails
Share the story