There are plenty of ways to eat well on Valentine's Day this year—especially now that indoor dining is allowed in Chicago. But if you'd rather stay in, you still have options. Some of the best restaurants in Chicago are offering amazing takeout and delivery packages for a romantic meal at home. A few even toss in a bottle of bubbly to make the evening feel extra celebratory.
Take a look at some of our favorite menus around town, and come back often—we'll be updating this guide in the coming weeks with even more romantic takeout menus to choose from.
Virtue
Your Valentine's Day dinner for two ($150–$200) from chef Erick Williams's Hyde Park restaurant includes a bottle of brut rosé to set the mood. Couples get to choose their own adventure with an appetizer of roasted oysters or pickled sugar beets and entrées like honey mustard-kissed salmon and beef filet mignon. Save room for dessert: mascarpone cheesecake and chocolate truffles. Order via Virtue.
Avli Taverna
Dining solo? This Lincoln Park restaurant is dishing out individual prix-fixe meal boxes ($34–$40) that include your choice of entrée: There's steak, stuffed eggplant, lamb shoulder and more. Plus, you can send a "Cocktail Gram" to the person you miss the most—it arrives with a flask of booze, housemade truffles and a card. That's pretty sweet. Order via Tock.
Ever
If you're willing to splurge, chef Curtis Duffy has two to-go menus that are overflowing with luxe eats. Both packages come with caviar, the chef's signature crab course, truffle tagliatelle, a chocolate tart and a bottle of champagne. Here's what sets them apart: The Ruby package ($395) comes with short ribs and vegetables, while the Diamond package ($595) upgrades to wagyu and a one-ounce truffle. Order via Tock.
Momotaro
Ready to roll? Momotaro executive chef Gene Kato has prepared two takeout menus for February 14. Cupid's Plate ($140) is packed with hamachi, chicken wings, short ribs and mochi brownies, while Fishing For Love ($95) includes 12 pieces of nigiri, two rolls, edamame, miso soup and brownies. Toss in a "love potion" from sommelier DeAnn Wong. Order via Tock.
Frontier
Nothing says romance like a lil' surf and turf. Frontier's indulgent feast ($90) includes smoked beef tenderloin and lobster tail, served with truffle au gratin potatoes, Brussels sprouts and turtles from Brown Sugar Bakery. Make it boozy with a bottle of wine or bubbly for $40. Order via Frontier.
Geja's Cafe
Chill by the fire while you're eating fondue with a kabob kit ($40–$50) from this iconic Lincoln Park restaurant. Each bundle includes your choice of kabobs, several sides and chocolate fondue for dessert. A round of Manhattans ($25) makes for the perfect nightcap. Order via Tock.
Sfera Sicilian Street Food
Avondale newcomer Sfera offers a budget-friendly dinner for two ($59.90) that includes polpette, salad, arancini, a heart-branded scaccia, cannoli and a cocktail base—everything you need for a cozy night in. Order via Tock.
mfk.
Bring home a five-course dinner ($70 per person) from this Lakeview stalwart. Your choice of entrée is served with suzuki crudo, poached shrimp aguachile, brown butter broccoli and a chocolate pot de crème tart with macerated strawberries. Classic cocktails and bottles of bubbly are available for an additional fee. Order via Tock.
Flat & Point
A ready-to-heat four-course meal ($100) will make you look like a star on Valentine's Day—especially when you dish out the impressive smoked pork shank cassoulet. The menu is rounded out with a shrimp cocktail, beet and bacon salad, goat cheese mezzaluna and chocolate cookies. Add booze pairings like a round of tequila negronis ($30) or a three-pack of wine ($48). Order via Tock.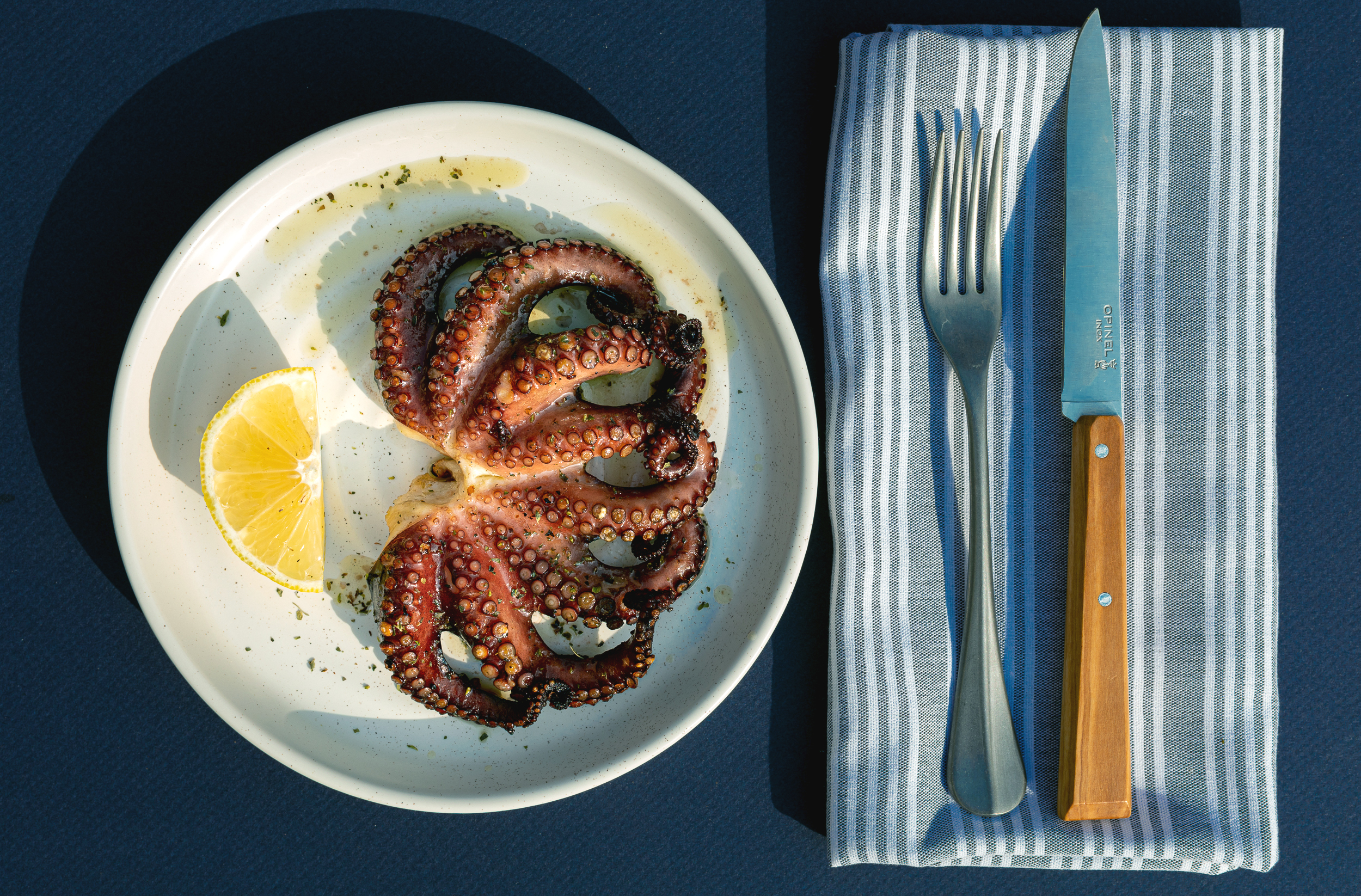 Andros Taverna
Chef Doug Psaltis's brand-new Logan Square restaurant makes Valentine's Day a 24-hour affair with boozy bakery boxes for breakfast ($45) and a family-style Greek feast for dinner ($140). Order via Tock.
Azul Mariscos
Pretend you're somewhere warmer with chef Michael Hernandez's three-course dinner ($100) that allows for plenty of customization. Your choices include everything from shrimp ceviche and lobster ravioli to Oaxacan chocolate-covered strawberries and chili guajillo flan. A bottle of wine is included at no additional cost. Order via Tock.
Hardbittenn
Armed with a background in fine dining, Halee Raff is striking out on her own. For Valentine's Day, the chef will prepare dinner for two ($130) that includes crispy crab cakes, 12-hour braised short rib, hasselback potatoes, broccoli with garlic butter and strawberry cream pie. Heart-shaped pop tarts ($25 for six) are the perfect morning-after treat. Order via Hardbittenn.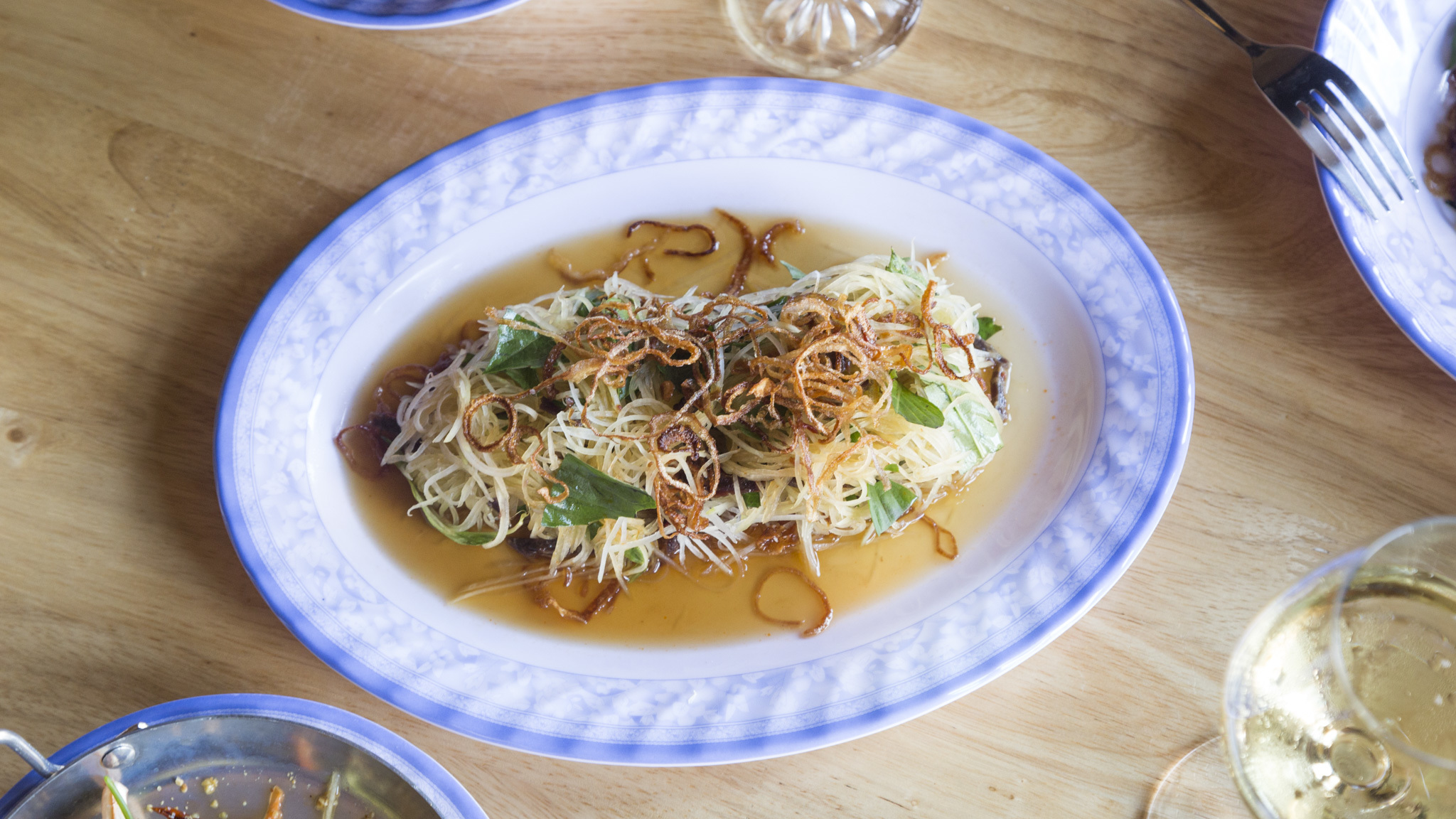 HaiSous
This Pilsen restaurant is pulling out all the stops with its Feast of Saint Valentine menu ($80 per person), which comes with green papaya salad, Vietnamese egg rolls, grilled ribeye, whole bass and more. For dessert, you and your sweetheart will be digging into a pandan waffle with whipped coconut mousse. Order via Tock.
Ciccio Mio
Want to recreate the pasta-slurping scene from Lady and the Tramp? Ciccio Mio's four-course dinner ($150) is the way to go. Your meal comes with antipasti bites, your choice of pasta and entrée and cannoncini puff pastry with chocolate fudge. Order via Tock.
Greater Ravenswood Chamber of Commerce
Some of the best small businesses in Ravenswood are teaming up to offer a Valentine's Day bundle ($95) that includes everything you need for a romantic night in. There's a bottle of wine from VIN312 Winery, a $40 gift card to Tuscan Hen Market, sweets from Lucila's Alfajores, coffee beans from Groundswell and so much more. Plus, you'll get a link to watch a comedy show from your couch. Order via Greater Ravenswood Chamber of Commerce.
Beatrix Market
Eat your heart out, Chicago! But really: Beatrix Market in the Loop will be doling out individual heart-shaped deep dish pizzas ($7.69–$8.69) for carryout and delivery from February 8–12. Order via Chownow.
Travelle at the Langham
Spoil your dinner with pastry chef Danielle Marelli's decadent carryout desserts, including a fully loaded ice cream sundae kit ($40) with all the toppings or a box of 14K gold-dusted chocolate-covered strawberries ($18 for 6 or $36 for 12). There's also chef Jeff Vuko's Quarantined Love Kit ($124), a multi-course dinner for two that includes crab cakes, filet mignon and gateau opera for dessert. Order via Tock.
Marz Community Brewing Company
Marz and Mom's have teamed up to create the ultimate hands-on date night with their Valentine's Day Temaki Kit ($140–$200), which allows you and your sweetheart to roll your own sushi at home. For the main course, there's a Wagyu strip steak included with easy-to-follow cooking instructions and a handful of sides. It's a no-brainer to toss in the Pretty Cool Ice Cream boozy float kit for dessert ($55). Order via Tock.
Uncommon Ground
Take the guesswork out of dinner prep with Uncommon Ground's three-course menu ($45 per person), which offers your choice of appetizer, entrée and dessert. Plus, when you use the code "VALENTINE" at checkout, you can score half-off all bottles of wine and howlers and growlers from Greenstar Brewery. Order via Uncommon Ground.
Most popular on Time Out
- Museum of Science and Industry will reopen with Marvel heroes in March
- 13 romantic Airbnb homes you can rent near Chicago
- The best things to do in Chicago this weekend
- Here's how Chicagoans really feel about the return of indoor dining
- The 50 best gangster movies of all time