Cravings hit different when we're stuck at home. If you're fantasizing about nigiri, sashimi and maki, we've got the fix. Some of the best sushi restaurants in Chicago are now offering takeout and delivery so that you can get fresh fish delivered straight to your door.
We narrowed down the list to the best of the best, including West Town darling Arami, Michelin-starred Omakase Yume and the resurrection of Lettuce Entertain You's defunct Naoki. When you're hankering for sushi, you don't have to go far to find pristine fresh fish in Chicago.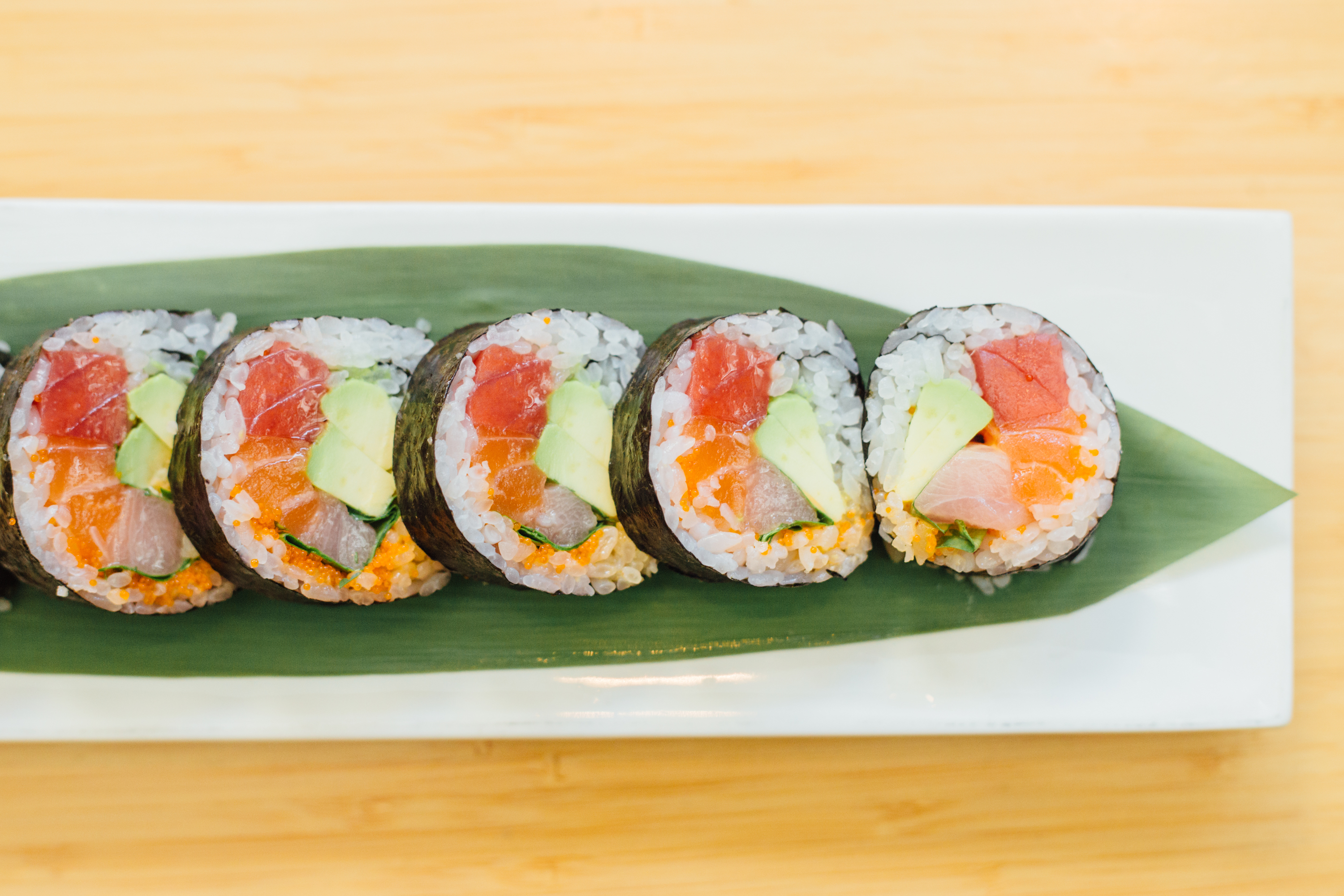 After closing up shop for a few weeks, Arami is back on its feet with a menu of maki and poke available for curbside pickup and delivery. Start with an order of spicy king crab wrapped in marinated tuna before selecting a few rolls to share (the Trio Maki with yellowtail, tuna and salmon is a classic). A new lineup of poke bowls offers something for everyone, with salmon, hamachi, shrimp tempura and tuna to choose from. Before you check out, toss in a bottle of Arami's exclusive private-label sake or an ice-cold can of Sapporo. To order, call 312-243-1535 or find it on Caviar.
Often regarded as one of the best sushi restaurants in all of Chicago, Juno recently pivoted with a carryout program that highlights its fishy expertise. You can order nigiri and maki à la carte, but the bundled entrées are where it's at. The nigiri-maki combo includes 10 pieces of nigiri and one signature maki roll, while the nigiri combo comes with 16 pieces of chilled fish atop warm rice. Plus, Juno is opening its cellar to guests, with reasonably priced bottles of wine and sake up for grabs. To order, call 773-935-2000 or find it on Toast.
One of the city's brightest and most expensive omakase restaurants is temporarily changing up its routine with a menu of bowls and rolls available for takeout. The lineup is short and sweet, with a handful of maki (think spicy tuna and Philly), a simple seaweed salad and a loaded chirashi bowl, with hunks of salmon, tuna and yellowtail accessorized with salmon roe and a poached egg. To order, find it on Orderspoon (all orders must be placed by 4pm for pickup from 5 to 7pm).
Lettuce Entertain You's secret sushi den shuttered toward the end of last year, leaving a shrimp-sized hole in our hearts. You can imagine our delight when we found out that chef Naoki Nakashima was back in the kitchen with a resurrected pop-up of his beloved restaurant. For a limited time, you can order old favorites like the Naoki-style rainbow roll and spicy shrimp and salmon maki. Or make it easy on yourself with the packaged dinner for two, which includes miso soup, seaweed salad and an assortment of nigiri and maki. To order, find it on Grubhub.
If you haven't yet experienced this new Michelin-starred omakase restaurant, you can get a taste of chef SangTae Park's finest cuts for takeout and delivery. There's just one item on the food menu, but it's all you need: The Chirashi Don is loaded with 14 pieces of premium sashimi over sushi rice with a side of miso soup. Upgrade your order with a bottle of sake or a can of beer. To order, call 312-265-1610 or text 630-464-4204.
If you're looking for variety, this West Loop sushi haven delivers with a laundry list of nigiri, sashimi, maki rolls, small plates and desserts. The chef-dressed tuna truffle nigiri bites are a fan favorite, with tender big eye tuna dripping in savory truffle sauce and served with slices of chilled avocado. Diners can expect more creative rolls here, like the vegetarian panko onion with garlic mayo, onion, avocado, red onions and greens. To order, find it on ChowNow.
We love that this River North sushi spot takes the guesswork out of ordering with its San-Sets, which offer perfectly portioned servings of nigiri, sashimi and maki for adventurous eaters. Hungry? The Megatron includes 12 pieces of nigiri, 12 hunks of sashimi and two rolls. If you'd rather pick and choose, there's plenty to work with on the à la carte front, too, like crunchy avocado maki, kimchi pickles and charcoal-grilled Vietnamese pork. To order, find it on Caviar.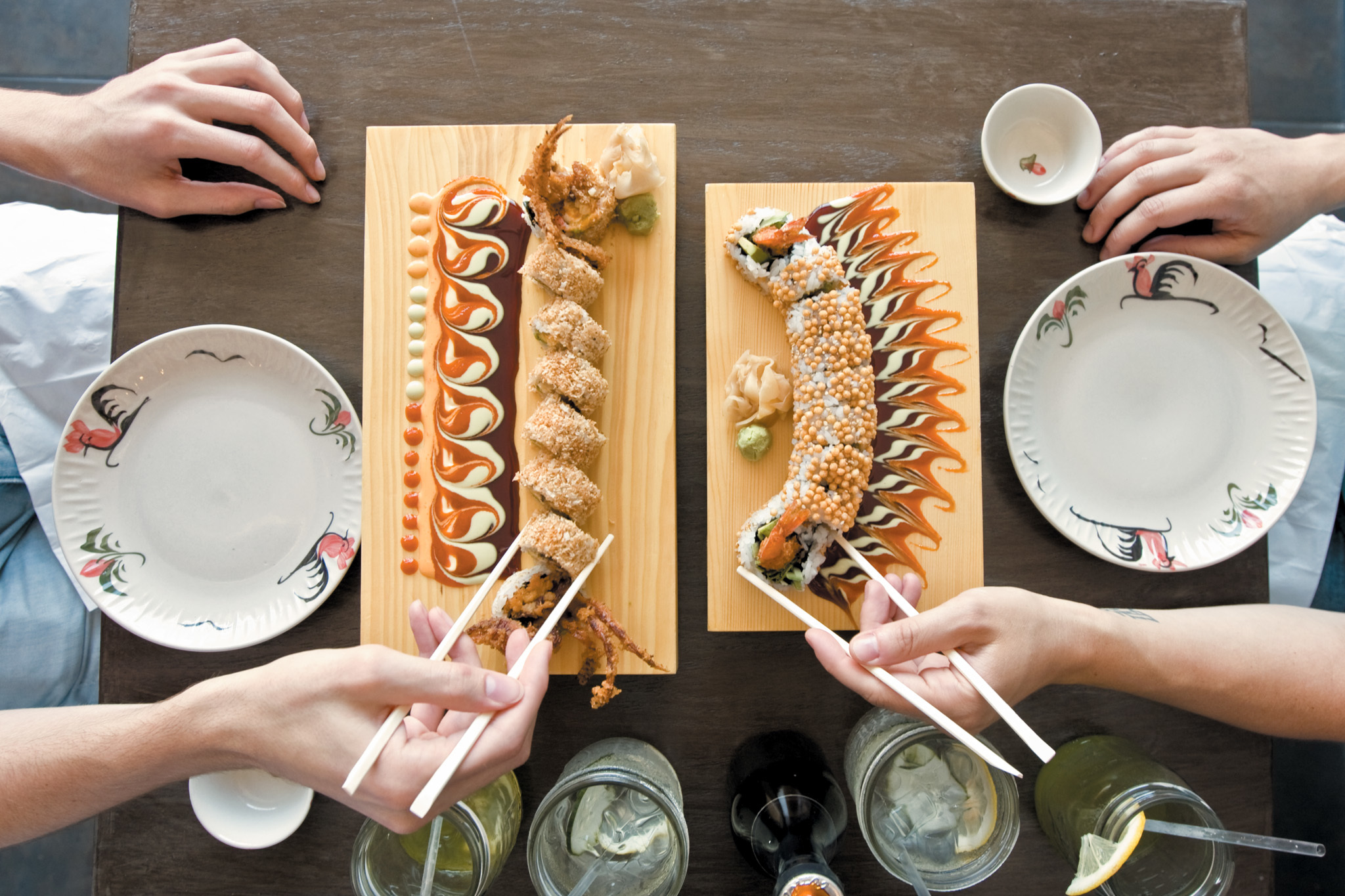 While we wait for this BYOB joint in West Town to reopen to the public, we'll happily order takeout and delivery to get us by. If it's your first time ordering from Yuzu, try a few jumbo rolls, a handful of grilled skewers and an appetizer or two. The Chicago Spring Roll is out of this world, with shrimp tempura, avocado, cream cheese and fish roe. To order, find it on Grubhub, ChowNow, DoorDash, Uber Eats, Caviar and Postmates.
Most popular on Time Out
- The best Chicago music venue merch to buy right now
- These 7 Chicago restaurants let you send food straight to frontline workers
- For the first time ever, Au Cheval offers its fan-favorite burger for delivery
- Support the Music Box Theatre by streaming an art-house film at home
- South Loop residents are saluting healthcare workers with nightly balcony celebrations