Quilen Blackwell didn't set out to be an urban farmer or a florist. Back in 2011, he relocated from Madison, Wisconsin, to Chicago to attend ministry school, which is when he started tutoring at-risk high school students in Englewood. He was so deeply impacted by the experience that he completely changed his career trajectory.
"When I was tutoring these kids, the first thing I thought about was, 'Man, I could be any one of these kids.' And the only reason I'm not is for whatever reason, I got lucky," Blackwell says. "I felt like, if I was in their shoes and I met someone like me, I would want them to do something to create some opportunities for me."
He wanted to do something beyond tutoring—something that could provide actual jobs to teens on the South Side. In 2014, Blackwell founded nonprofit Chicago Eco House and opened his first farm in Englewood, which took over two city blocks and employed more than 30 high school students. But it wasn't long before he experienced the many obstacles of traditional urban agriculture, especially when it came to water and power access as well as USDA safety guidelines tied to growing food.
"It got us thinking: How can we do this in a way that's scaleable and can become a real enterprise and create real opportunities and jobs for our young people?" Blackwell says. "That's when we started doing our research and realized that we didn't necessarily have to grow food. We came across flowers, and the thing that was very attractive to us about flowers is that there's not a lot of competition in the U.S., because almost 80 percent of flowers are grown overseas. There's a lot of space for us to be able to build a real business here in Chicago."
And with that, Southside Blooms was born as a branch of Chicago Eco House, with the mission to employ youth, alleviate poverty and convert vacant lots to community assets—all through flowers. Today, Blackwell has four farms across the South and West Sides of Chicago as well as one in Detroit. He says that one of the cornerstones of his success has been a commitment to sustainability.
"When most people think about sustainability, they think about a Prius or a Tesla or big solar installations on your home. I just felt like that was very exclusionary to a lot of people," he explains. "We wanted to show people that you don't need to be affluent to participate in sustainability and that sustainability is tied to good and sound economics."
By using rainwater collected from roofs and generating solar power from the sun, Blackwell is able to eliminate two of the biggest operating costs of running a farm, which means that more money goes toward the business's bottom line and allows him to pay his employees a fair wage.
Chicago Eco House and Southside Blooms work in tandem, creating a loop of education and opportunity for local youth. Through the organization's workforce development program, teens can learn how to become farmers and florists with hands-on experience at the farms. From there, they can get paid gigs at Southside Blooms and put their new skills to the test in a professional environment.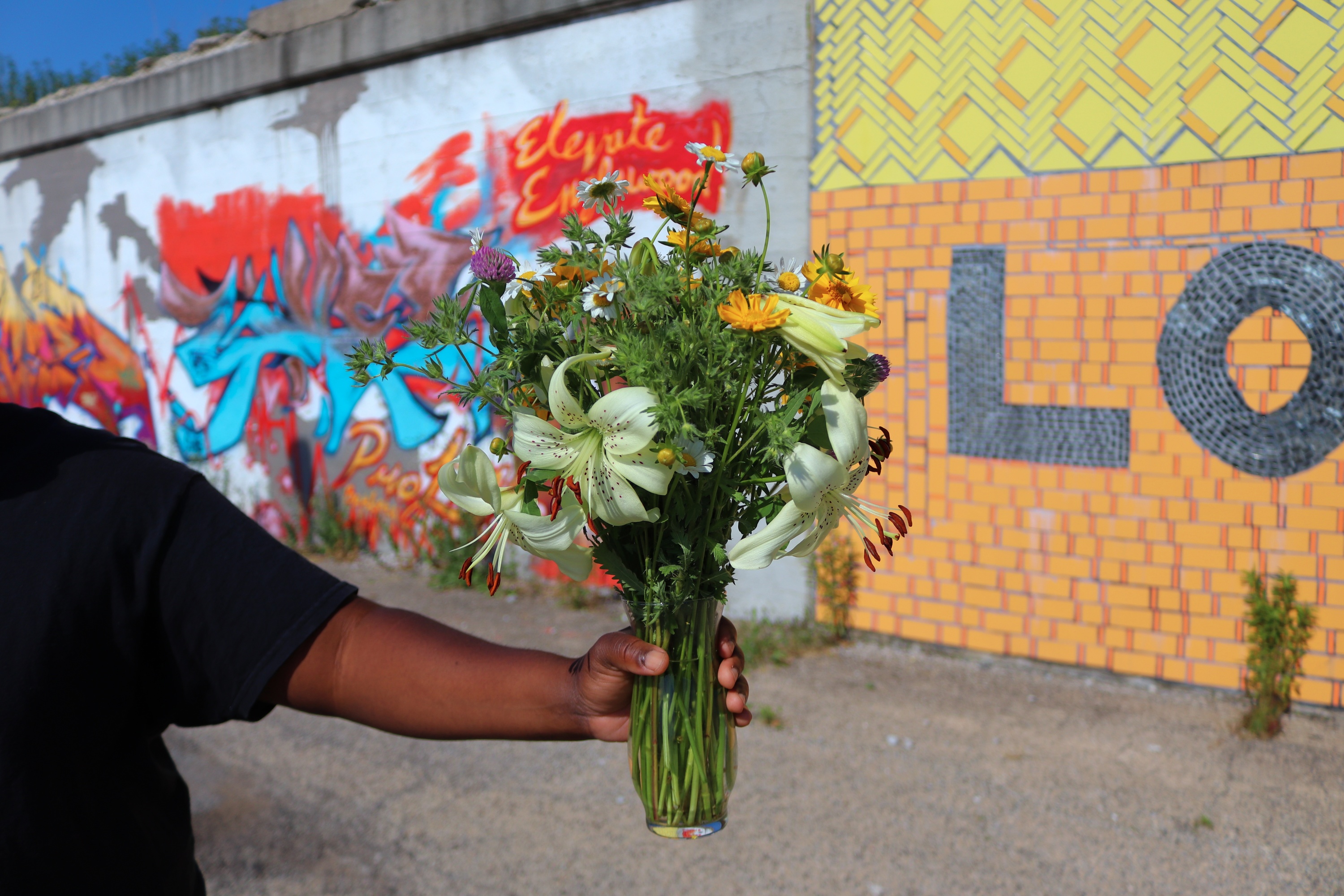 Like most floral business owners, when Blackwell was planning for 2020, he banked on business from corporate events and weddings—most of which were canceled due to COVID-19. He's been able to successfully pivot his business model to focus on delivering individual bouquets to homes throughout Chicago. Earlier this year, Southside Blooms also launched its first-ever CSA subscription program, which guarantees participants one farm-fresh bouquet per month. The initiative sold out quickly, with more than 450 people signing up this year and a growing waitlist for next year.
Blackwell already has his eyes on 2021, when he hopes to expand his operation and offer his students and the community more opportunities to connect over a shared love of flowers. He envisions events where customers can come see the farms for themselves, interact with the youth and learn how the bouquets are sourced and designed.
"We're not actually in the flower business—we're in the community-building business," Blackwell says.
Most popular on Time Out
- These notable Chicago restaurants and bars have now permanently closed
- Take a look around Time Out Market Chicago, now open in the West Loop
- Illinois won't join Chicago's emergency travel order, even though it qualifies
- The 16 most romantic restaurants in Chicago
- At the Hideout, streaming is the future of live music—for now