A heart-shaped pizza doesn't taste any different from a regular, circular pie. The same goes for heart-shaped cakes and cookies, as well as tacos served in a heart-shaped box. But going out of your way to track down a special dish to celebrate Valentine's Day can be a very romantic gesture. That's why Chicago restaurants get out their specialized pans and packaging every February, serving cute dishes that are meant to make someone you love smile a little wider.
We tracked down some adorable heart-shaped food that you can order ahead of February 14—just act fast, because there's likely to be more folks than usual trying to bring home something creative to eat on this extra-romantic holiday.
RECOMMENDED: Find more things to eat on Valentine's Day in Chicago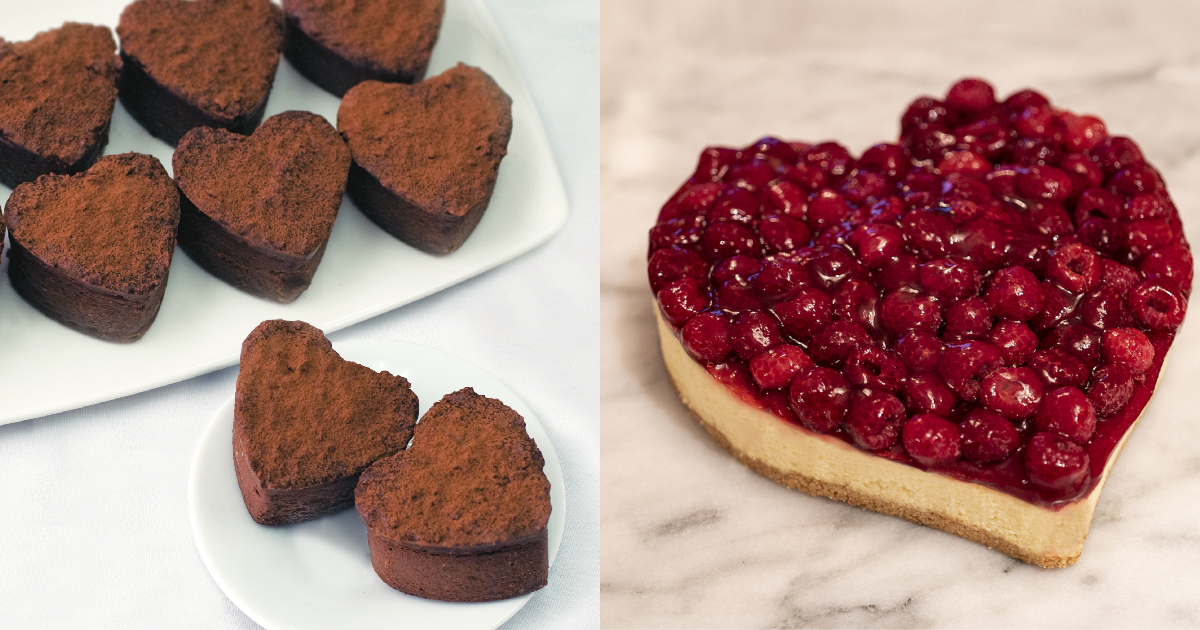 Eli's Cheesecake
If you're craving something sweet, Chicago's own Eli's Cheesecake has several options to choose from. There's the white chocolate I Heart Cheesecake topped with raspberries or an assortment of miniature cheesecakes coated with a layer of hazelnuts and cocoa powder (every purchase of the former will send a heart-shaped cheesecake to the front line workers at the John H. Stroger, Jr. Hospital). Both items are available to ship nationwide or pick up at the Eli's Cheesecake bakery near Harwood Heights, but you'll need to have your order in by February 11.
Portillo's
The folks at Portillo's haven't come up with a heart-shaped hot dog or Italian beef sandwich (yet!), but the Chicago-based chain is selling a special version of its signature chocolate cake in celebration of Valentine's Day. This year, $5 from each cake purchase will be donated to No Kid Hungry, an organization aimed at ending childhood hunger in America. The cakes are available from February 5–14 from Portillo's restaurants or they can be shipped across the nation for an additional fee.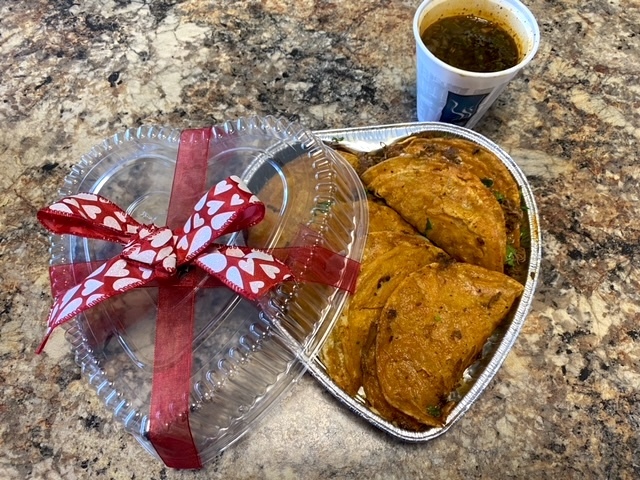 Tacotlán
Known for its delicious birria (which seems to sell out every day), this Hermosa restaurant also maintains an annual tradition of stuffing six tacos into a cute heart-shaped container around Valentine's Day. Pre-orders are already available for this year's offering, which can be made with chicken, steak or birria; there's also a birria quesadilla option. Submit your order via Tacotlán's CashDrop and schedule a pickup on February 12, 13 or 14.
Lou Malnati's
Need to show someone across the country how much you really care? Send 'em a frozen heart-shaped Lou Malnati's pizza, which is being offered as part of several bundles (accompanied by heart-shaped cheesecakes, cookies and more) through Tastes of Chicago. Local Lou Maltnati's restaurants will also be offering the specialty pies for takeout on Valentine's Day.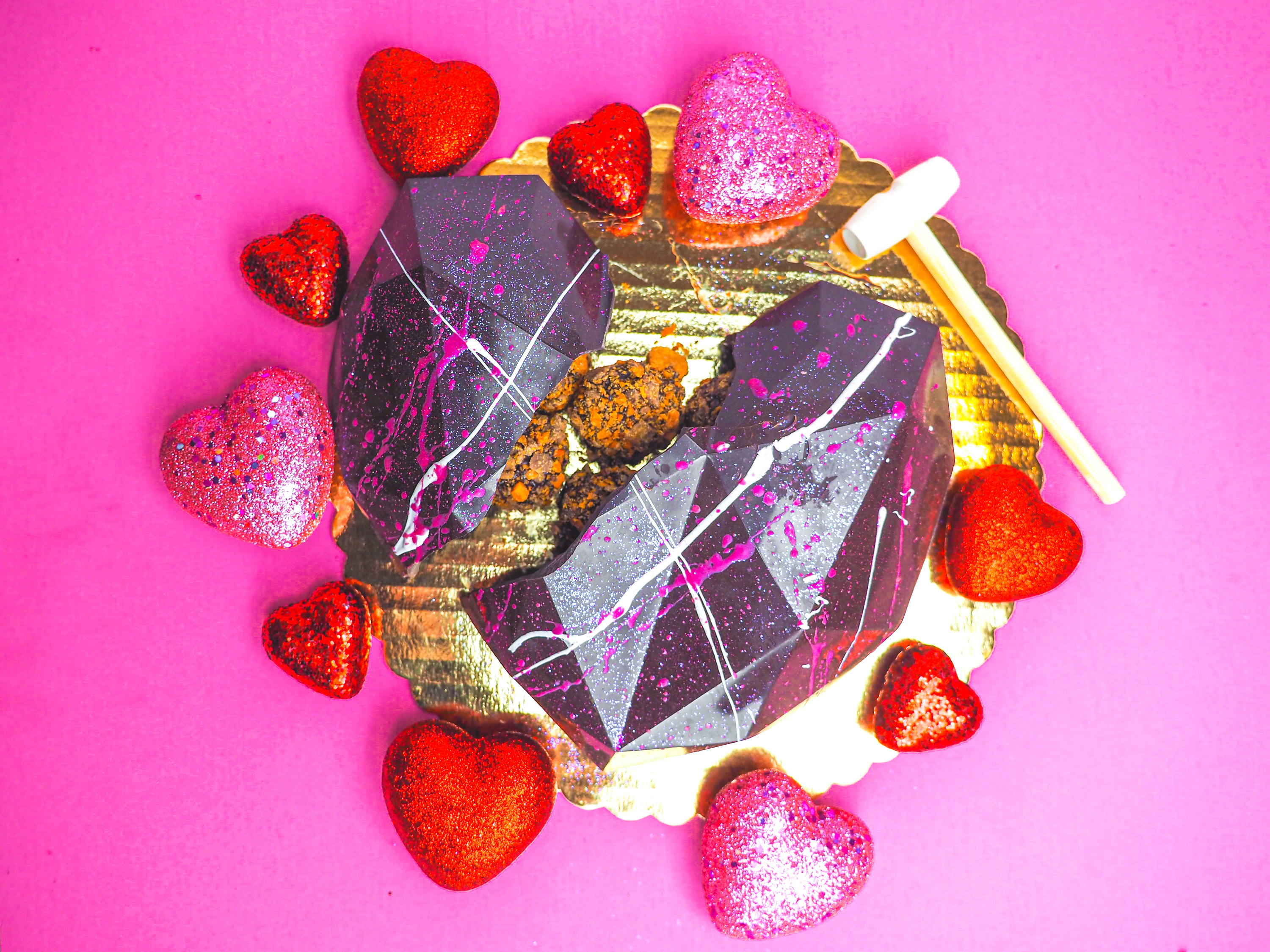 West Town Bakery
You'll find a variety of delicious treats on West Town Bakery's Valentine's Day menu, but none more colorful than this Smash Heart. You'll need to crack open the creation's dark chocolate shell with an included miniature hammer to reveal the collection of mini Butterfinger cakeballs inside. Yes, this is a heart that you're actually encouraged to break on the most romantic day of the year. Place an order on West Town Bakery's website for pickup at the business's location in West Town and Wrigleyville.
Lottie's Pub
Looking for a way to celebrate Valentine's Day with a small group of friends that doesn't involve gathering inside an apartment? Lottie's Pub is hosting parties of four to six people in its heated outdoor tents at Camp Lottie's, where you can order a heart-shaped pizza, champagne, hot cocktails and chocolate. A double date might not be how you envisioned spending Valentine's Day this year, but it's good to shake up your routine.
Roots Handmade Pizza
This local Quad Cities-style pizza joint is making malt crust pies covered with pepperoni and topped with handmade mozzarella shaped hearts, but it's also a heart shaped mozzarella "stick" and a miniature heart-shaped vanilla bean cheesecake topped with raspberry jam. Order them individually from February 12 through 14, or as part of the "Be Mine" package for $35.
French Quiche
Yes, you can purchase an extremely romantic breakfast (or brunch) from French Quiche, which is selling a Qupid Box that includes a heart-shaped quiche for two made with asparagus, smoked salmon and Swiss cheese. 773-857-0097 or email chad@fqchicago.com to order your box and then pick it up between February 12 and 14.
Most popular on Time Out
- The 18 best burgers in Chicago
- 13 romantic Airbnb homes you can rent near Chicago
- February 2021 events calendar for Chicago
- Amazing Airbnb cabins for the perfect Midwest getaway
- The 50 best gangster movies of all time