The 100 best dishes in Chicago 2015: small plates
From tacos to bar snacks, the 25 best small plates and appetizers of the year may be small, but they deliver big flavor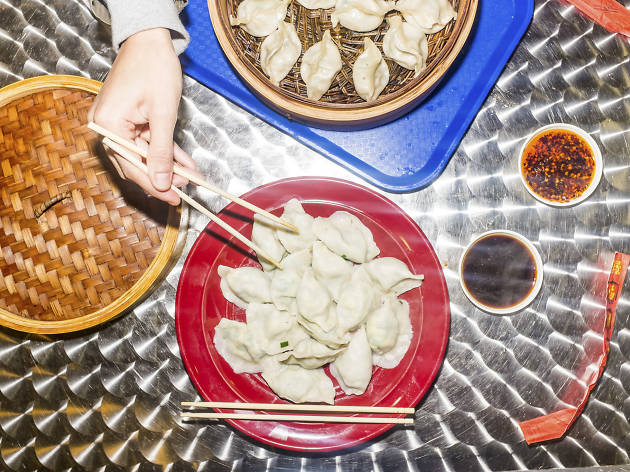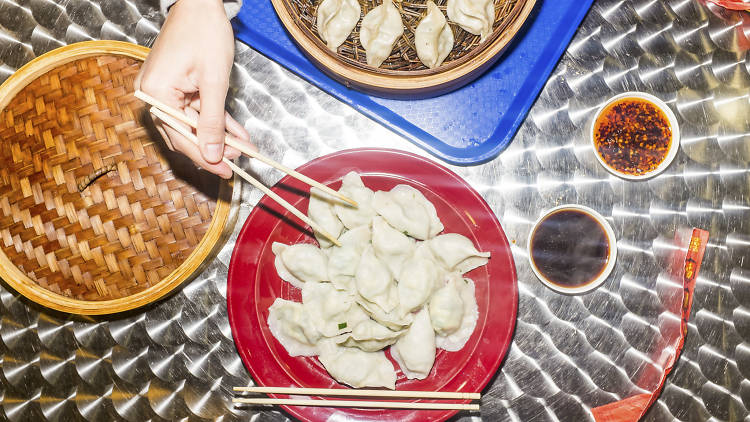 Just like gifts, sometimes the best bites come in small packages. Proof: Pub Royale's spicy-sweet Gobi Manchurian, Yum Dum Truck's gooey kimcheesy rice balls and In-On Thai's funky green bean salad. This year, Chicago restaurants served 25 memorable small plates, from some of the city's best tacos to beautiful dishes at fine dining restaurants, all small in size, huge in flavor.
RECOMMENDED: The 100 best dishes and drinks in Chicago
Restaurants, Contemporary American
One dish never comes off the tasting menu at El Ideas—and thank goodness, because the French fries and ice cream course (current iteration: potato leek soup and liquid nitrogen vanilla ice cream) is a gorgeous display and tastes like fries dipped into a Wendy's Frosty, only better. Part of $155 tasting menu.
Example of how Villains is upping the beer bar food game—these crisp-tender baby carrots tossed with arugula, pistachios and sherry vinaigrette and piled atop a crème fraîche-cream cheese smear. No longer available.
Cauliflower is its best self in this Indian-Chinese dish, with tender fried orbs of the vegetable slicked with sticky sweet and spicy sauce and sprinkled with sesame seeds, cashews and fresh cilantro leaves. $9.
If you're wondering what luxury tastes like, it's this shooter, with slippery fresh uni, a quail egg, caviar and ponzu sauce, all in one sip. $6.
With made-to-order tortillas and a fresh mix of cactus and onions dusted with queso fresco, it's easy to put away a few of these in one sitting. $3.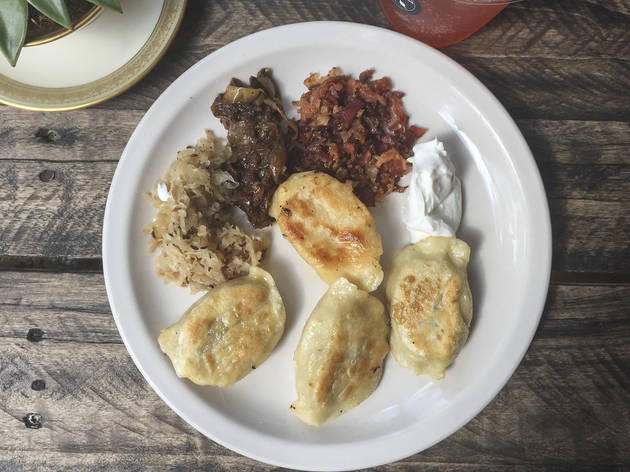 Photograph: Amy Cavanaugh
Spinach and cheese pierogi from Pierogi Street food truck
All the pierogi, browned in butter with a crisp edge, are tasty, but the spinach and cheese, like a sweeter spanakopita crossed with a pierogi, takes the crown. 4 for $7.
Over the summer, when Erik Anderson stopped by for a stint at Intro between working at Nashville's Catbird Seat and opening his own place in Minneapolis, he graced us with his ingenious foie gras tart, a sliver of foie gras nestled in pastry crust, accented with salted strawberries and hazelnuts. Erik, you're welcome to come back to Chicago anytime. No longer available.

The new Chinatown dumpling stand serves two-dozen types of soup dumplings, all hand-stuffed and steamed to order. Flavorful shrimp, leek and egg are tucked into a delicate skin, and even though 18 come in an order, you can put away a plate in no time. $7.99.
It took a pair of competitive eaters to give us a whole restaurant devoted to oddball takes on the walking taco. The best taco here tastes like the collision between a Big Mac and tortilla chips. If that doesn't sound amazing, you haven't tried it yet. $8.
Pretty much anything would taste good stuffed into these thick, freshly made tortillas, but we can't imagine anything better than these tender pork rinds, doused with fiery salsa roja. $2.99.
Show more